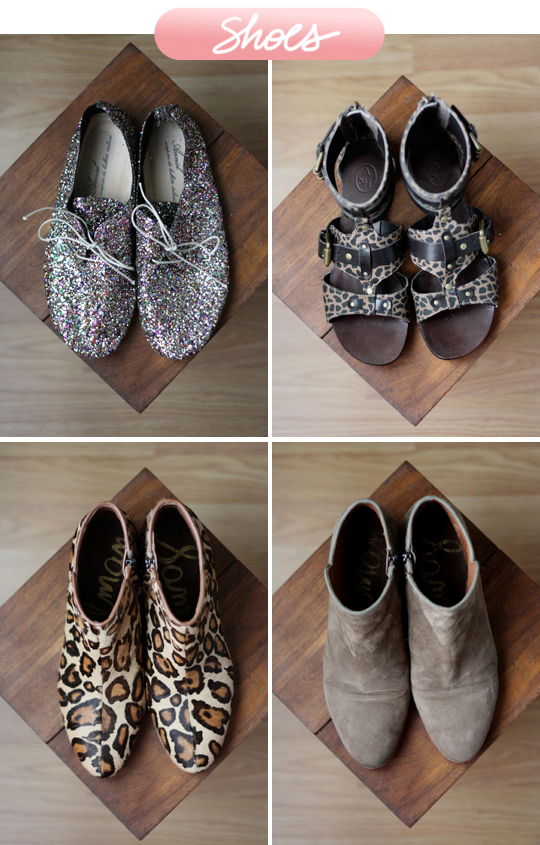 2011 is coming to an end : For the occasion, I wanted to choose in 4 different categories 4 of the things I most enjoyed wearing or listening to. Lets start with the shoes : it was incredibly hard to choose only 4 pairs, but I had to pick amongst my acquisitions of the year 2011.
My glittering Anniel derbies : my first pair of incredibly comfortable glittering shoes, that just might turn out to be perfect when worn with a 7/8 pair of pants (that I'm still looking for!) (seen here)
My Ash leopard sandals : I still haven't worn them this year, since I faced a size issue, but my master shoemaker apparently worked miracles : I hope to wear them next summer with great pleasure (and comfort I hope!).
My Petty leopard boots by Sam Edelman : absolute comfort and a print that can't go unnoticed!  (seen here)
My Petty sand colored boots by Sam Edelman : the twins of the leopard boots, in a more sober version, they're the reason I came to buy the leopard ones (seen here, here, here and here)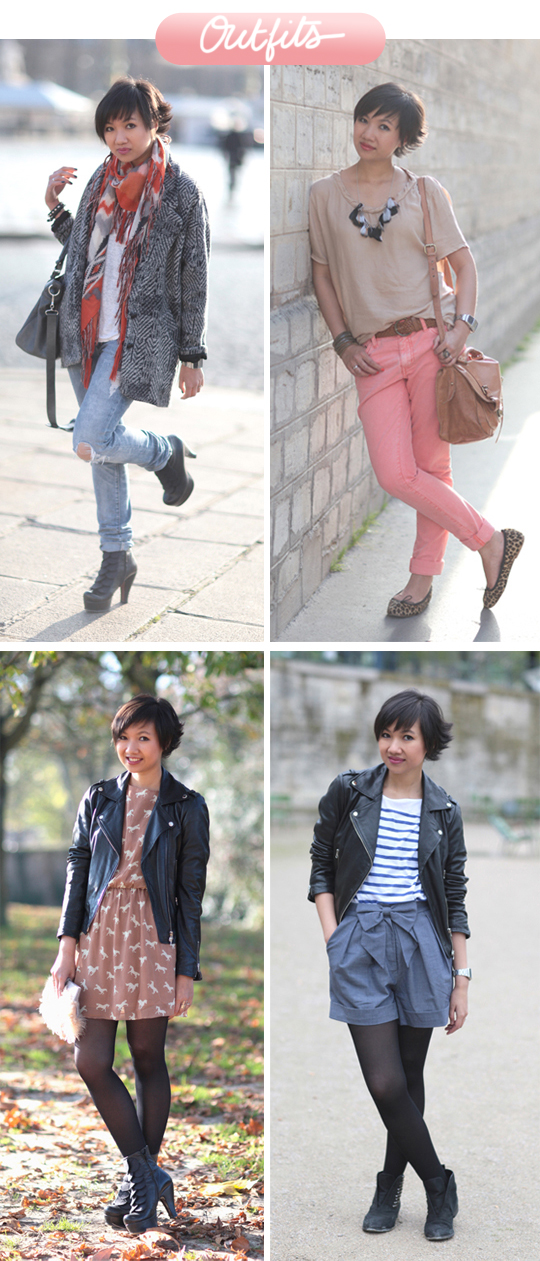 It might be a tad pretentious to say that these are my 4 « fantastic outfits », for it's very rare I should be 100% satisfied with them, but lets say they're the ones I enjoyed most, be it because of their comfort or general style. One fave outfit per season, that's how I'm playing this :
Winter : My favorite Sandro coat and the Zara Balenciaga-like scarf that's already a couple years old both managed to warm me up well. (Details here)
Summer : the color association of camel-pink-leopard was my summer of 2011 revelation, and I very much intend to repeat it in other outfits. (Details here)
Autumn : I like when the preppy side of a piece of clothing is « un-preppy-fied » Here, the perfecto did its job well. (Details here)
Spring : Same « un-preppy-fying » principle with this pair of shorts with a bow : I'd say that the technique mutated from « de-preppy-fying » to « de-bow-ifying ». With a breton tshirt, that remains one of my favorite pieces of clothing, whatever the season. (Details here)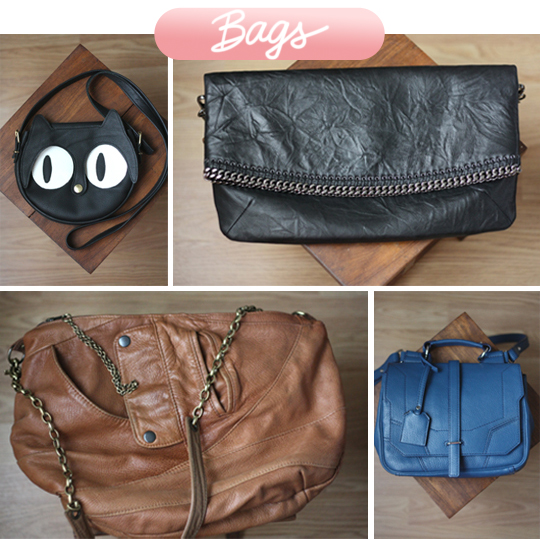 The Lisette cat-bag : The most original bag I bought this year. I like to wear it during my evenings out, or when I want to wander about with only the bare necessities (Its only disadvantage being that it can only contain, as said, the very bare necessities) (seen here, here and here).
The Balmain clutch bag with chain: I love the Transformers side of this bag : to be worn with or without the chain, and of an ideal size to contain everything (seen here, here and here).
The Matières à Réflexion bag : made out of a former leather jacket. I loved the concept of a « second life ». It's the bag I like to wear when I travel, for I can put all my stuff and my Reflex inside, and still not break my shoulder wearing it! (Seen here, here and here).
The blue Florian Denicourt bag : Huge crush on the color and the perfect little details. In goat leather, of which I hear it's one of the strongest and most resistant leathers…So I hope I'll keep the bag forever (and maybe even after forever?) (seen here and here)
The Drive Soundtrack : Drive, I loved the ambiance and esthetics of that movie (not only Ryan!), the soundtrack was in perfect harmony with the images, an eighties sound that makes me all nostalgic. Perfect.
Safari Disco Club by Yelle : the album gives you an incredible energy, and it gave some sort of rhythm to the creation of my second comic book. If you're a down, a bit of Yelle, and off you go again!
Around the Sun, by Monarchy : I had already mentioned it here, so it was only natural for it to be in my selection of my fantastic four of the year 2011.
21 by Adele : discovered thanks to Set fire to the rain, that was the switch I needed to discover Adele (better late than never!) I witnessed the whole infatuation about her with « Rolling in the Deep », but it hardly reached me, the song made me change stations everytime it came on (criminal, wasn't it?). But now, I religiously listen to the whole album and I love it!
So here was a little retrospective of 2011 through the game of these fantastic fours (a concept that of course came to me after hours of self-brainstorming!). Now it's your turn, if you'd like : I'd love to see, on your blogs (if you have one) or in the comments if you don't have a blog, or in the comments if you have a blog but don't feel like posting it … in all cases, I want to know EVERYTHING before 2012! (English translation by Bleu Marine)