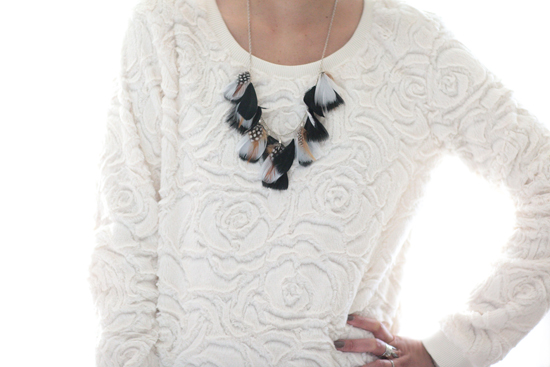 Près d'un an et demi pour réfléchir, c'est un peu long non?  En effet, en Juin 2010, je me demandais si je devais acheter ce haut American Apparel fleuri qui justement a bien fleuri sur pas mal de blogs depuis! Je l'ai inspecté sous toutes ses coutures depuis tout ce temps, l'ai essayé et l'ai toujours laissé dans son QG d'origine, au milieu des leggings lamés et des gymbags colorés.
En effet, sur moi, il avait un aspect « Bibendum » et légèrement encombrant avec ses fleurs en relief (si je veux mettre une veste avec, je les case où les fleurs? Mais pas besoin de veste avec ça, voyons! Oui mais si je me caille, comment je fais?…) … bref se poser trop de questions au sujet d'un vêtement, on sait où ça nous mène… à Bredouille Land.
Et puis l'autre jour, lors d'une virée express chez Zara à cause (ou grâce à) une amie qui cherchait désespérément un slim enduit, je suis tombée nez à nez avec ce pull. Flash-back immédiat en juin 2010, revisualisation instantanée du sweat American Apparel, essayage en cabine, toucher nounours tout doux, fleurs présentes mais en relief modéré (donc possibilité de porter un manteau par dessus), 29 euros et quelques, pas de questions à se poser. J'embarque et j'oublie. De quoi je parlais en Juin 2010?
Nearly a year and a half to think about it, isn't that a bit long? In June 2010 indeed, I wondered if I should buy this flowery American Apparel top that has actually been flourishing on quite a few blogs ever since! I've been inspecting it from every angle during this whole time, trying it and always leaving it in its original HQ, amidst shiny leggings and colorful gymbags.
It just had a « Bibendum » aspect on me and was slightly bulky with its flowers in relief (where do I put the flowers if I want to wear it with a jacket? Well hey no need for a jacket with it! Yes but if I'm freezing cold what do I do?…) … with so many questions about a garment, we know where that leads to… No buys Land.
And then the other day, during an express visit at Zara because (or thanks to) a friend who was desperately searching for coated skinny jeans, I came face to face with this sweater. Immediate flashback to June 2010, instant re-visualization of the American Apparel sweater, visit to the fitting-room, super soft teddy bear touch, presence of flowers but in moderate relief (hence the possibility to wear a coat on top), 29 euros something, no questions to ask. I take it away with me and forget. What was I talking about in June 2010? (English translation by LN)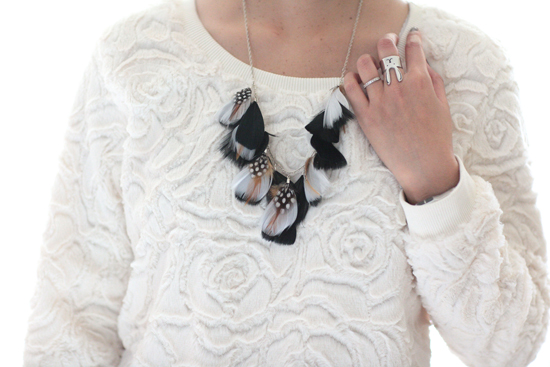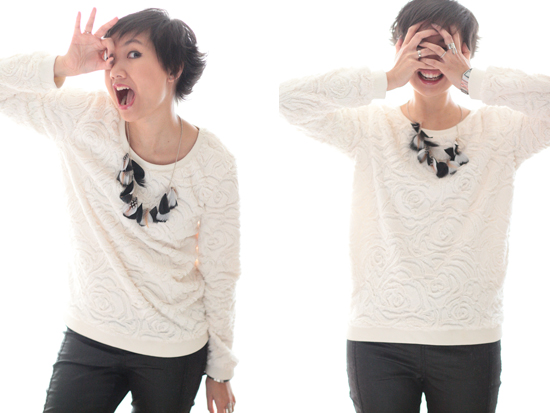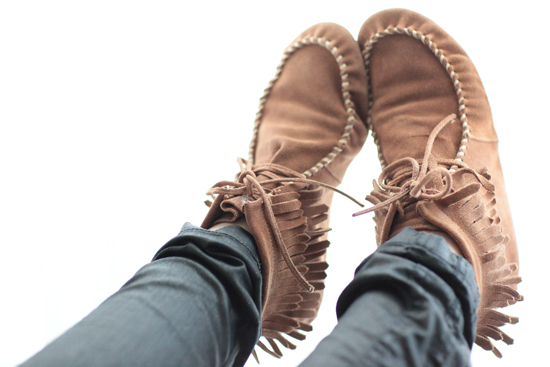 Sweatshirt / Jumper Zara
Collier / Necklace H&M
Leggings H&M
Boots à franges / fringe boots Schu
Bague lapin/ rabbit ring ASOS