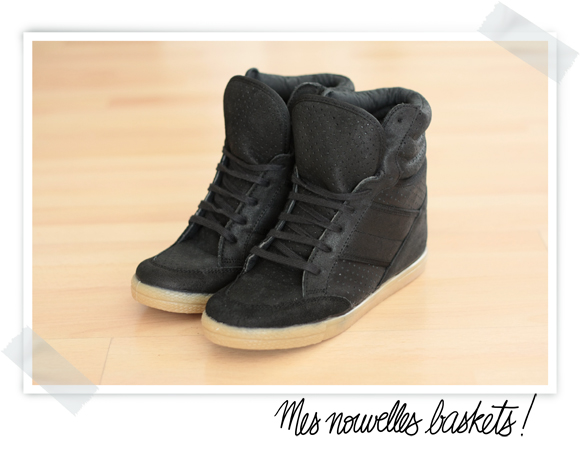 Profitant de leur retour en stock la semaine dernière, j'ai sauté sur l'occasion pour les commander. Je sais… j'ai déjà une paire de Ash compensées mais ici, j'aime le fait que le talon soit insoupçonnable (comme dans les baskets pionnières d'Isabel Marant) et j'aime leur sobriété. Je suis loin d'être la seule à les apprécier car Géraldine et Marie les ont déjà adoptées.
J'ai toujours hésité à acheter celles d'Isabel Marant car j'ai peur qu'elles ne passent pas l'épreuve du temps avec leur design tellement identifiable (Je dis ça mais ça fait quand même 2 ans qu'elles sont plus présentes que jamais). Ici, il n'y avait pas trop de questions à se poser vu leur prix terriblement doux pour du 100% cuir, le design sans fioriture et la hauteur de talon très praticable (Sur le site ils parlent de 10cm : A mon avis il faudrait qu'ils changent leurs instruments de mesure, c'est bien plus bas !). Simples et efficaces, que leur demander de plus ?
Taking advantage of their return in stock, I jumped on the opportunity to order them. I know… I already have a pair of Ash wedges but here, I like the fact that the heel is unsuspected (like with Isabel Marant's pioneer trainers) and I like their sobriety. I'm far from being the only one to enjoy them since Géraldine and Marie have already adopted them.
I've always hesitated to buy those of Isabel Marant because I'm afraid they won't make it through time with their so identifiable design (I say this, though it's been two years that they've been more present than ever). Here, there weren't many things to wonder about given their absolutely gentle price for some 100% leather, a design with no frills and a very practicable height of heel (on the website they talk about 10cm: in my opinion they would need to change their measuring equipment, it's much lower than that!). Simple and effective, what more could we ask for ? (English translation by LN)
Sneakers compensées Aerobic Topshop