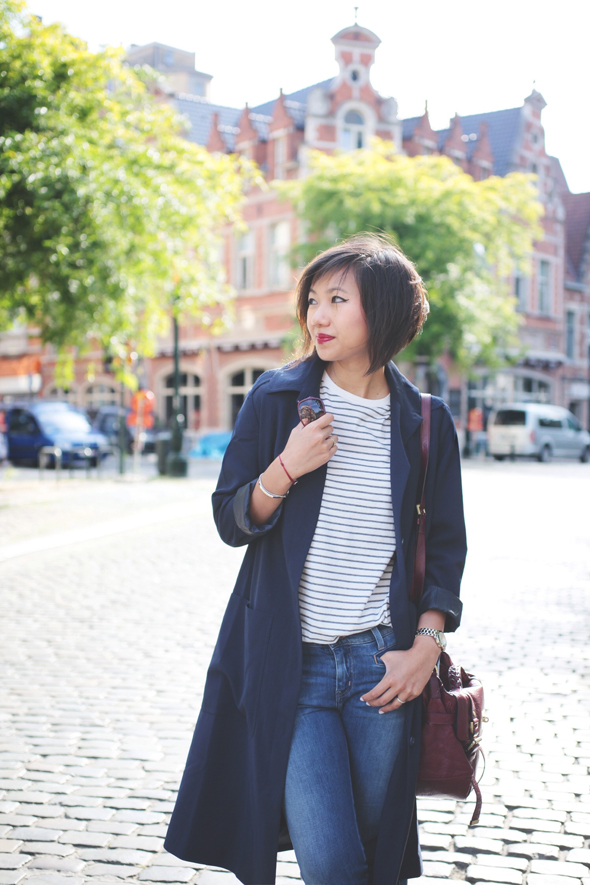 Aujourd'hui, je vous révèle mes bonnes adresses shopping tout en vous montrant un look que j'ai également porté durant ce week-end bruxellois (et qui se prête totalement à une virée shopping, vu le confort).
Today I'll share my good shopping addresses while showing you an outfit that I wore during our weekend in Brussels (and that, comfortable as it was, was perfect for a shopping spree).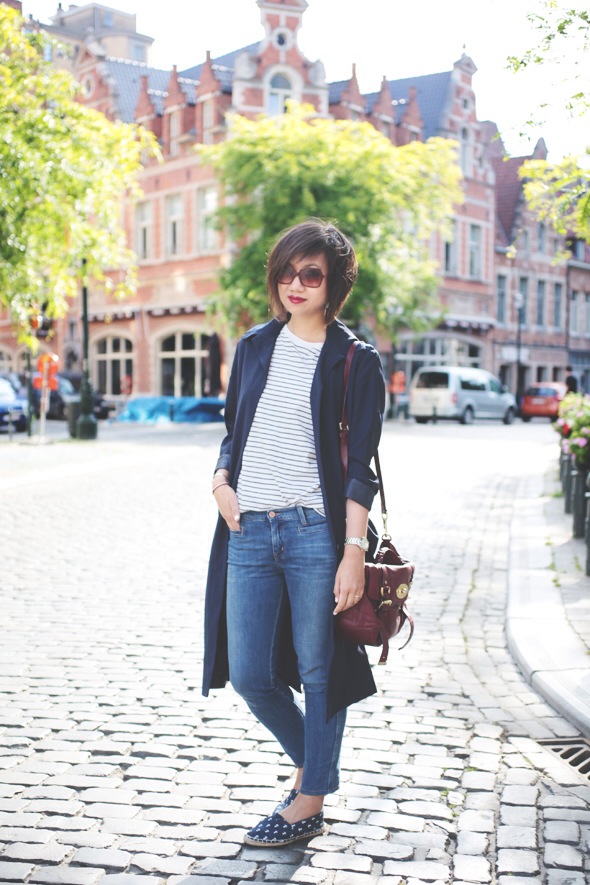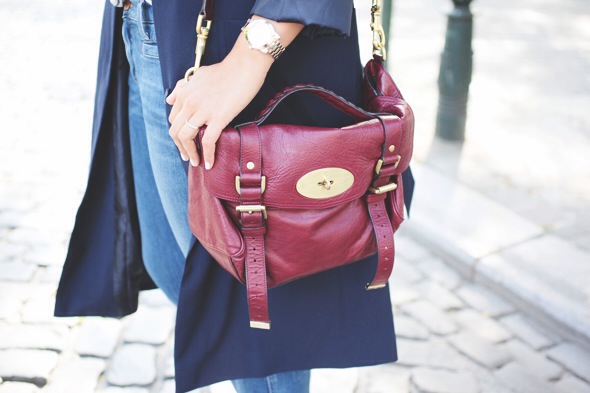 J'ai eu la chance de rencontrer la pétillante styliste /créative consultante Linda Van Waesberge qui m'a ainsi donné ses tuyaux. Grâce à elle, j'ai pu découvrir plein de jolis endroits où notre porte-monnaie risque d'aimer s'ouvrir !
I had the pleasure of meeting the bubbly stylist/creative consultant Linda Van Waesberge, who gave me all her tips. Thanks to her, I discovered tons of pretty shops, where you're going to have trouble keeping your wallet shut!
Dille & Kamille
(16 Rue Jean Stas) Plein d'objets pour la cuisine et la déco de la maison.  Des bougies, des fleurs : je viens même de voir qu'il y a une boutique en ligne.
Tons of kitchen and home decor objects. Candles, flowers: and I just found out they have an online store.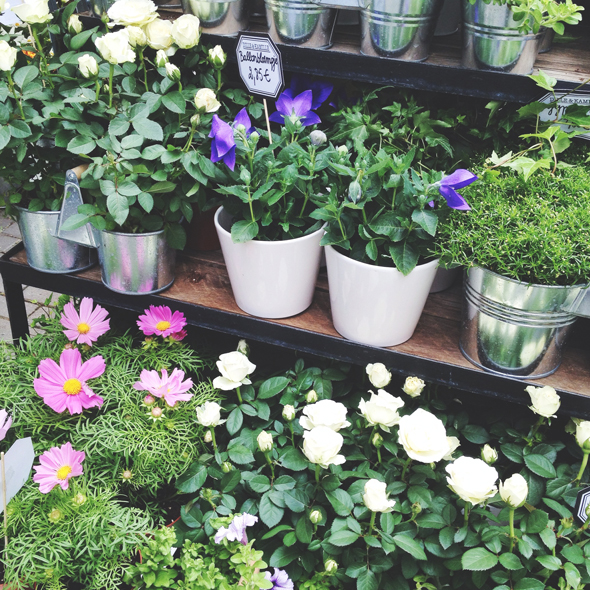 Urban Outfitters
(6 place Stéphanie) L'incontournable, situé, comme toujours dans un très bel endroit, propice à la fouille, au feuilletage de leurs livres, au craquage sur les vêtements en live (oui, parce que même si nous avons accès au site en ligne, les mises en scène en boutique sont toujours plus inspirantes)
A must go, located, as always, in a beautiful place, very conducive to rummaging and searching, to leafing through books, and to finding must-haves (for even if we do have access to their online store, the set ups in the shops are always very inspiring).
Rose
(56-58 Rue de l'Aqueduc) Un magasin rempli d'accessoires et de bibelots déco comme on les aime. Coup de coeur pour leur vitrine que j'avais instagramée ici.
A shop filled with all those accessories and decorative trinkets that we love. A great thumbs up to their storefront, that I had Instagrammed here.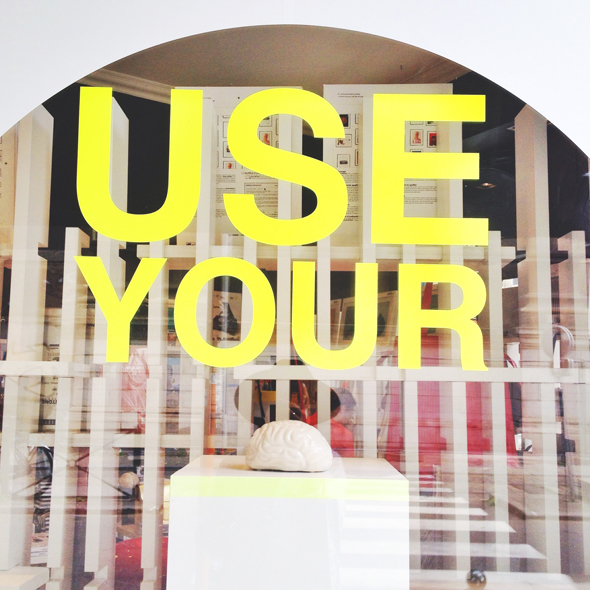 Isabelle Baines 
(4 Rue de la Longue Haie) Une créatrice spécialiste de la maille. Également sur place, une superbe sélection de modèles de la marque « Comme des garçons » (Encore! le Japon revient à moi!)… j'ai failli craquer sur une chemise mais je me suis dit j'avais déjà suffisamment craqué au Japon. Raisonnable je suis.
A designer specialized in knits. Also, her shop has an amazing selection from the « Comme des Garçons » brand (once again, Japan is giving me signs!)…I almost bought a shirt, but I reasoned with myself: I had already had my shopping-fix in Japan for this brand. See how reasonable I am?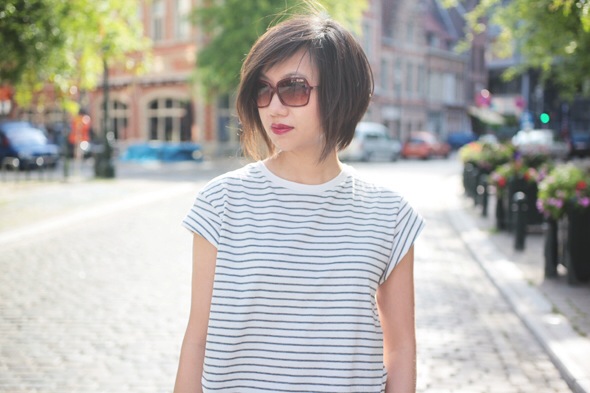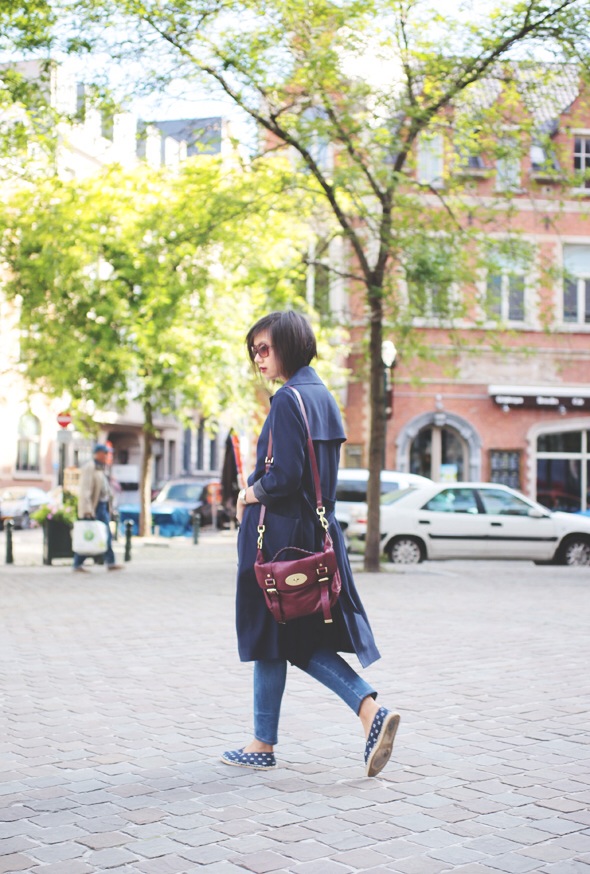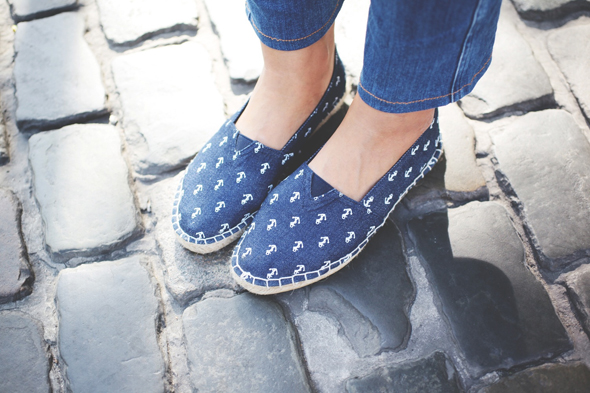 Trench ASOS
Lunettes / sunnies Burberry
Tee shirt ASOS
Sac / bag « Alexa » Mulberry
Jeans MIH Jeans
Rouge à lèvres Rouge Coco « Rivoli » Chanel
Espadrilles ASOS (autres modèles ici)
Kure
(48 rue Antoine Dansaert) La boutique concept-store de Cyrielle qui tenait il fut un temps le blog Unlimited Clothes . Nous nous suivions depuis pas mal d'années : il était donc normal que je vienne lui rendre visite à Bruxelles !
Une déco parfaite pour héberger un grand choix de marques et accessoires d'inspiration scandinave. Cyrielle a du goût et on est facilement séduite par sa sélection.
Cyrielle's concept store (she used to have the blog « Unlimited Clothes »). We had been following each other for a couple years: I couldn't miss the opportunity of visiting her in Brussels!
The decoration is perfect to host a great number of scandinavian inspired brands and accessories. Cyrielle has excellent taste, and it's very easy to be seduced by the selection.
Siblings Factory
(31 rue du Vieux Marché aux grains) Un concept store multi-marques avec une sélection de  vêtements plus étoffés pour les hommes cela dit. D'ailleurs, le mien y a trouvé son bonheur.
A multi-brand concept store with a good clothing selection, even if the mens' section is more substantial. Which explains that my S.O. left with some good finds.
Hunting & Collecting
(17 Rue des Chartreux) Encore un concept-store façon Colette mais un peu plus épuré. On peut y admirer du Carven, Jacquemus, magazines, objets de déco et des créations belges.
Yet another Colette inspired concept store, but perhaps with a more minimalist design. You can find Carven, Jacquemus, magazines, decoration items, and belgian creations.
Isabelle Bajart
(25 Rue des Chartreux) Une sélection de jolis vêtements vintage. has a selection of great vintage clothing items.
Marché aux puces sur la Place du Jeu de Balle
Le dimanche, parfait pour chiner et trouver des merveilles. On sundays, it's perfect for antiquing and finding amazing things.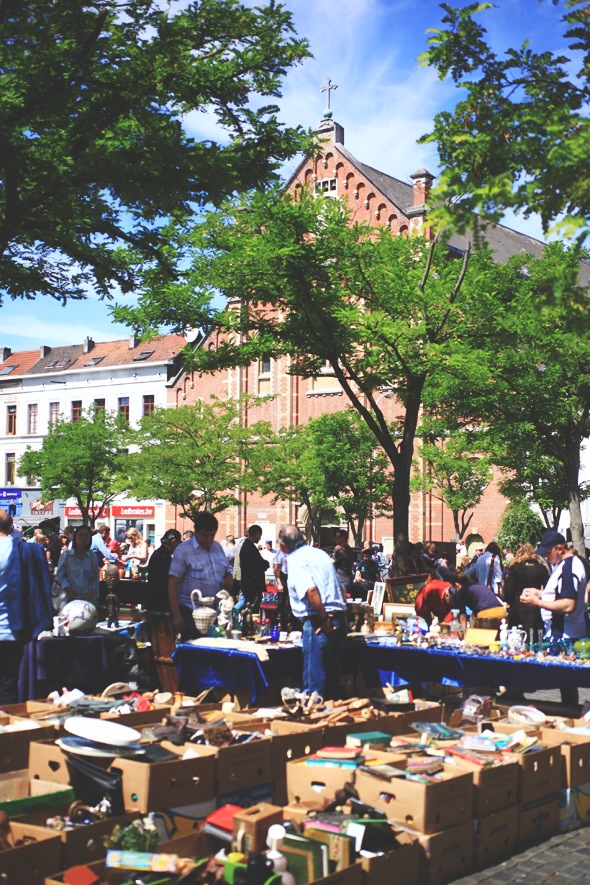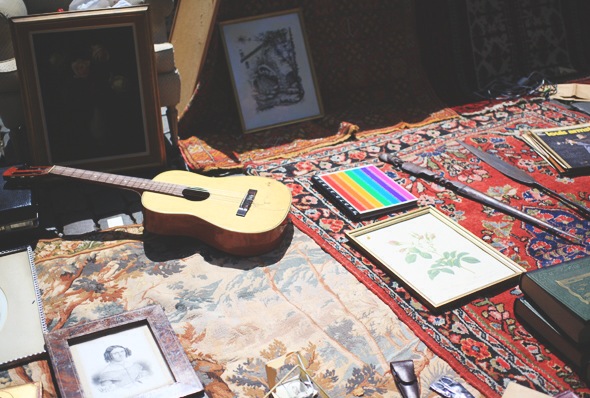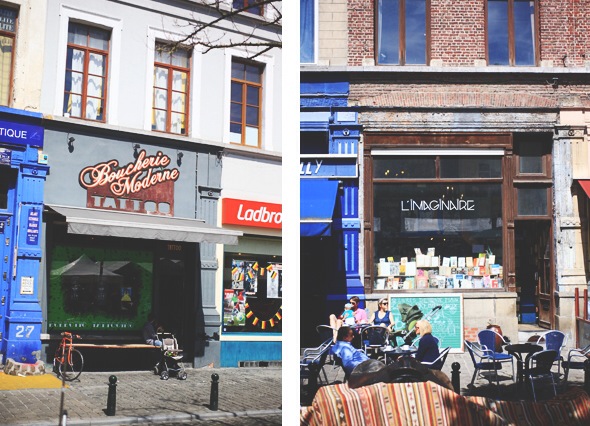 J'y ai trouvé des babioles et un joli cendrier Disneyworld fabriqué au Japon (je ne fume pas mais ça servira pour d'éventuels invités sur mon balcon).
I found trinkets and a very prettty Japan made Disneyworld ashtray (I don't smoke, but it'll be for guests on the balcony).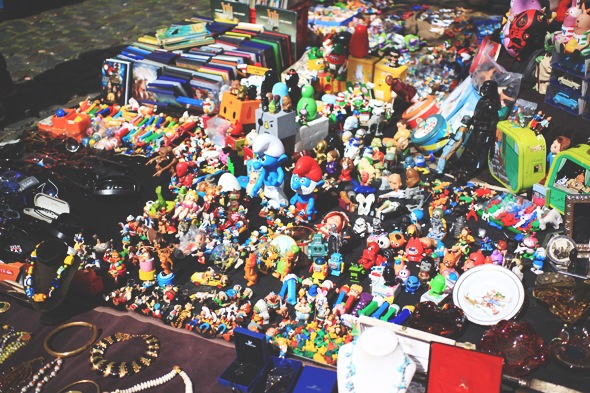 Rue du Renard et Rue Blaes
Aux alentours de la place du jeu de balle, ces rues regorgent de boutiques de déco vintage pour la maison ou autre friperie.
Around the Jeu de Balle Square, these streets are filled with vintage shops for home decor or clothes.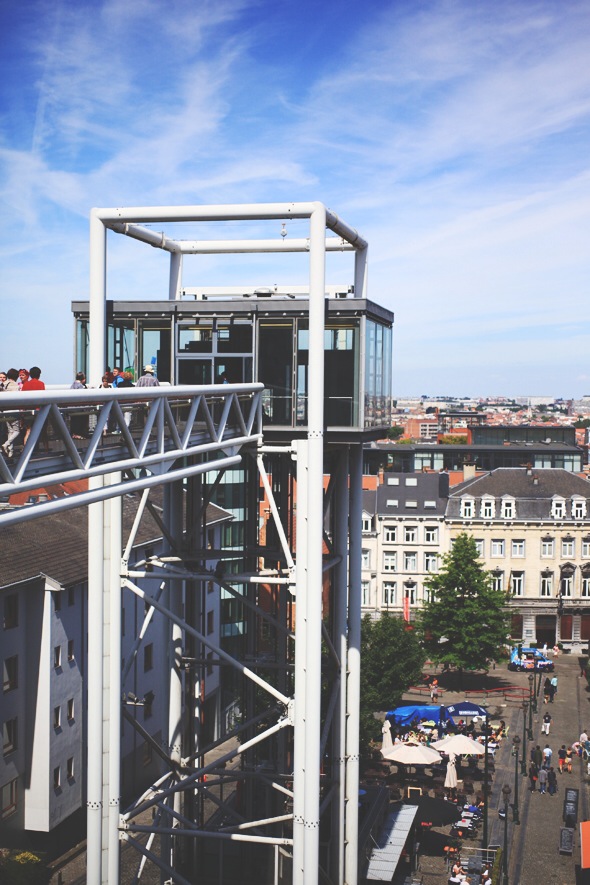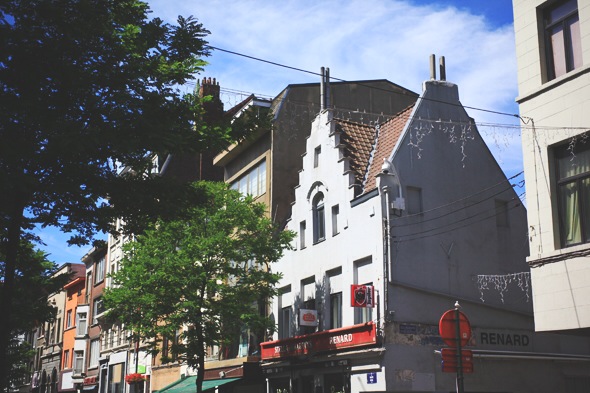 Le souci, c'est que ramener une énorme lampe vintage en train se révèle être difficile. Nous avons donc dû renoncer à pas mal de merveilles.
Évidemment il y a plein d'autres adresses que je vous laisse ajouter dans les commentaires pour étoffer ma liste mais celles-ci sont celles qui ont retenu mon attention. Prochaine étape, la nourriture à Bruxelles ! Oh ouiii !
The only problem was that bringing back a huge vintage lamp by train would have proven difficult, so we had to give up a lot of amazing finds.
Of course, there are a lot of other addresses, that you're welcome to add in the comments below, but these were the ones who really marked my mind. Next step, food in Brussels! Oooh YES! (English translation by Bleu Marine)