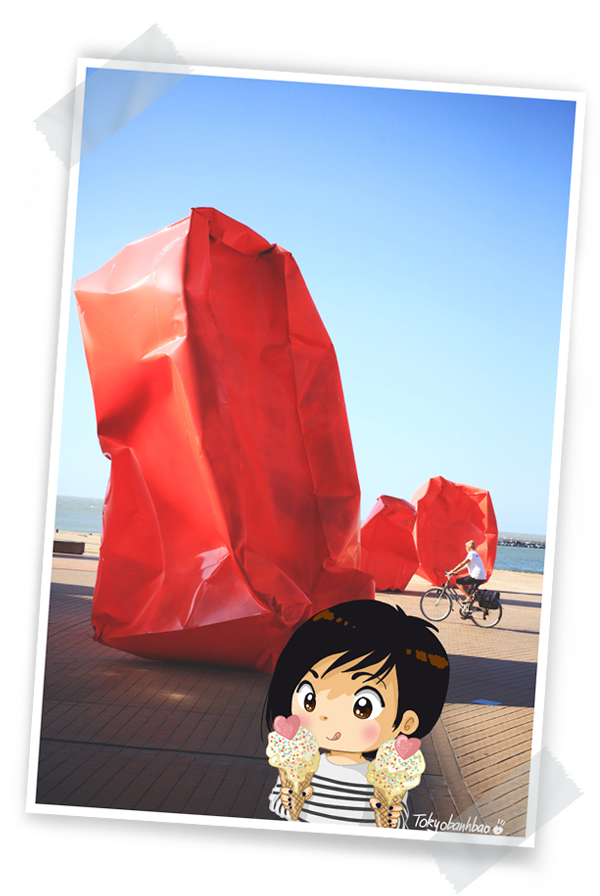 Comme promis, je reviens avec un billet listant mes coup de coeurs gourmands lors de ce séjour à Ostende. Comme je vous le disais, j'ai été séduite sur toute la ligne…et encore plus au niveau de la nourriture : ce fut le point fort de ce week-end !
Forte de mes précédents périples belges, je savais que j'allais bien manger mais je crois qu'Ostende détient la palme ! Vu la localisation, les restaurants servent des produits de la mer plus que frais et côté sucré, nous ne sommes pas en reste. Allez hop, je vous dévoile sans attendre mes endroits préférés !
As promised, I come back to you with a post listing my culinary crushes from this trip to Ostend. As I was saying, I was totally seduced…and even more food-wise: it was the highlight of the weekend !
Still high on my last Belgium trips, I knew I was going to eat well but I think Ostend deserves an Oscar ! Seeing where it is located, the restaurants serve sea products that are more than fresh and in the sugary department, they don't leave us hanging. So let's go, I will reveal to you without further ado my favourite places !
BISTRO MATHILDA
(Leopold II-laan 1, Ostende) J'ai eu la chance d'y être invitée pour pouvoir déguster en avant-première le menu « La mer » qui sera servi  en parallèle avec l'expo du même nom qui se déroulera au Mu-Zee à partir du 23 Octobre.
I was lucky to be invited to sample before everyone the « La Mer » (the sea) menu which will be served in parallel with the exhibition of the same name that will be shown at the Mu-Zee from October 23rd.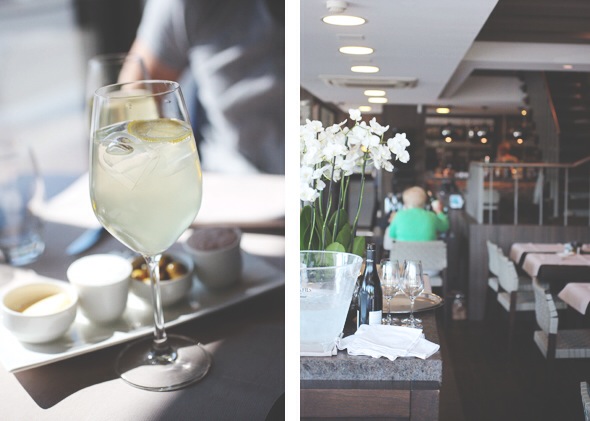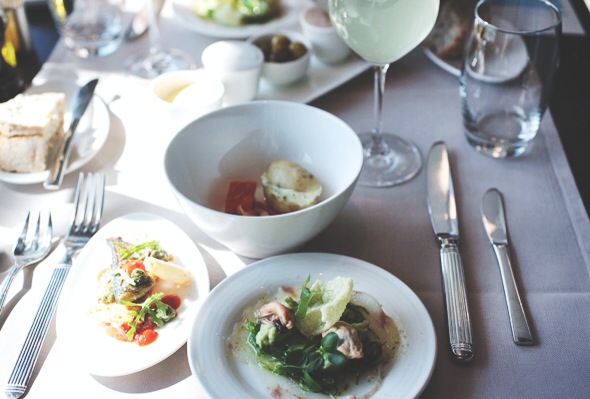 Comme son nom l'indique, ce menu est composé de poisson et de fruits de mer, ce qui pour ma part, m'enchante allègrement (j'ai dû être un thon dans une autre vie… ou alors dans celle-ci vous dites ?… merci du compliment).
In accordance to it's name, this menu is composed of fish, sea food, which for me is thrilling (I must have been a trout in another life…or in this one?…thanks for the compliment).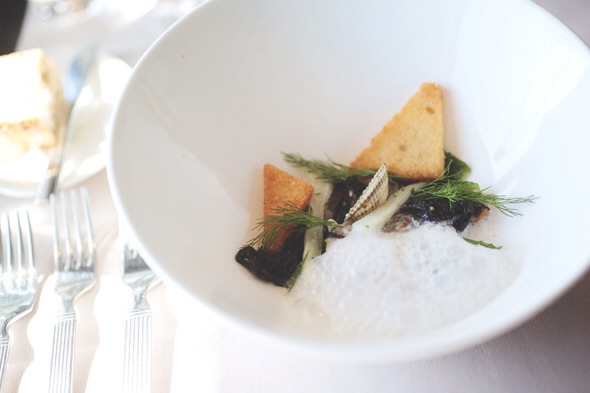 Après de délicieuses mises en bouche (coup de coeur pour le carpaccio de lotte absolument divin), on nous apporte un tartare de chinchard au fenouil, raifort, coques,algues et caviar avruga.
After some lovely appetizers (crushing hard for the monkfish carpaccio, particularly divine), we are brought some horse mackerel tartar with fennel horseradish, clams, algae, and avruga caviar.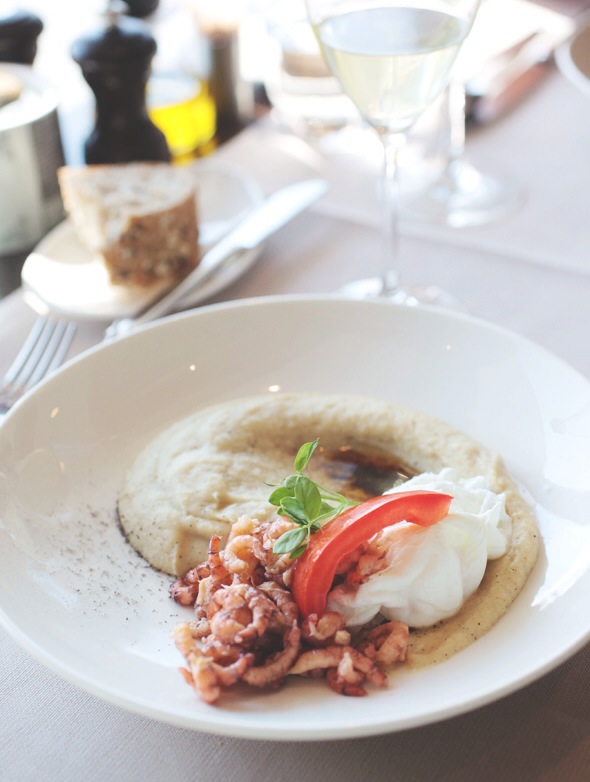 Place au plat traditionnel ostendais  appelé « Tatjespap » aux crevettes, autrement dit une purée de pomme de terres au lait battu, beurre noisette et oeuf de la ferme poché, le tout accompagné de crevettes grises de la première fraîcheur. Délicieux !
Ensuite, passons au plat de résistance avec la raie et son risotto aux courgettes, radis noir et camomille nappé de son jus de crabe. Encore une fois, coup gagnant, tout est superbement bien préparé et assaisonné.
Then it was time for the traditional Ostende dish called « Tatjespap » with shrimps, in other words a potatoe mash with whipped milk, butter and poached farm egg, all of it accompanied with grey shrimps that where also exceptionally fresh. Delicious!
Then, we move on to the 'piece de resistance' with the skate and courgette risotto, black radishes and chamomile served with a crab jus.Then again, as expected, everything is superbly prepared and seasoned.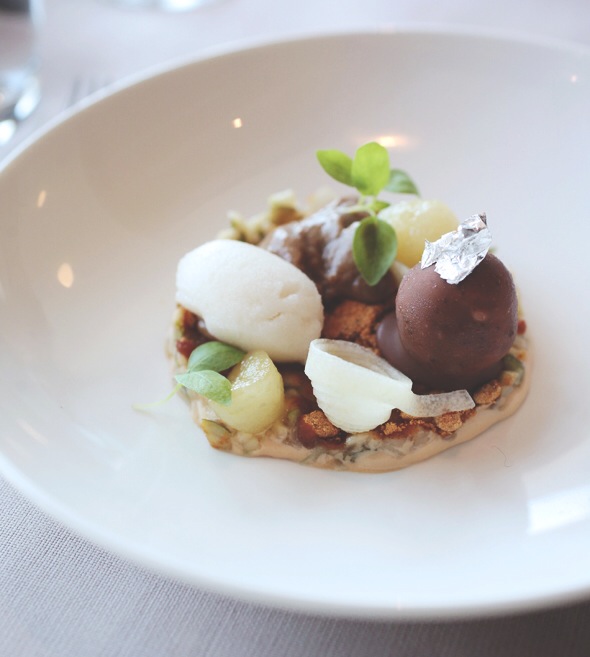 Le dessert clôture avec brio cet excellent repas avec le « précosse de Trévoux » de Wim Addriaenssens :  une poire associée à des parfums de café, caramel et pain d'épice.
Moi qui ne suis pas très « café », j'ai reconnu une belle réussite au niveau de l'harmonie générale de ce dessert. Bref succès sur toute la ligne. Un décor très lumineux. Un très bon moment. Tout est là pour se faire plaisir.
The dessert ended this excellent meal with gusto with the « précosse de Trévoux » from Wim Addriaenssens: a pear mixed with notes of coffee, caramel and ginger bread.
I am not too fond of coffee, but I could see a real achievement in the harmony of this dessert. In brief, it was success in all it's glory. A bright décor. A lovely moment. Everything is there for your pleasure.
BELLE DE JOUR
(Aartshertoginnestraat 5, Ostende) Second coup de coeur dans un autre genre, moins raffiné, plus simple mais tout aussi délicieux. Ce restaurant sert des spécialités italiennes qui varient régulièrement puisque la carte est écrite à la craie sur une ardoise géante. Produits frais garantis.
Second crush in another way, less refined, more simple but still as delicious. This restaurant serves Italian specialities that varies often as the menu is written on a giant black board. Fresh products guaranteed.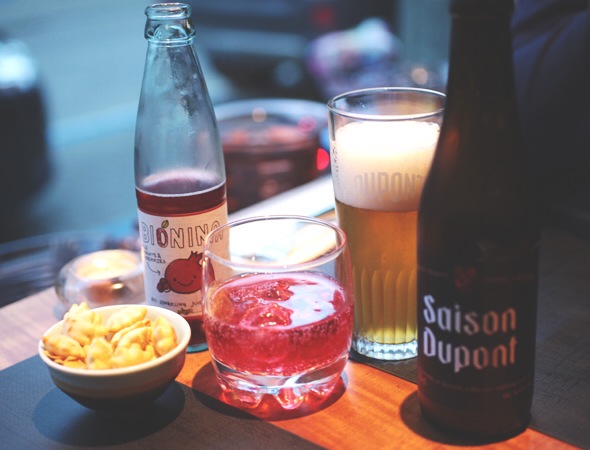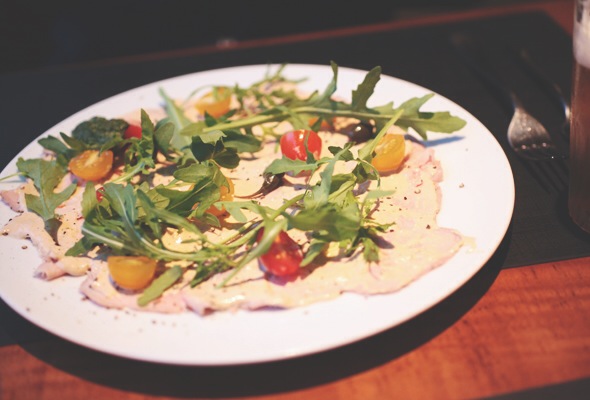 Ce jour-là, mon homme a choisi le Vittelo tonnato, une spécialité piémontaise à base de fines tranches de veau, nappées d'une sauce à base de mayonnaise et thon à l'huile d'olive. Superbe !
On the day, my man chose the Vittelo tonnato, a piemontese speciality made with this slices of veal, served with a mayonnaise based sauce and tuna and olive oil. Superb !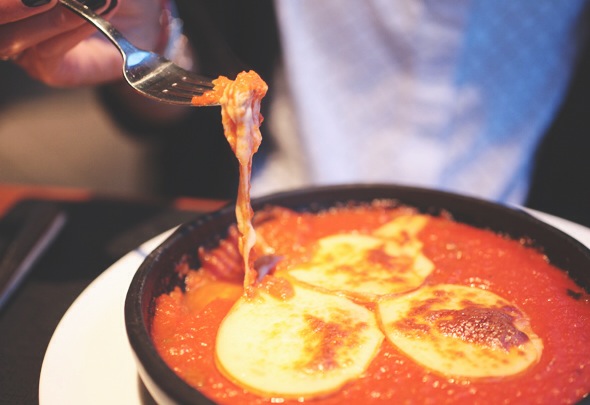 Pour ma part, j'ai choisi la Scarmoza, mozzarella fumée sur son coulis de tomate chaud. Le fromage file et dégouline au bout de la fourchette. Ai-je besoin d'en dire plus ?
For my part, I chose the Scarmoza, smoked mozarella with warm tomatoe coulis. The cheese melts and drips at the end of the fork. Do I need to add anything?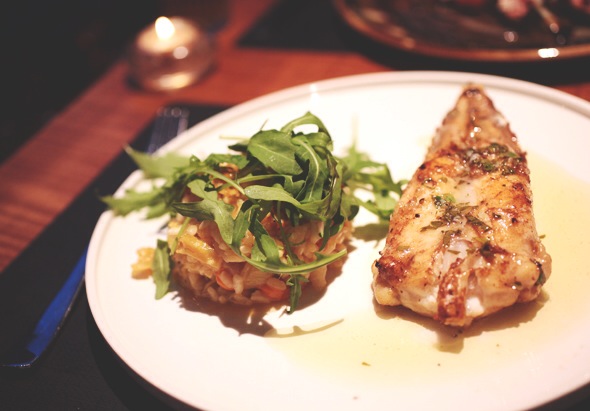 Puis je décide de choisir la lotte et son risotto fondant (Poisson toujours !).
Then I decided to try the monkfish in a melty risotto (Fish always!).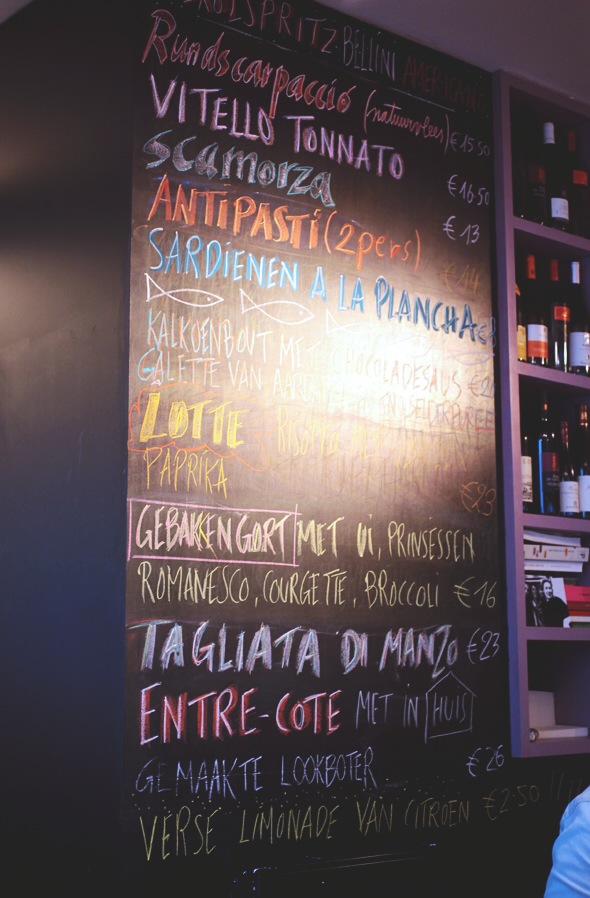 De l'autre côté de la table, une tagliata di manzo à base de tranches de boeuf saignant sur lit de copeaux de parmesans et de légumes. Je n'ai pas pu m'empêcher d'y goûter et là encore : perfection !
On the other side of the table, a tagliata di manzo composed of slices of rare beef on a bed of parmesan flakes and vegetables. I couldn't resist trying and there again: perfection!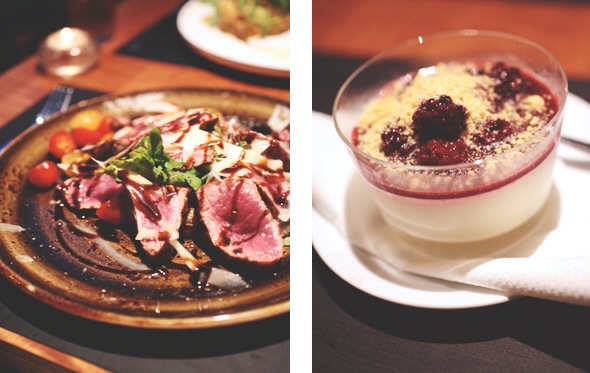 Petit bémol sur le dessert cependant avec cette panna cotta à la texture un peu trop compacte mais lorsque je l'ai signalé (alerte cliente tatillonne), on m'a assuré que c'était à cause d'un problème de frigo trop froid ce jour-là…
Je laisse donc le bénéfice du doute : à vous de me dire si la panna cotta est meilleure en temps normal lorsque le frigo ne fait pas des siennes ! En tous cas, très très bonne adresse où l'on se sent bien et où l'on mange plus que bien, côté salé en tous cas.
Only oversight was on the dessert with the panna cotta that was very compact in texture and when I mentioned it (alert annoying customer), I was told it was because of a fridge malfunction on the day…
I leave you to make your mind up: you tell me if the panna cotta is better normally when the fridge is not failing ! Anyhow, very very good address where you feel great and the food is more than good, in the savoury side of things anyway.
HISTOIRES D'O
(Albert I-promenade 53, Ostende) Cette 3ème adresse a pour atout son joli cadre (situé en bord de plage, le long de la promenade Albert Ier, terrasse pour les non frileux).
This 3rd address is lucky to be set in a lovely location (situated along the beach, on the promenade Albert Ier, with a terrasse if you're not scared of the cold).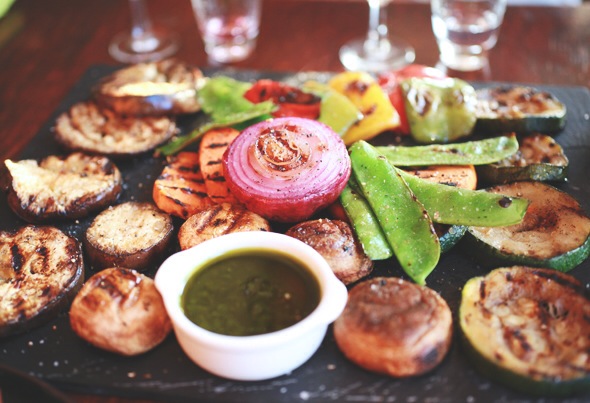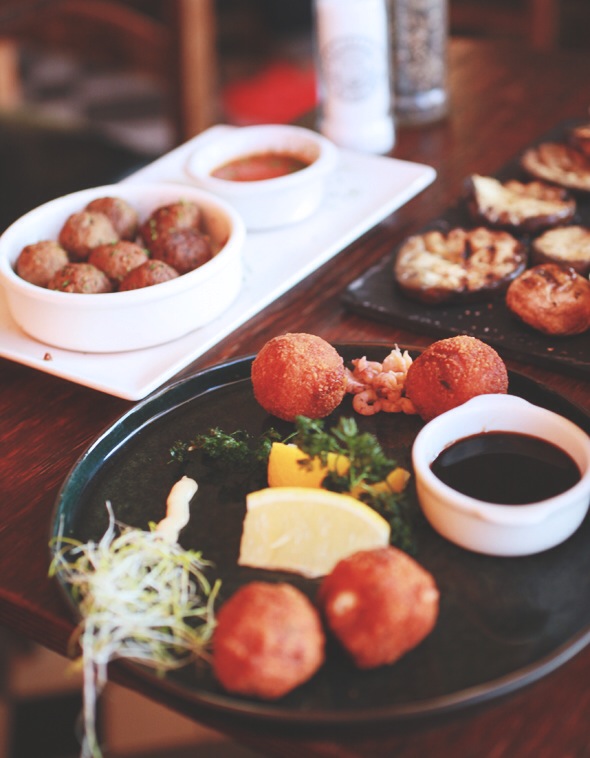 Je la conseillerais davantage pour boire un verre et manger quelques tapas. La nourriture est très correcte mais rien de fou (mention quand même pour les légumes grillés à la plancha et les croquettes de crevettes).
I would recommend it to have a few drinks and eat tapas.The food is good but not exceptional (although kudos for the plancha grilled vegetables and the shrimp croquettes).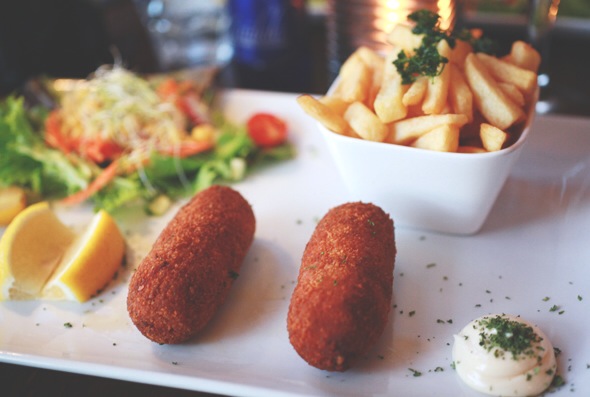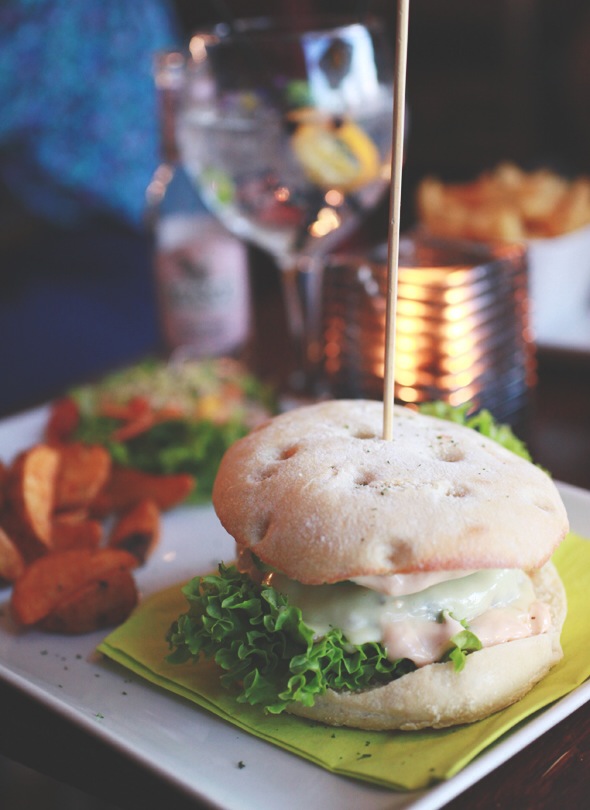 Ici, on vient plutôt déguster le gin.
Vous savez bien que je suis loin d'être une connaisseuse en alcool (surtout que mes gènes asiatiques m'ont conféré une tolérance plutôt faible à celle-ci : un verre de bière = champ de vision rétréci) mais comme le lieu est réputé pour sa grande variété de Gin, nous nous sommes laissés tenter… avec modération bien sûr (pour ma part, je n'ai pas trop le choix, vu ce que je vous ai dit précédemment).
Here it's more about the gin.
You know I am less than a connoisseur in alcohol (especially as my Asian genes make me a little bit of a light weight: a pint of beer = not sure what's in front of me) but because this place is famous for it's big variety of gins, we let ourselves be seduced…with moderation off course (for my part I can't anything but, like I was just saying).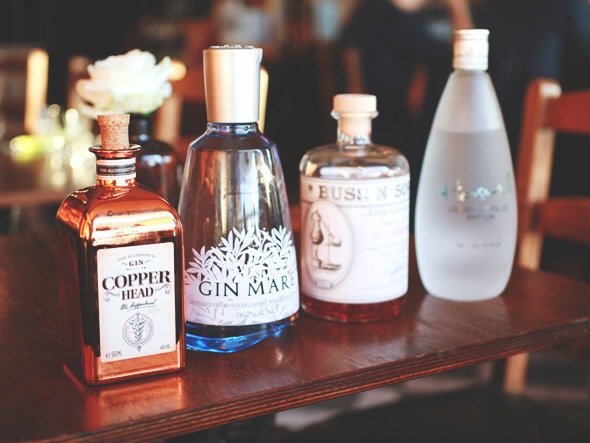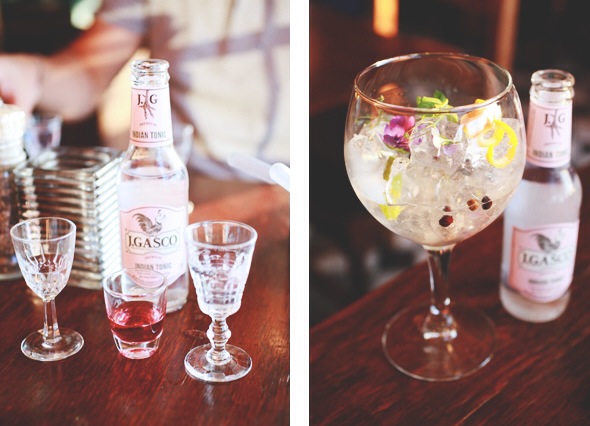 Le propriétaire des lieux nous présente 4 bouteilles de gin d'origine différente (de mémoire, Portugal, Royaume-Uni, Belgique…). Nous les testons en les diluant dans un peu de tonic et lorsque notre choix est fait, il nous prépare un grand verre (bol !) à base de notre gin préféré, à boire à deux, en amoureux.
The owner presents us with 4 bottles of gin from different nations (from memory, Portugal, United-Kingdom, Belgium…). We test them by diluting them with tonic and when we agree to pick one, he prepared us a big glass (bowl!) with our favourite gin, to drink together as a couple.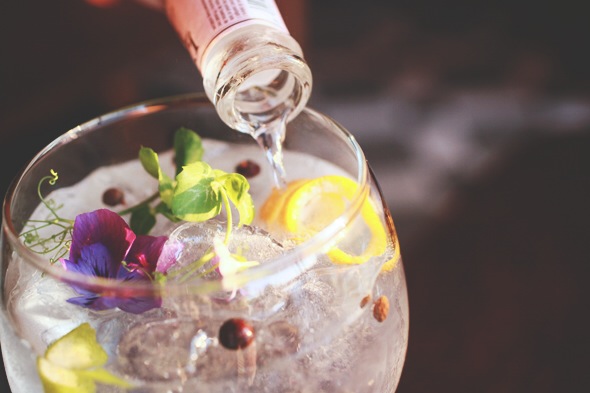 Endroit encore une fois très cosy avec une belle vue (surtout que c'est d'ici que nous avons pris la photo du coucher de soleil) : on s'y sent bien.
Very cosy place with a beautiful view (specially as it's where I took the picture of the sunset), and you feel good there.
MARCHÉ AUX POISSONS
Des stands sont situés aux alentours du marché et servent des escargots de mer (bulots) à la sauce épicée (ou non).
Some stalls are placed around the market and cater sea snails with spicy sauce (or not)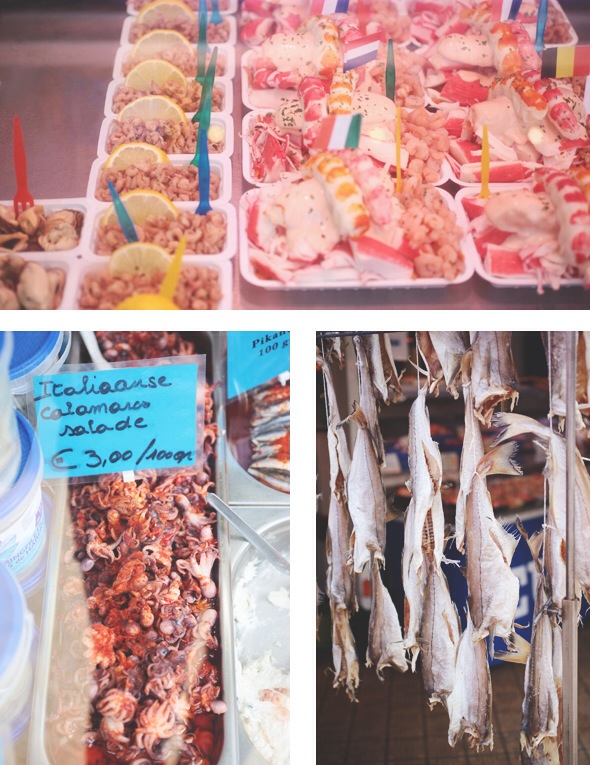 Sympathique pour un petit snack grignotage. Je n'ai pas goûté aux crevettes mayo par contre, qui me semblaient trop chargées en sauce. Bref, à faire quand même pour le côté convivial de la chose.
Lovely for a little on the spot snack. I didn't taste the shrimp mayo that looked to saucy for me. Anyway, something to do for the fun of it.
DE ZOETE ZONDE
(Christinastraat 54, Ostende) Un salon de thé où la pause gourmande est agréable. Preuve en image. A tea room where the gourmet break is lovely. Proof in images.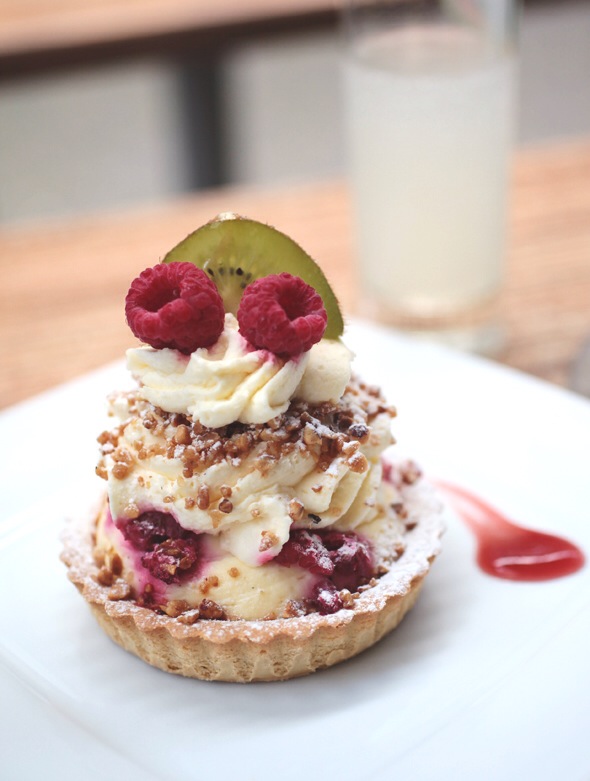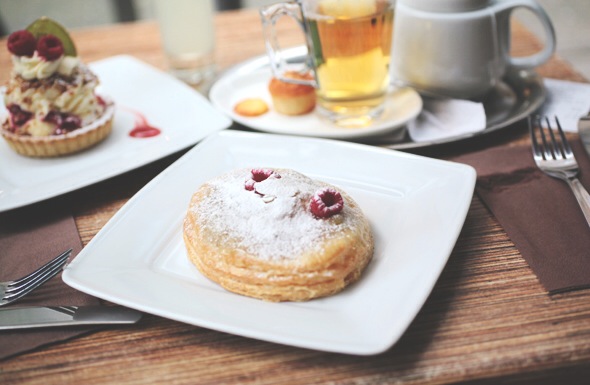 Glacier MAXZIM
(Hertstraat 3-5, Ostende) Bon plan absolu ! Nous y sommes retournés 2 fois dans le week-end ! Les glaces sont faites maison et la générosité des portions est inversement proportionnelle au prix !
Absolute find! We went back there twice on the weekend ! The ice-creams are home made and the generosity of the portions is very good compared to the price !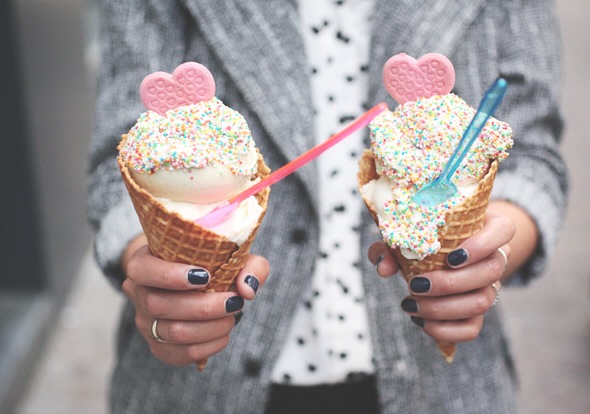 En effet, un cornet une boule coûte 1euro 30 !!! Inimaginable à Paris en tous cas (ou alors il faut me dire où?) et cornet deux boules pour 2 euros et quelques.
In fact, an ice-cream ball and a cone comes to 1euro30!!! Unthinkable in Paris in any case (or maybe you know where?) and 2 balls and a cone for 2 euros and something.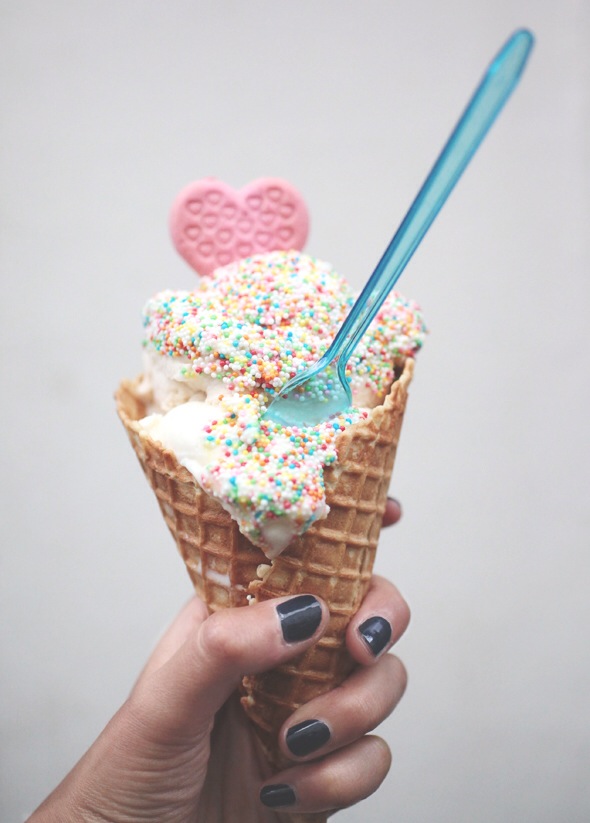 Plusieurs parfums disponibles (speculoos argh !), un crémeux à tomber par terre. Attention à la file d'attente aux heures de pointe… mais on n'a rien sans rien !
Many flavours to choose from (speculoos omg!), a creamy taste to fall on the floor. Beware of huge queues in rush hour…but all good things come for those who wait ! (English translation by TradIsa)