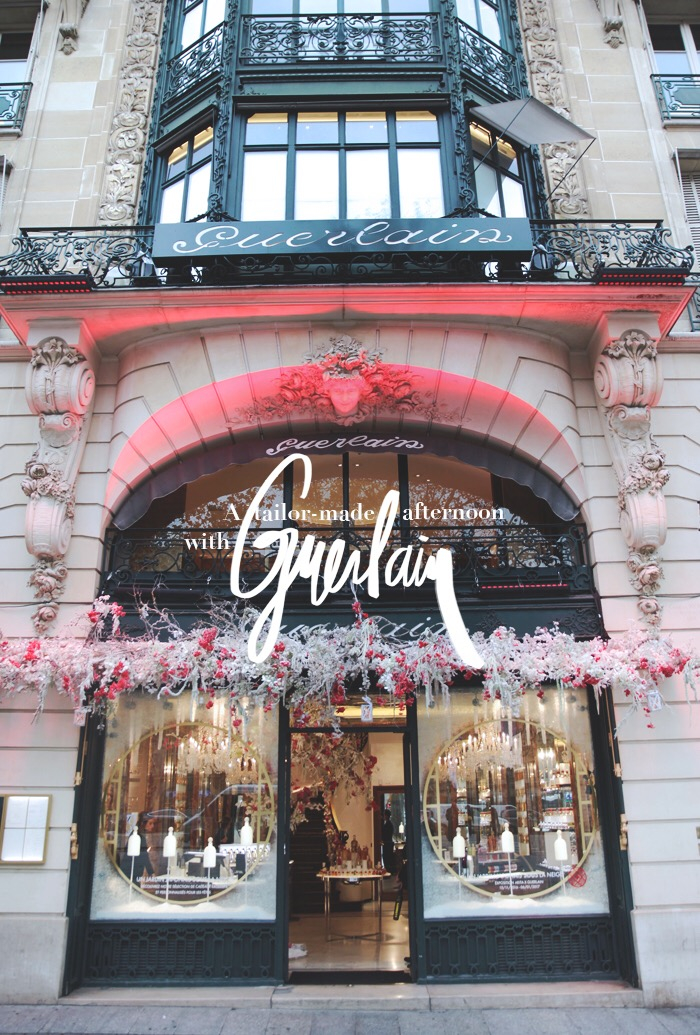 Last wednesday, I had the privilege of visiting "le 68", the legendary Guerlain store, located on the Champs-Elysées avenue, n°68. Maison Guerlain had on top of this organized a tailored program just for me … I couldn't have asked for more…it's like a pre-Christmas gift.
Indeed, when I arrived in front of the storefront, I saw it was Japan-oriented, to highlight an exhibition of Arita porcelain.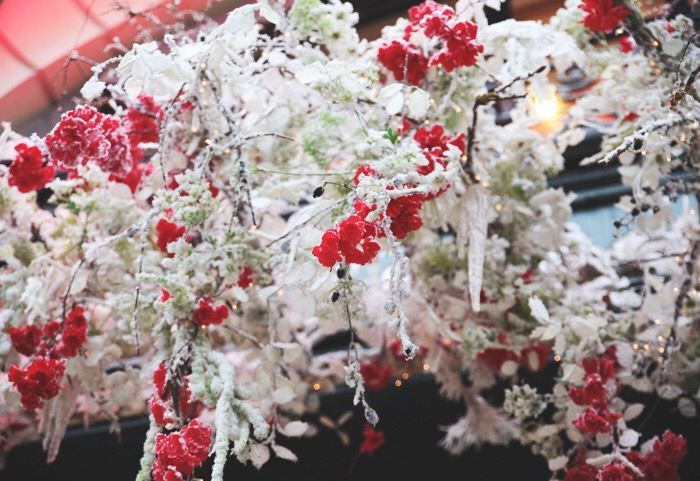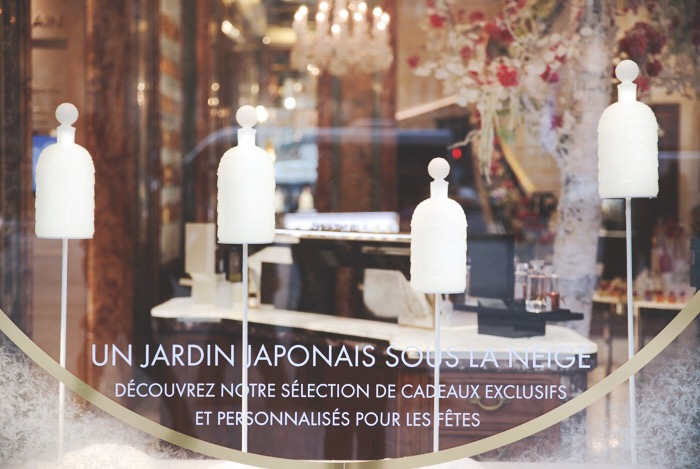 I've been walking pas this majestic store for years, but had never had an occasion to push the door and walk in.
I discovered a luxurious space, of course, but where everything is thought to make you feel at home, and add a bit of sparkle to your eye : it's a shop, a museum, a spa but also a restaurant / tea room – a true tribute to the French way of life.
Arita x Guerlain exhibition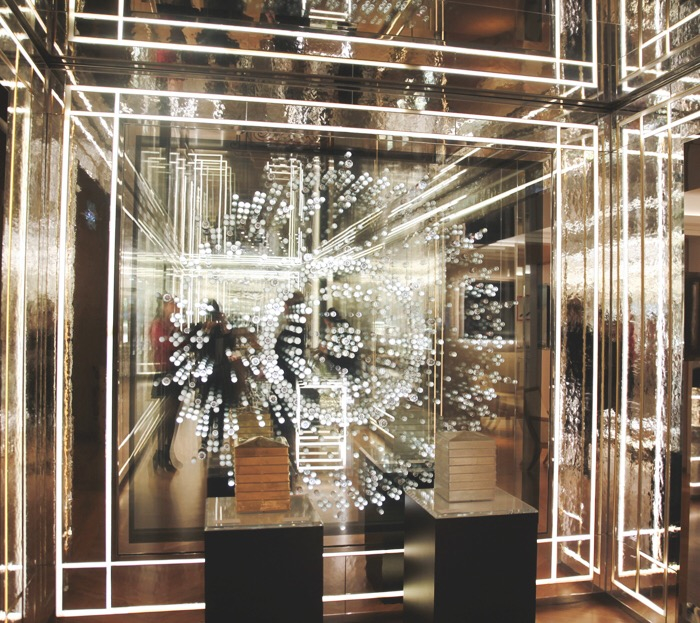 The exhibition is located on the 1st floor and is available to all until January 7th. Beautiful vases and finely-worked plates can be admired in this light-drenched space.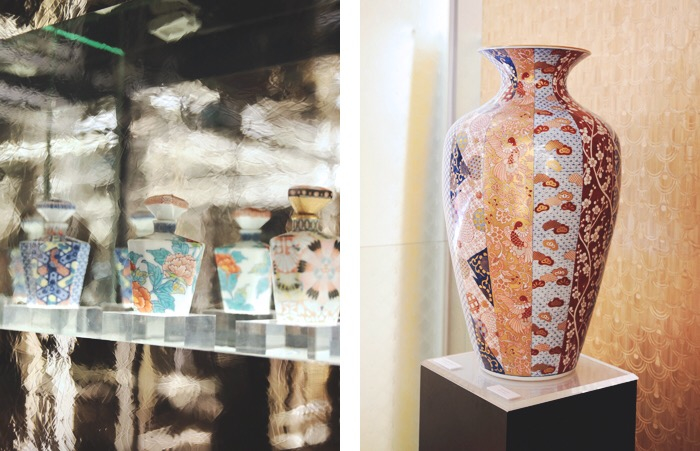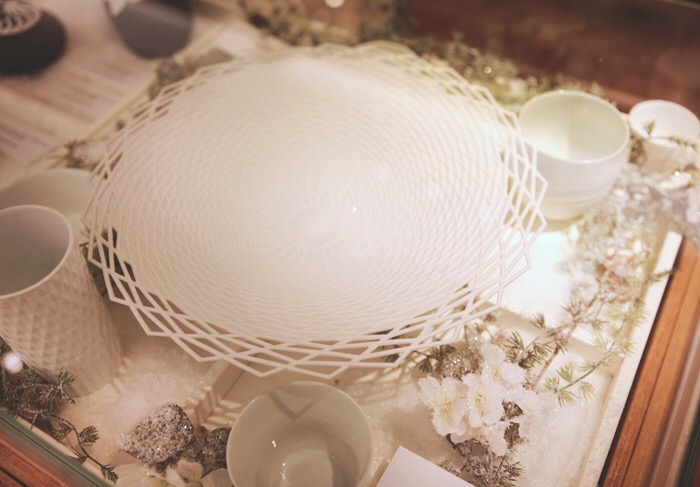 Lace or porcelain ?
I also discovered the collector edition of Mitsouko, reinterpreted by the Arita Porcelain Lab.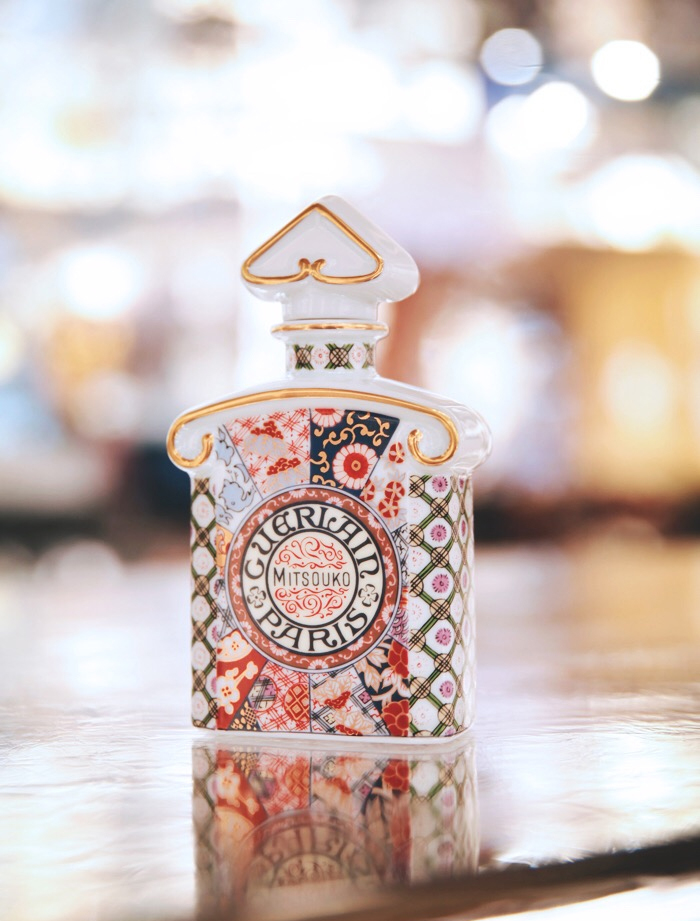 The Xmas "Arita x Guerlain" Mitsouko collector edition bottle

I found out that the bottle with the rising sun colors is a real lucky charm, thanks to its patterns, that hold a special and precise meaning.
The plum tree symbolizes life, the peony gets rid of bad vibes, the pauwlonia and chrysanthemum are respectively symbols of elegance and longevity. Sterling work, that I discover through the exposes works and videos.
The art of perfume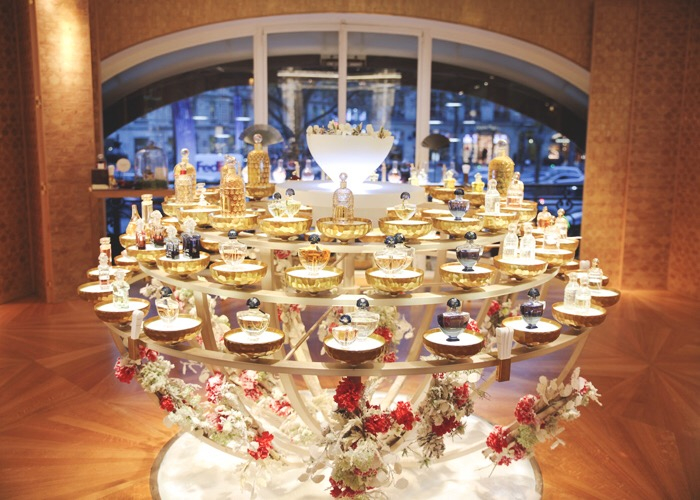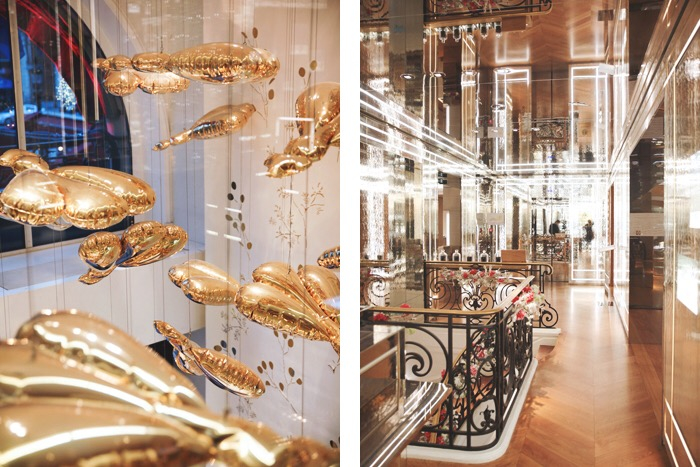 On the same floor, I take in the olfactory univers of Guerlain by way of the exhibition showcasing all this mythical bottles.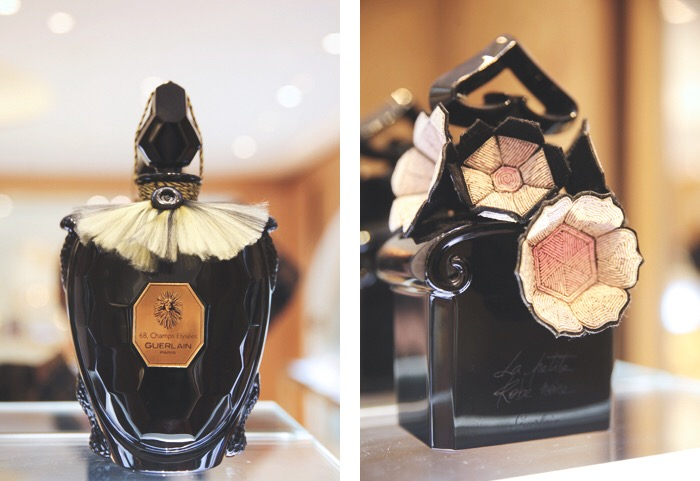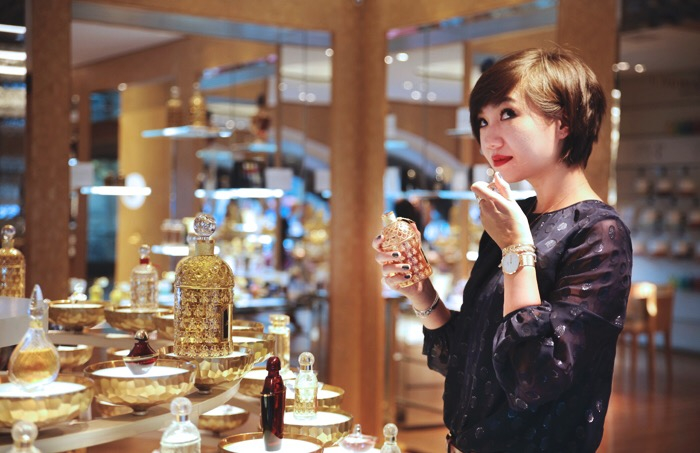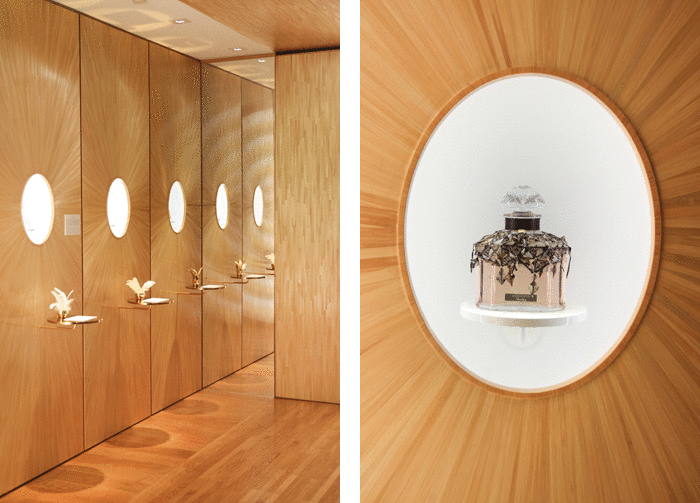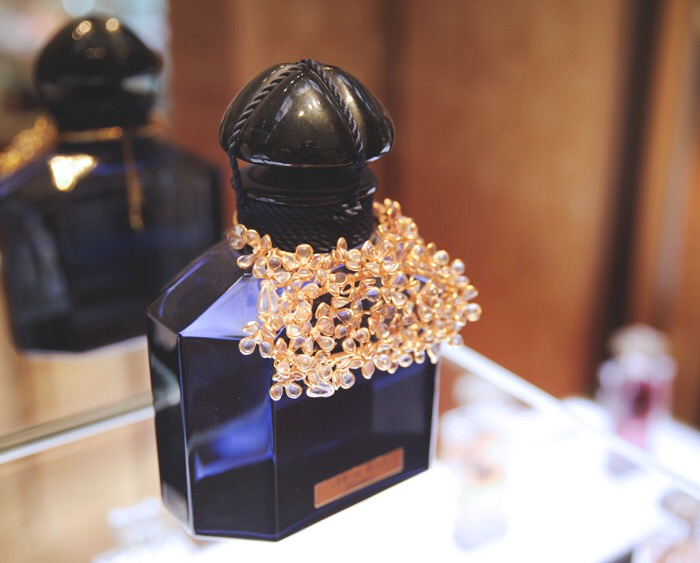 The Bees, The Turtle, the little black dress exclusive edition, Shalimar … a real curiosity cabinet dedicated to beauty and elegance, that I really enjoyed.
My perfume consultation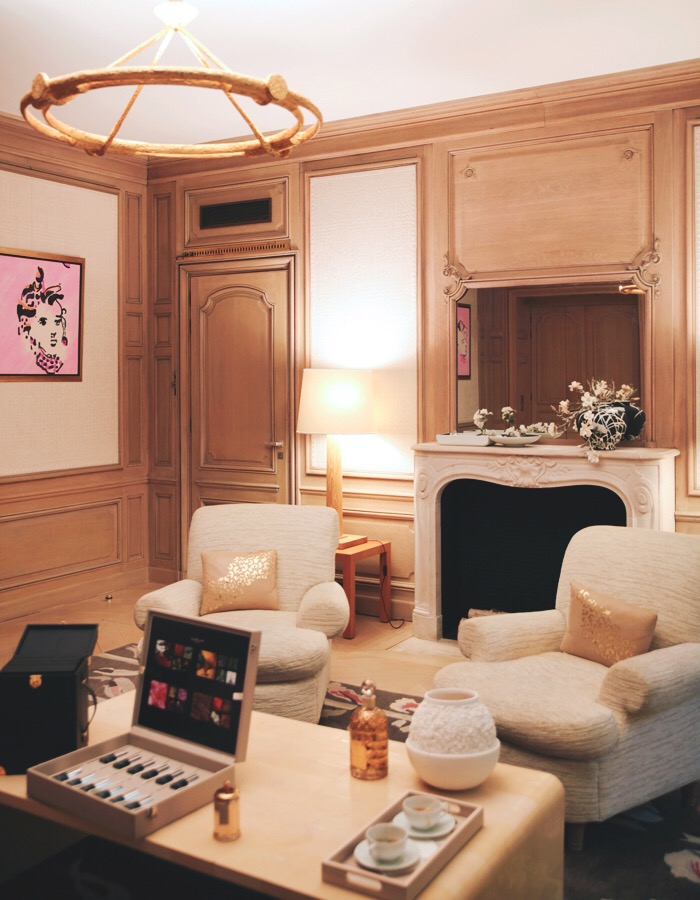 Then comes the time for my Perfume consultation : I'm invited into Guerlain's private salon (generally reserved for VIP clients) in order to discover which Guerlain fragrance suits me best.
It is said that "Perfume is the color of the soul", so I was pretty impatient to discover what mine was.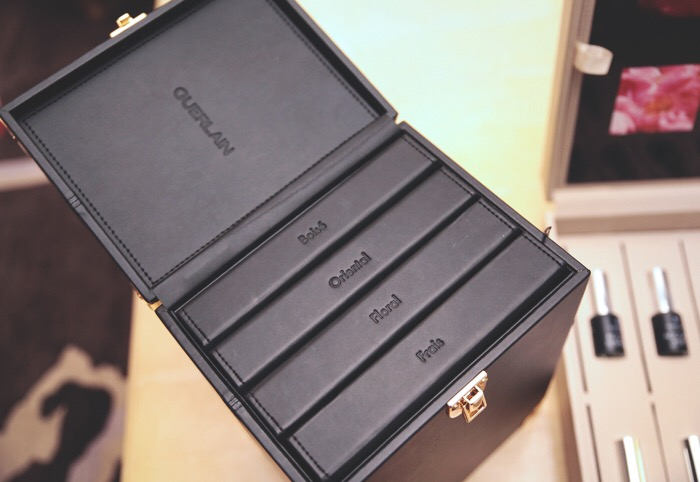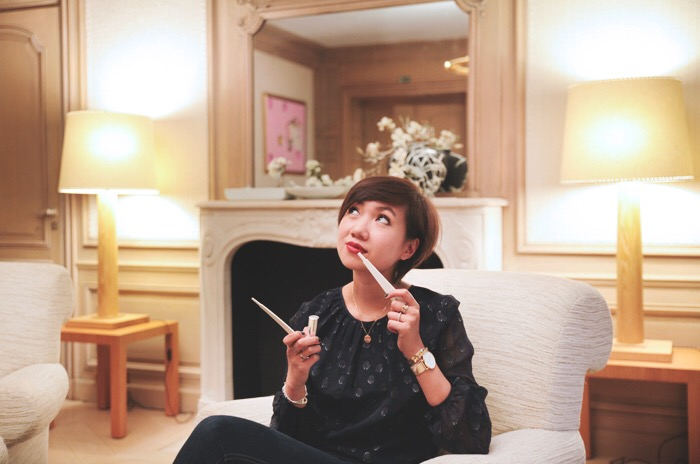 I sip tea and answer Ophélie's questions as candidly as I can, who's trying to determine my preferences : the approach is personal yet not inquisitive. The dialog is spontaneous; questions range from visual to a scent brochure, to daily life situations.
We've narrowed down the options, and Ophélie immediatly senses my aversion for heady/sugary/woody fragrances.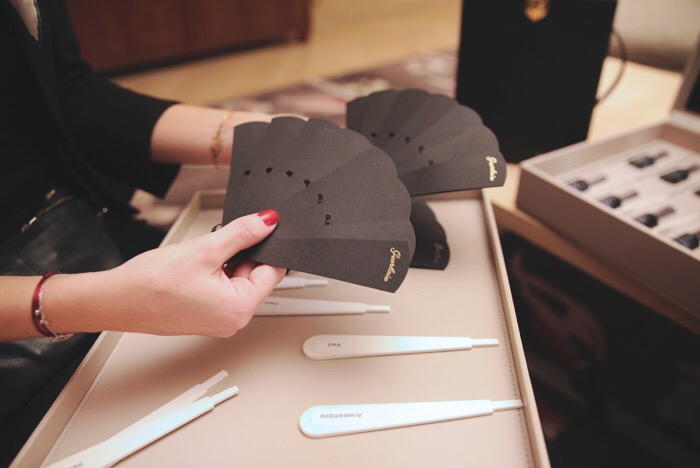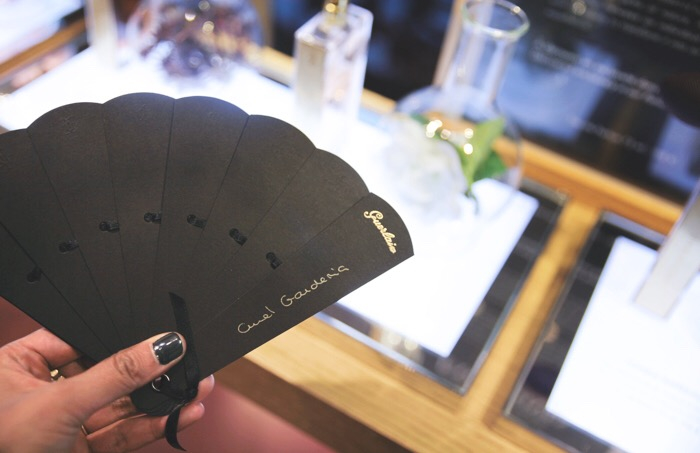 My world is pretty flowery, fresh but with a hint of character.
Drum roll please, my best match is "Cruel Gardenia", with rose, neroli and gardenia : "a white flower, with a sunny glow" … I'm delighted to find that it really is my type of fragrance – and I've been enjoying my "sunny glow" ever since, hehe.
My personnalized bottle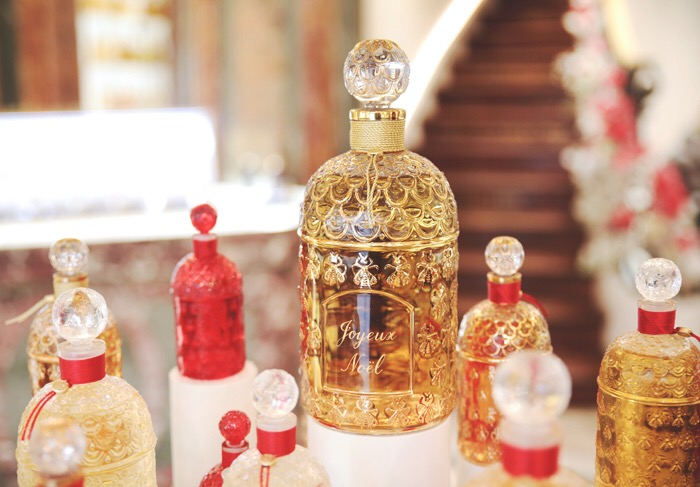 My bottle with bees now needs to be personalized, and "Tokyobahnbao" is engraved on it in calligraphy.
I chose the white see-through version, with a simple burgundy colored ribbon, but there are 8 different bottle-colors and another type of "finish" (silk thread, simple, double, metallized …).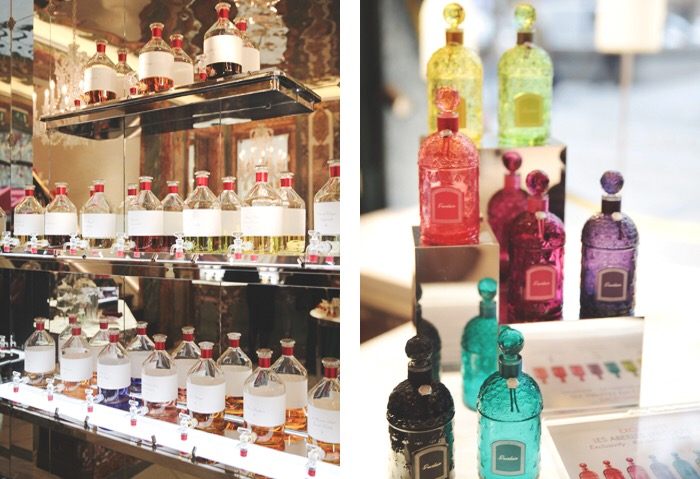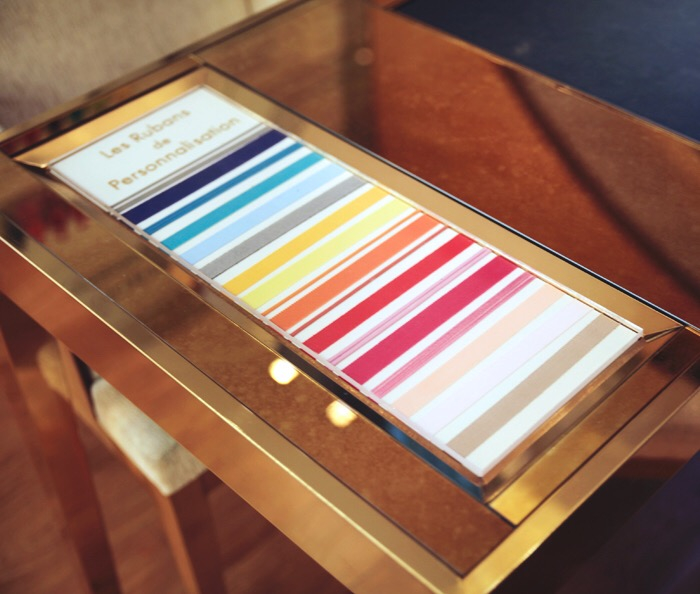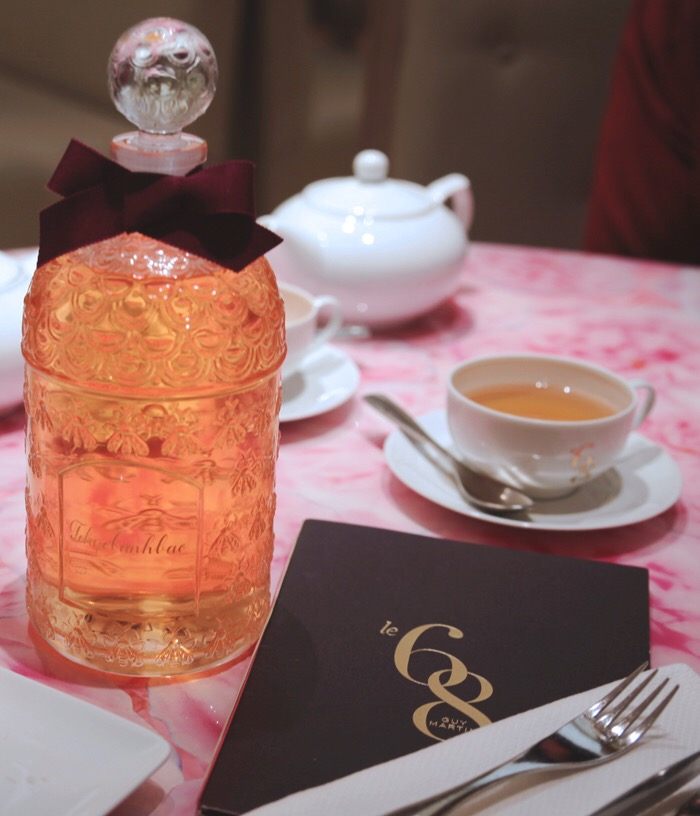 A little anecdote for the road: I got a pretty big bottle, only because "Tokyobanhbao" didn't fit on one line across the traditional-sized bottle. Which is why the Maison Guerlain offered to give me the 1Liter bottle!
Since 2007, I've been thinking I should probably shorten and simplify my pseudonym … but I'll have to admit that this time, it was quite to my advantage … I'll be wearing Cruel Gardenia for the rest of my life! An early and wonderful Christmas I tell you!
Tea at 68 Guy Martin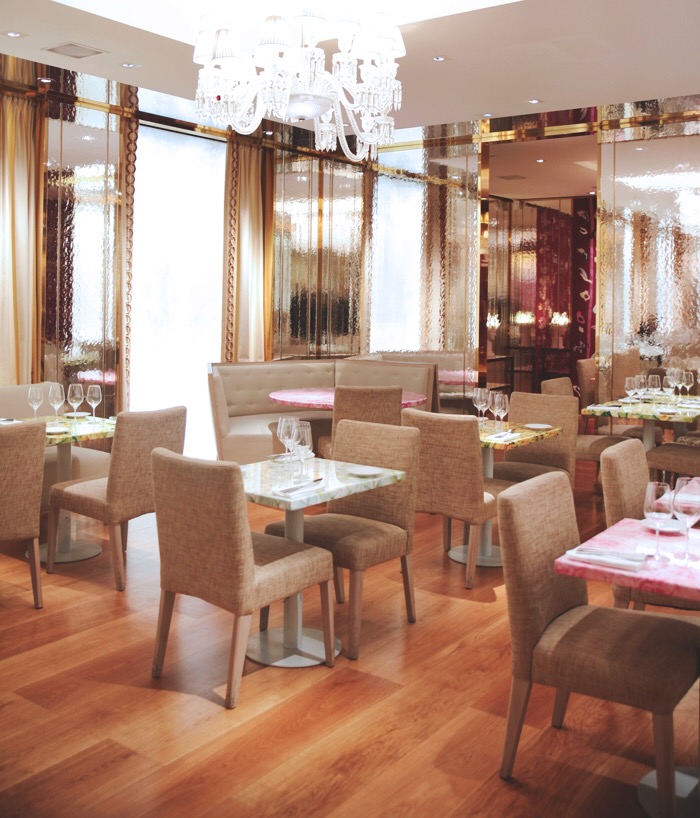 Cherry on top, (or bottle cap on the Cruel Gardenia?) I also got to enjoy the tea room (that is also a restaurant at meal times), located at the -1 level of the shop.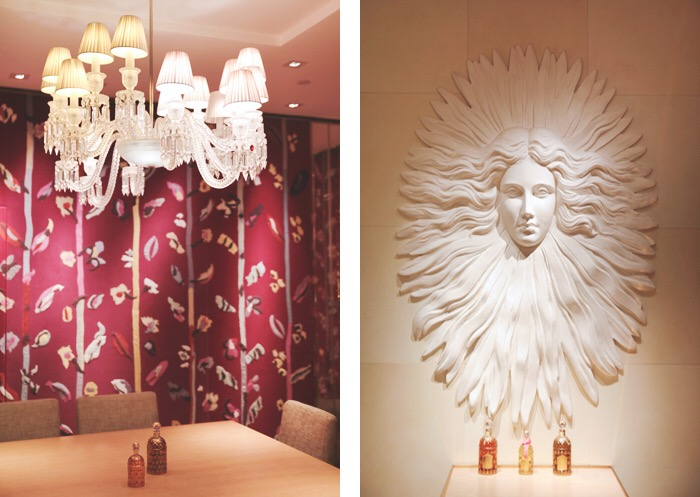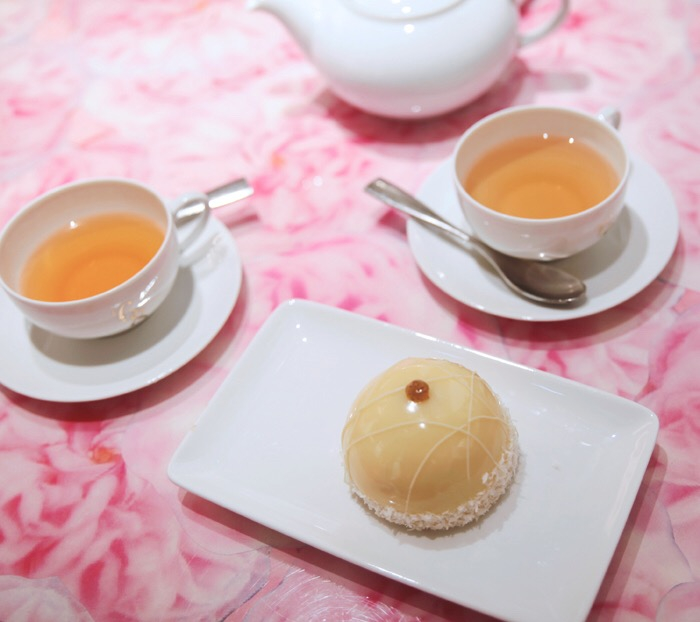 Pineapple, passion fruit & lime cheesecake
Guy Martin, the Michelin-starred chef, is in charge. He reinterprets Guerlain in his dishes. I'll be back for a savory meal – the sweet teatime was already a lovely suprise.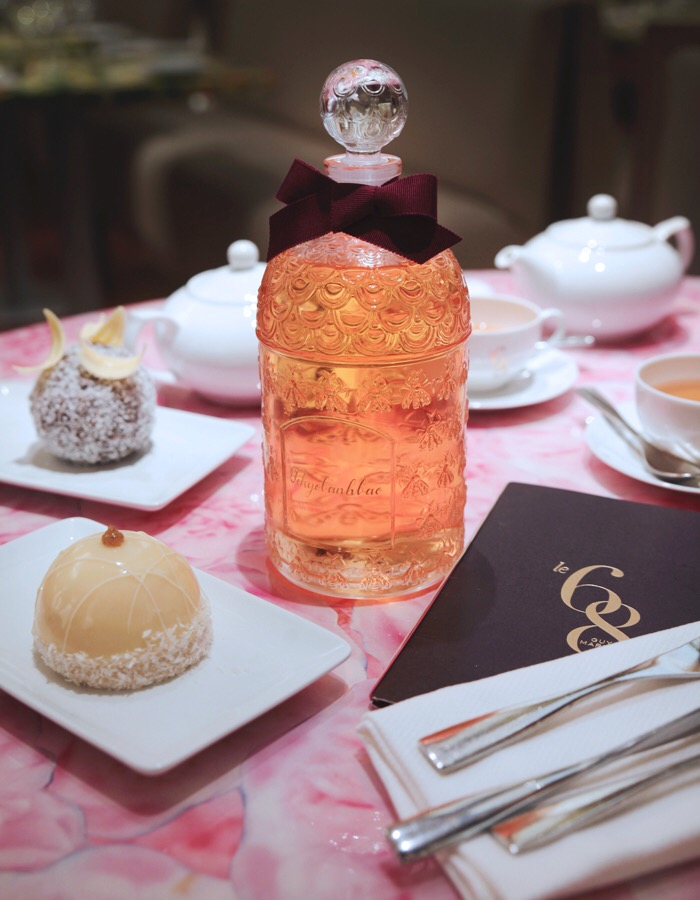 The discretion of my personnalized bottle !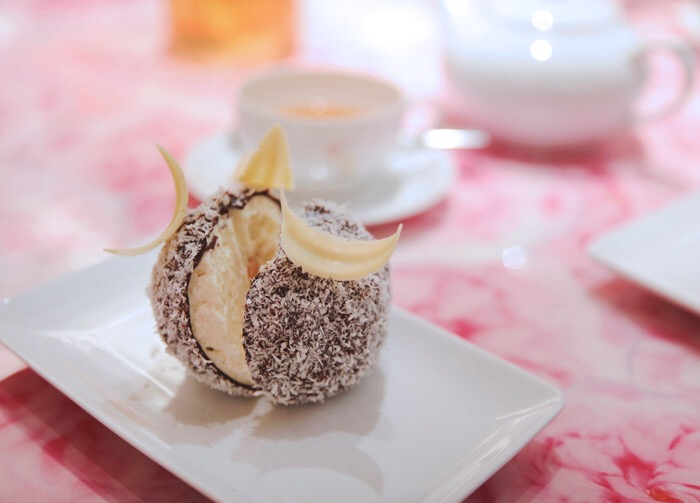 Rocher coco noisette
I loved the coco-hazelnut rock, crunchy and soft at the same time, just how I like them.
With a Paris-Caprice infusion (rooibos, rose petals, marigold, bergamot and violet), my tastebuds are delighted, and I can't stop admiring my perfume bottle (I almost took it to bed with me when I got home).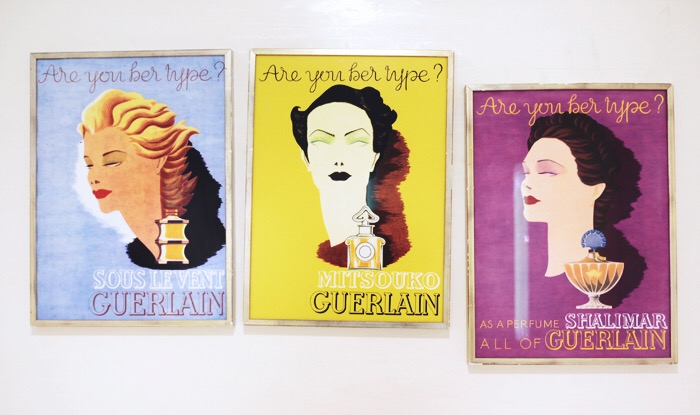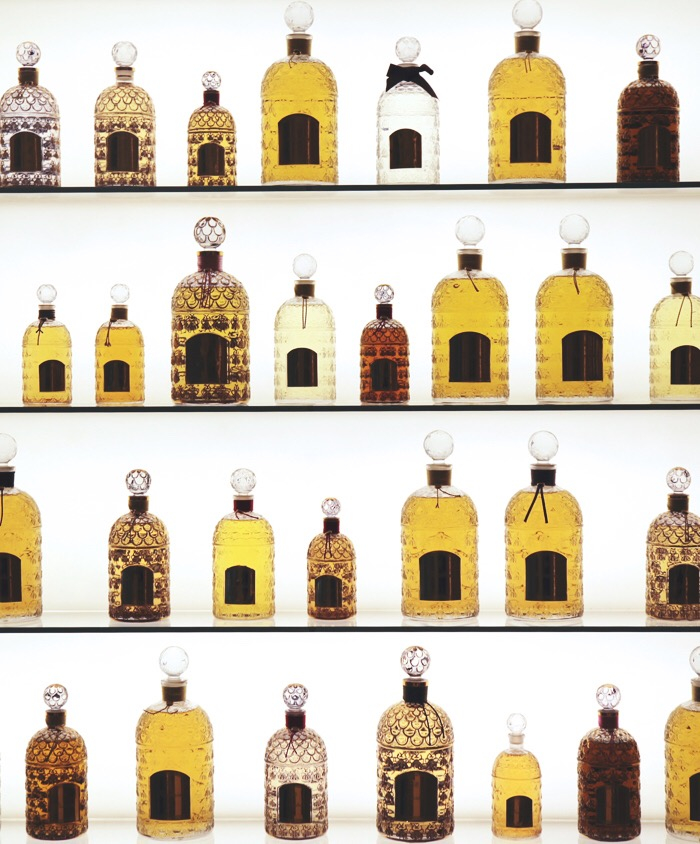 PS: A huge thank you to the Maison Guerlain, Marie-Eve (Clic! Clic!), Gonzague (Tac! Tac!) and Ophélie (Psshit! Psshit!) for making this such a memorable time. This afternoon was really custom made for me.
Japan, exhibition, discoveries and yummy things : an ideal theme that I love. Ah … when Guerlain rhymes with Magician … (English translation by Marine)
((This post was published in collaboration with La maison Guerlain)