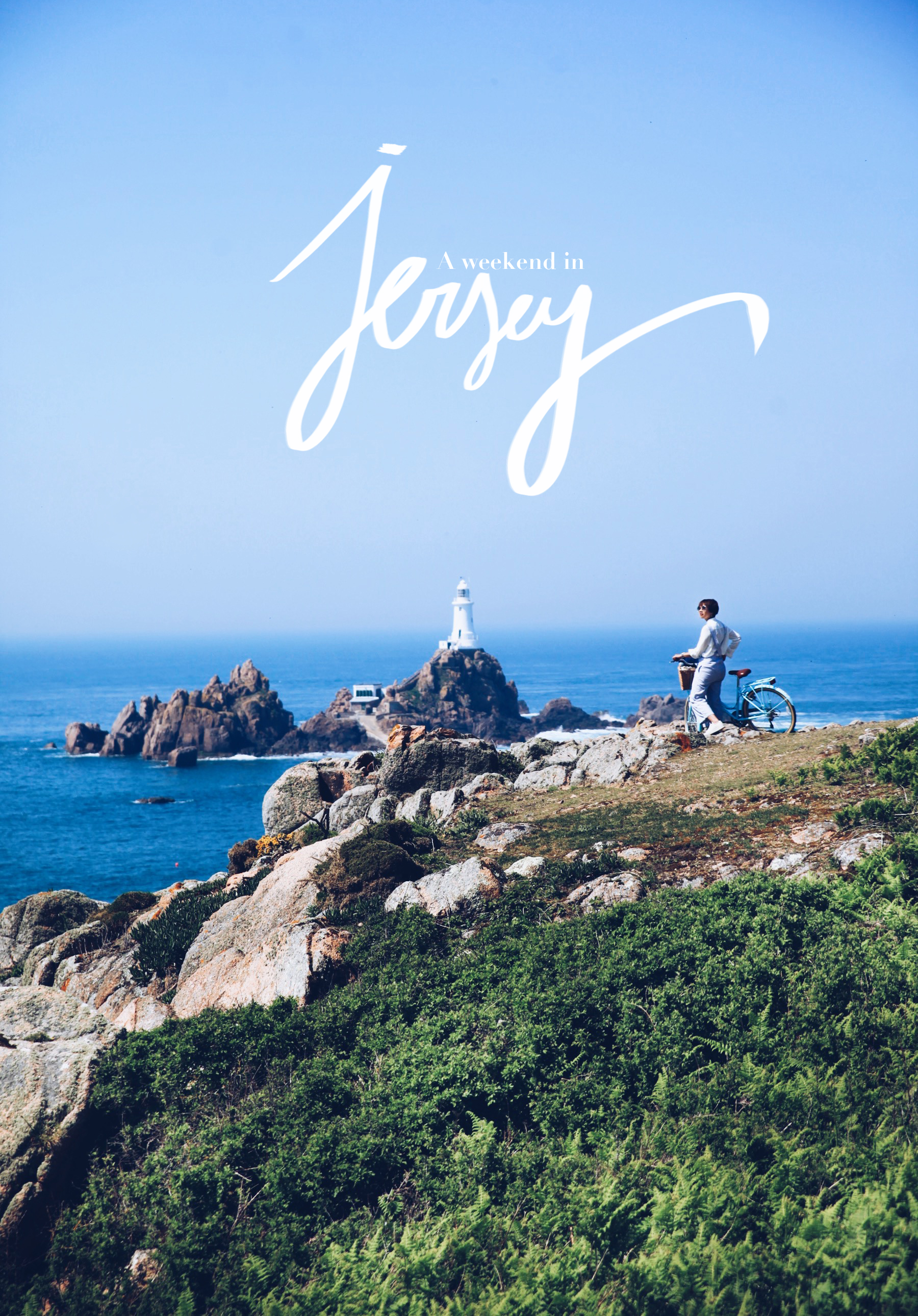 You may have followed my 8th of May weekend on Instagram and as a lot of you wanted more information about this fabulous destination called Jersey island, here I am today with a blog post, which I hope will help you to prepare a few days out there.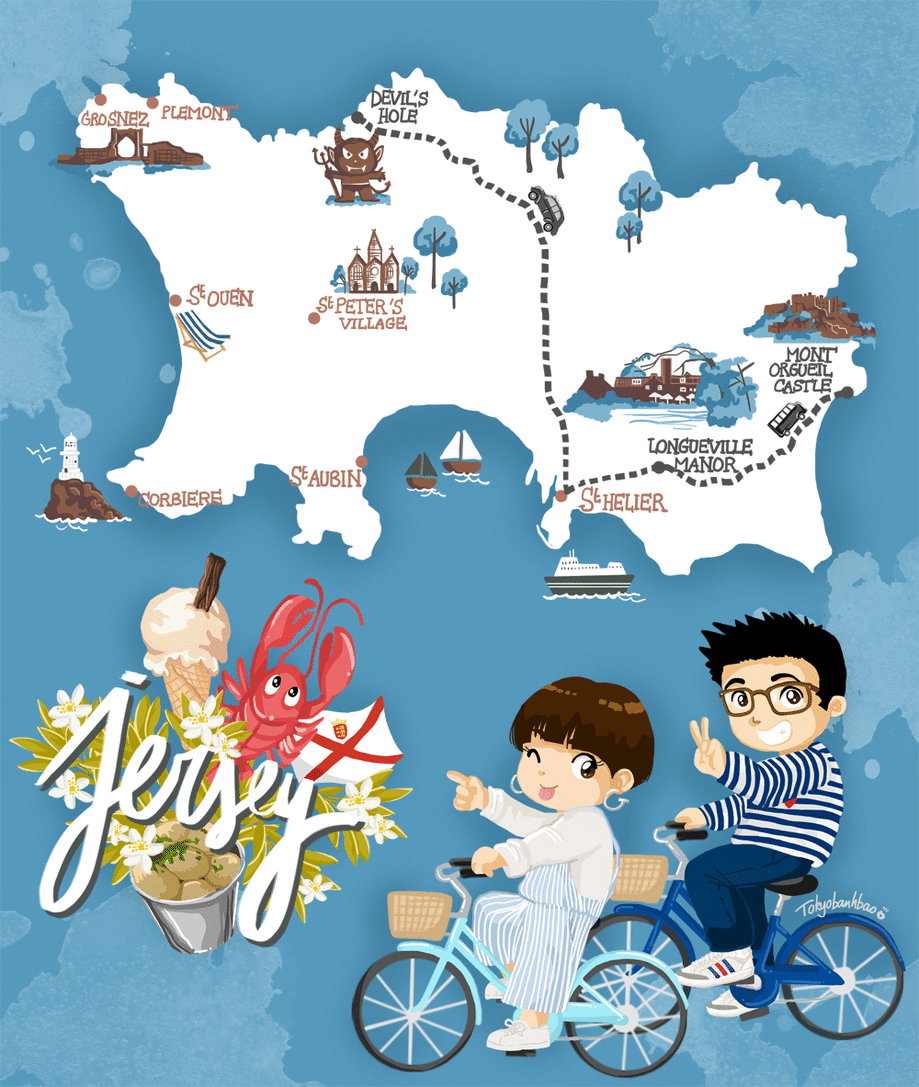 We organized this trip last minute as we wanted to spend some time away without struggling with the strikes: mission accomplished! We just loved it! So I will explain you everything: let's go to Jersey!
Before leaving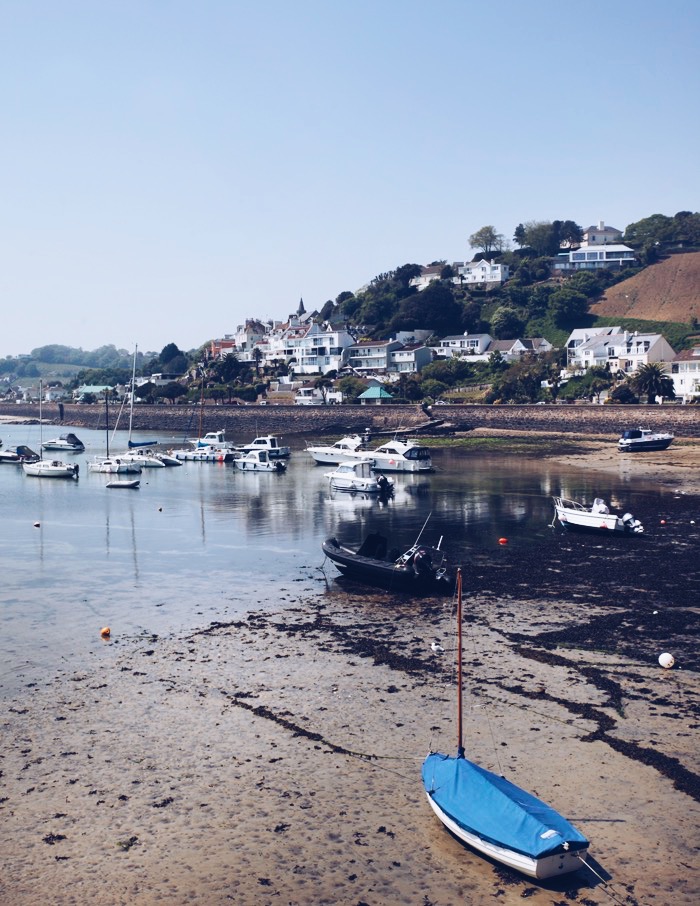 I only knew the name of this island and that it was located not far from St Malo with a ferry boat, hidden somewhere between France and England. Actually, Jersey island is part of the Channel islands (with Guernsey), therefore it's part of the British Crown but not really included in United Kingdom.
However, people mainly speaks English, which somehow makes this trip even more exotic for my greatest pleasure! So here are a few recommendations before leaving:
Double check your ID or passport in order to go through the customs.
Set up your clock with minus one hour on the island as it is the British time!
Change your euros € to pounds £ (or jersey pound if you want total immersion but it's easier to change to pound sterling!). We changed our cash when we took the ferry but if you can do it earlier you may get a better exchange rate.
Review your English as most of people don't speak French even though very nice.
Check the weather forecast before leaving. Pretty much the same weather as the one in Brittany: we were lucky to have a beautiful weather that weekend but I brought my rain coat, we never know!
Download a GPS app that you can use offline (Maps.me for example, as I did at the USA East coast) because weirdly with my Orange plan, despite the data roaming, I couldn't access the Internet on the island: double check first with your phone provider.
Going to Jersey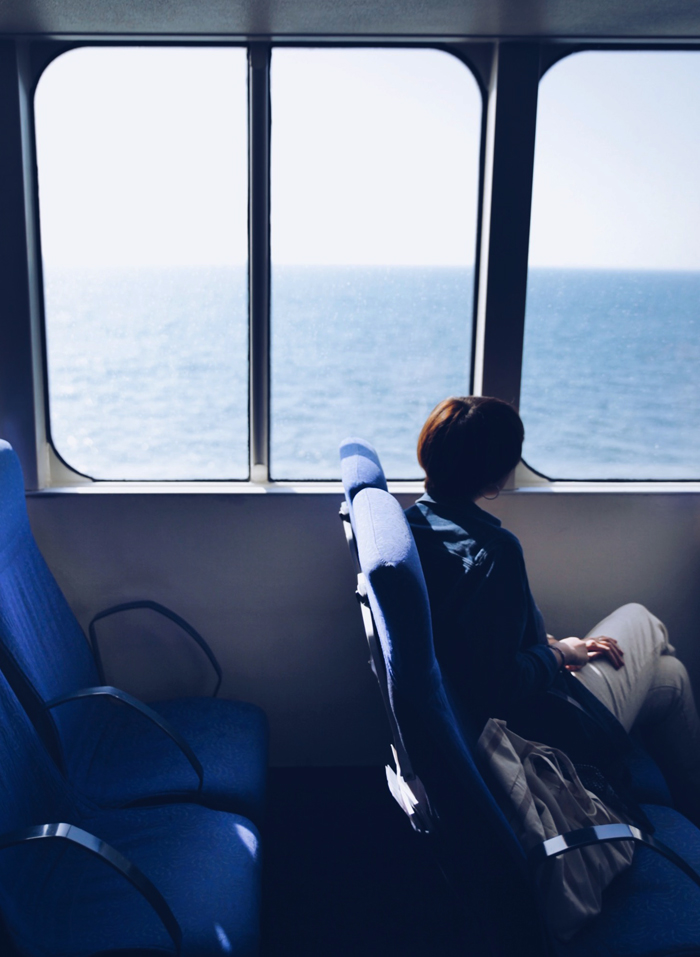 Because of the strike at the SNCF, we decided to go by car to St Malo, to drop it out at the hotel we stayed the very last day of our trip and took the ferry boat to Jersey (St. Hélier). However, the easiest would be to use the train to St Malo and then take the ferry.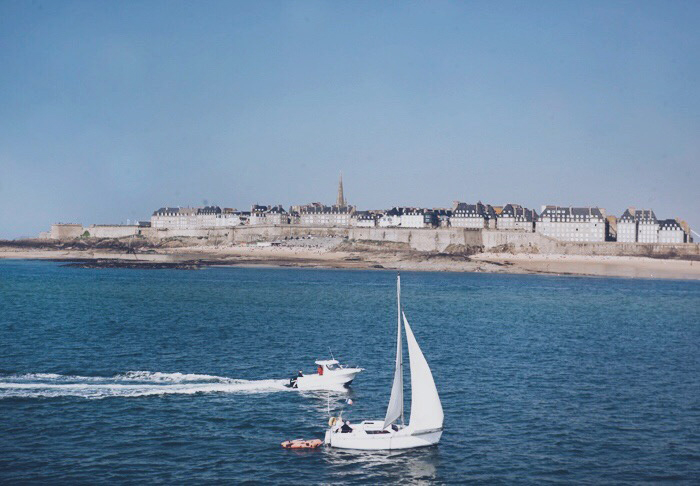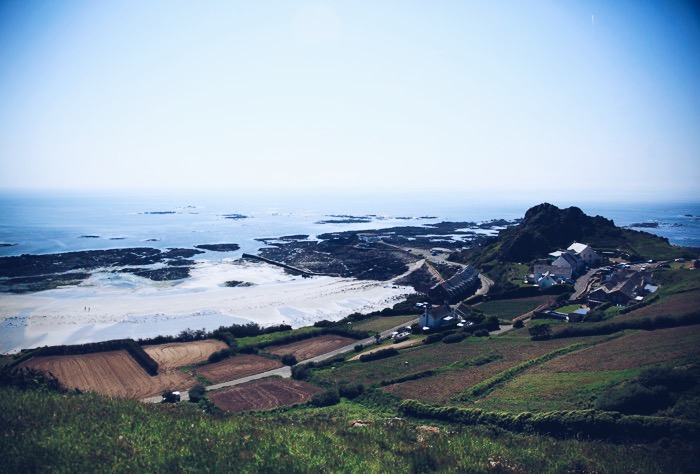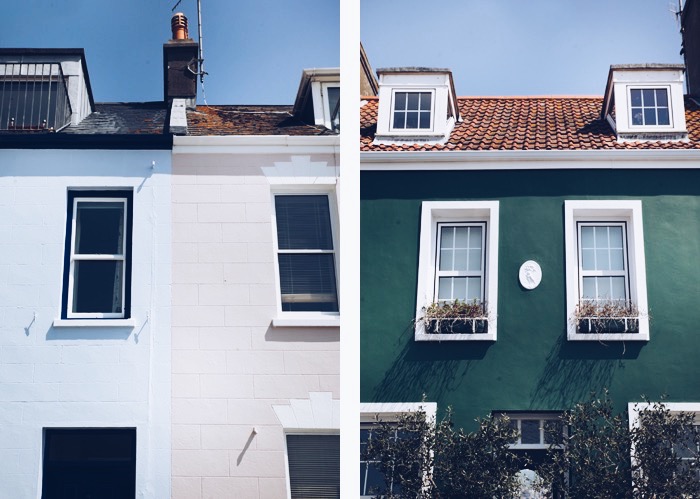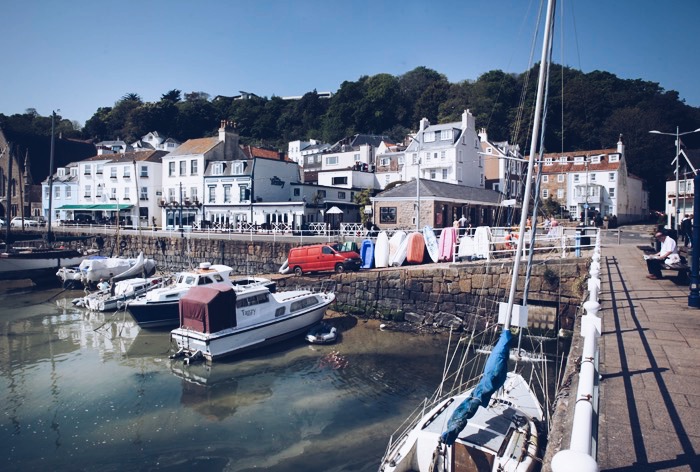 You can also decide to use only a car and to take it on the ferry boat to be able drive around the island.
We hesitated but without knowing how easy would be the parking on the island we didn't choose this option. So here are a few advices to take the ferry boat with total peace of mind:
Departure point is mainly St Malo but you can also embark from Granville and Cartelet.
The Ferry journey duration is about 1h20 (from St Malo to St Hélier)
Book your tickets for the ferry in advance on the Internet (We chose the Condor Ferries company but you can find other companies that might be cheaper): count about €75 for a round trip per person (when traveling without car on board, otherwise it will add up extra cost).
Arrive one hour before the time mentioned on the ticket to get through the customs and check-in your luggages (we checked in our cabine suitcase without any problem, which let you wander around on board freely)
On board, you will find a cafeteria where you can buy small food (sandwich, fish and chips), a place to change money and a Duty Free shop.
Going around the island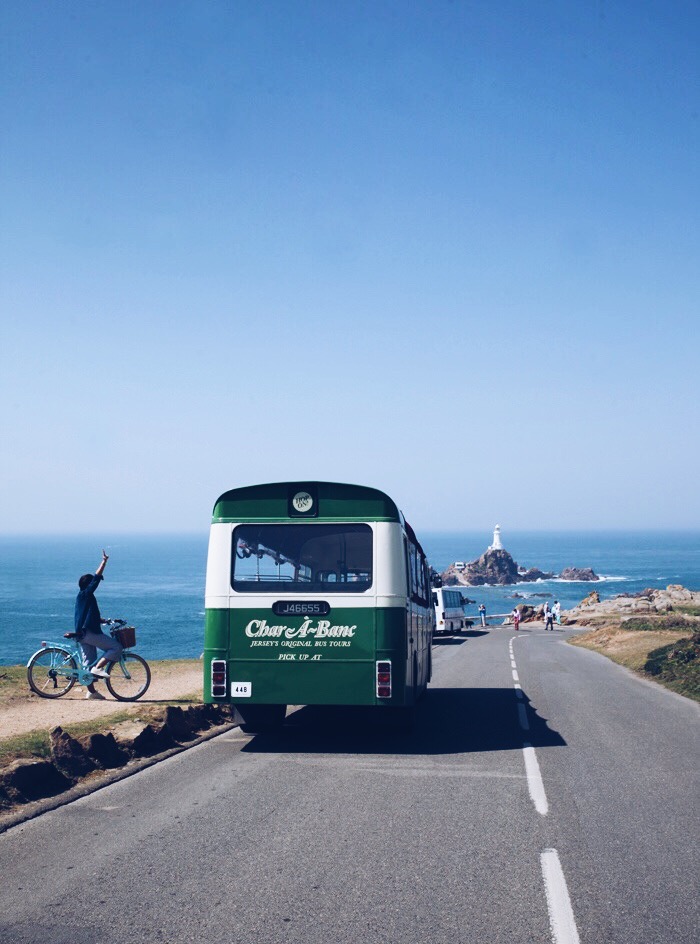 Once again you have a few options: the car (rental or yours), the bus, the taxi, the bicycle or your legs.
I can't give you much information about driving a car except that you need to keep your left side, as everywhere in UK! But we tried the other options.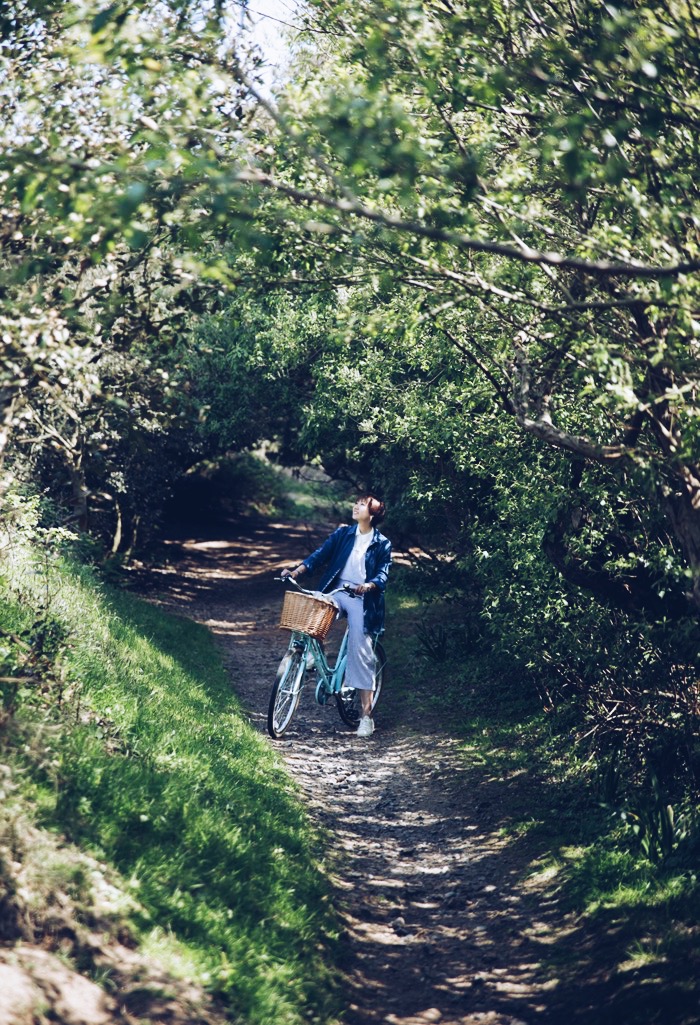 Be careful to use the dedicated roads for bicycles when they exists, and stay on the left side! (I had a few scares with my lake of attention…).
We rent our bicycles in the capital called St Helier, at the shop called ZEBRA Car & cycle Hire (facing the bus station at the Liberation place). I'd been told it was a small island: so I imagined an island quite similar to Brehat island and reliefs such as the Cap Ferret… but actually very different! The island is not very big but it's hard to visit everything in one day (by foot or bicycle), and it's sometimes quite steep!
If I had one advice to give you, don't make the same mistake as me: you really must rent an electric bicycle!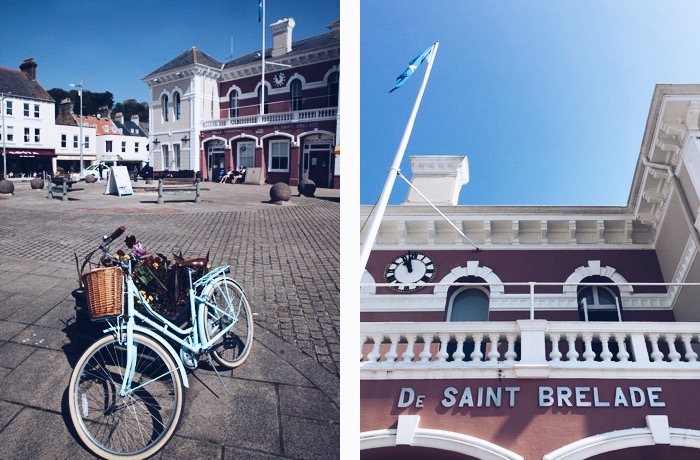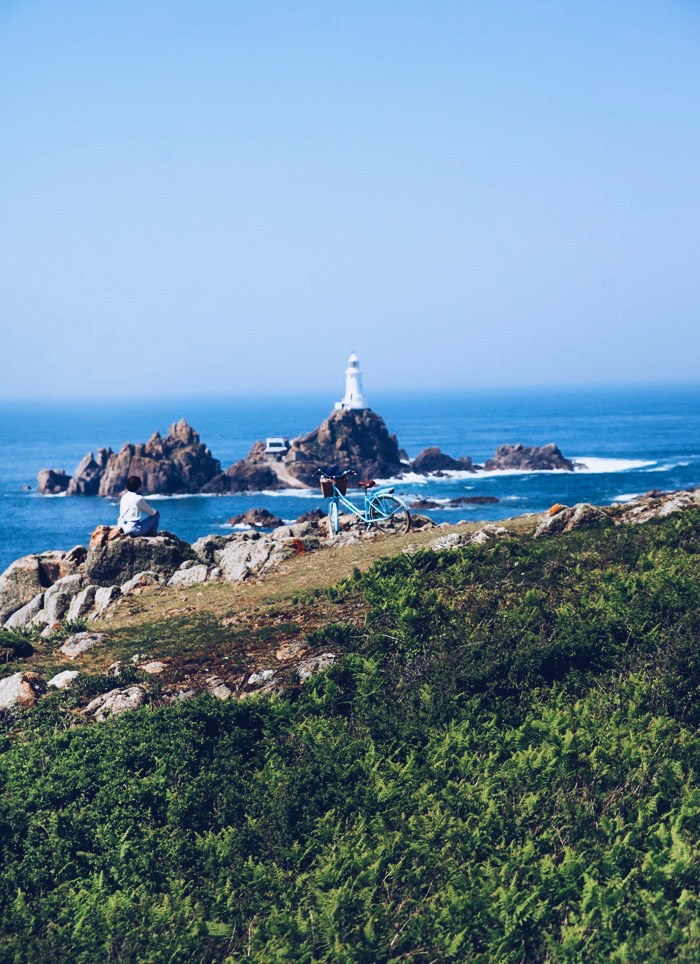 Corbière lighthouse view

Indeed, as I didn't expected these hills to get from one point to another, I insisted to rent a classical bicycle and I found out my big mistake once we got to the north part of the island at Plemont Bay.
Weirdly, my SO who trusted me about this choice, started to want to kill me halfway… but thanks to this post, you can see that I'm still alive!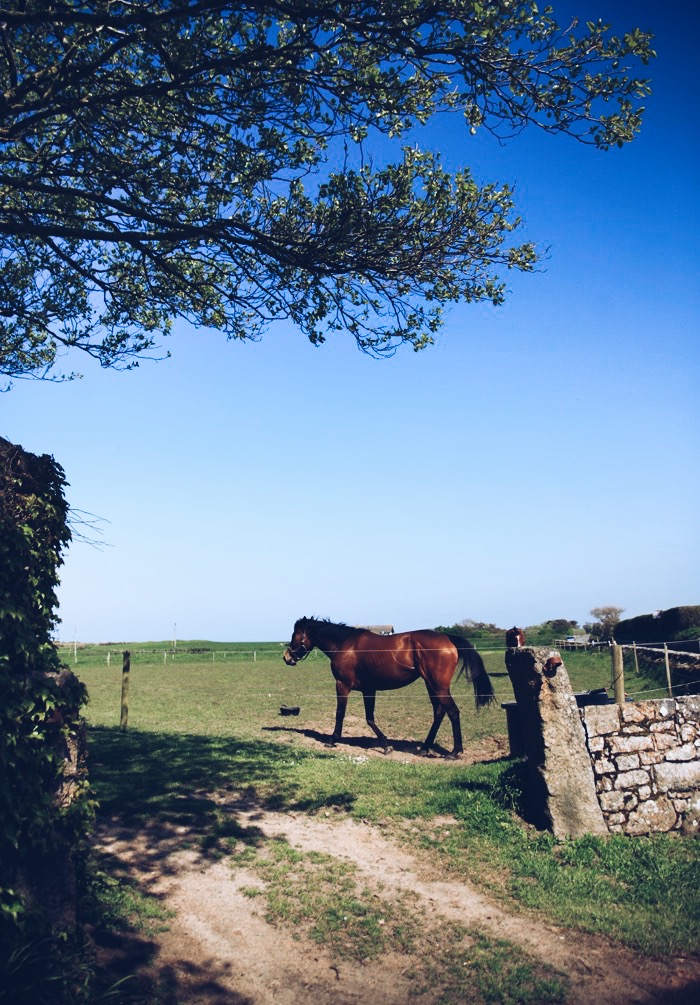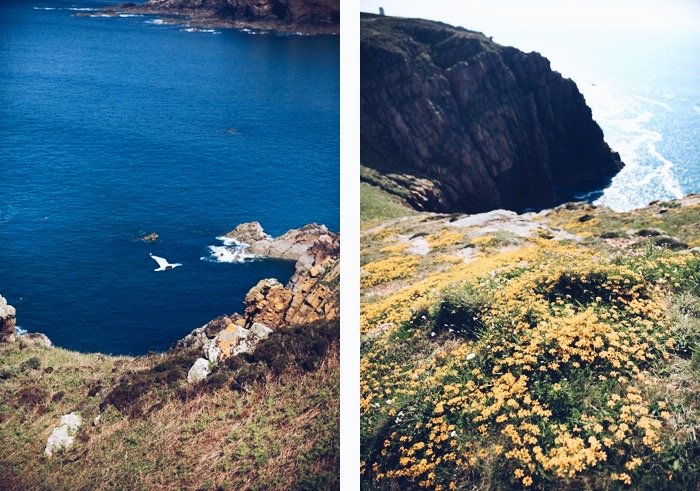 Plemont Bay
The tricky thing is, the landscape is so beautiful that we want to keep riding further… and we (or at least me) quickly forgot that we needed to ride back to departure point!
So in total we rode our bicycle about 60km that day, which is almost a miracle for someone not doing any sport such as me! My butt and legs painfully reminded me that the day after.
By BUS, TAXI and by FOOT :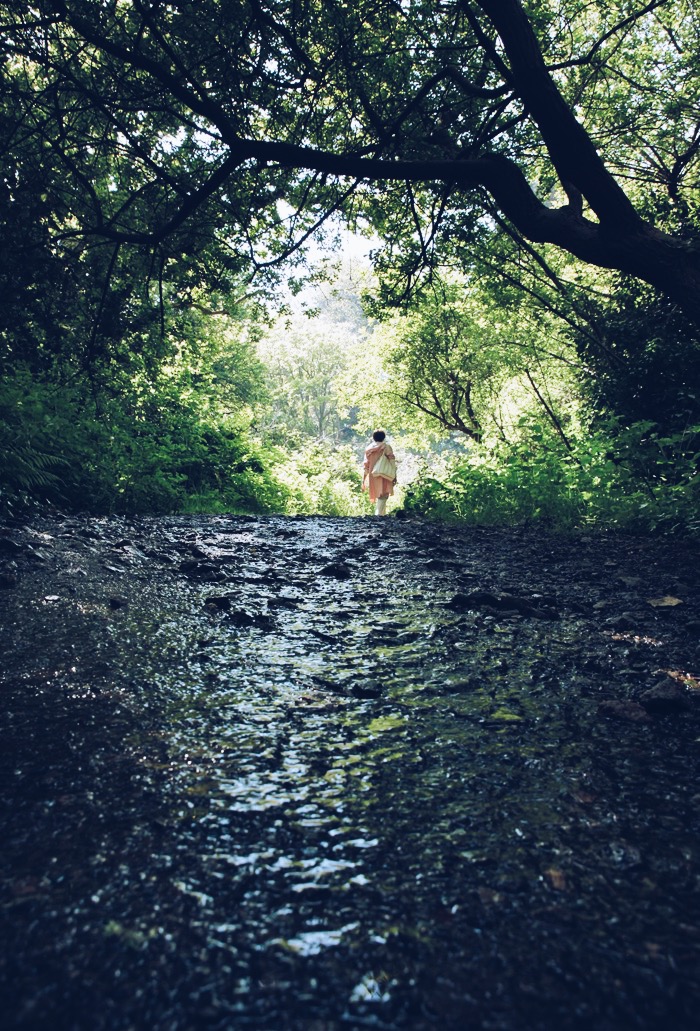 Without surprise, the second day we naturally decided to use taxi, bus and we walked!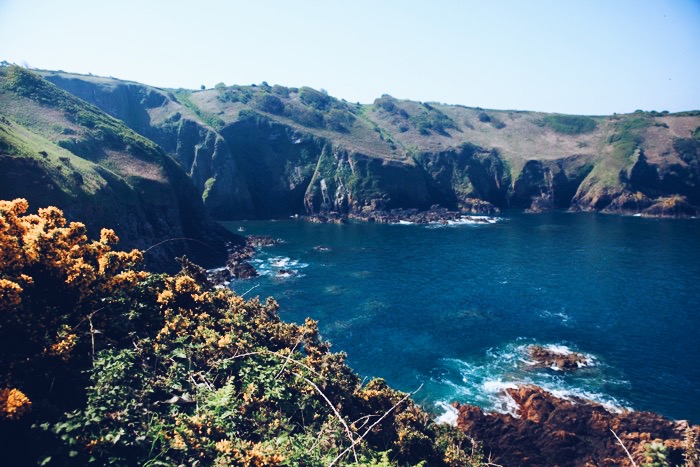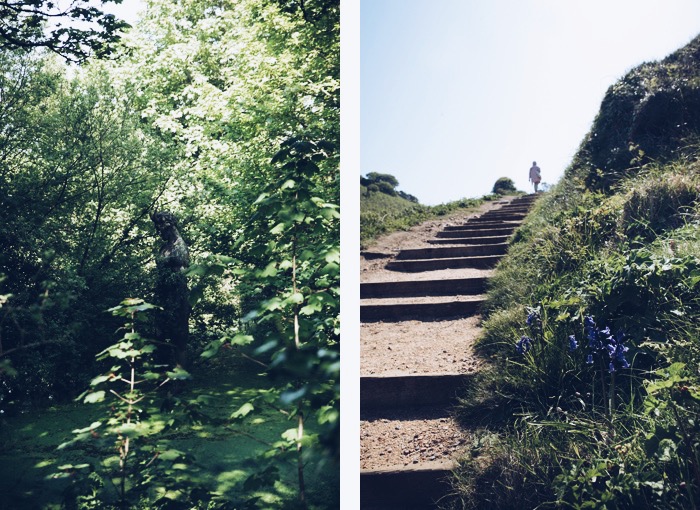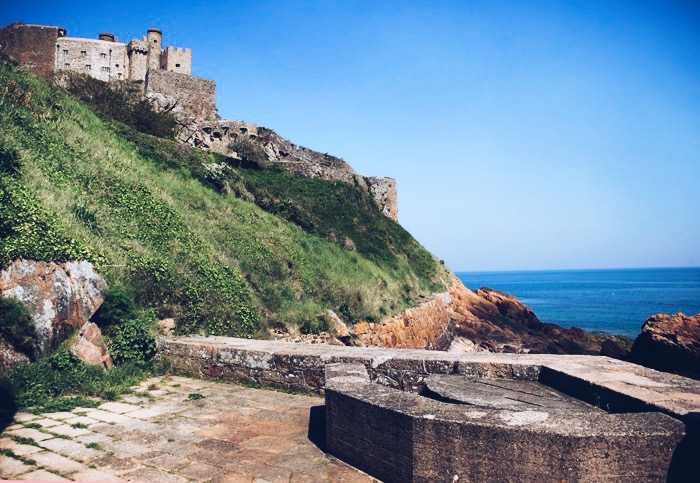 Devil's Hole and Mont Orgueil castle
From St Helier, there is a lot of buses going to touristic locations. You pay your ticket on board and you are all set. It's most probably the cheapest and quickest… and less tiring way!
Visit Jersey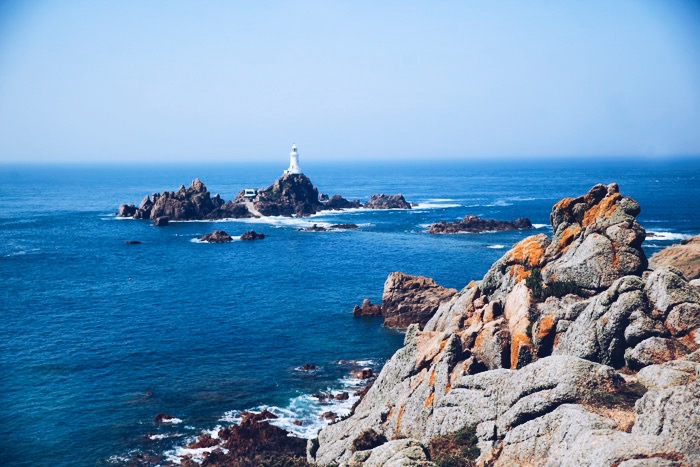 So here is on this map above the itinerary we did the first day by bicycle and in grey, our hotel and the points of interest that we visited by foot and by taxi the second day. We stayed on the island 2,5 days but I think it requires more than 3 days to really see everything.
The same path as we did in one day is only possible with an electric bicycle or, if you choose a classic one, choose a shorter road from St Helier to the Corbière lighthouse and the way back.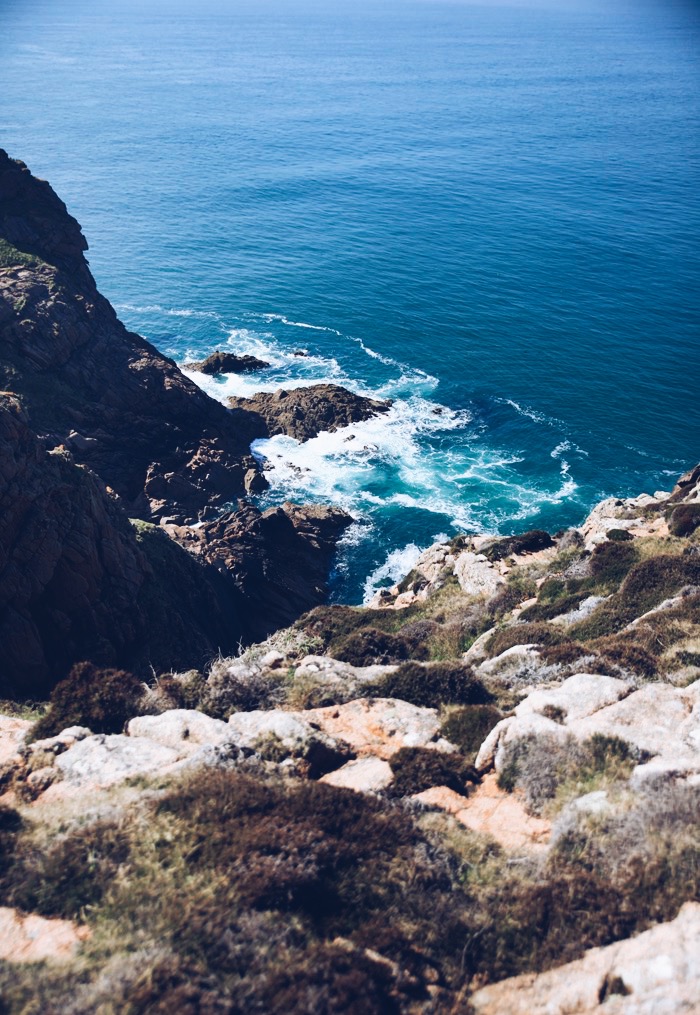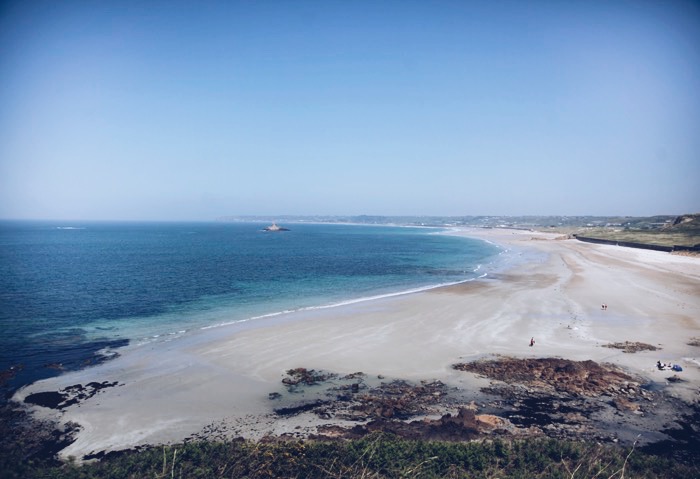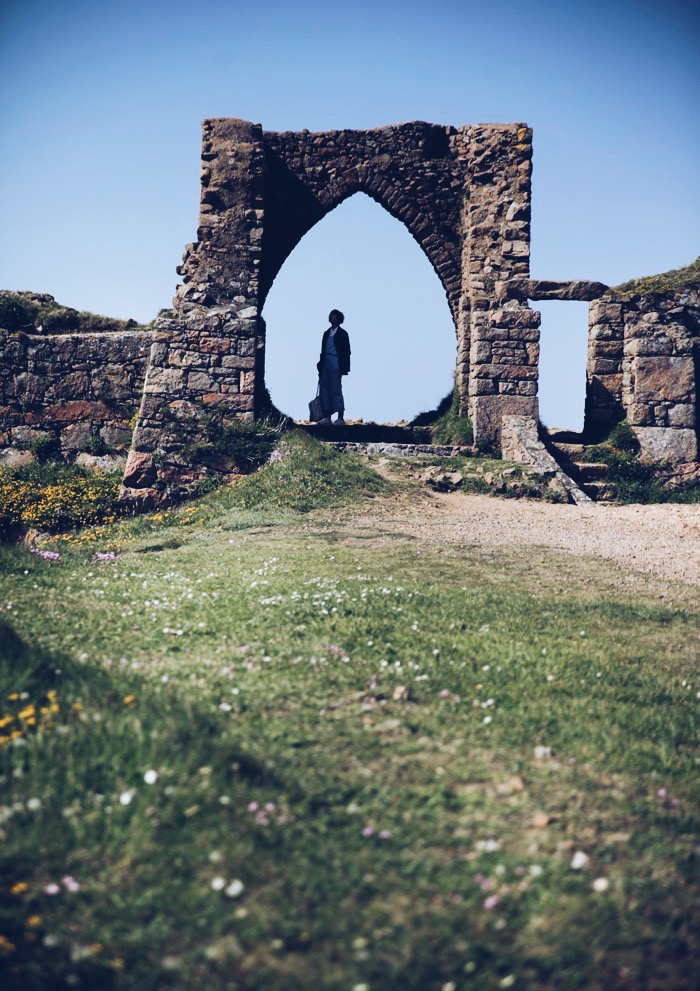 Grosnez castle
You can get inspiration from our route to create your own: personally, I particularly liked the view from the Corbiere lighthouse and the one overlooking the Devil's Hole. I hope I can go back to the island and visit the center and the northeast coast that we didn't have time to explore.
Stay at Jersey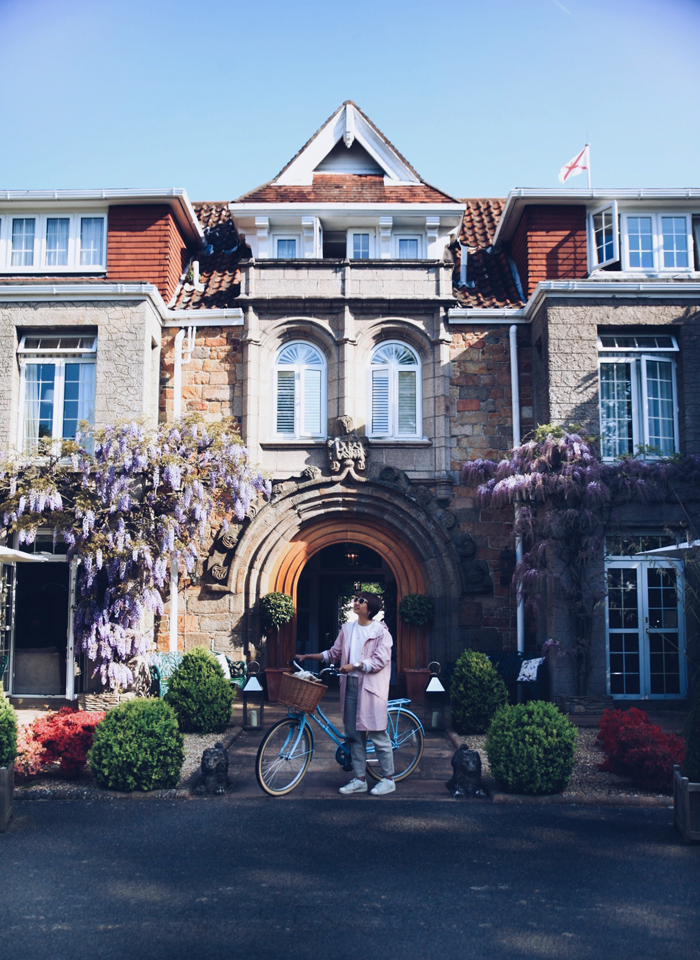 There are a lot of options: from the small hotel next to the coast or more fancy places. Everything was quite already booked when we decided to visit the island but by chance, one room, with interesting price, was available at the Longueville Manor (we even got upgraded when we arrived!).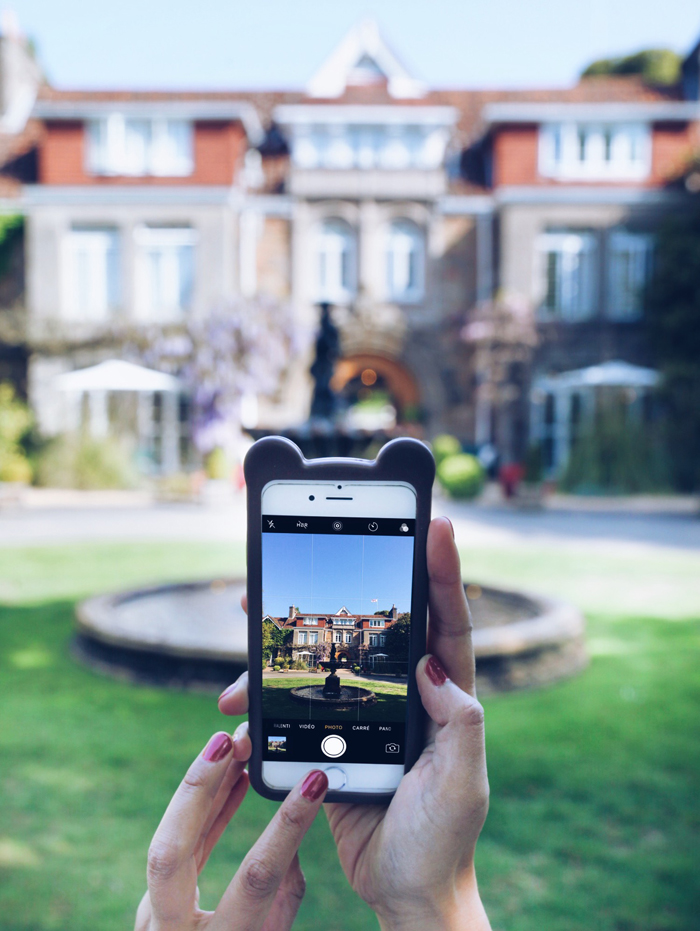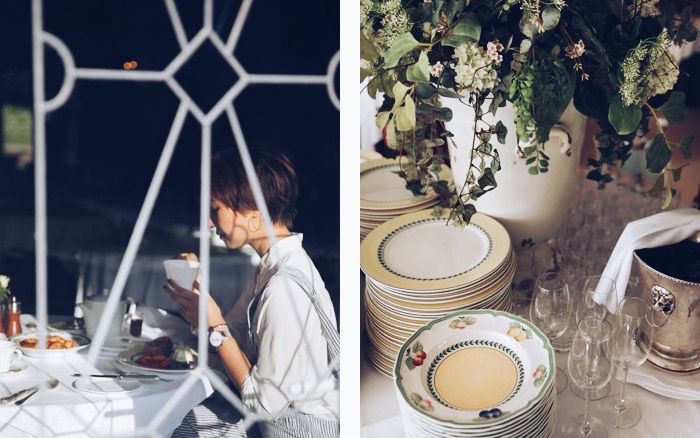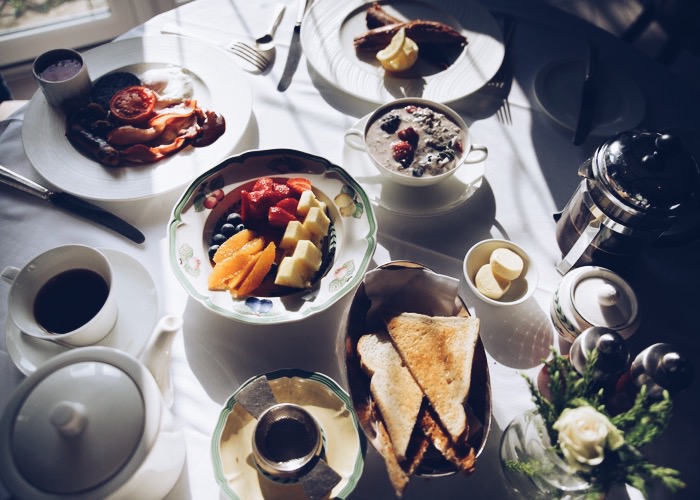 This is everything that I like !
This "Relais Chateaux" is not the cheapest option but we don't regret it at all: even though it's a bit far from the sea, the place, with a British charm was really fabulous…
So if you are in a "YOLO" mood and want to enjoy, I absolutely recommend you this manor which has the perfect decoration and service.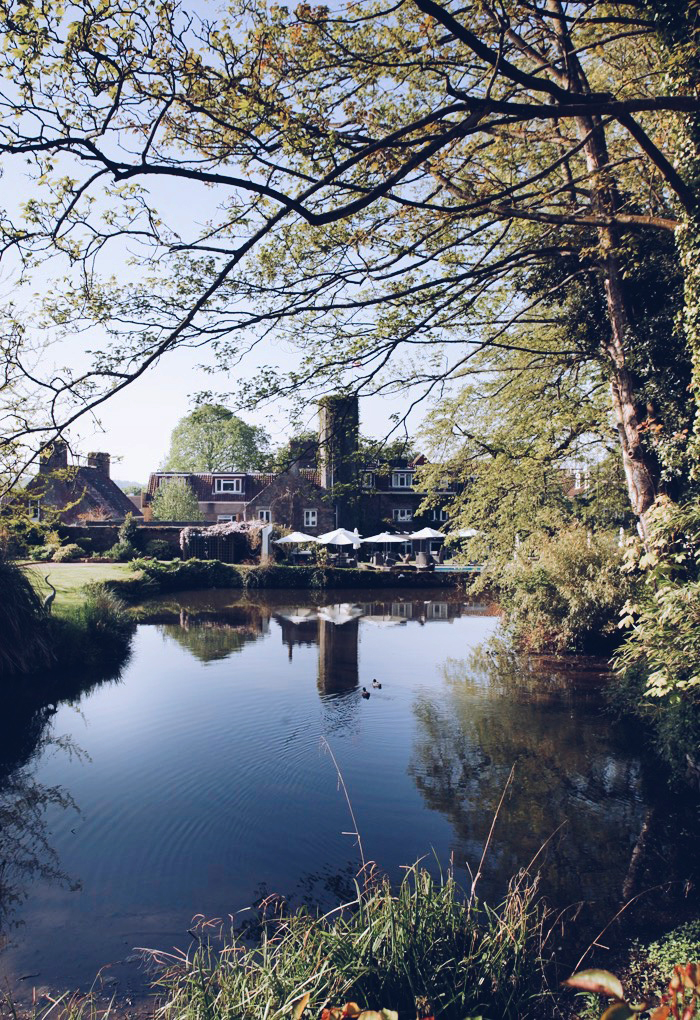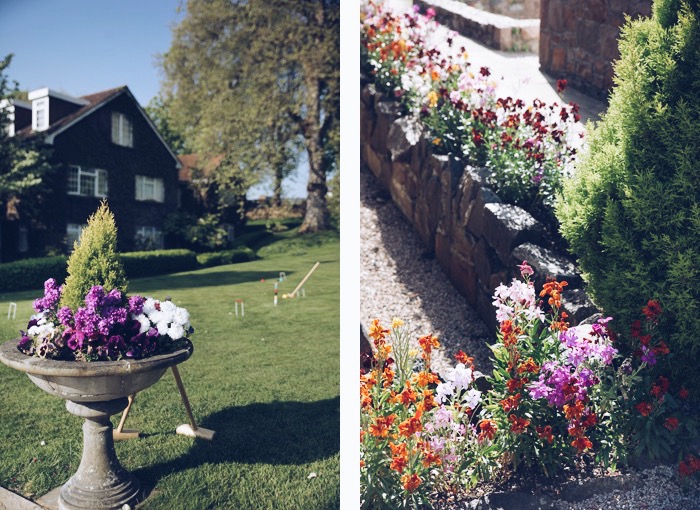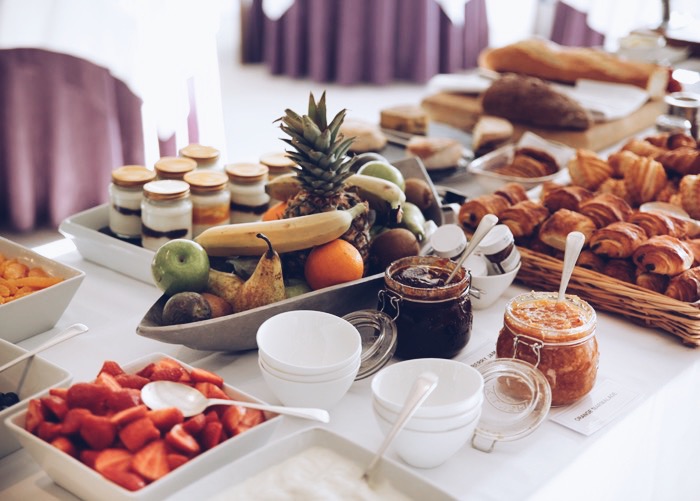 The dinner (pictures below) was excellent and breakfast marvelous. This one (included in the price of the room) offered plates served on the table (a la carte) and all-you-can-eat buffet, with local and fresh products. I enjoyed my beloved English Breakfast along with fresh fruits and other delights.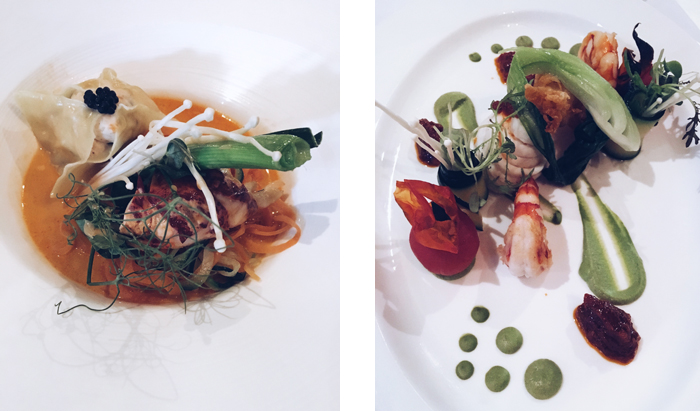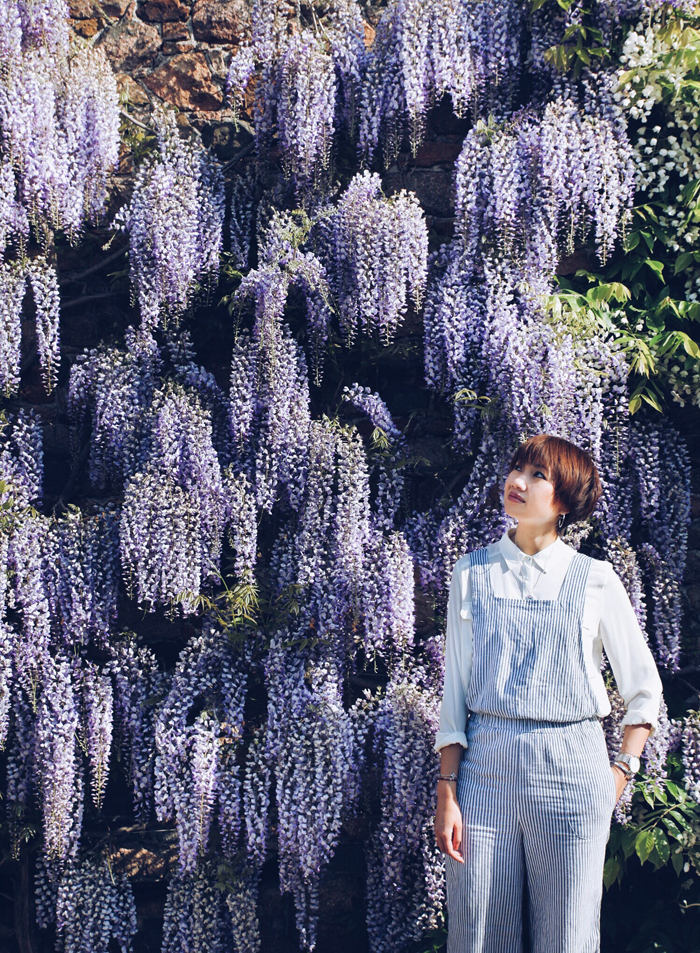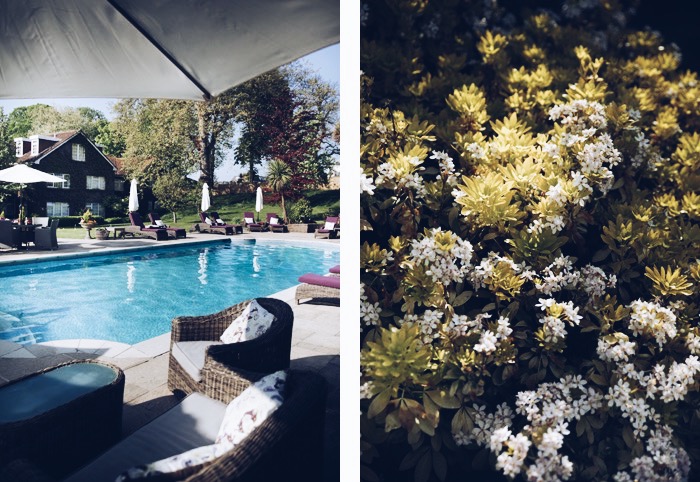 The flower garden was ideal for peacefulness. This being said, it was a bit chilly to enjoy the pool.
We decided instead to play Monopoly (Jersey edition!) on the terrace during teatime: and it was as nice (…even though I miserably lost!).
Yummy addresses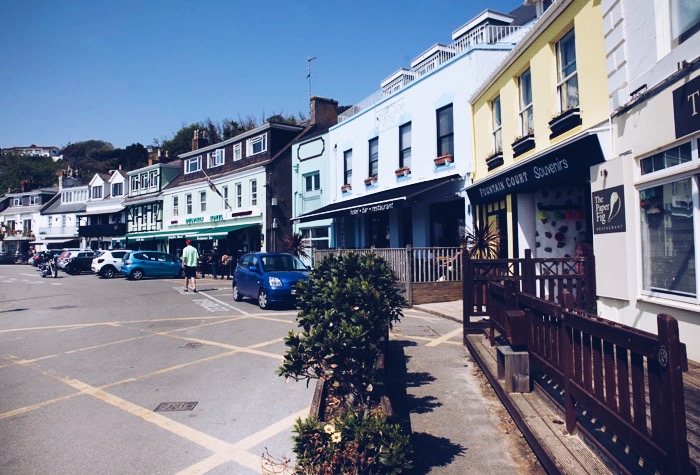 Apart from our dinner at the Longueville Manor, we mostly had quick meals as we wanted to visit as much as possible. So here are a few addresses that I tried and others that I spotted and hope to try next time!
BIG VERN'S DINER (Grande route des Mielles, L'Ouzière)

Located on the beach of St Ouen's bay, we stopped there halfway during our epic bicycle day: very comfy, simple food but good. Special mention to the fish cake recommended by a couple who already knew the place.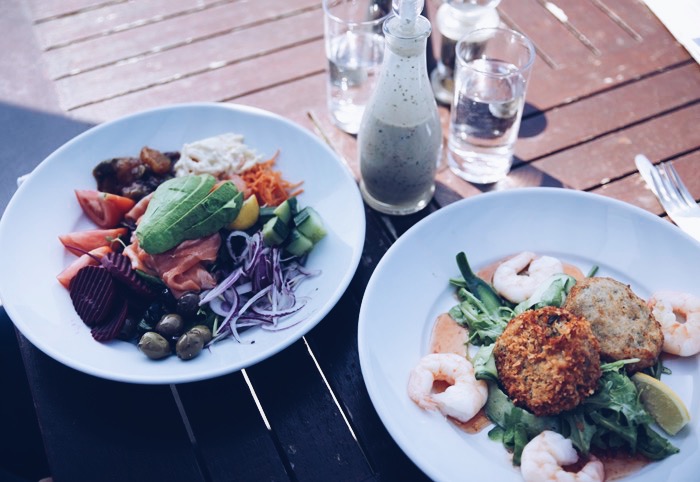 FEAST (

10-11 Gorey Pier, St Martin)



Restaurant located at the bottom of the Mont orgueil castle, we tried the well-known "Royals" potatoes from Jersey.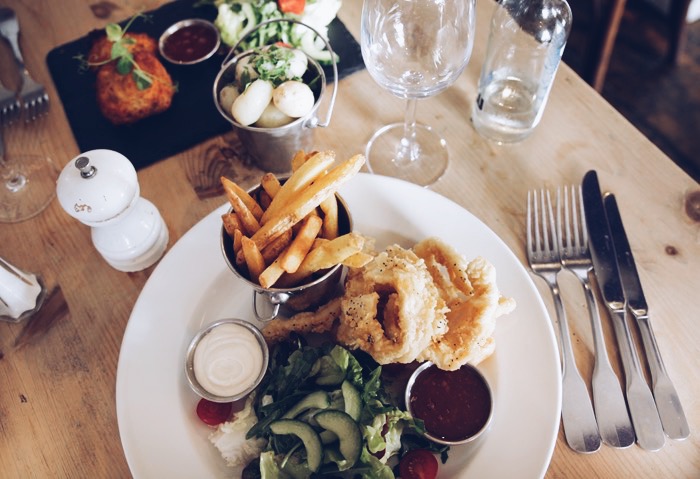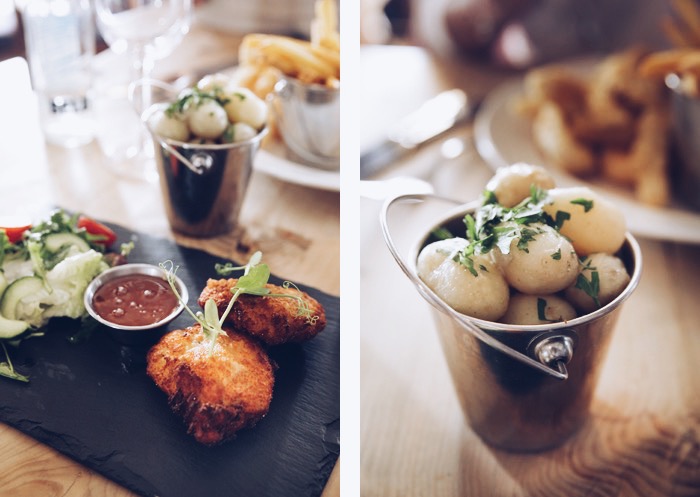 Fish cakes and "Jersey Royals" potatoes

This being said, we can find them pretty much everywhere on the island, simply coming with salt and a bit of butter. They are cultivated with a natural fertilizer coming from seaweed, which gives them this nice color and light taste of chestnut.
Fish cake again for my SO (I preferred the one at Big Vern's) and squid fritters for me.
ICE CREAM SHOP at Corbière lighthouse
a very creamy ice cream, speciality from Jersey, Banoffee or Toffee crunch amongst other artisanal flavours, to enjoy on a bench, facing the sea. A certain idea of happiness.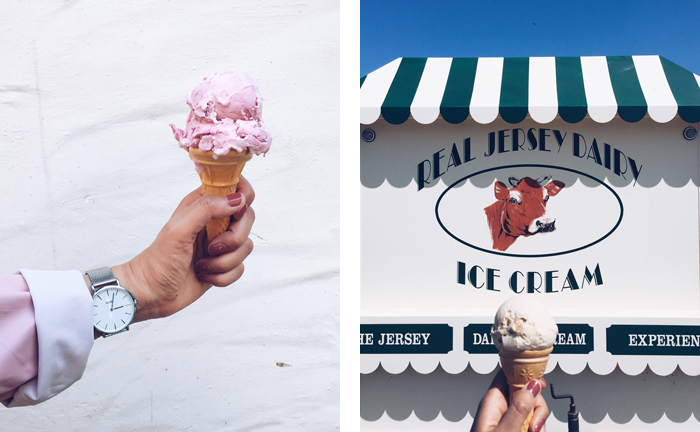 THE HUNGRY MAN (

La Brecque du Nord Rozel)
(not tested) : a very photogenic booth located at the northeast of the island not far from Role bay. Burgers and cakes look very yummy.
LA BELLE GOURMANDE (Surrey HouseCharing Cross, St Aubin)

(Not tested) : a place located at St Aubin looking very cute and that serves fresh home made products: shakshuka, avocado toasts or tajine. The website looks very promising! (English translation by Quiterie)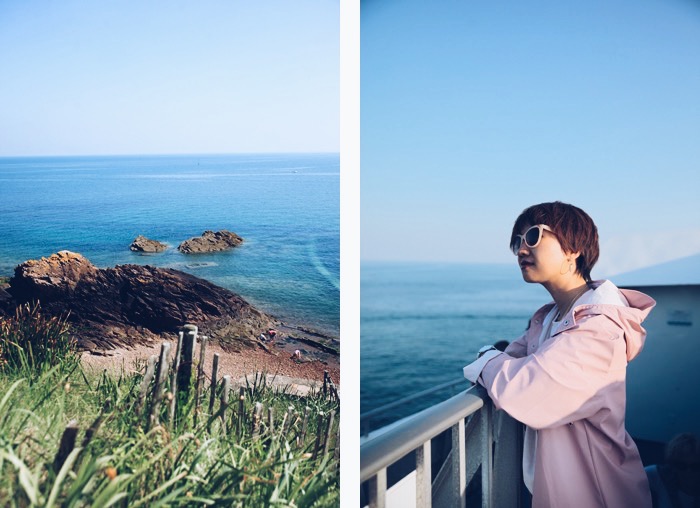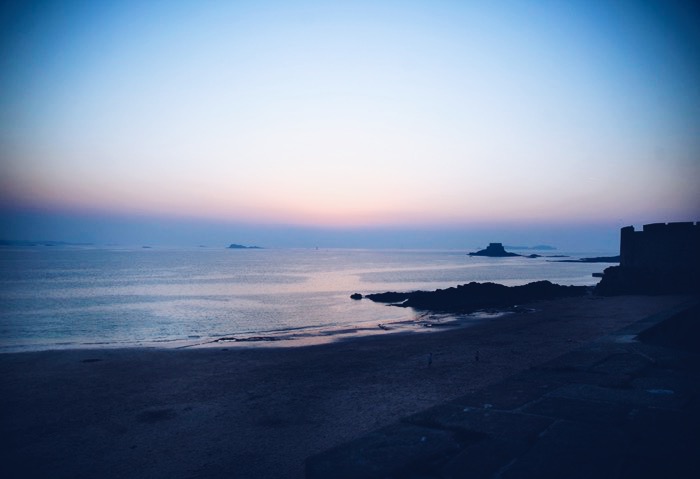 St Malo sunset… Bye Bye Jersey !