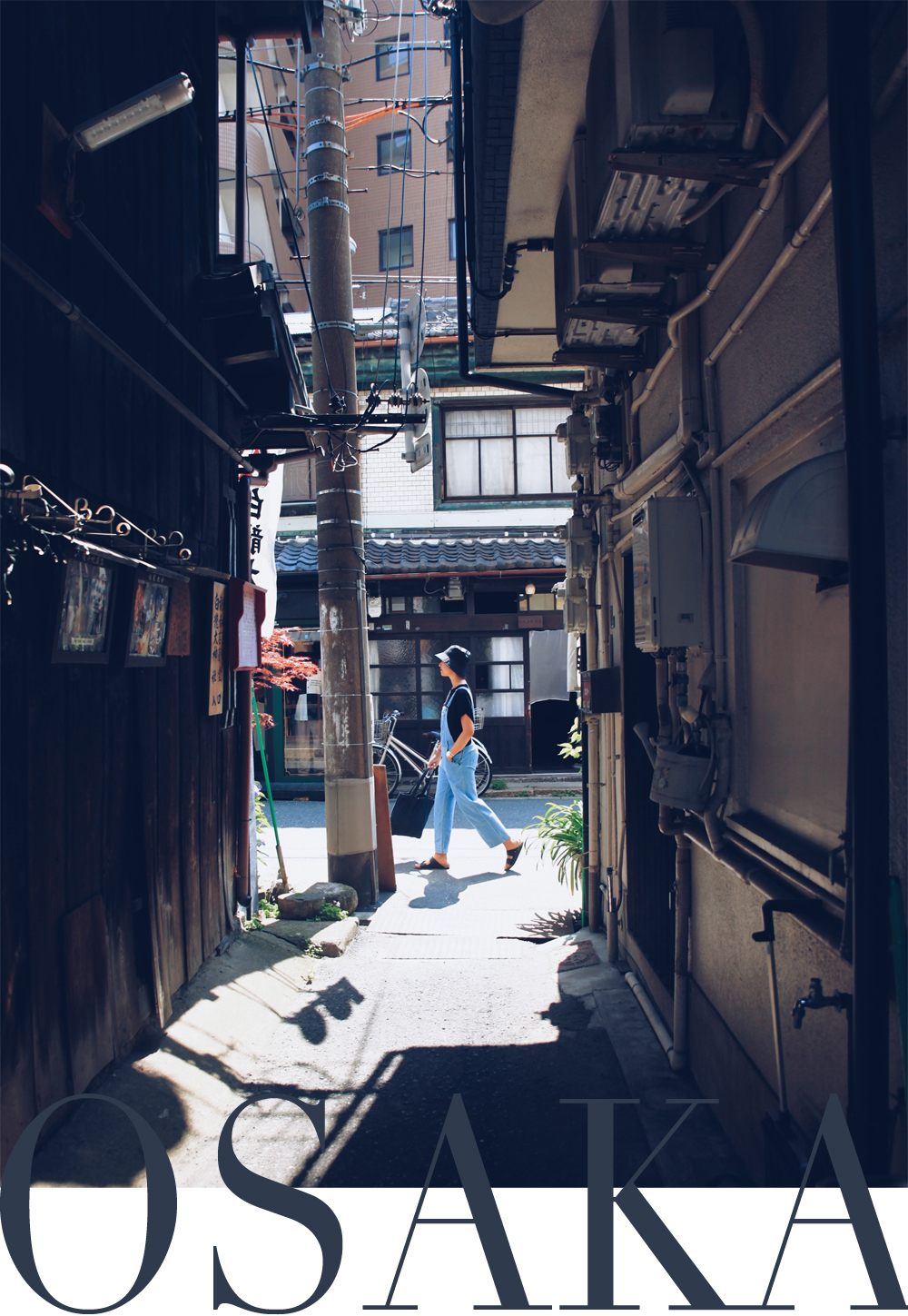 We started and finished our Japanese road trip by Osaka. It was our second time there (first time in 2014) and I still like the bustle and the people more laid back compared to Tokyo. We stayed there 3 days but it gave us the opportunity to discover the hidden face of the city, walking away from the very touristic Dotonbori area. We wanted to visit a more quiet area and we found it!
I also got the chance to meet one evening Kuniyoshi, with whom I've often been chatting on Instagram since my last trip in 2014 (we can say whatever we want but social media connect people!) and he took us to discover a lot of local specialities… which means that you'll find at the end of this article a lot of yummy addresses! Let's go!
Nakazakicho neighborhood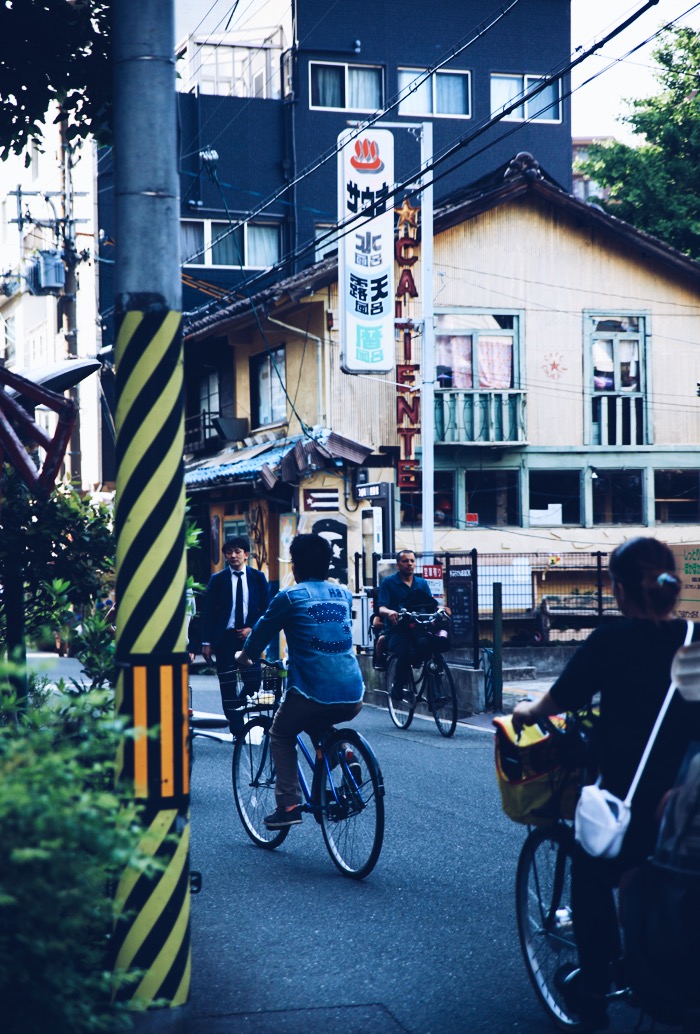 If you look for a peaceful area full of vintage shops, this one is for you! Looking a bit like Shimokitazawa in Tokyo but even more authentic (for how long?). As a proof, we were almost alone when we visited the narrow streets of Nakazakicho (if I remember well it was a Wednesday), might be different during weekends though…
This being said, the walk was very pleasant: Japanese designer shops and vintages shops are everywhere. The staffs were quite talkative and nice (even more than usual!) even though most of them didn't speak a word of English.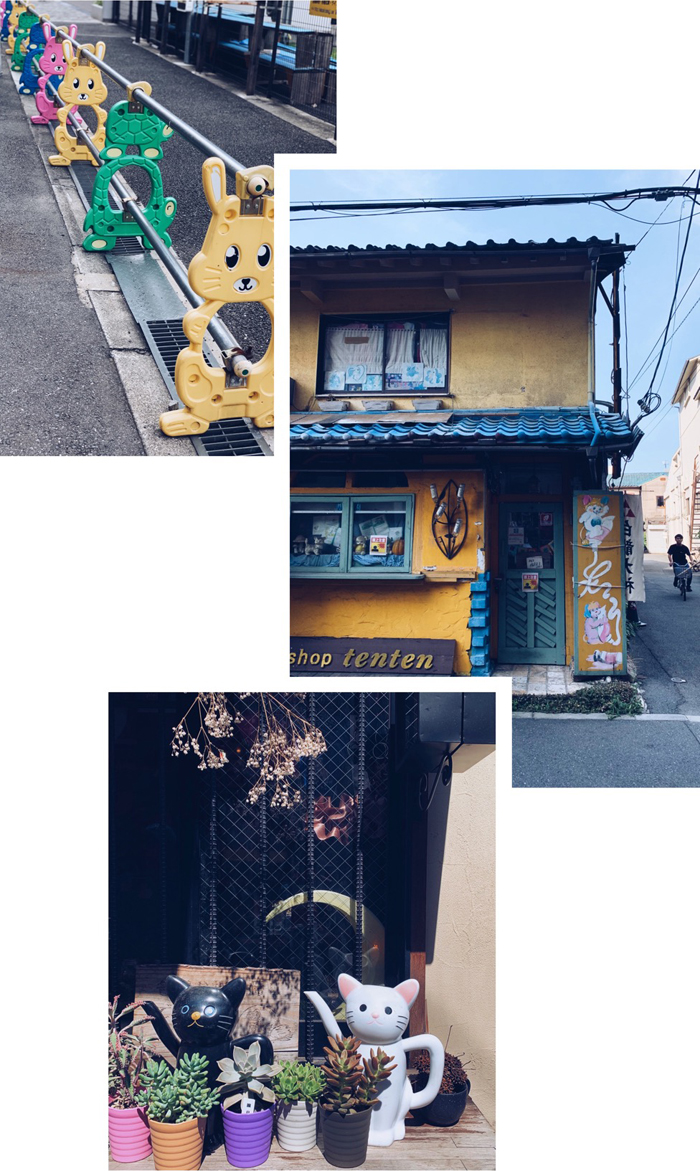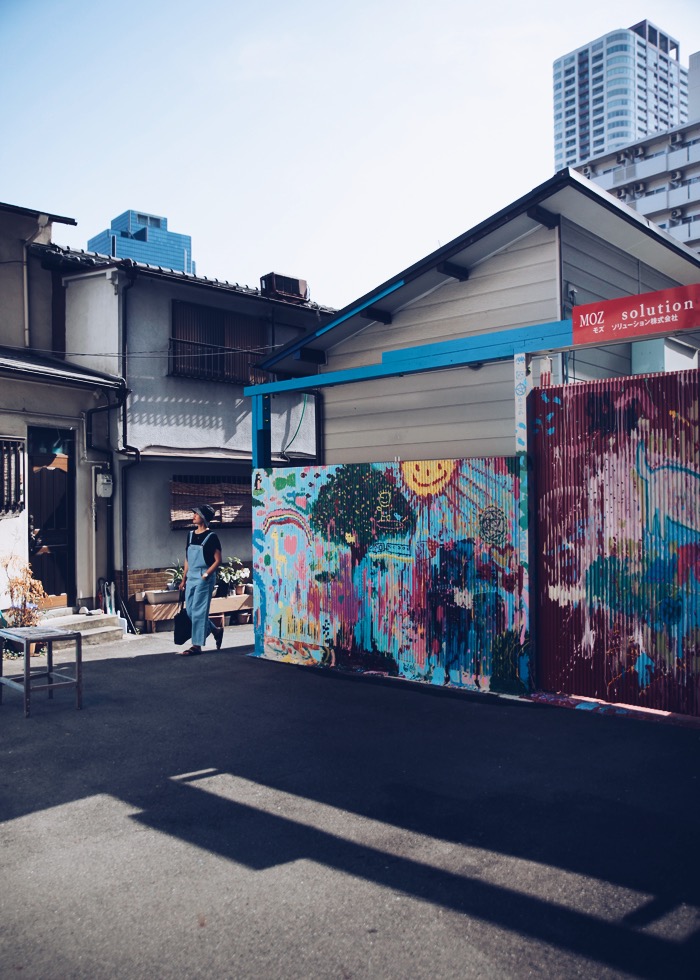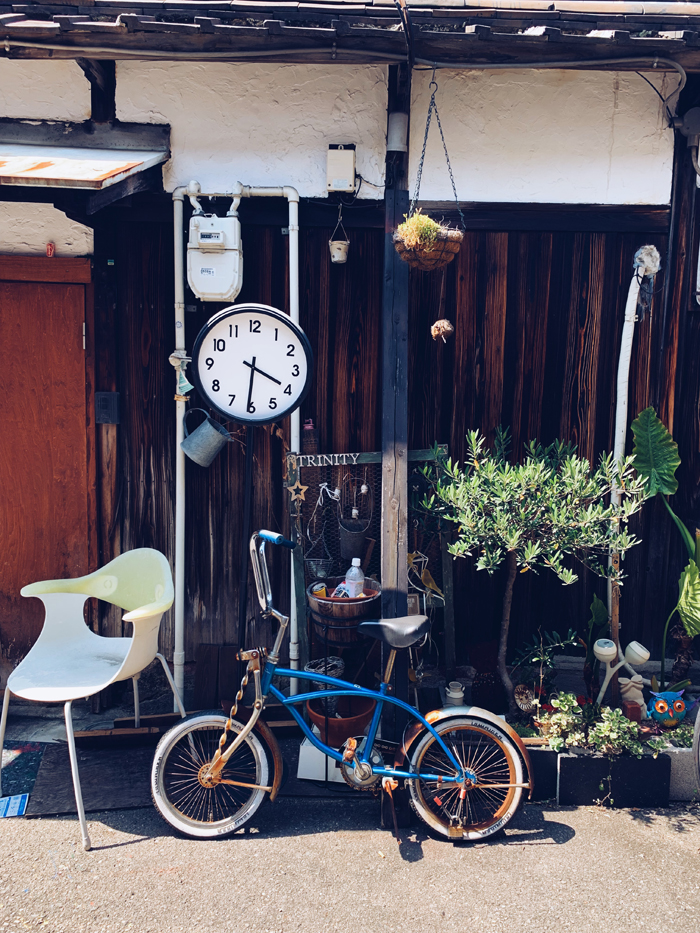 This neighborhood, mixing housing and shops, always have nicely decorated storefronts. This little vintage shop called GREEN PEPE is a real Ali Baba's cave, with clothes, handmade vintage items, tableware… It's a bit hidden but if you explore all the streets around, you should find it.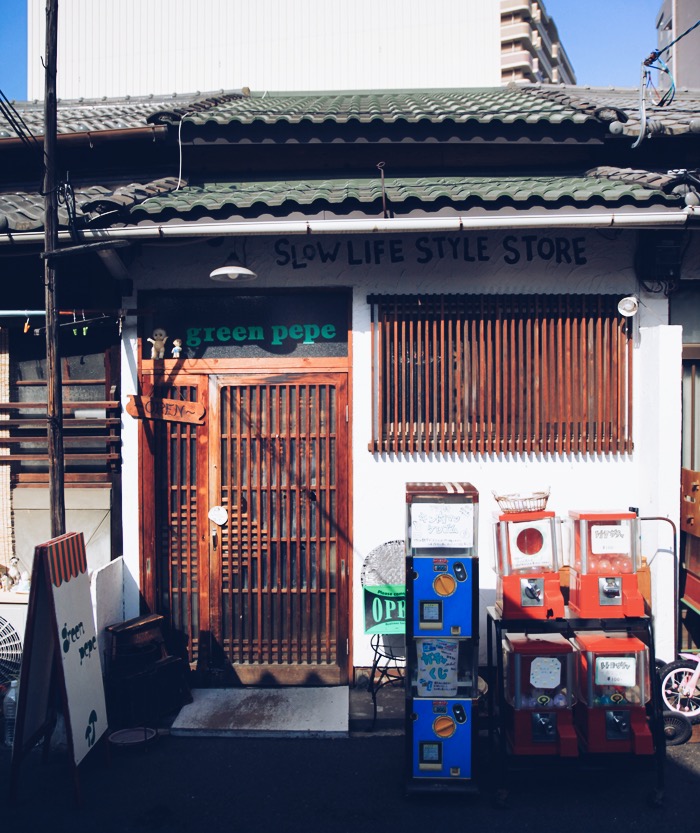 This ORANGE shop was also very interesting as we found vintage Disney and Toy Story Tshirts for ¥2000. All collectors of figurines and other small famous pop culture items would find here something to please them.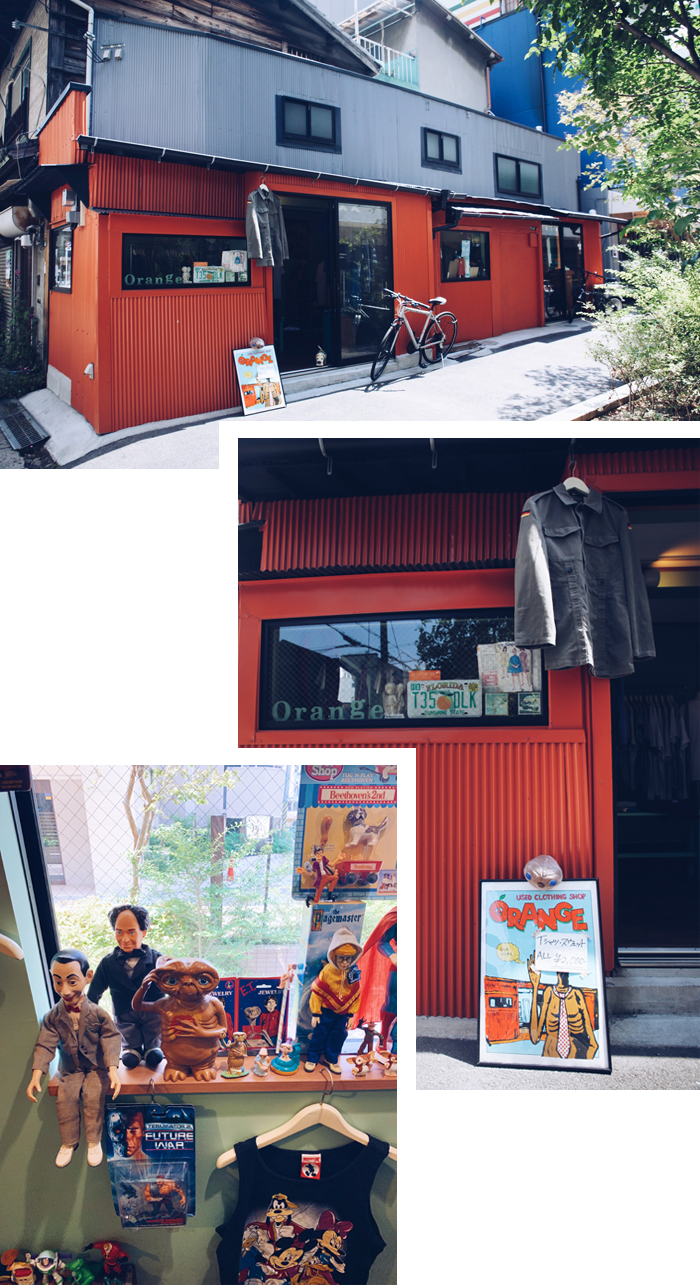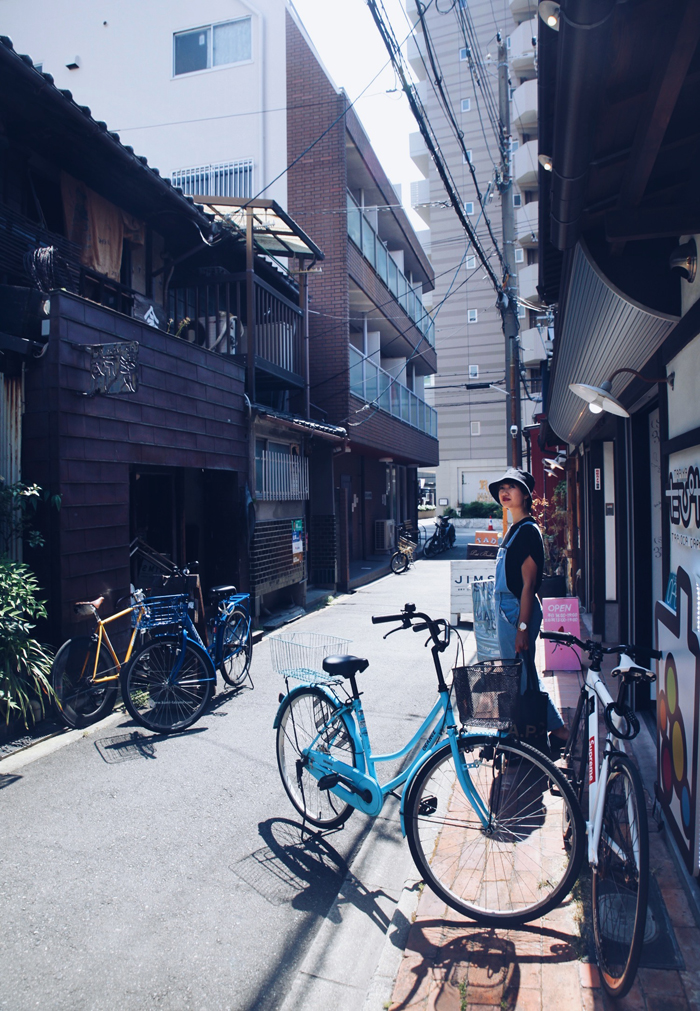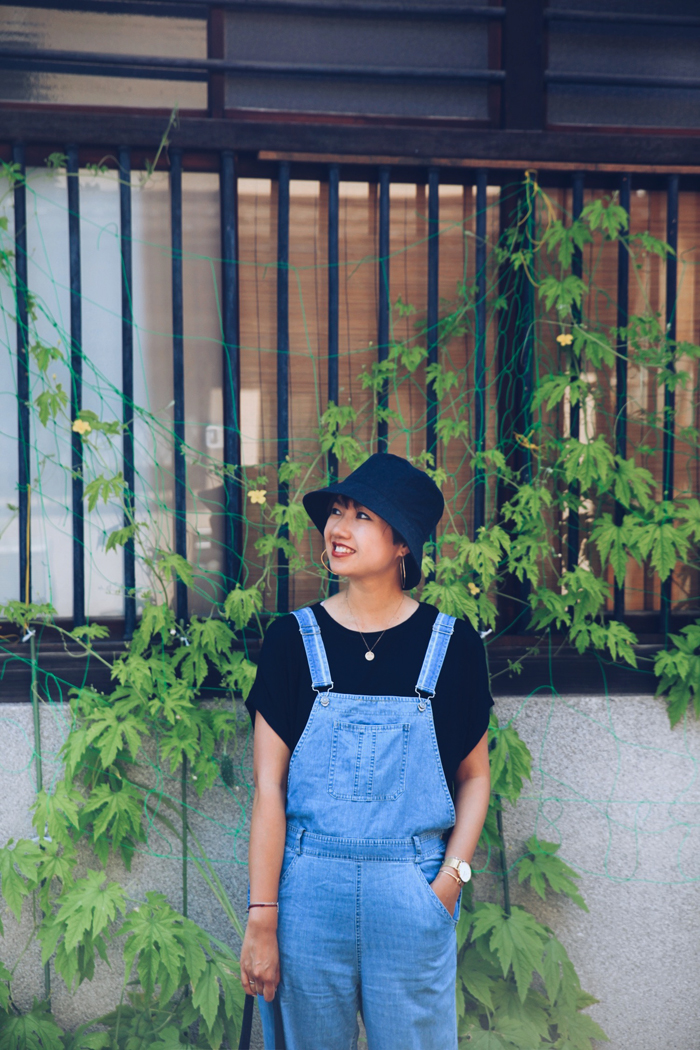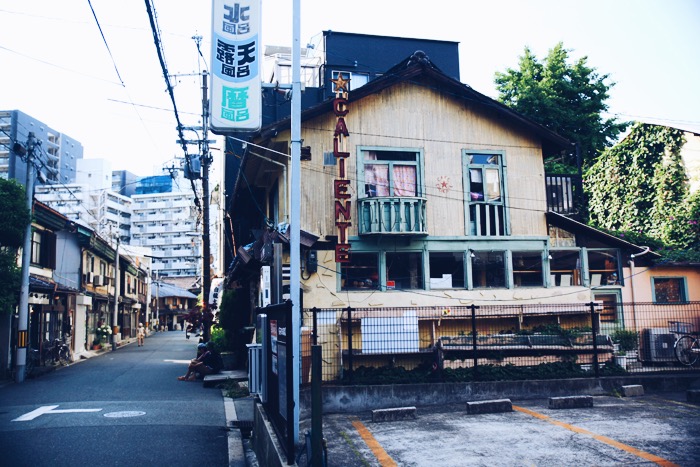 Thanks to the advices of an old lady owner of a small flea market store and our traditional sign language, we found KONNICHTEI (4-chome-3-1 Wakae Higashimachi Higashiosaka), this restaurant of Soba noodles, which was delicious and pretty refreshing considering the 30°C outside.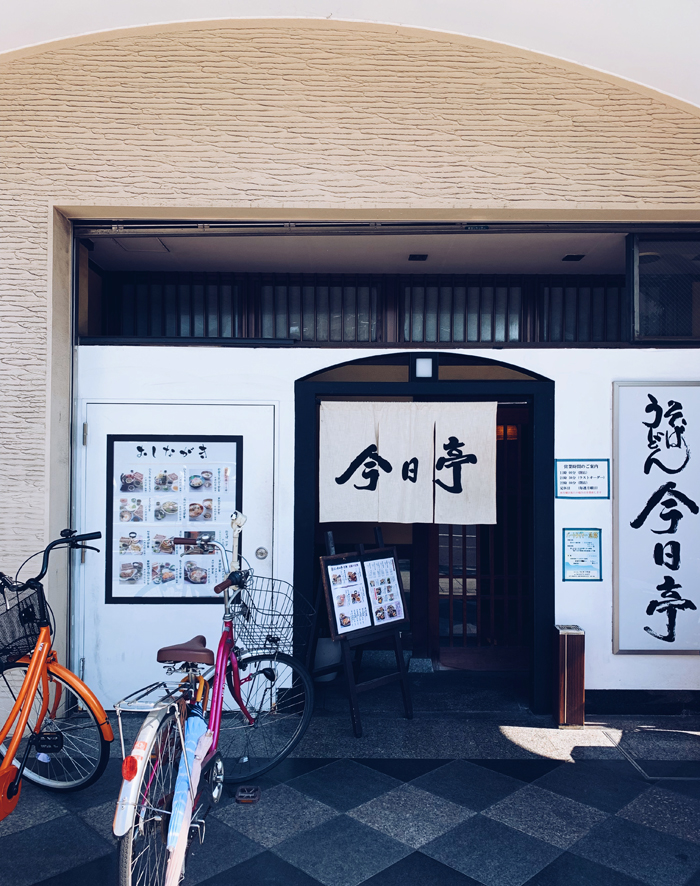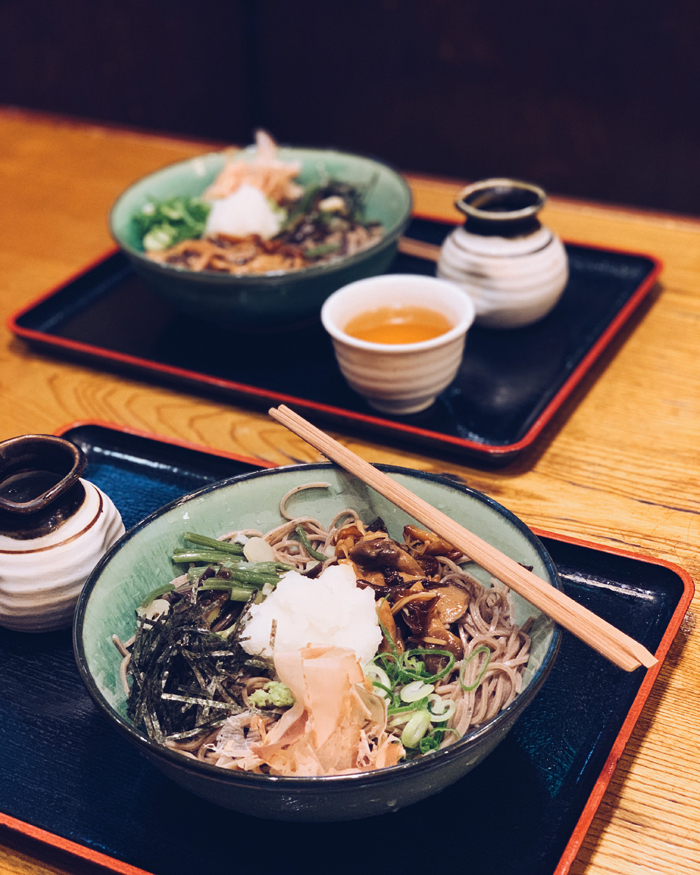 Housing in the Abeno Haruka tower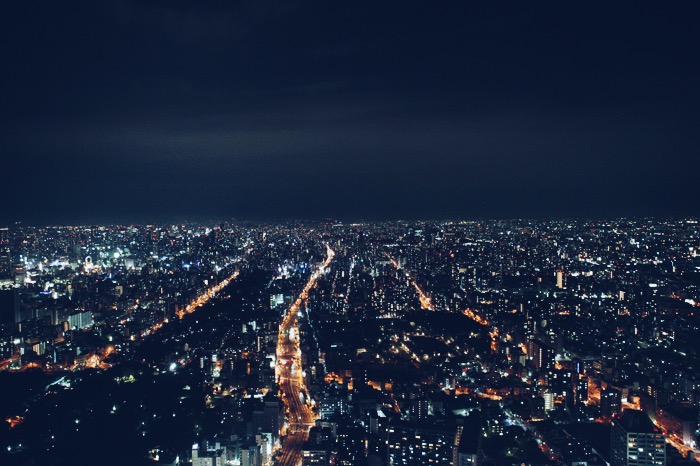 For these few days in Osaka, we stayed at the Miyako Osaka hotel located inside the Abeno Haruka building, built in 2014, the tallest in Japan!
I didn't take any picture of the room but we loved our few days there. During our stay we also had the chance to do a morning run with the 58th floor view (you can see that on my Instagram Story) and it was pretty nice because we were the only ones to enjoy the view (Japaneses or tourists seems to be less athletic as me! I let you imagine that ahah!)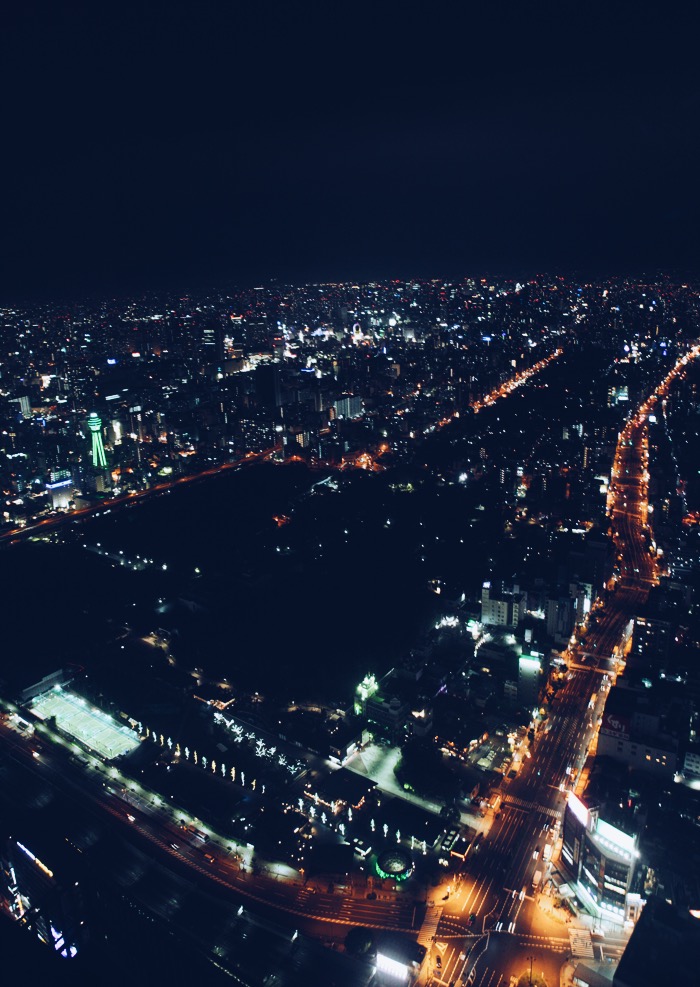 Our view from the 53th floor
Anyway, we didn't regret our choice of housing at the end of the road trip because there were a lot of shops nearby so it was very convenient to purchase gifts during our last day!
Kuniyoshi's yummy addresses in Osaka
As I was telling you earlier in this article, I got the chance to meet Kuniyoshi (aka "Kuni"), the owner of 6 shops (!) of wagyu barbecue (Matsusakagyu M), who I met in 2014 when I went to one of his restaurants and with whom we had spent a very good time.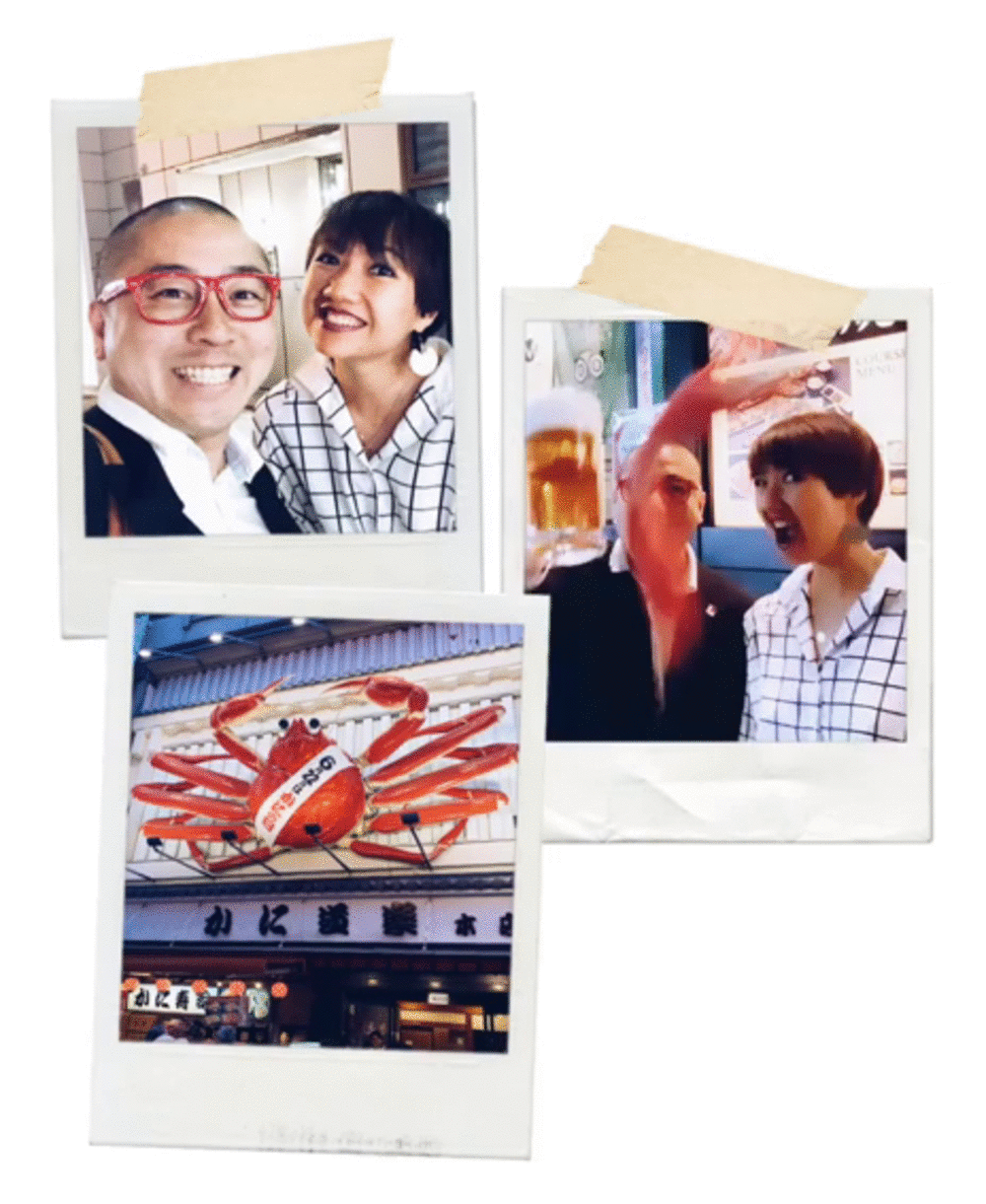 This time we spent the whole evening together so he could show us his best addresses: the occasion to discover new specialities more or least exotics!
MATSUSAKAGYU YAKINIKU M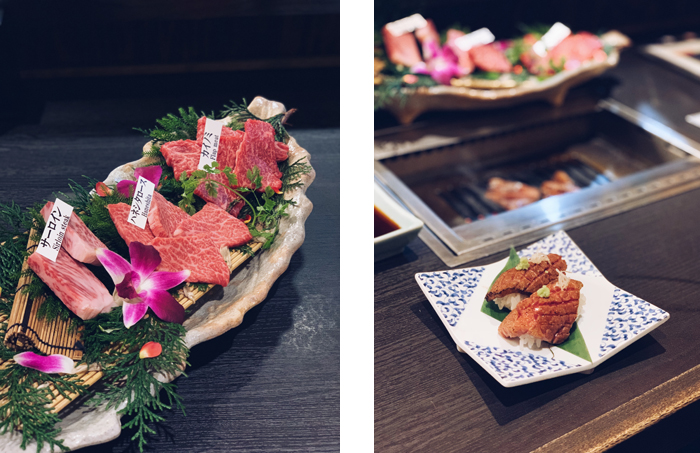 As the last time, we had the best wagyu beef, just soft and delicious. You can go there your eyes closed.
TEMPURA TAROJIRO (高橋ビル 1f, 1 Chome-8-20 Sennichimae)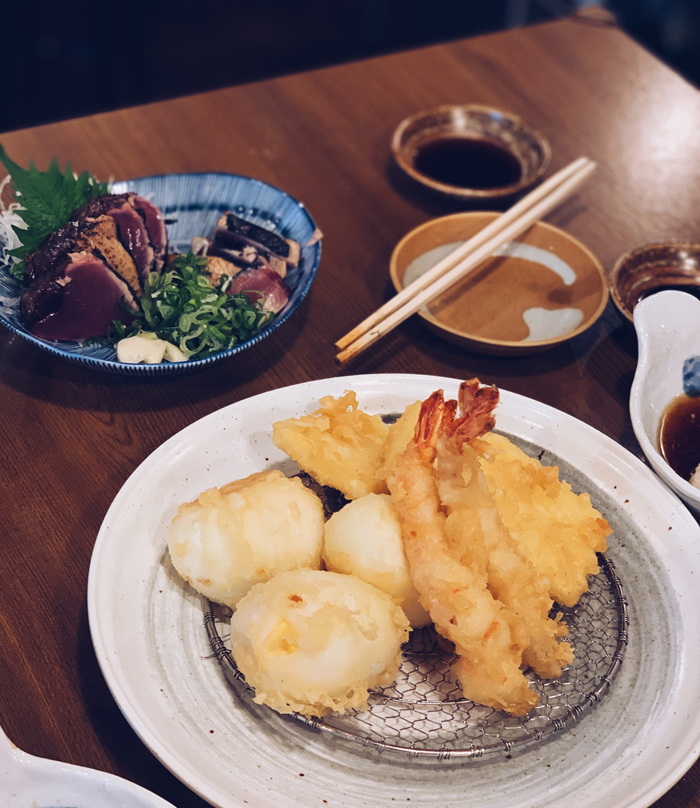 Shrimp & melting egg Tempuras, Bonito tataki

As its name suggests, tempura is the speciality. We tried tempura with melting egg (marvelous) as well as the very surprising tempura with Shirako… but what is Shirako? Just… seminal liquid of fugu fish… in other words fish sperm!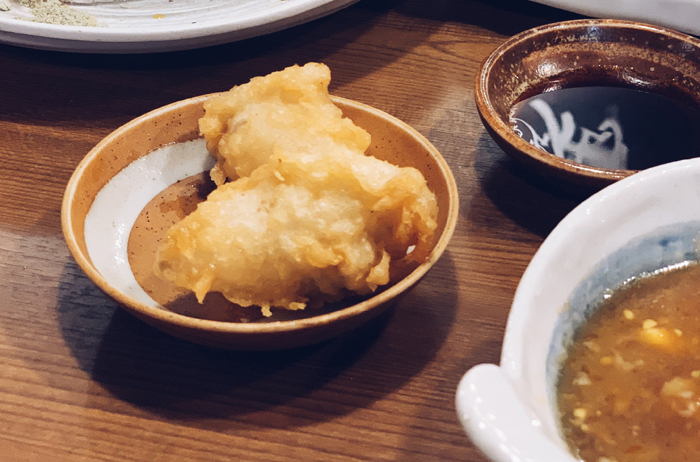 Shirako tempura (=Fish sperm anyone ?)

As you probably saw in my instastories, I tried it and I loved it (even with your disgusted reactions). Honestly, nothing to be afraid of: the texture is halfway between soft tofu and panna cotta, without real strong taste and fried it's definitely ok!
Must try if you like challenge but it's really a small challenge, I swear!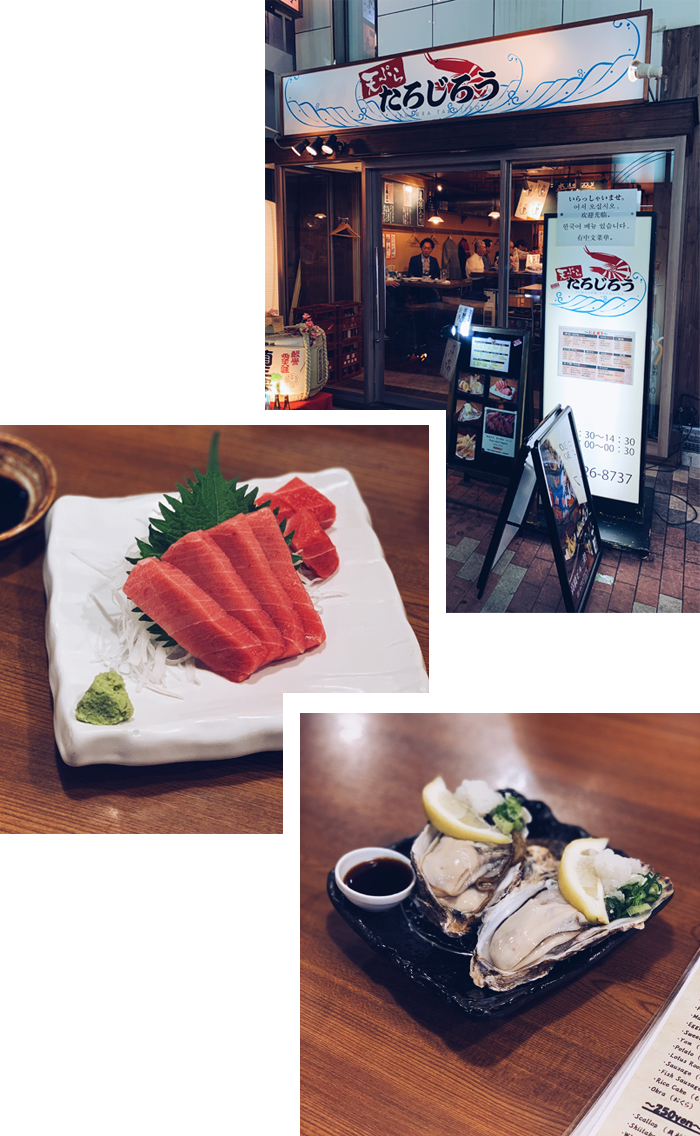 Other specialities like these big Hokkaido oysters with Ponzu sauce
NARUTO TAIYAKI (1 Chome-4-10 Sennichimae)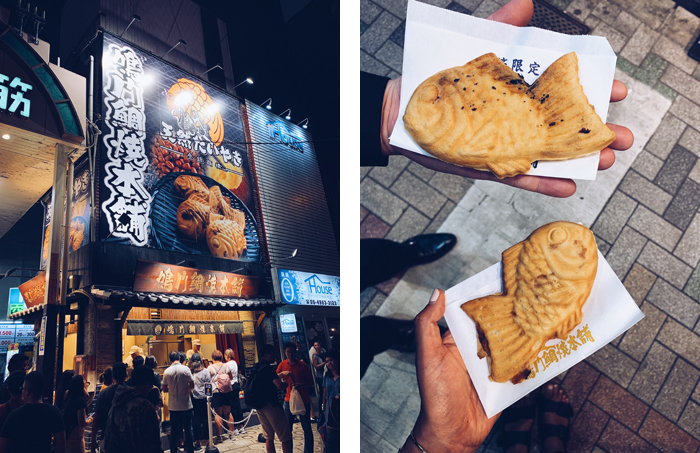 The best taiyaki I've ever had are there! These small stuffed waffles with fish shapes are handmade in front of you with a master chef turning two dozen of moulds like nobody else! Impressive!
Kuni told me that he was serving more than 800 taiyaki per day! Amongst the flavors: sweet potato, taro or custard: all delicious.
A few extras
Here are a few extra addresses (some revealed by Kuni, some we randomly passed by for our great pleasure).
YAKIMINO-NANCHI (1-9-6 Namba Chuo-Ku) A tableware and traditional ceramic address: where I found our plates and flower pots perfectly imperfect!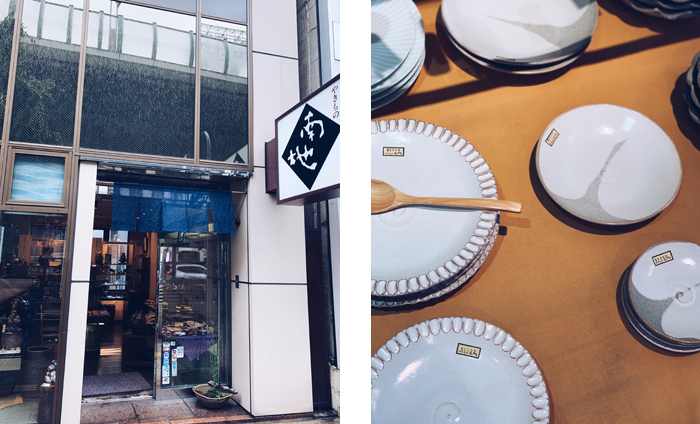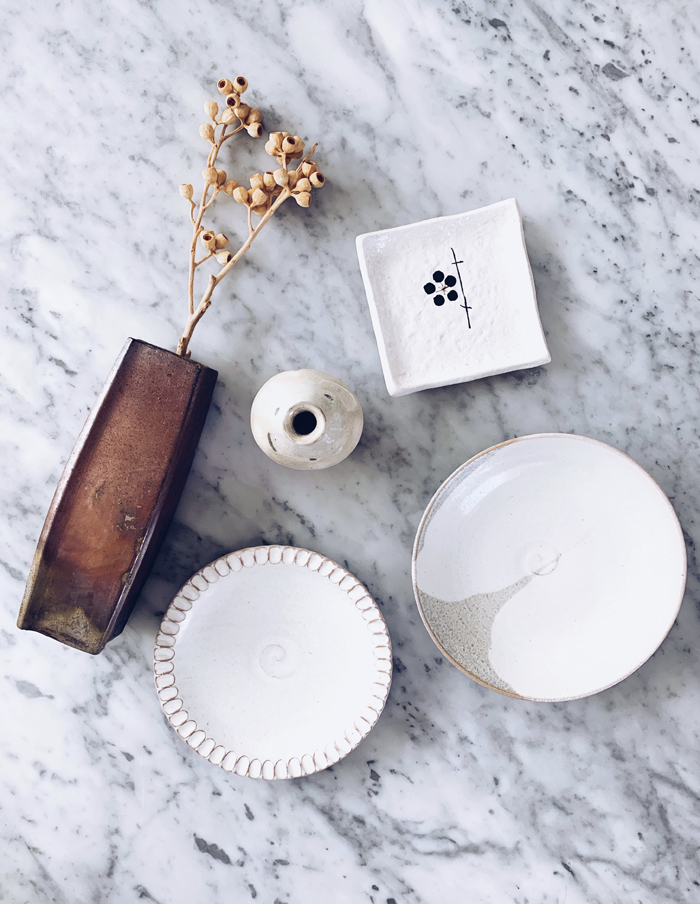 My little souvenirs
KUA' AINA (Naniwa Ward, Nanbanaka, 2 Chome−10−70 なんばパークス 6F) : Hawaian burger place found in Tokyo: such a pleasure to find it here, and this light smoked taste.
KUROMON SANPEI (2 Chome-4 Nipponbashi, Chuo Ward) : Seafood restaurant prepared in front of you.
ACCHICHI HOMPO DOTONBORI (7-19 Souemoncho, Chuo Ward) : To try yummy takoyaki (ball of octopus) speciality from Osaka.
HOZENJI SANPEI (1 Chome-7-10 Dotonbori, Chuo Ward) : One of the best place to eat okonomiyaki.
BINCHOTAN YAKITORI RESTAURANT (Chuo Ward, Shinsaibashisuji, 2 Chome−4−4 日総・四国ビル B1): Grilled yakitori in a restaurant overseeing the famous Glico sign.
KOKOPELLI (Chuo Ward, Namba, 1 Chome−6−5 TMビル 1F ココペリ) : Burger restaurant with Kobe beef.
GOUKAI TACHIZUSHI (12-34, Nambasennichimae) : Very fresh sushi and sashimi.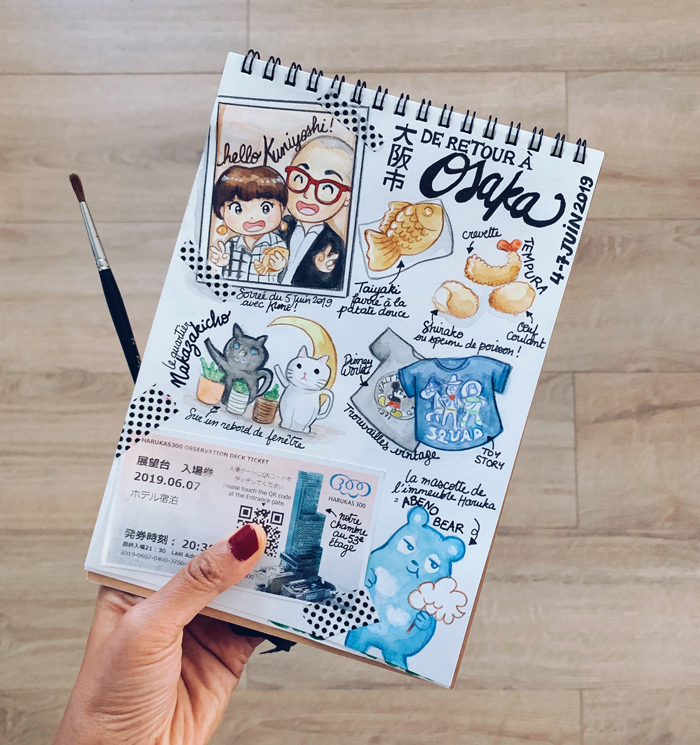 So here was a small tour of new address in Osaka: I hope it will help you to prepare your trip: you can anyway read again my articles written in 2014. Let's catch up again soon to start over our road trip from Awaji (… WELL! I know it takes me some time, my apologizes!). Looking forward to remembering it with you ! (English transation by Quiterie)