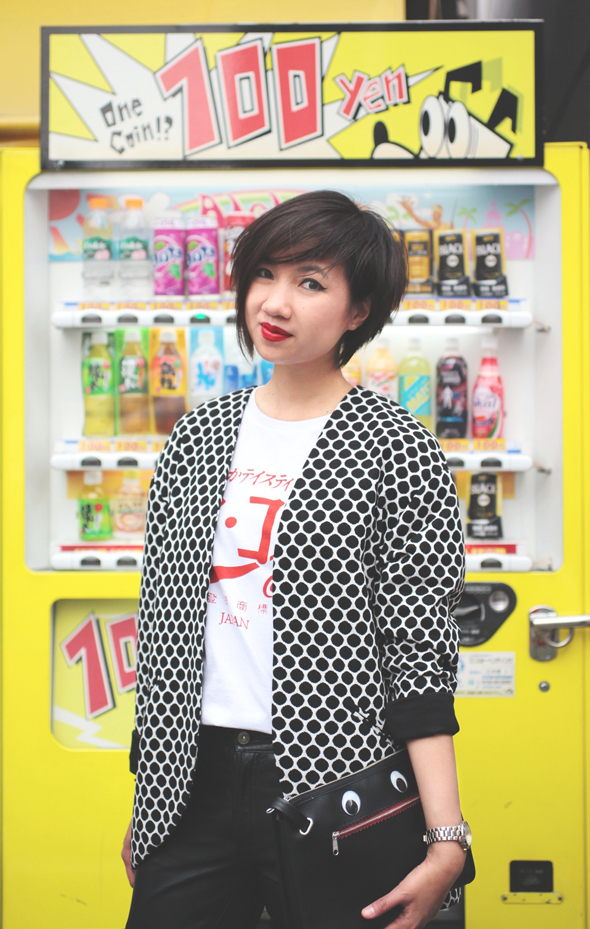 The tour of Osaka goes on! If you are an Otaku (a fan of the Japanese culture of video games and manga) or a Geek, or even both, I think you will like this post. I am a bit of all that, even if I have tempered my ardor with time.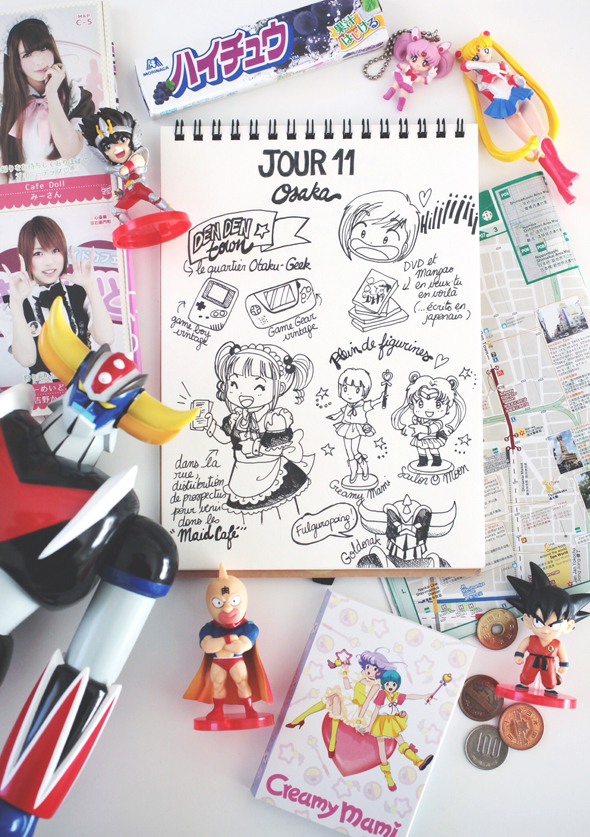 I am not really aware of today's popular manga but I am still very nostalgic of those which soothed my childhood and adolescence and above all, gave me the inspiration to draw!
This neighborhood of Osaka has brought back this fire in me! Indeed, many compare it to Akihabara, the electronic neighborhood of Tokyo.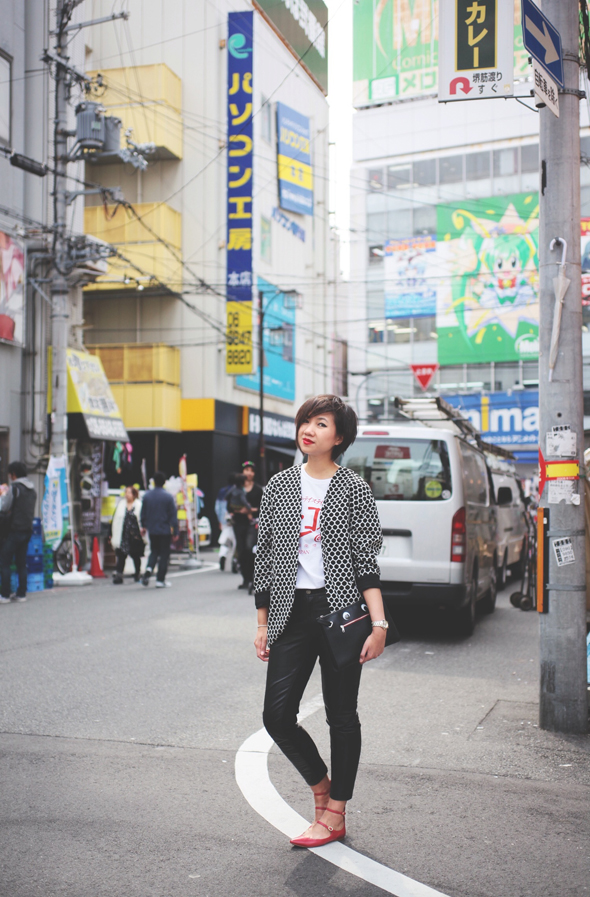 Having had the opportunity to see both, I would say that Osaka's may be more "human" and more suited to doing business. I must say I visited Akihabara in rainy weather which made it more difficult to compare both in good conditions!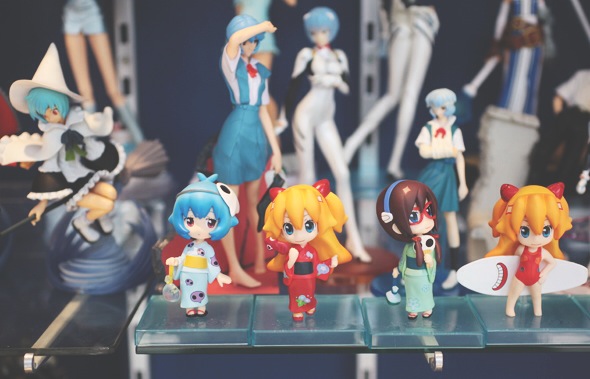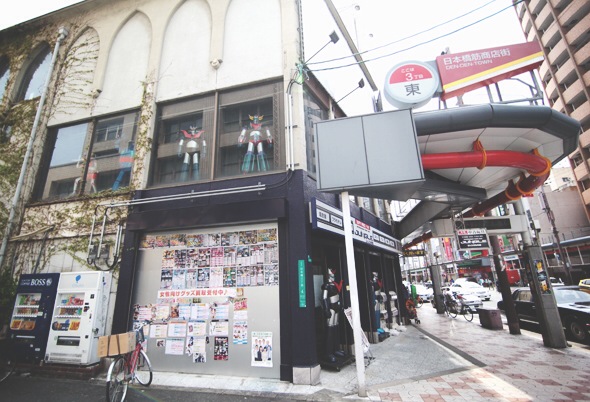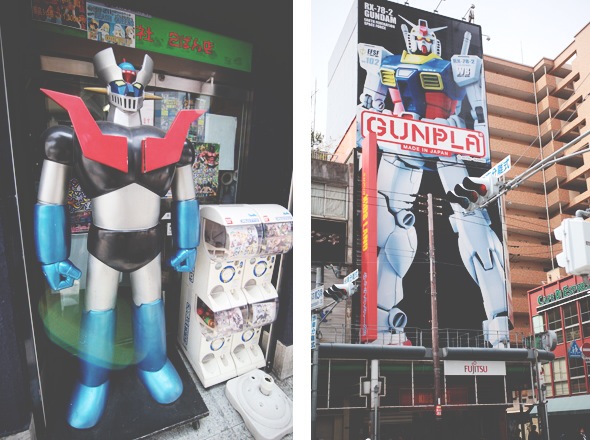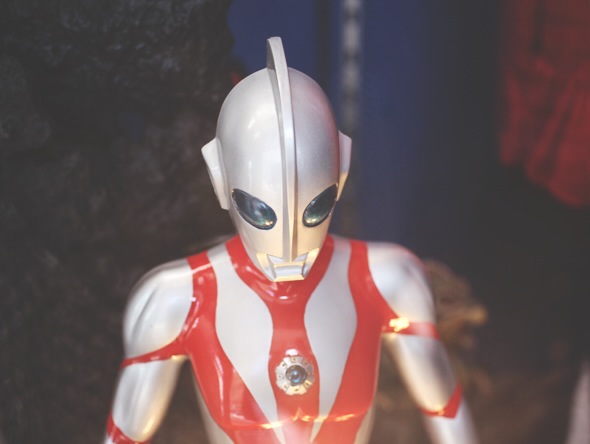 Anyway, in this neighborhood, you will find anything that is related to manga: little shops as well as huge stores on 6 to 7 floors packed with books, gadgets, and figurines.
We decided to look for the figurines of our favorite cartoons: Sailor Moon, Creamy Mami, Ranma 1/2, Dragon Ball Z for me and Goldorak, X-Or or Gundam for him!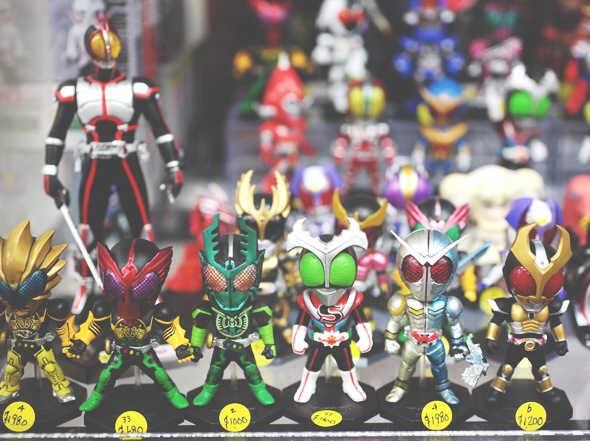 I had to give some of them up, because I feared our interior decoration would become a bit too "Japan Expo". But it was really tempting, due to the quality of the figurine's finish!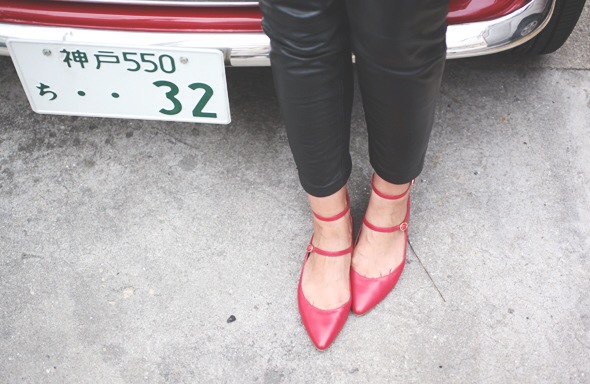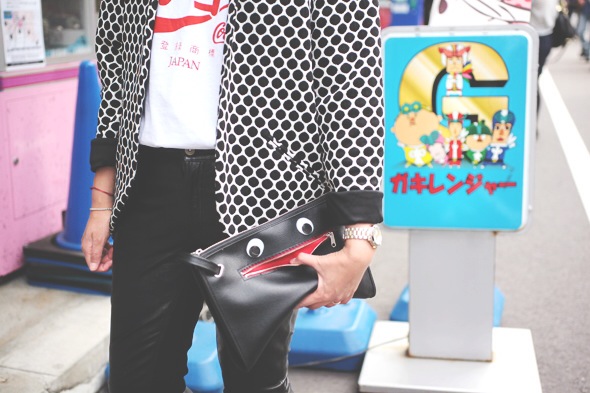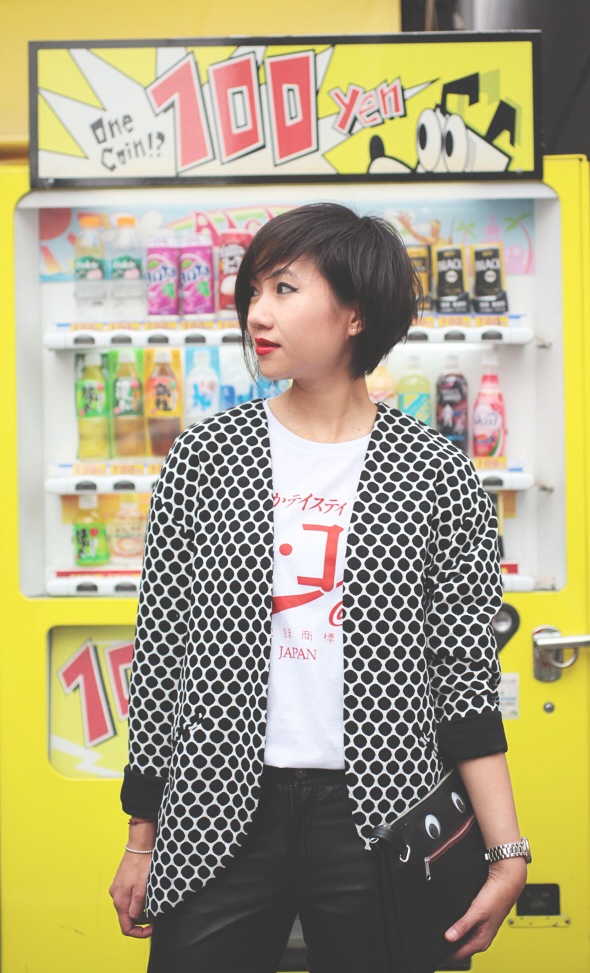 Jacket H&M
Teeshirt "Coca-Cola" ASOS (déjà vu ici)
Clutch Aquvii
Cat watch ASOS
Lipstick L'absolu Velours « Velours de Grenade » Lancôme
Flats WhatFor (déjà vues ici)
Along our little tour, many times we have been approached by young girls dressed as maids: the "maids". Their goal is to bring you inside "Maid Cafés"  where they work. We don't have time to go in, but through one of their windows (peeping toms!!), we observed somewhat odd scenes.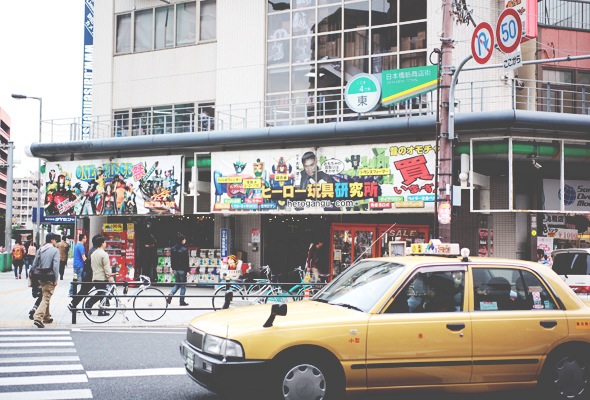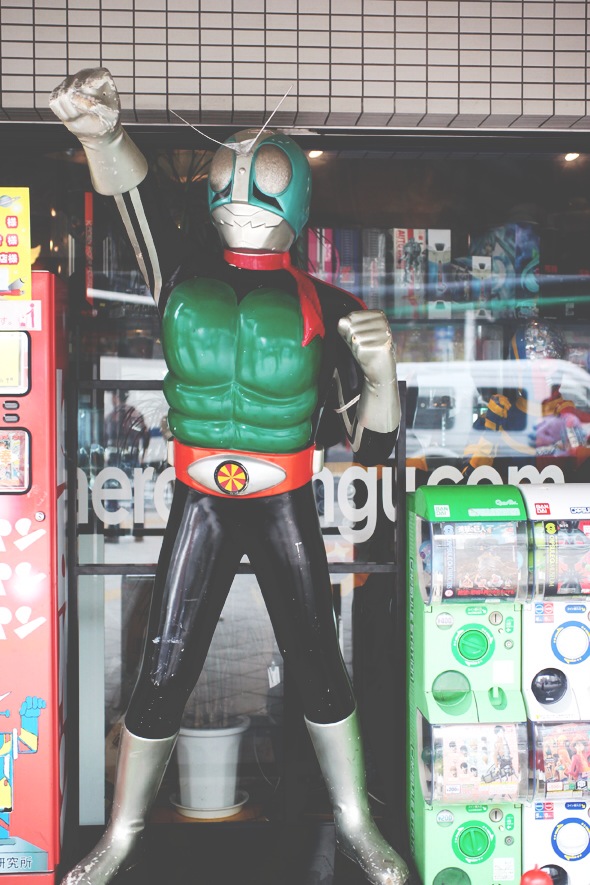 In fact, "Maid" coffee places are places where you drink coffee (ok not very unusual so far) but also places where you can interact with the waitresses. It is quite odd. Waitresses welcome you by saying: "welcome home!", then stir your coffee, cut you a piece of cake and laugh with you.
Everything remains very prudish, which is quite contradictory to the sexual tone of the outfit. All the more so as the rules for approaching the "maid" are very strict (no inappropriate gesture, no "hey girl! what's your phone number ?"…). A real Japanese paradox!
 IMAMIYA EBISU Sanctuary

Along our journey, we stopped randomly in this sanctuary dedicated to the "God of business".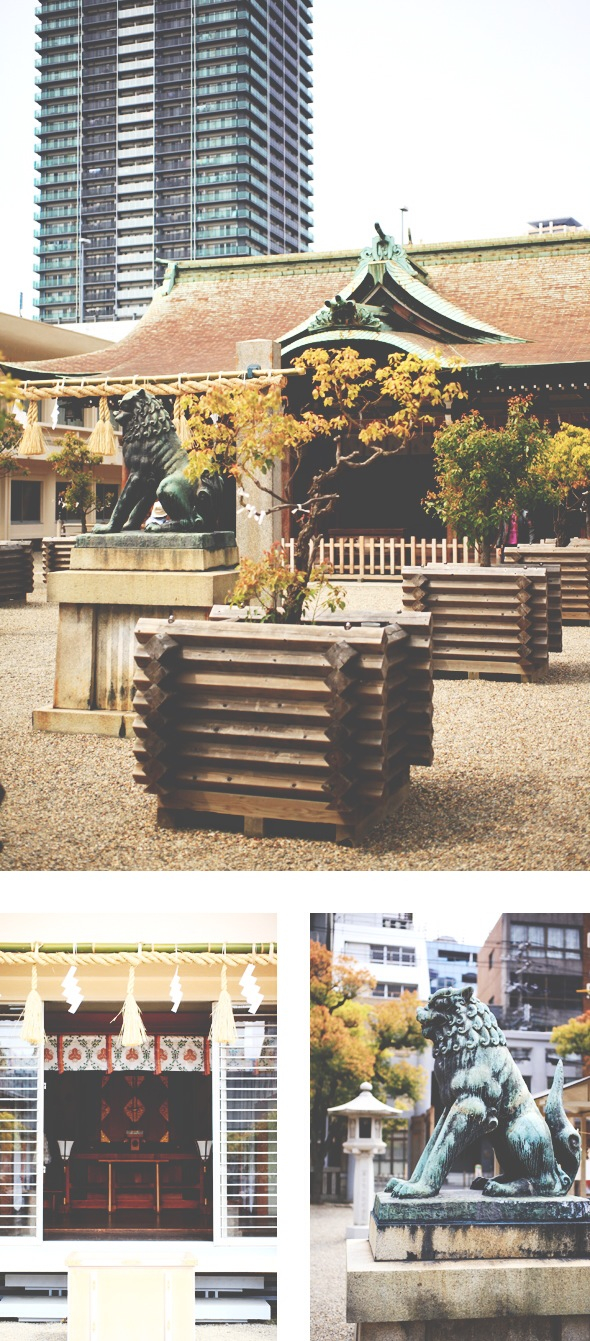 It was quite funny to watch people pray for their business to work out or their work to be profitable. What is more unusual than this contrast between spirituality supposed to lift up your soul and the purely materialist world: I must admit that during this trip, this paradox has made me often laugh.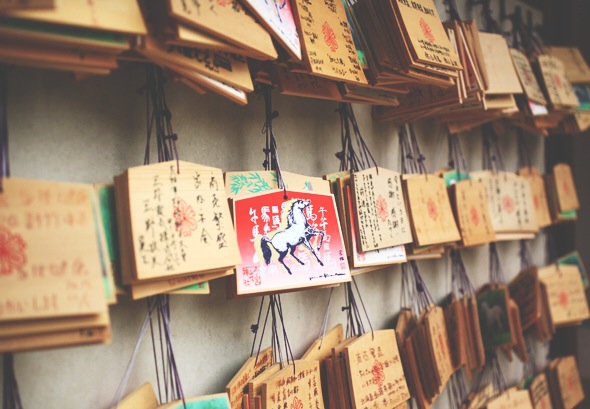 MATSUZAKAGYU Yakiniku restaurant
(1-1-19, Namba, Chuo-ku, Osaka-city, map: here) 
I give you a last address to ease your taste buds, looking for some tender meat.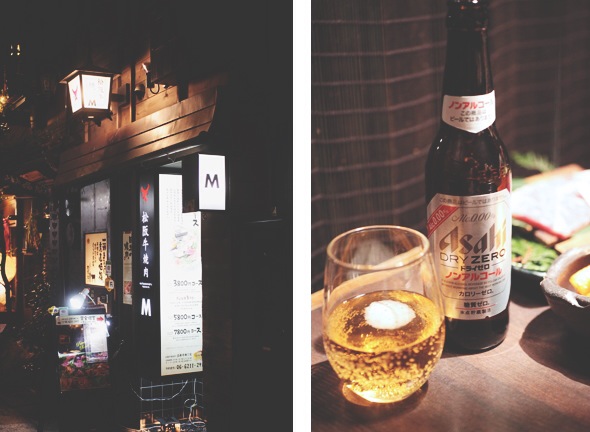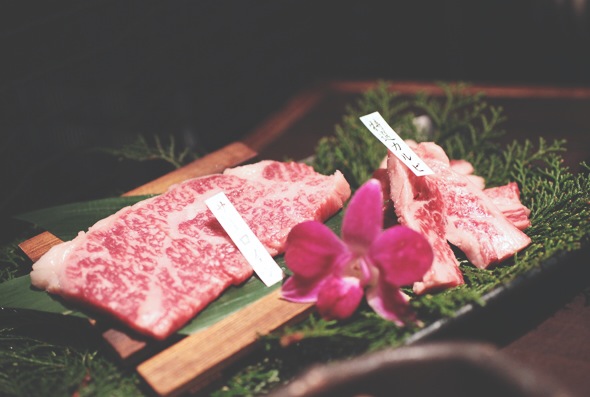 We had a good time in there: we are placed in little intimate boxes to taste the "yakiniku" or Japanese barbecue.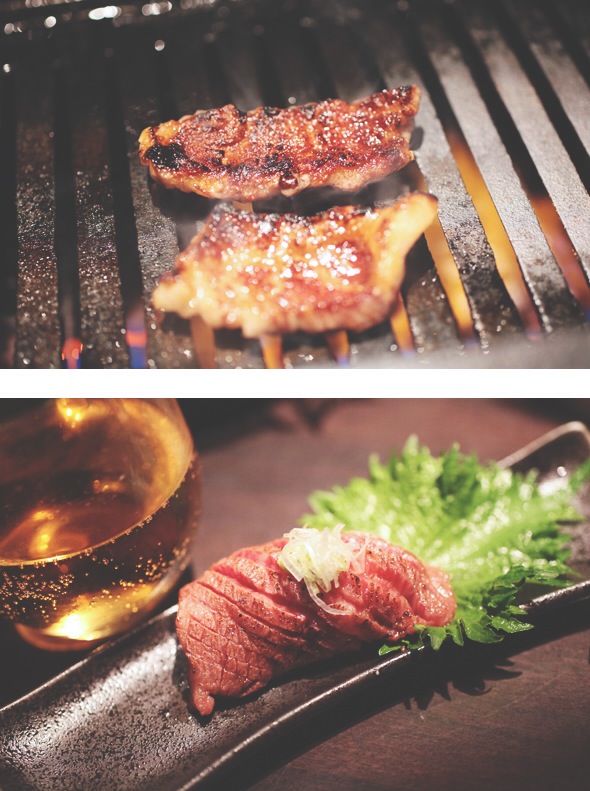 Like all yakiniku, it is quite pricy but the beef meat is so deliciously juicy and tender and the reception is very caring. Special attention to "Big sirloin steak" that literally melts in your mouth! (English translation by Daphné)
Previously on MY JAPAN TRAVEL DIARY :
Notre appart à Tokyo
Day 1 : Sumida Park & Asakusa
Day 2 : Namco Namjatown
Day 3 : Omotesando & Harajuku
Day 4 : Ueno Park
Day 5 : Errances gourmandes à Omotesando
Day 6 : Odaiba お台場
Day 7 : Tsukiji market, Meiji & Yoyogi
Day 8 : Tokyo Skytree
Day 9 : Dans le train pour Osaka !
Day 10 : Osaka Castle & Hanami au Mint