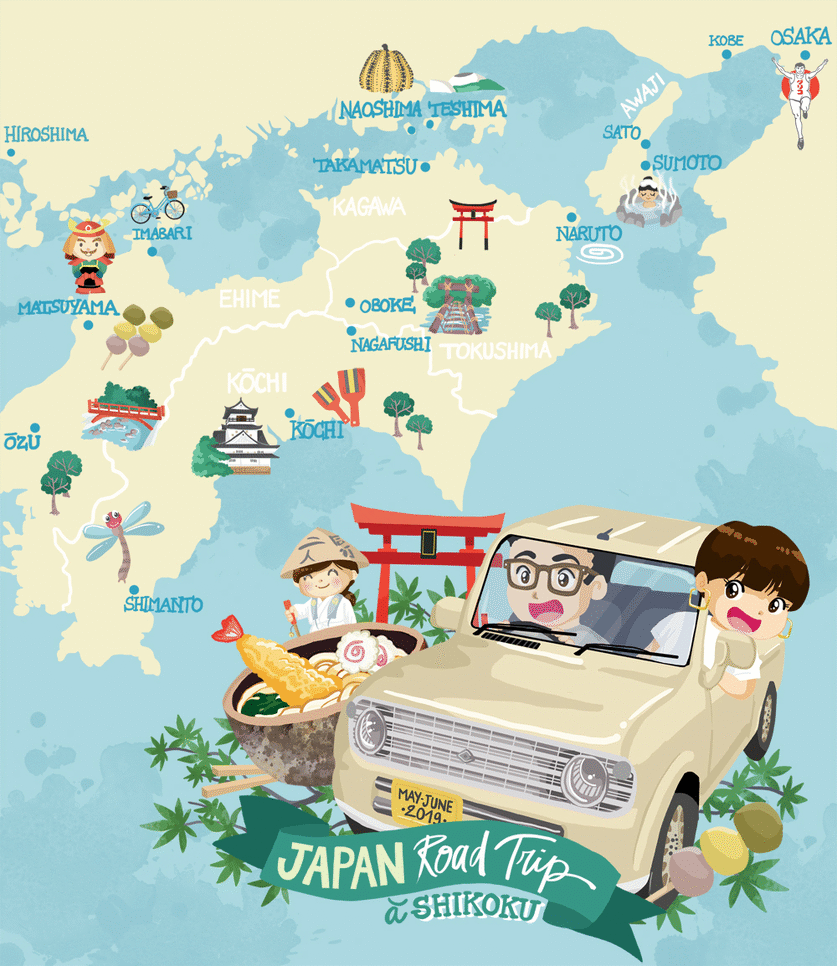 Here I am for another recap of my Japan trip ! My 5th so far, always with the same enthusiasm and even more surprises than usual, which I didn't think possible, having already been to Japan in spring, autumn and winter.
Only summertime was missing, and even if this time of the year has more an "end of spring" vibe, I got to see a greener, lusher and warmer side of my darling Japan.
For those of you who followed my trip in my Instagram stories, thank you again for sharing my enthusiasm : we continue now on the blog with more detail. I'll be posting my japanese stories on Instagram (Highlight stories) as we go along so you can have a full immersion experience, and maybe it will also encourage you to prepare your own trip!
Here are a couple tips following this 5th experience (you can also re-read my previous summaries here, here and there). Here we go!
Heading to Japan end of May-beginning of June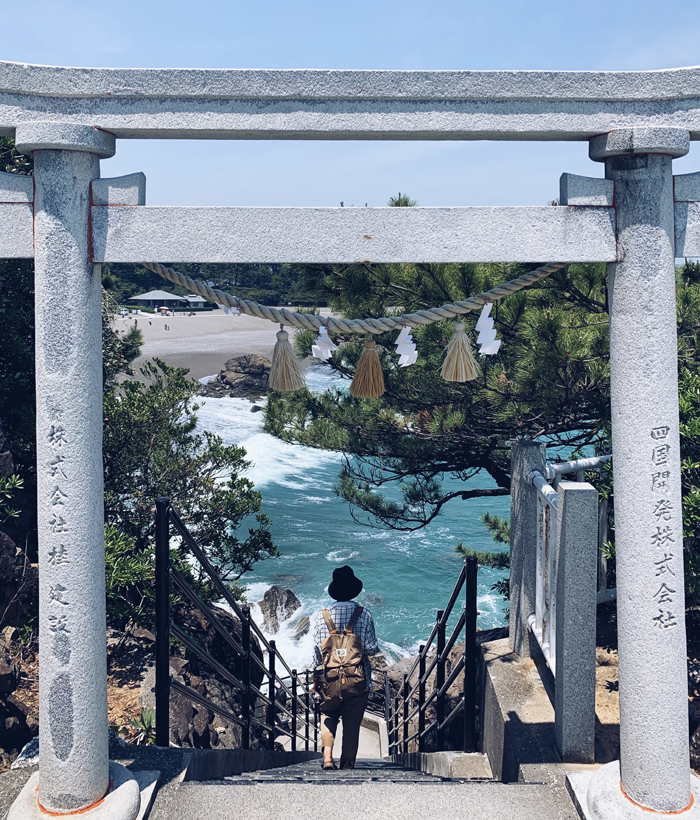 We prepared for this trip in a rush : we found airplane tickets with a promotion, which made us take the leap. All the preparation took place in the month prior to our departure … almost! When we were in the plane for Osaka, we were still missing a couple hotel nights, which is to say how unprepared we actually were!
I found this timeframe perfect for traveling : the weather was pleasant (26-30°C) and sunny for the whole 2 and a half weeks of our trip (=only 2 days of rain). Of course, the cherry blossom season was gone, but so were the tourists… especially in the area we headed to : Shikoku !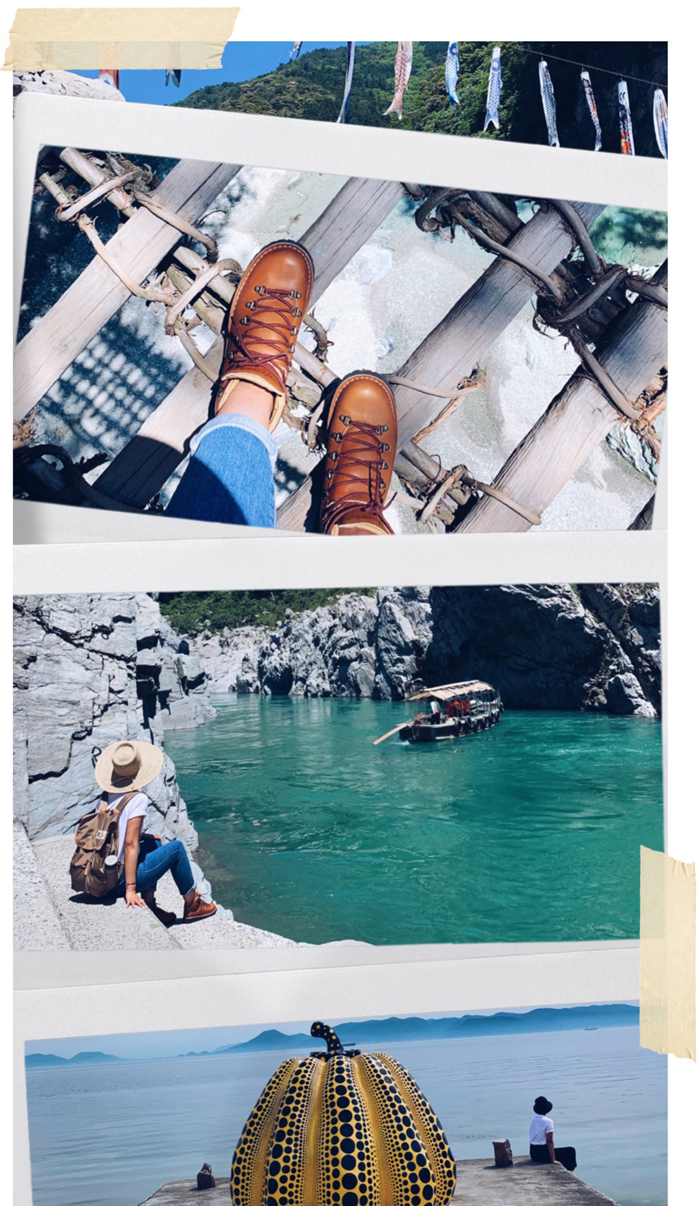 We were often alone on the hiking trails or in the villages : some might find it to lack in atmosphere, but we really enjoyed the peace and quiet.
We found some animation in cities like Kochi, Matsuyama or Takamatsu and more excitement in Osaka but for the majority of our trip we enjoyed an unhoped-for and very much appreciated tranquillity.
What should you plan for in a Japan Road-trip?

THE LEGS OF THE JOURNEY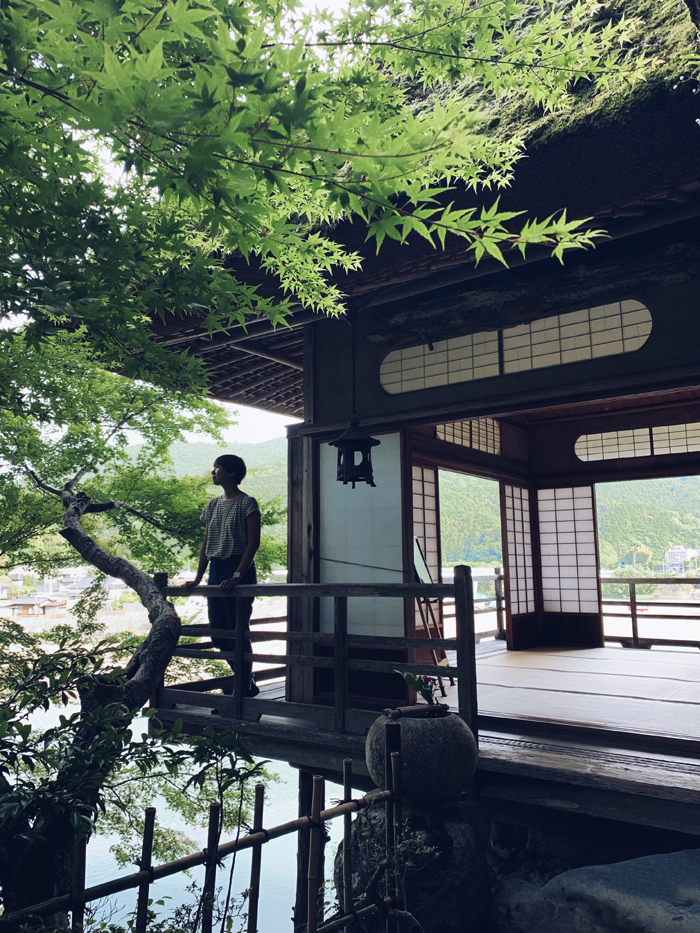 Once again, as for our winter trip, I let my SO manage most of the hotel bookings and determining the legs of the journey. He did great, prepared a well balanced road-trip and found us some lovely places to stay. He is the main instigator of the quality of this road trip, which wouldn't have been the same without him, so let's all thank him!
I was just here to give the main points of interest I had listed at the beginning, and he managed to connect it all and build a coherent trip, that wasn't too tiring.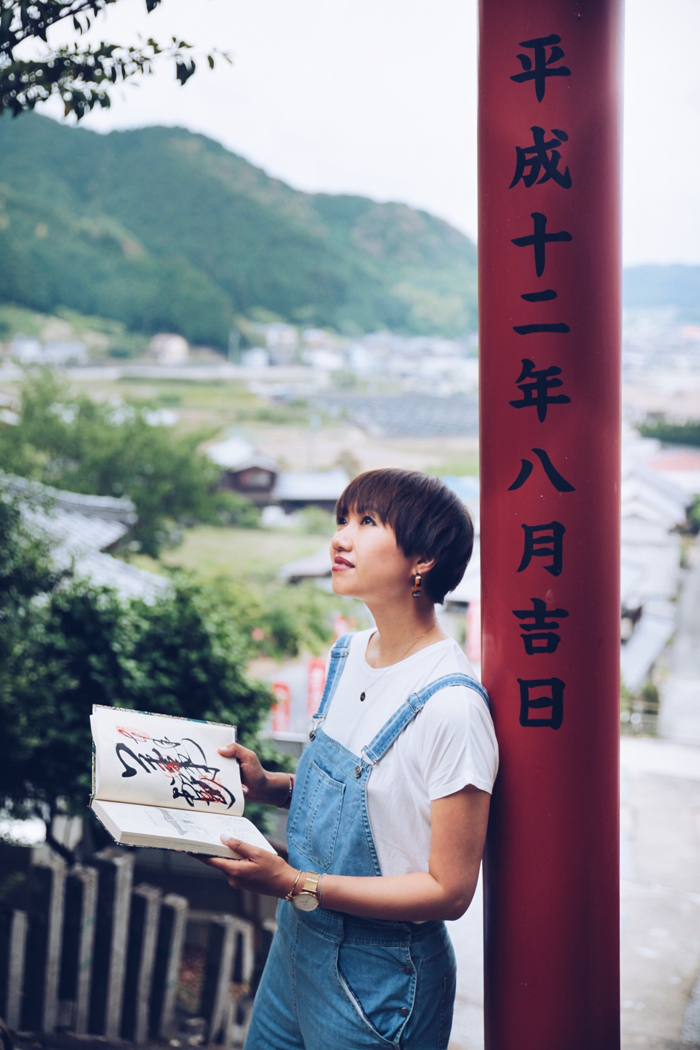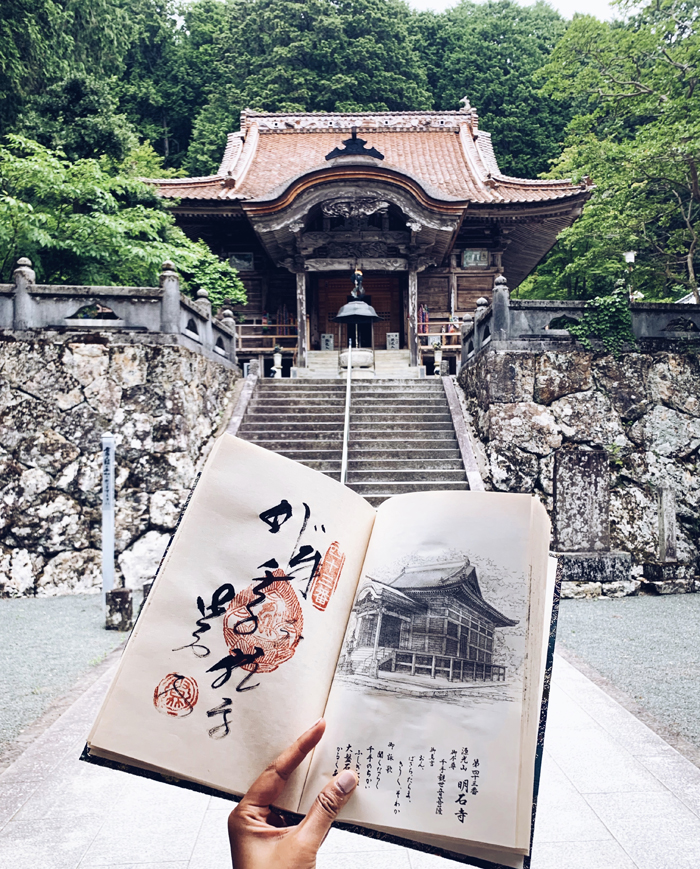 Pilgrimage in one of the 88 temples of Shikoku
The visits we made we decided upon the same day, by leafing through brochures of the tourist information offices or by asking the hotel employees or locals, with the exception of Universal Studios (that we had booked in advance : I'll tell you all about it in a specific post) and the Chichu Art museum in Naoshima, that we also booked online.
We departed on May 22nd 2019 (early afternoon) and came back on June 8th 2019 (early morning). There's just one thing we would do better if we were to start over : we should have booked a night near Oboke on day 2 to avoid that round trip we did on day 3 (I made the correction on the map to keep it simple). Here's our route :
DAY 1 : Osaka (where we booked the car at the airport) – Naruto – Sato, Awaji
DAY 2 : Awaji – Kochi
DAY 3 : Kochi – Oboke – Kazurabashi – Kochi
DAY 4 : Kochi – Shimanto
DAY 5 : Shimanto
DAY 6 : Shimanto – Matsuyama
DAY 7 : Matsuyama
DAY 8 : Matsuyama – Ozu – Matsuyama
DAY 9 : Matsuyama – Nagafuchi
DAY 10 : Nagafuchi – Takamatsu
DAY 11 : Takamatsu – Naoshima – Takamatsu (by boat)
DAY 12 : Takamatsu – Teshima – Takamatsu (by boat)
DAY 13 : Takamatsu – Sumoto, Awaji
DAY 14 : Sumoto – Osaka (end of the car rental)
DAY 15 : Osaka : Walk around the city
DAY 16 : Osaka : Universal Studios Japan
DAY 17 : Osaka : Last day, shopping before we boarded that same evening, right before the beginning of day 18
CAR RENTAL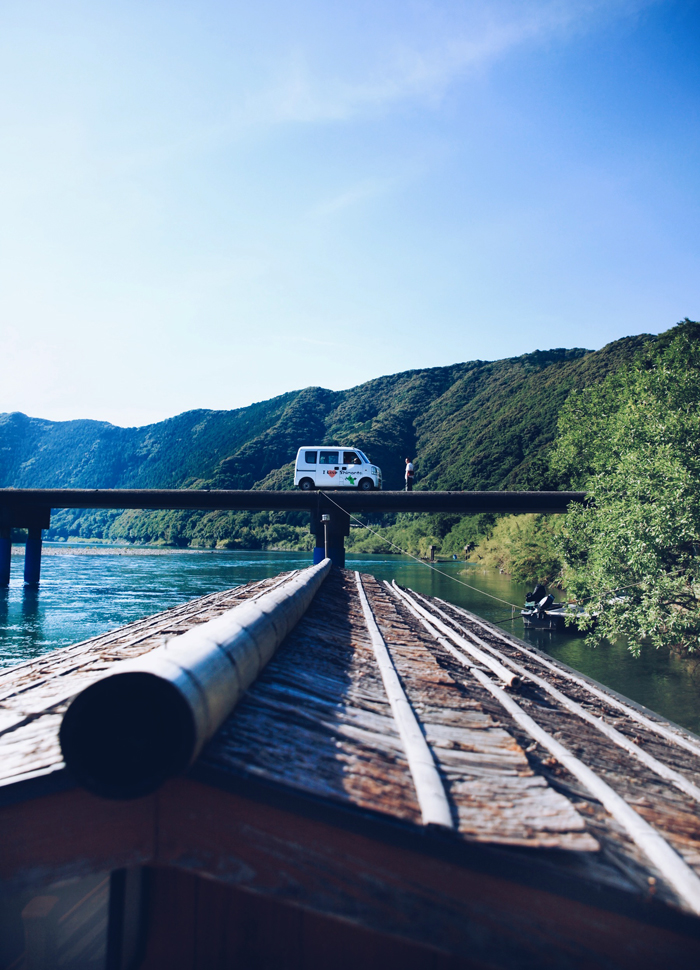 It was a first for this trip : we booked a car! For the japanese train-enthusiast that I am, I was almost disappointed that we had to rent a car this time … but let's be honest, without a car, we wouldn't have been able to do even a fourth of the trip (or we would have had to double or triple our timeframe – there weren't a lot of public transportation options available!). It was a huge time saver, and a freedom multiplier. A car is definitively necessary to visit Japan's more faroff places (…like Shikoku!).
A huge thank you to my SO for being such a champ' and driving on the left side of the road, with traffic signs in japanese (although they were often translated), for driving down unknown or windy roads and following the sometimes dubious directions of our GPS (it wasn't the most comprehensible device … we often chose to follow the Plans app on my Iphone).
We rented a car online with Nissan-rent-a-car via the tocoo.jp website. (I didn't draw the right car on the map, but I love these japanese cubic cars!)
It's on this website that we found the cheapest option (690euros for 2 weeks, including insurance and a pocket wifi).
After our Paris-Helsinki-Osaka flight, we directly picked up the car at the Kansai Osaka airport and drove to the island of Awaji. We needed a few minutes to adjust (understanding how the car options, the GPS and the automatic gear set worked…) but japanese are pretty safe drivers so we weren't too stressed out on the road.
TRANSLATING OUR DRIVER'S LICENSE
To rent a car and drive on japanese roads, having your driver's license translated is mandatory. You can have it done online, but we chose to have it done in a japanese agency in Paris : Japan Travel Center by Voyages à la Carte (rue Ste Anne) : the deadline is pretty short (a couple of days) and it costs 70 euros. .
TOLLS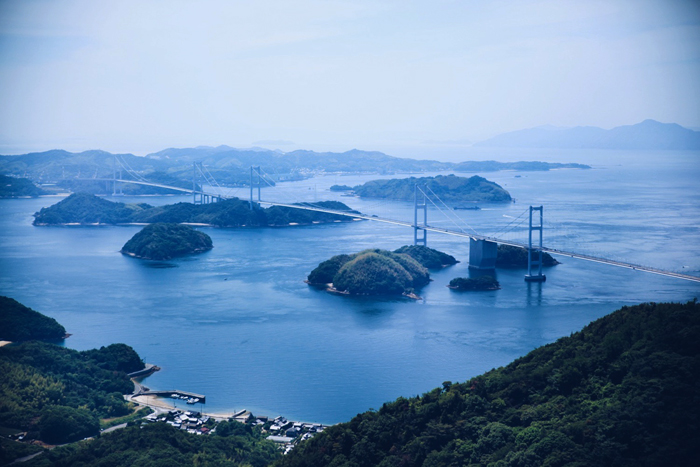 You should definitively know that tolls are just about everywhere on japanese roads (which are incredibly well maintained – this explains that). When we picked the car up at the airport, we were offered an ETC card (the equivalent of Telepeage, our electronic toll service in France) and I think it's really a huge help to ease the travel (no need to prepare your change, dedicated lines for ETC card holders, and the toll gate opens automatically as soon as it detects the card in your car).
You pay your toll "check" at the end, when you bring the car back. We were afraid it would be steep, as we felt like we were driving through a toll every 15 minutes, but it was only 250 euros for our 2 weeks (if you take into account all the driving we did, it's pretty "reasonable").
It's very probable you can include the ETC in your "car rental package" online : in any case, make sure you take it!
PARKING
I will also warn you that parking is definitively a budget you need to plan for when you head to Japan (especially true in cities and touristy places; in the countryside you can park however you like, and it's free).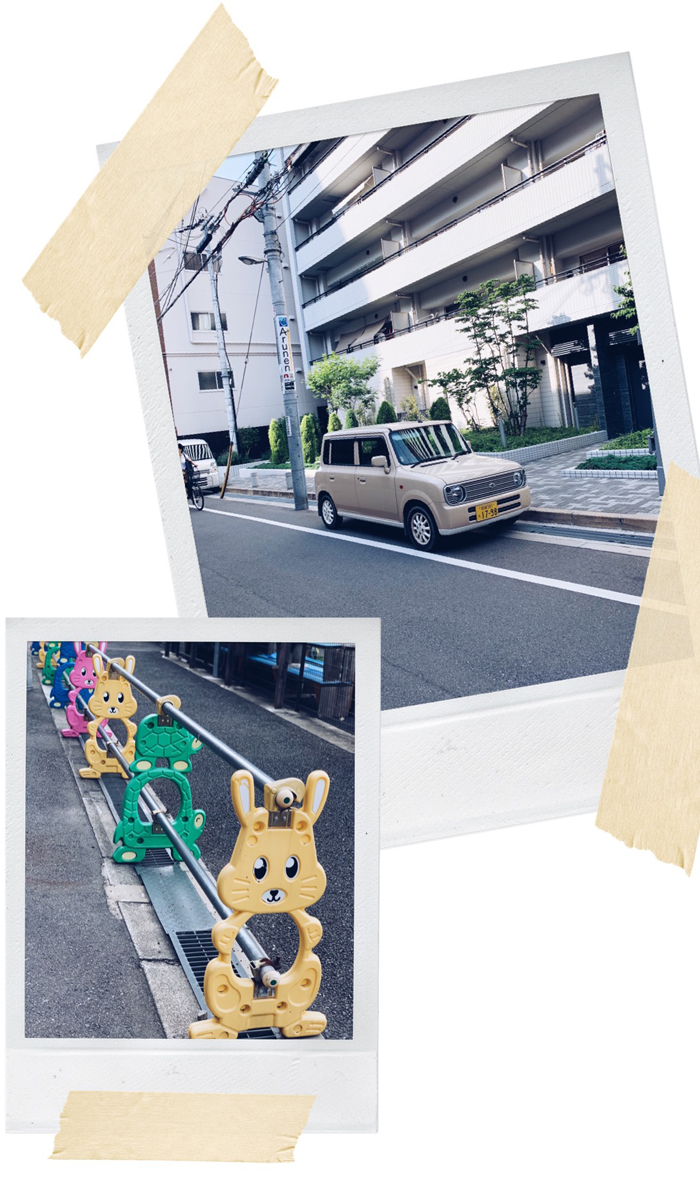 The hotels we had booked included parking, but in 2 hotels, we were unpleasantly surprised by the fact that they hadn't booked us a spot … so if you arrive late and there are no spots left, you can explain that you had booked it in advance, well, they're sorry for you, but that's how it is, there are just no more parking spaces available (=haha! this all fell on deaf ears!…). So you can either arrive before 5pm or park in a public and paid parking.
The most difficult bit of a road trip is probably understanding the parking ticket machines… however, don't hesitate and ask for help around you, even if you don't speak japanese, people will always be available to help you!
Airplane
This year we flew with Finnair and I don't have anything notable to report : puncuality and efficient service (the food trays were maybe a bit frugal).
No Star Wars surprise like the winter of 2018 with Ana and a connecting flight in Helsinki, but all in all it all went according to plan.
Reading all the magasines in the plane really made me want to visit all the nordic countries as well…may be someday!
Internet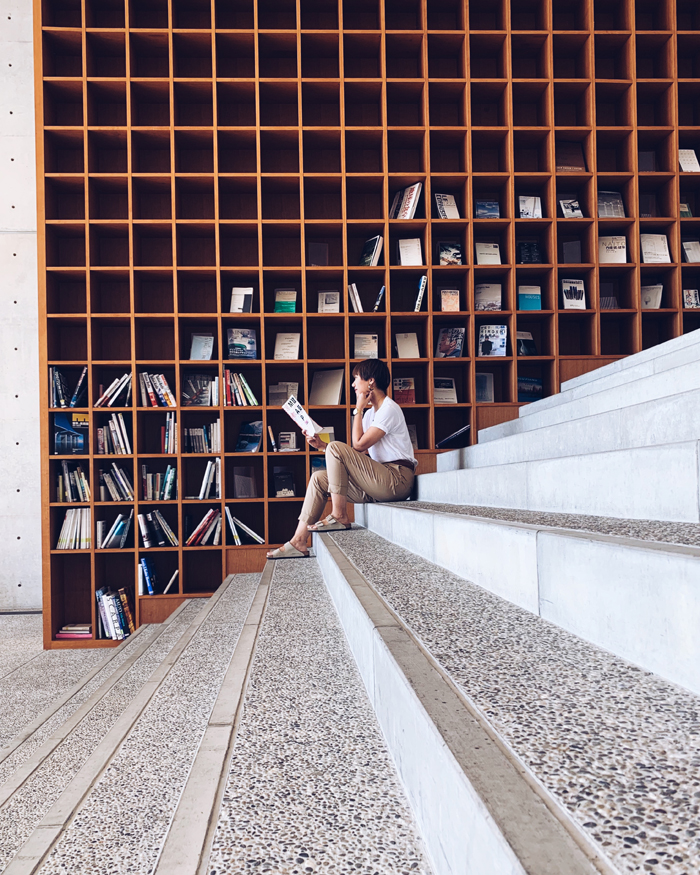 I'll send you back to what I said in winter 2018 with regards to the works and the logistics of getting your pocket wifi. For a road-trip it's all the more necessary, so don't skimp! Including it in our car rental was also a slight penny-saver : what more could we ask for?
Our last days in Osaka were spent without a pocket wifi, but with a limited 3 Go phone subscription I had ordered via Orange : quite enough fro 4 days (and it's also a good way to make sure you're not glued to your phone!).
Accomodation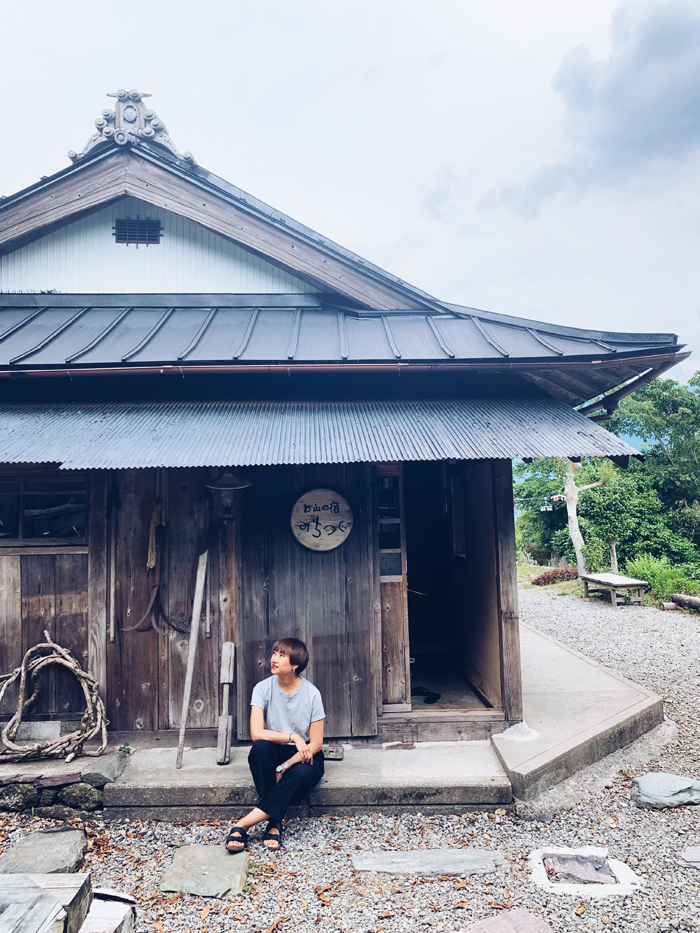 I'll detail our accomodations as we go along, but what's for sure is that my SO was eclectic in his selection. We tried simple hotels and more sophisticated options : a hotel designed by Tadao Ando, the famous architect, a small villa by the river, a private home in the mountains, a spa resort… it was a surprise every day and it was perfect!
For his finds, my very own travel agent / SO opted for Booking.com or Japanican (by reading all the comments in detail). For our last nights in Osaka, we stayed in the Marriott hotel (I still have the loyalty card, which incites us to stay with the brand, but we are delighted with the service, so loyalty it is, but we're enjoying the loyalty) All in all, no disappointments to report : it was perfect!
Suitcases
I was SO proud, for FINALLY, for the very first time in my life, I managed to pack our bags perfectly! For 2 people we took one big suitcase (23kg) and a small cabin luggage, contrary to last time where we had packed way too much!
Our great tip was to bring a "Rains x Made.com" soft bag that we flattened at the bottom of our big suitcase on our way to Japan and then used to bring our souvenirs on the way back.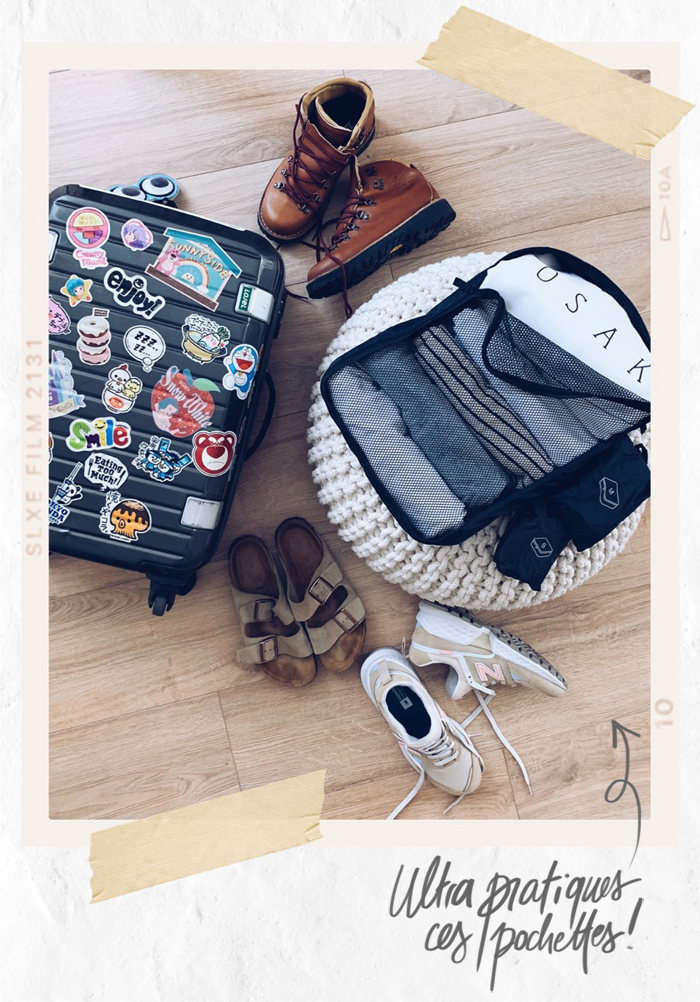 So, of course, the fact that it was summer helps, but still, I managed to create a travel warderobe that was both practical, minimalist and functional, all while maintaining a perfectly organized suitcase all through the road trip, thanks to the Muji travel pouches I found (I especially recommend sizes S for underwear and M for pants/dresses/dungarees/jumpsuits). Size L wasn't very interesting, as it was the size of our suitcase (I didn't really get the point …).
Thanks to those pouches, you can immediatly see all the clothes you bring (by folding them Marie Kondo style) and they don't mix and get disorganized during travel : a true revelation I tell you!
We also managed to do some laundry in a couple of the hotels we stayed at, so it confirms you odn't need to bring a ton of stuff.
My Must-haves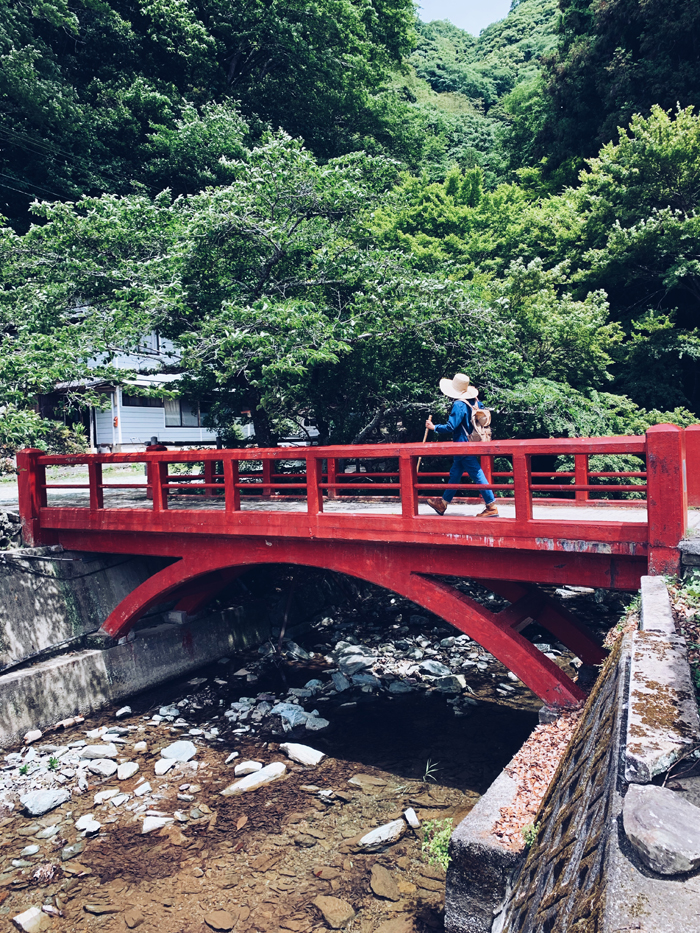 –1 or 2 pairs of sandals (Birkenstock since, as of last year, I'm sold to their comfort, but you can always take more refined flat open shoes!)
–Walking boots (my Danner boots were optimal for both look and comfort)
–1 pair of sneakers

-1 straw hat and a bucket hat (this last one wasn't the favorite option, but it was very practical during the trip, and if you wear it with a minimalist outfit, the touristy vibes are kept to a minimum)
– 1 raincoat (for those rainy days, instead of an umbrella)
(Ahhh ! Gosh! I finally bought "Daddy shoes" because I wanted to have some more "thick soles" shoes to walk with)

-a Denim jacket and a trench (One of them would have been OK but I was willing to vary my style a little bit)
-a bandana scarf (to avoid a cold in the plane and air con places)
-4 to 5 tshirts, 2 light blouses
-1 pair of jeans, 1 dungaree or jumpsuit, 1 lightweight pair of pants
-1 backpack (mine was very light and super practical to carry my waterbottle around)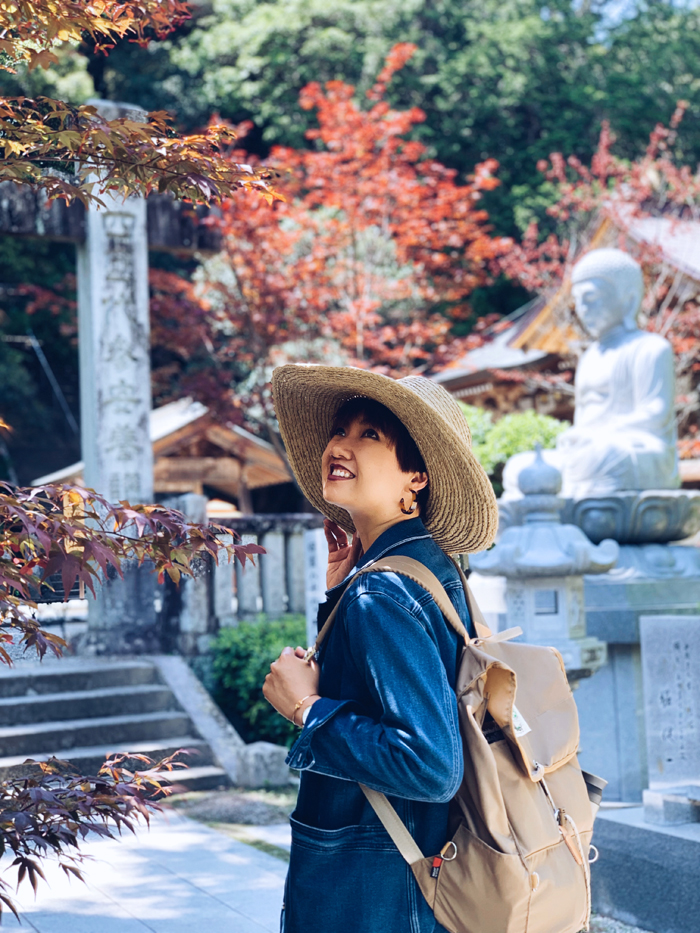 My backpack "Sanpak" made in Japan (but found in London !)
–1 to 2 totebags and a minimalist clutch (for your more refined evenings out)
–Pairs of earrings (more or less refined – they were my sole "chic" touch with lipstick to round out a more basic outfit in case we headed out for the evening.
–Essential toileteries (I also used space wisely in this case, thanks to my bottles (100ml or less) and small containers that I also bought from Muji and where I transferred all my beauty products for 2 weeks and a half. I still had quite some products left when I came back (shampoo, make up remover oil, soap, body lotion …) so it really wasn't necessary to leave with larger (and heavier) bottles / containers!
-A medicine "cabinet" (without the boxes), with all the classics (headache, digestion issues, antiseptic, cold remedies, antihistamine, antiseptic solution in tiny individual doses, mosquito spray (for mountains and near rivers) a bit of sunscreen  (I am still traumatised from my last trip to Japan, where I had really had trouble finding remedies I needed to get better, because of the language barrier, so this time, I came prepared!)
-a reflex camera and Iphone
-One or two adapters for Japanese style electricity sockets (same as the one for the USA)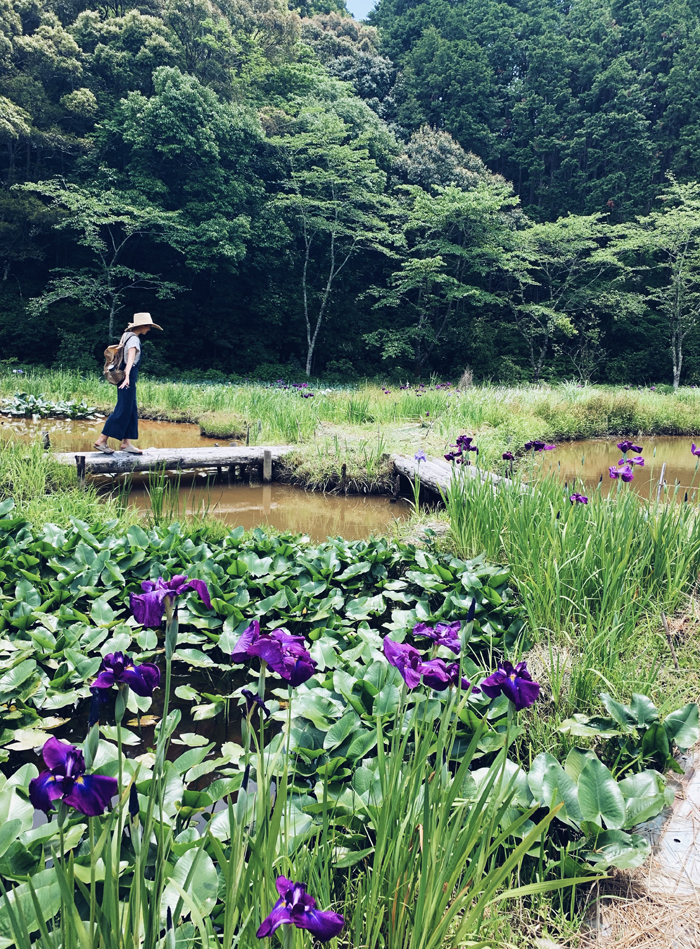 I think this post pretty much sums up all the tips I can share. Don't hesitate to ask your questions in your comments, if you need more information, I'll be glad to help!
Next up, a post on Osaka (I'll be starting with the end of the trip to accomodate some of my readers, who are preparing a trip to Japan in August), and then we can continue this road trip in the right order! Hop, everybody in the car! (English translation by Marine)
My previous trips in Japan :
My 2014 Spring 2014 trip : HERE
My 2015 Fall trip : HERE
My 2018 winter trip : HERE