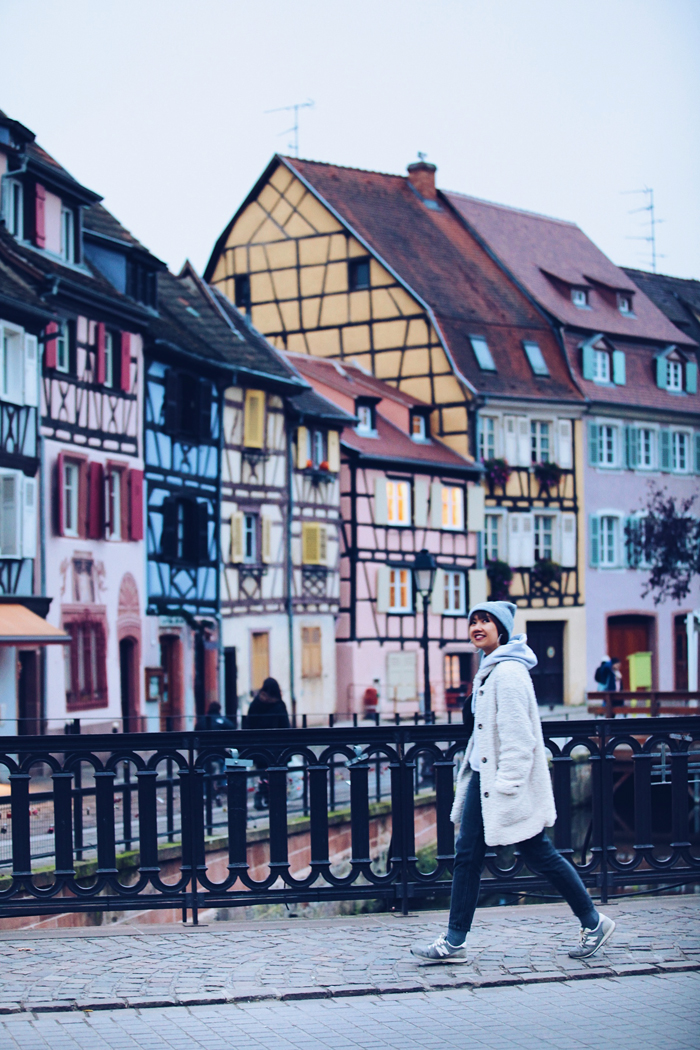 Almost a month ago, we had the good idea to go to Alsace in order to rest, and we were very happy about it. On one hand, because of the calm and serenity of Les Vosges but also because we discovered the city of Colmar and its surrounding.
So here are a few pictures of this short trip and a few address recommendations at the end of this article (I haven't tried some of them so feel free to comment below if you know the city well) so it can be useful for those who might have the chance to be there, during the Christmas market season.
Colmar before the festivities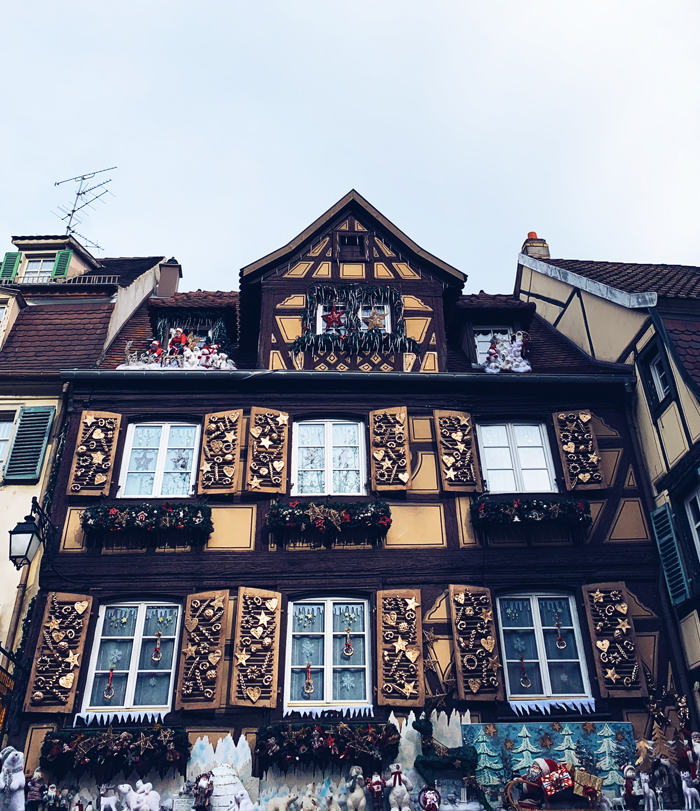 We went to Colmar a week before the beginning of the Christmas market and even though the Christmas ambiance was not totally there yet (and the streets rather empty), I have to admit that we appreciated the peaceful spirit.
I can imagine that Christmas booths and streets must be even more magical but just looking at everyone getting ready was already very pleasant.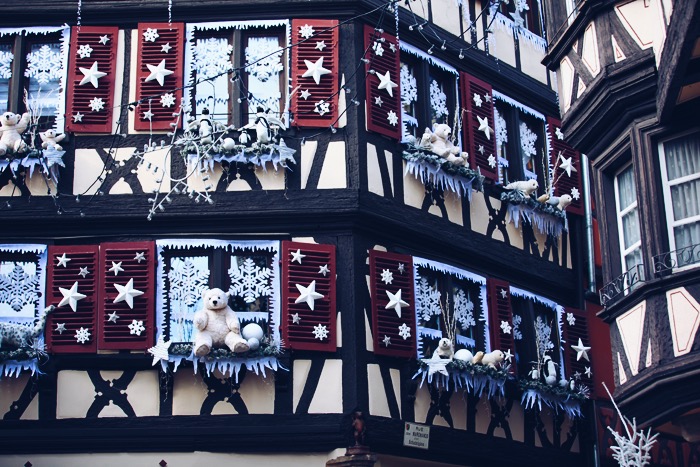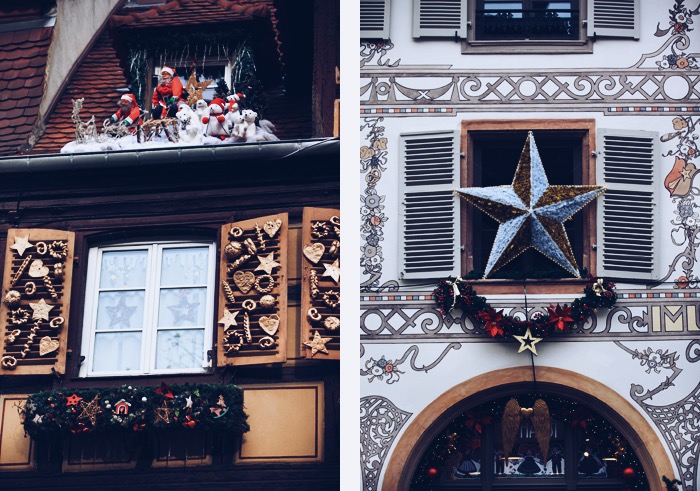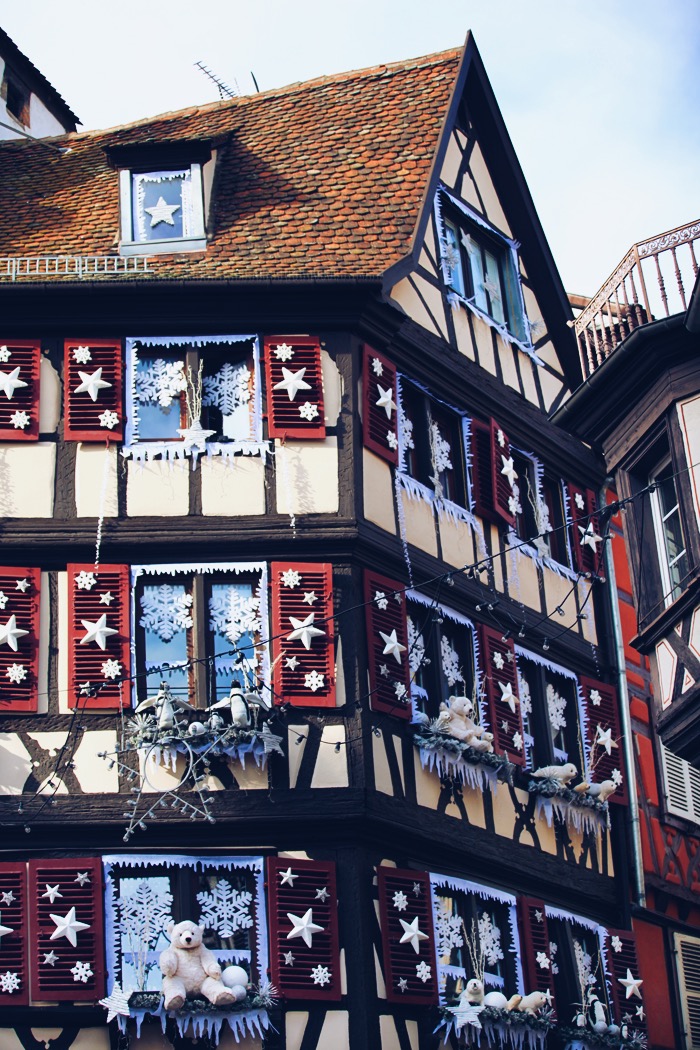 Visit Colmar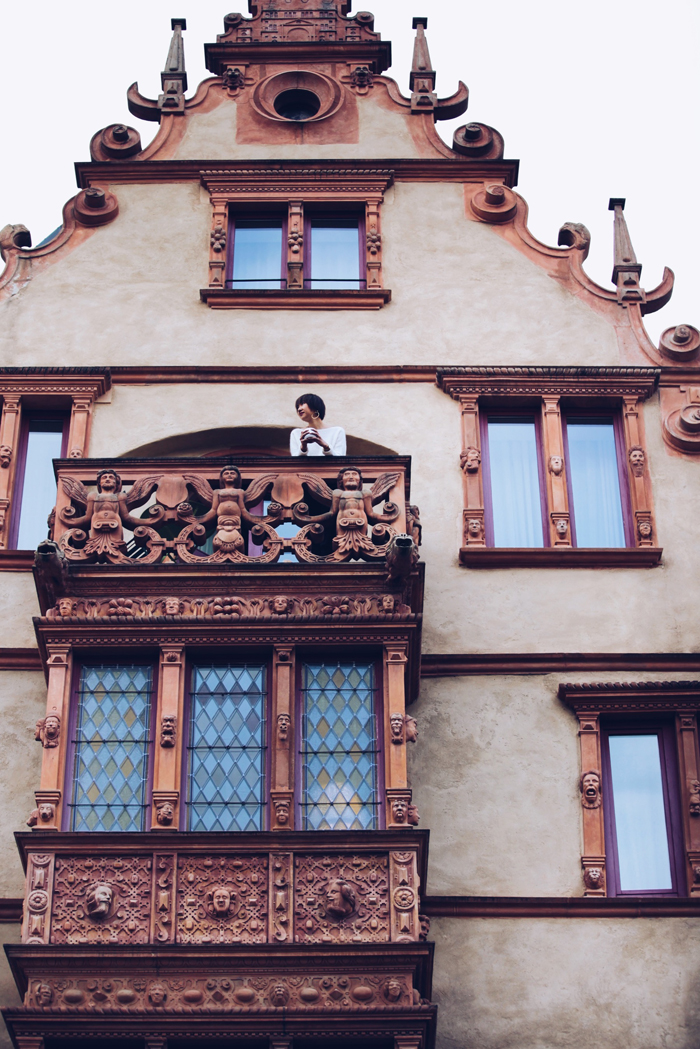 The city can be visited by walk, and going from one small street to another already worth the detour. So here is the reason why we didn't visit any museum during our stay, we were already pretty busy to visit the city itself. Here are a few remarkable places to visit.
LA MAISON DES TÊTES : This Renaissance architecture building built in 1609, and adorned with 105 carved heads, used to be an exchange place for wines and became a Relais & Châteaux hotel with a brasserie and a Michelin star restaurant.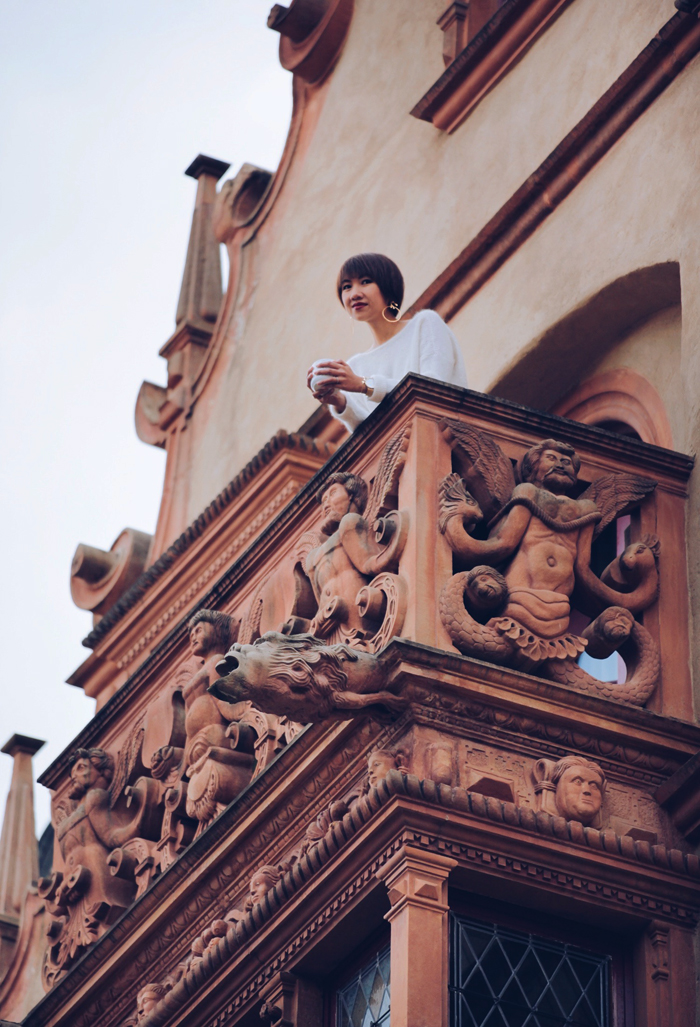 We had the chance to admire in details this facade as we had booked 2 nights at this place and by chance, we had a room with balcony (that tourists were photoshooting every morning, which gave us the feeling to be celebrities waking up with paparazzi ahah).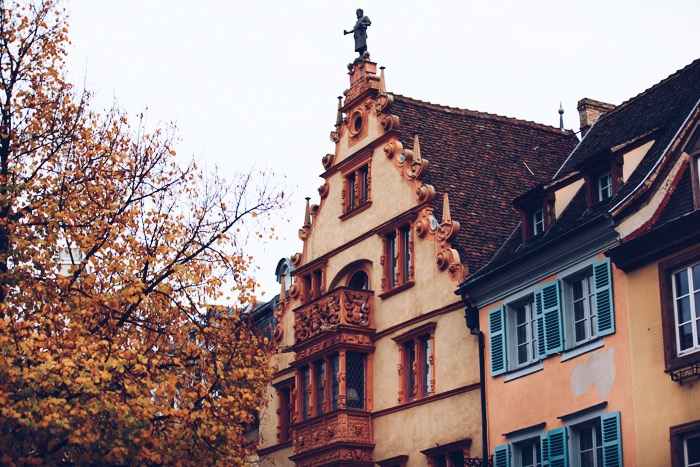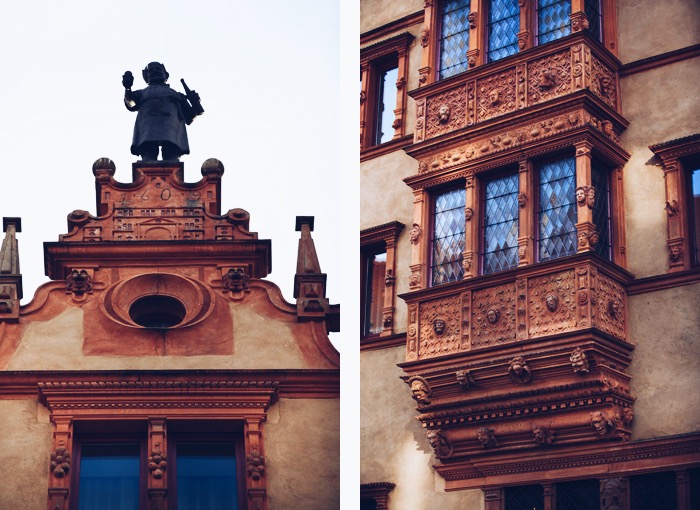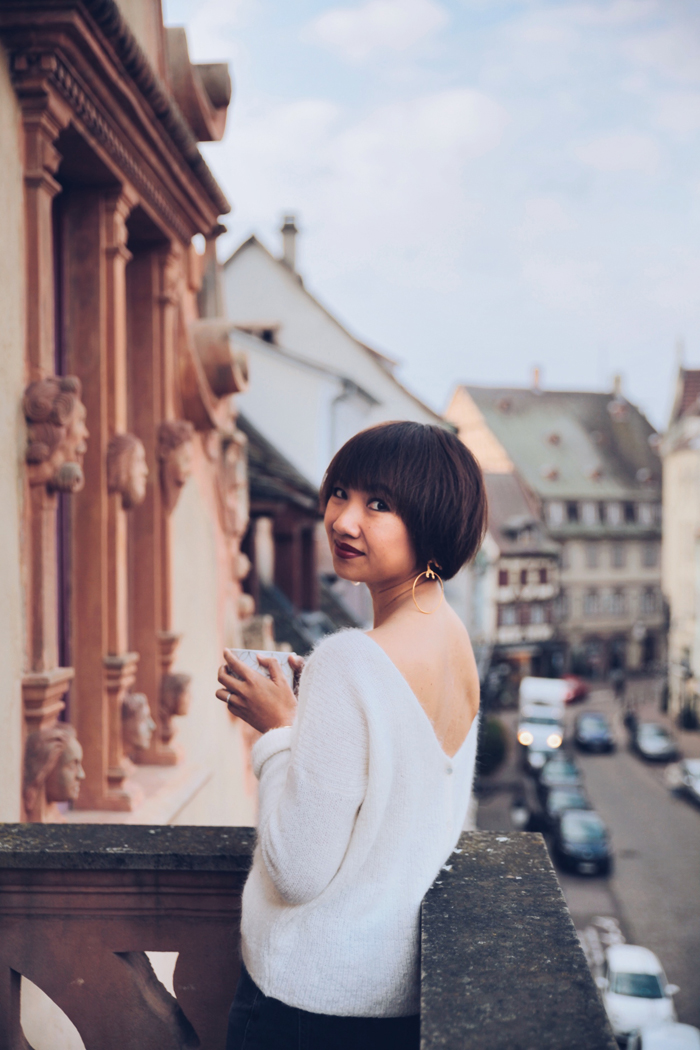 The bedroom and the decoration of the refurbished hotel seemed a bit disappointing as well as the service (the breakfast was not as good as what we had at the Vosges Cheneaudière hotel and spa) but the location was just perfect.
At least we can say that we stayed in a historical building and the gastronomic restaurant Girardin – tested and approved – really deserves its one-star prize!
LA MAISON PFISTER : the facade of this bourgeois house can be admired from the streets of Colmar.
LITTLE VENICE and THE FISHMONGER'S DISTRICT : Wandering along the Lauch (or on a boat if you don't mind the cold) allowed us to discover this beautiful neighborhood with multicolor houses, looking like an Alsatian version of our Crémieux street or Notting Hill.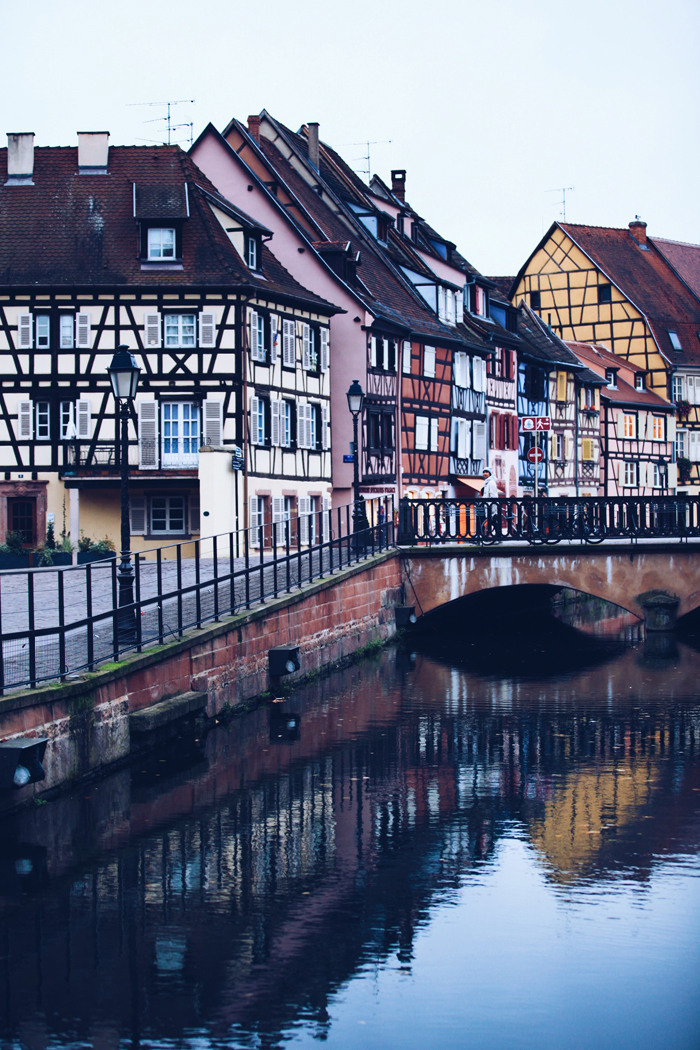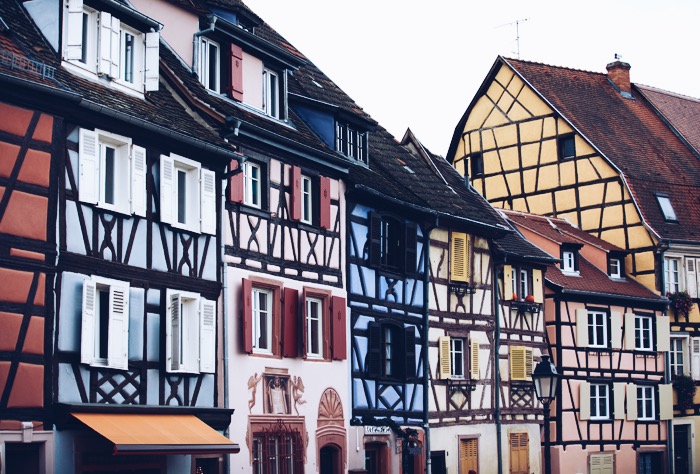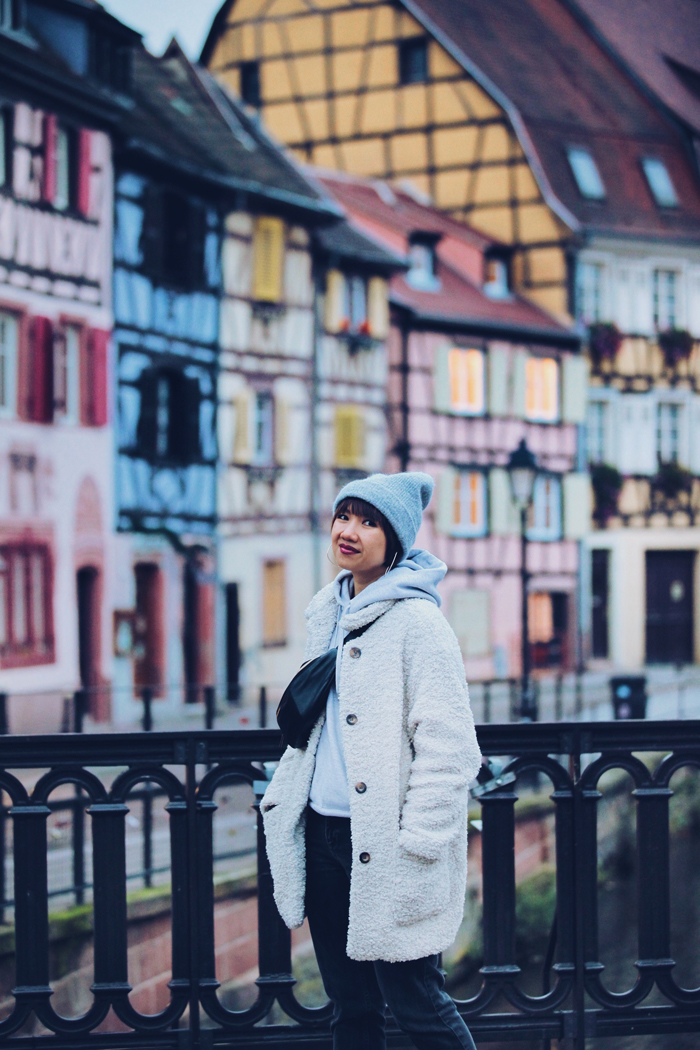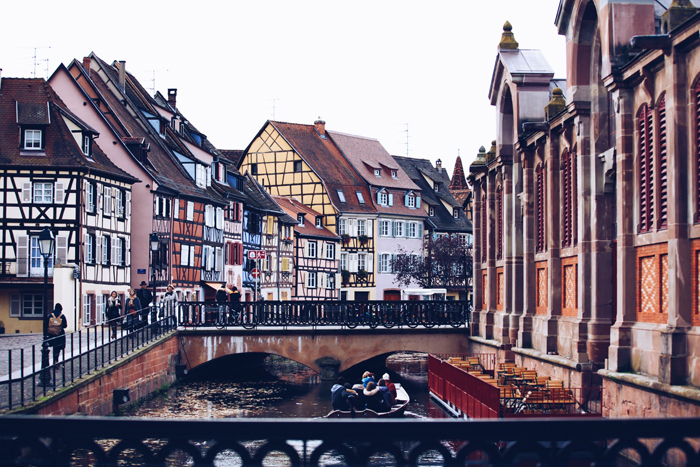 THE INDOOR MARKET : We got inside to buy bretzels (the sauerkraut one was very good especially when just out of the oven) but you can also find fruits and vegetables stalls as well as local products.
COLLEGIATE CHURCH OF SAINT-MARTIN : We didn't take the time to get inside and visit but this collegiate could be a cathedral considering its size.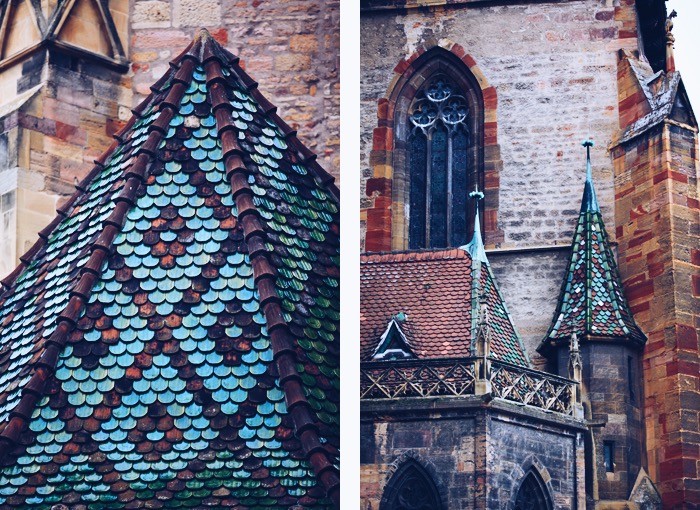 MUSEUMS : We had planned to visit the museum of toys, or the contemporary art museum, but we got drown by the Christmas decoration shops. Here is anyway a to-do list for the next time!
Museum of Natural History
Toys museum
Bartholdi museum: the creator of the Statue of Liberty in NYC was born in Colmar!
Unterlinden museum
Hansi museum
André Malraux contemporary art gallery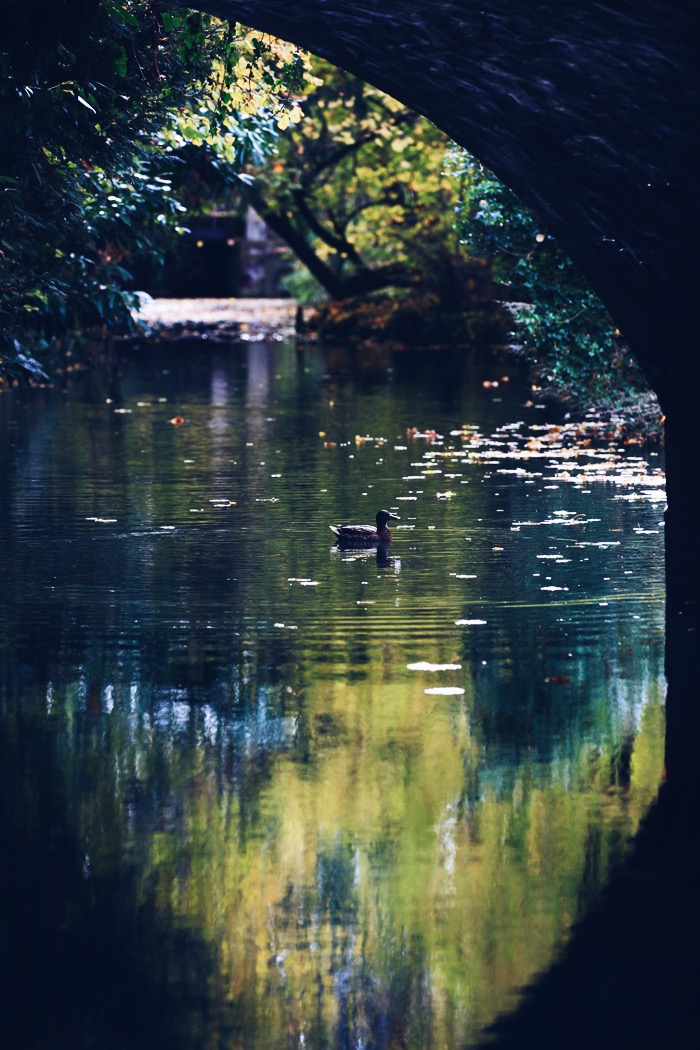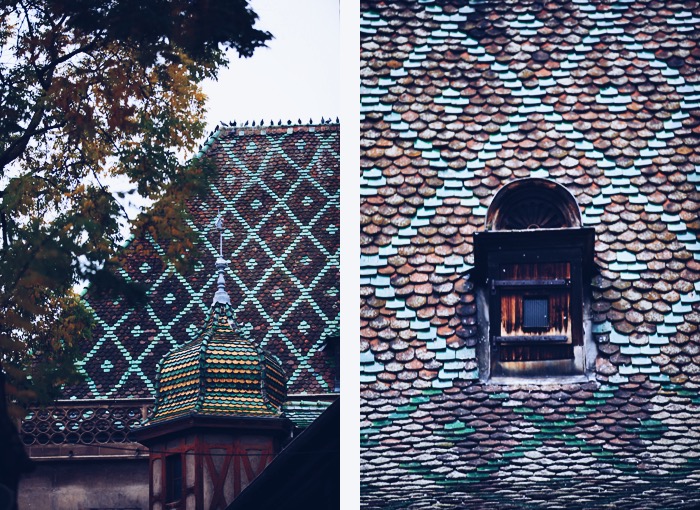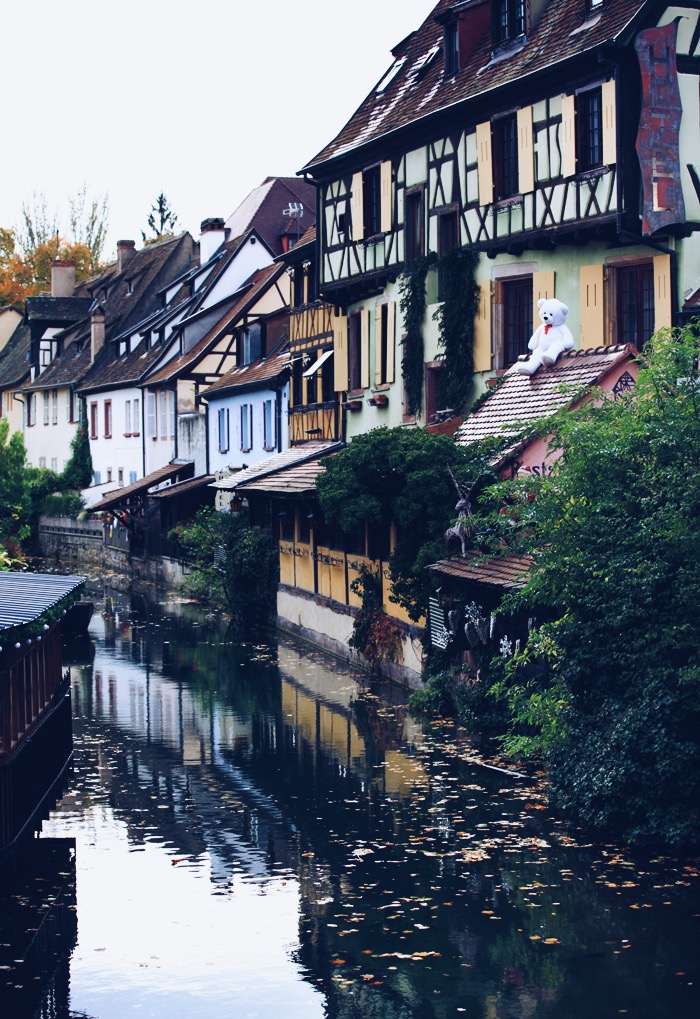 Eat in Colmar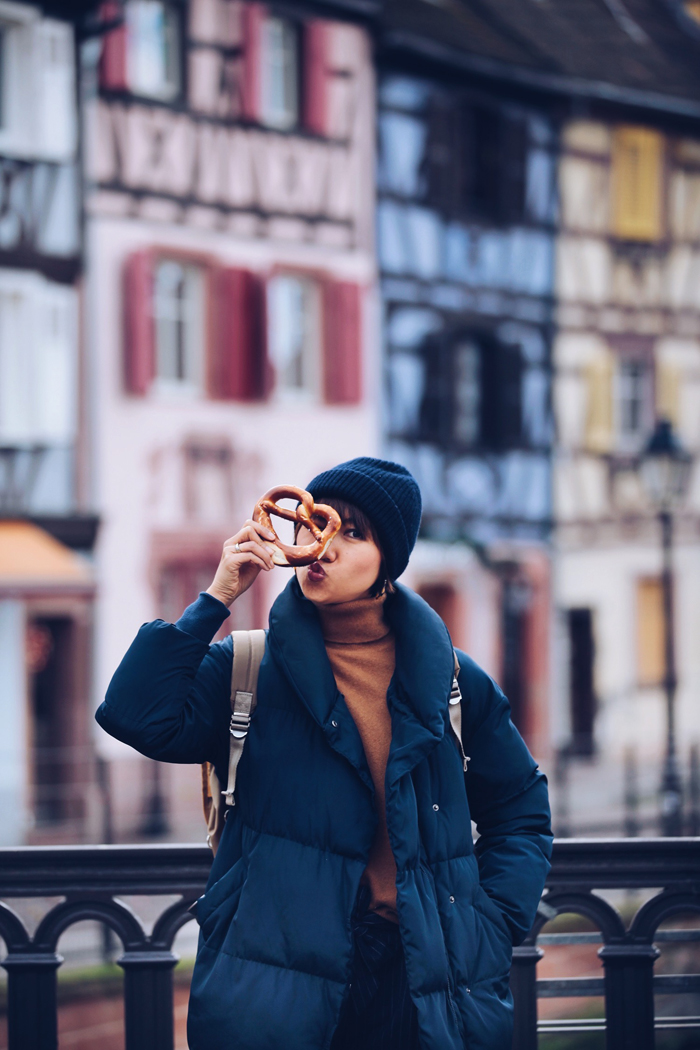 We didn't stay long enough to try more places but here is a short list (if you know any other address, feel free to add them in the comment area below).
BRASSERIE LA MAISON DES TÊTES : We ate a yummy sauerkraut in a woody historical ambiance.

RESTAURANT GIRARDIN : This Michelin star gastronomic restaurant with white and minimalistic decoration was all about tasting and sophistication. I didn't take photos as I wanted to fully enjoy the moment but if you want to treat yourself, it's the perfect place (the service is really smooth almost like a choreography but remains warm)
MAISON ALSACIENNE DE BISCUITERIE : A few shops of this brand can be found in Alsace and Colmar, we can almost see them at every corner.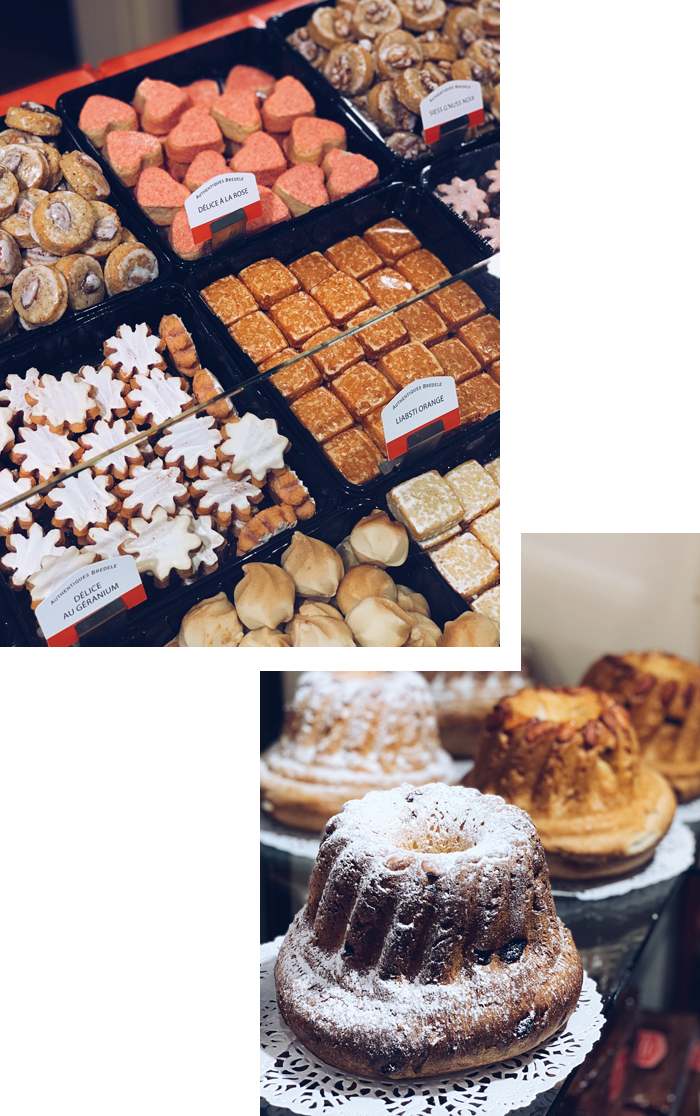 It's almost impossible to not buy anything especially as they offer a cookie every single time you pass by. I made a stock to bring back for the festive season (cookies can be kept quite some time).
Then, here are a few addresses we couldn't try:
SCHWENDI : a typical Alsatian brasserie (winstub) that serves rosti and other "tarte flambées" (flammenkuche)
BIZKÖT : Organic bakery.
RESTAURANT of LE MARECHAL HOTEL (recommended by a local we met = let's see if he was right! :-))
An afternoon in Riquewihr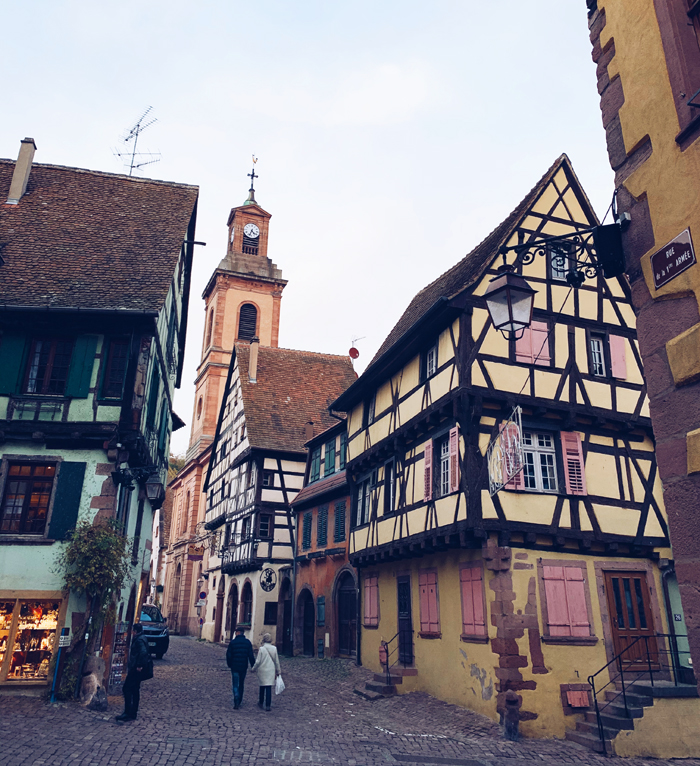 The city of Riquewihr is located 20mn away from Colmar by car: it would have been a shame not to go especially as there is a wonderful shop for Christmas decorations called: "La féerie de Noël"/"Magic of Christmas" or "Käthe Wohlfahrt".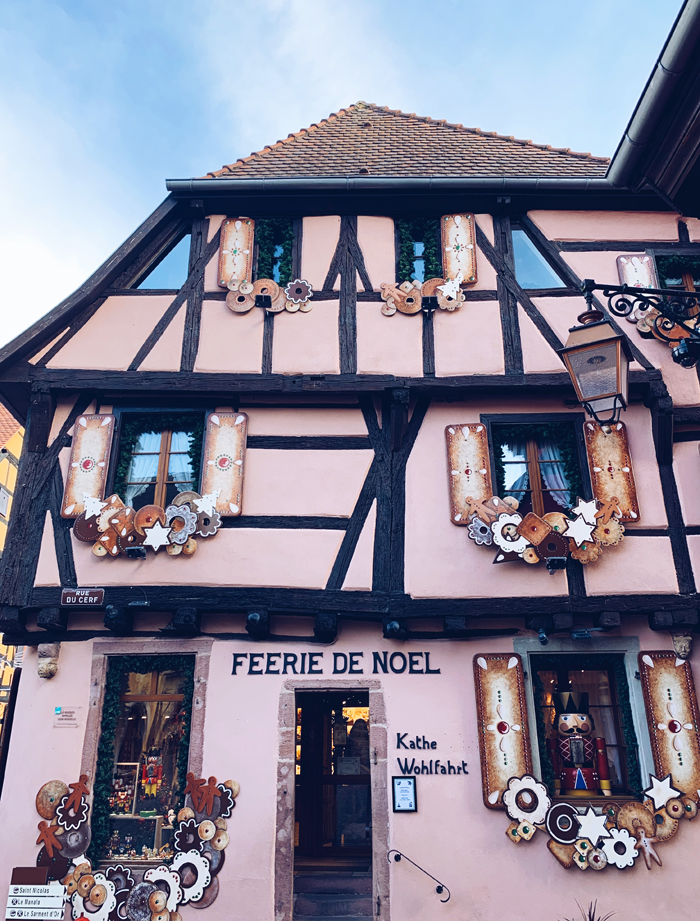 It's the giant alternative of the little Christmas market houses in Germany (I bought my first Nutcracker in "Käthe Wohlfahrt" stalls in Hamburg and Stuttgart Christmas markets).
Two floors dedicated to all kind of Christmas decorations (I love the Christian Ulbricht woody ones for our Christmas tree).

As we went before the Christmas markets it was not too crowded in the shop and with no waiting line outside (apparently it seems to be overcrowded during the festive season). A must-go for Christmas lovers… and the cute town also worth the detour.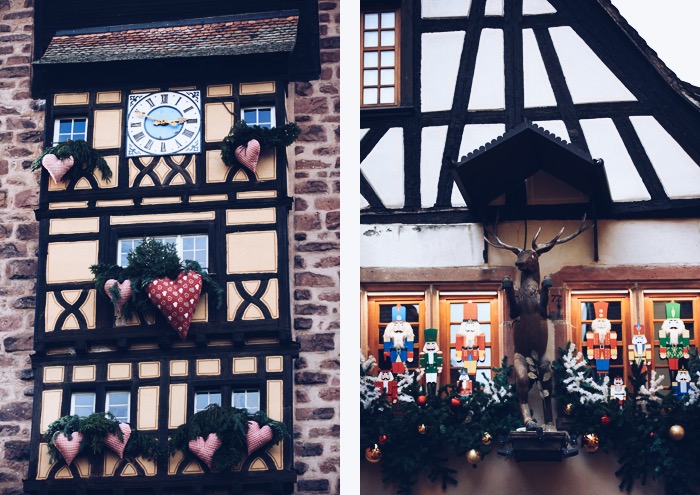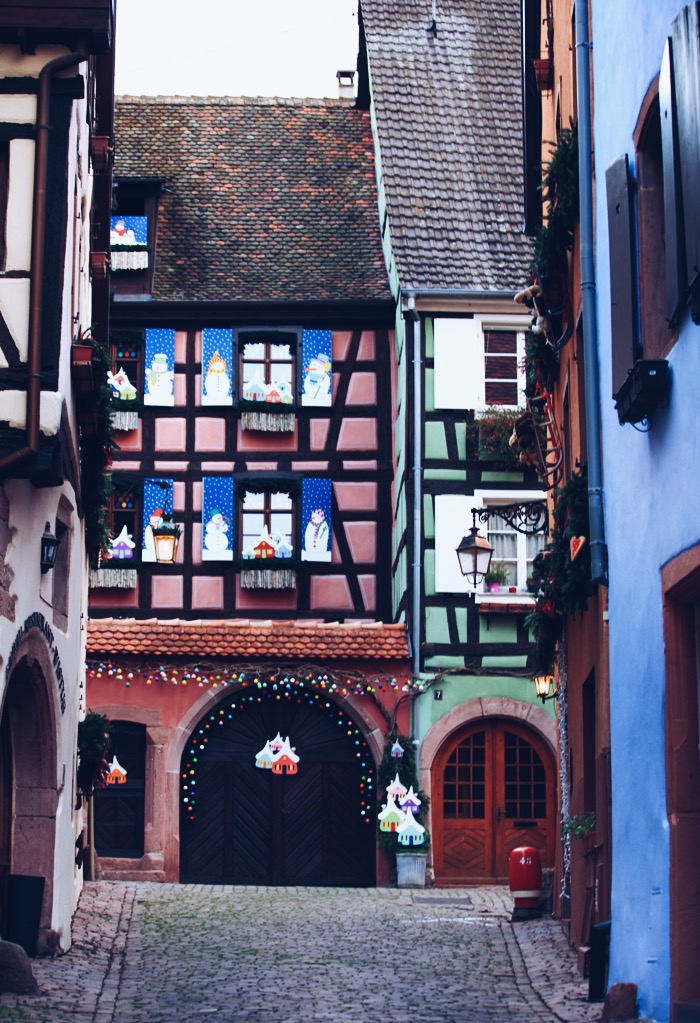 So here was a quick overlook at my short trip to Colmar: I hope it will help you if you go there for the first time. Anyway, I can assure you that Alsatians know how to truly celebrate Christmas: I. AM. A. HUGE. FAN. (English translation by Quiterie)