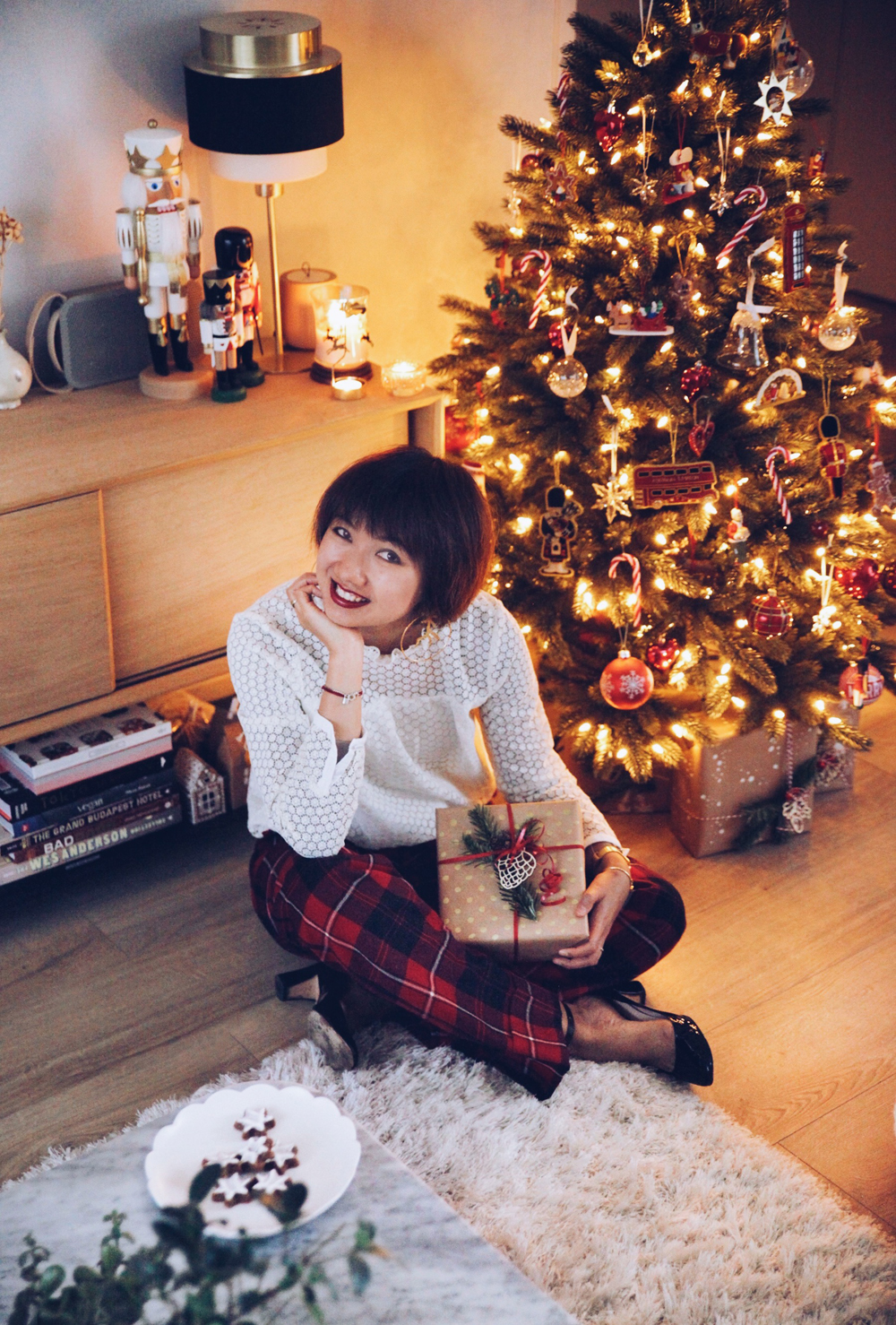 The Christmas spirit has been more present in my house every single year since 2015, which was the first time I decorated a Christmas tree in our apartment! (Here are 2016 (here and there), 2017 et 2018 if you wanna look at the evolution!)
The Christmas magic has been here since January as with 3 friends and my SO, we've challenged each other to create DIY Advent calendars : so here is why I've had Christmas in mind very early ! (… even though I haven't had the time to make or buy my Christmas crowns, so I wonder when I should start next year?!)
My (fake) Christmas tree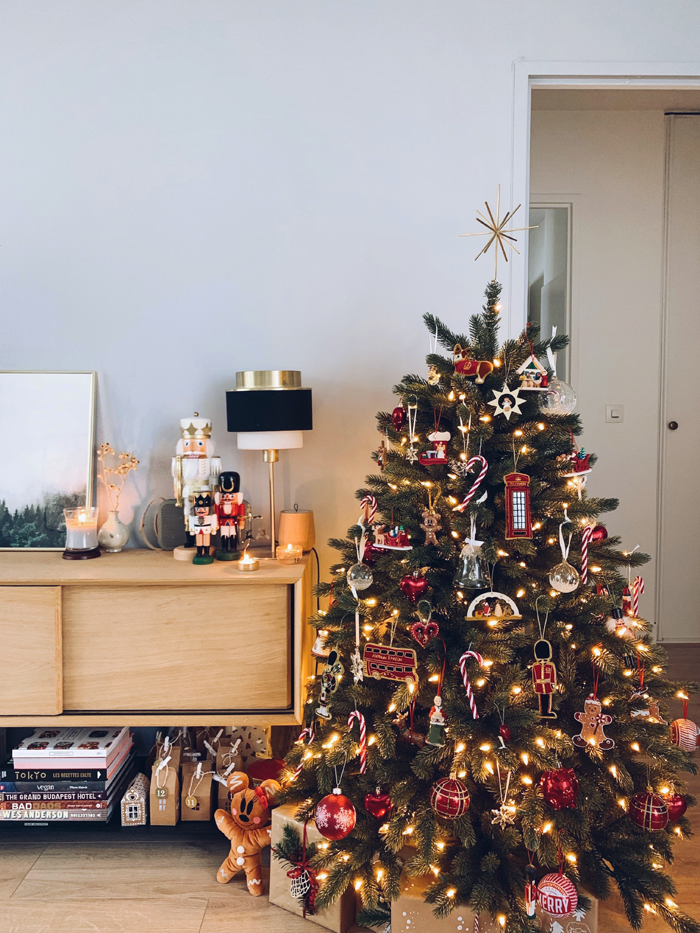 Vermont White Spruce Tree Balsam Hill
This year I took the decision to invest in an artificial Christmas tree because I was fed up seeing my tree dying as the D-Day was approaching, to throw it away at the end. So I ordered this artificial Christmas tree last August, during special sales on the Balsam Hill website and I absolutely do not regret this choice. .
We might have put it up a bit early (mid-November when we came back from Alsace!) but we really wanted to enjoy it as much as possible. As I already said on Instagram, it really looks like a really one : we've actually kept the habit to double check if the branches were not bending, like the previous years, but then we reminded ourselves that it will stay straight up and strong no matter what: amazing!
The light garland is integrated in the branches, which is very convenient: once the tree is up, the lights are on right away without the need to waste time to unravel the garland! My plan is to keep it for the next years so I hope the quality will remain the same.
The Christmas decoration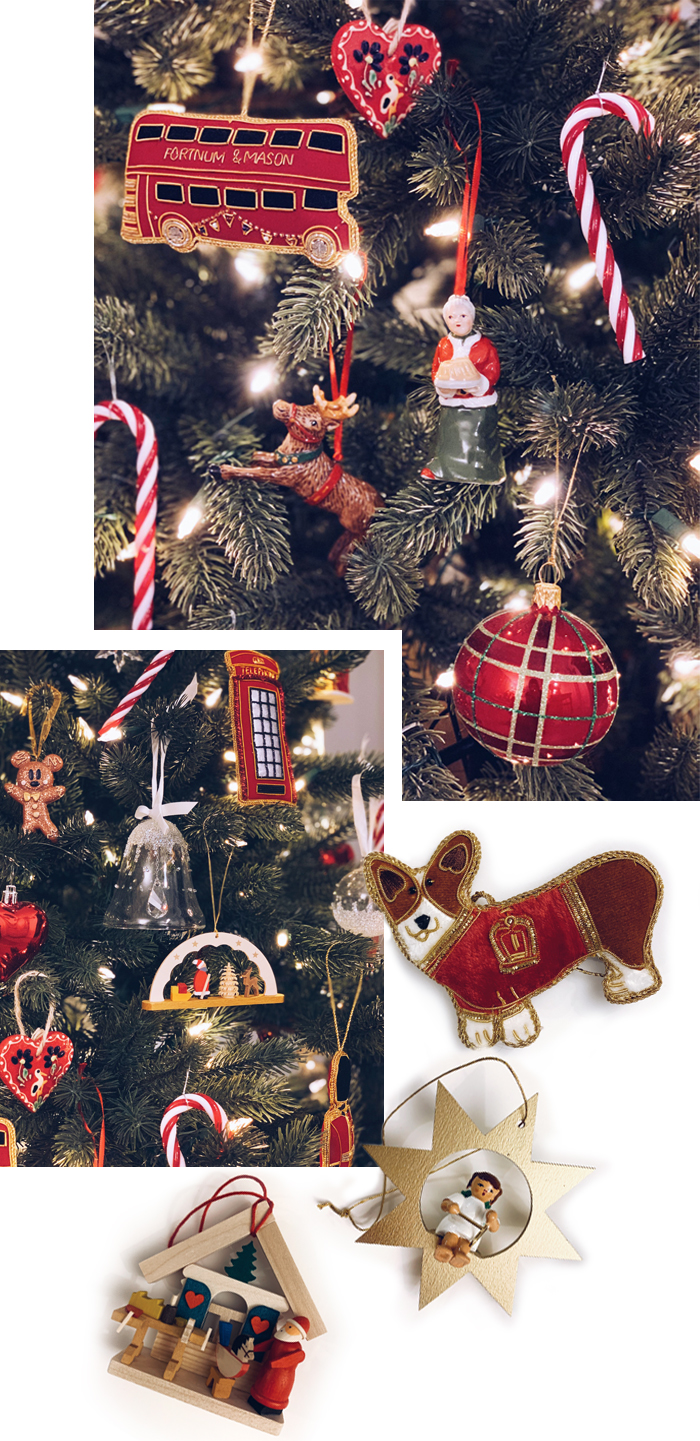 We've been trying to bring back Christmas decorations from all our trips in order to remind us good memories every time we admire our Christmas tree. This royal corgi comes from the Queen's souvenir shop at the Buckingham Palace, purchased during my last "Take That" trip in London last May.
From our trip to Alsace, to the famous "Féerie de Noël" shop, we brought back this elegant white nutcracker and Christian Ulbricht wood decorations to complete our collection.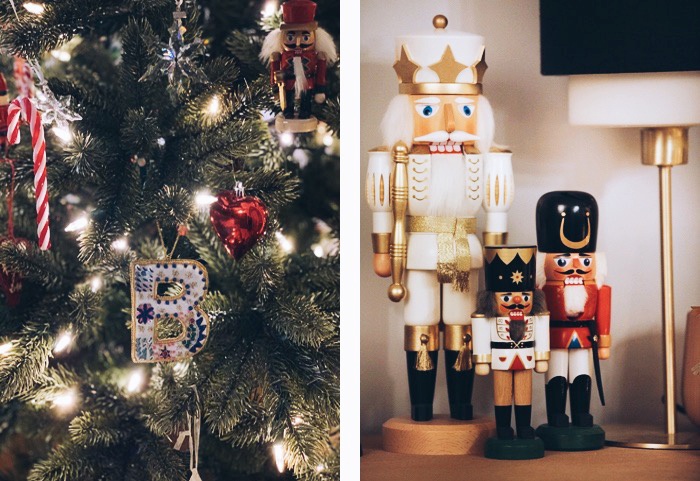 Tree decorations from Alsace, Japan, London, USA,
Germany, IKEA and Villeroy & Boch (Thanks Lili !)
Nutcrackers Christian Ulbricht
I also received a few other decorations from my Advent calendars: my friends really know my tastes!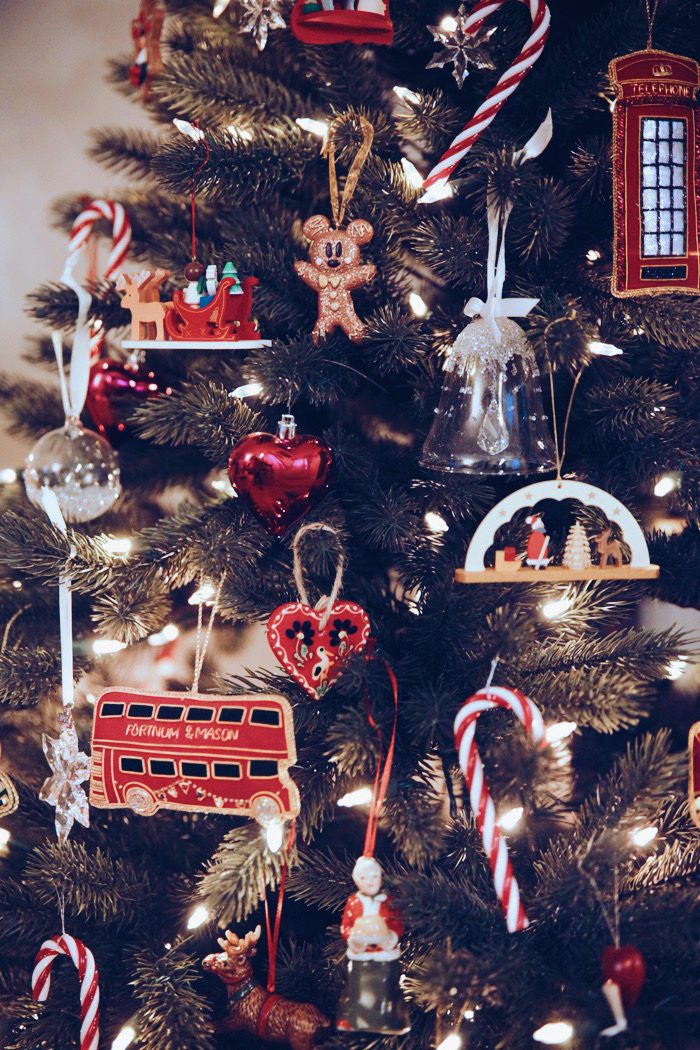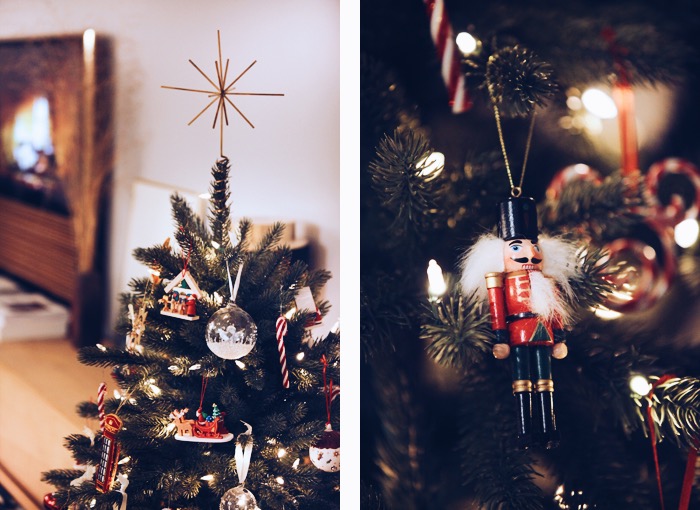 Tree star Ferm Living
Decorations Swarovski, Disneyland, Japan, London, Stuttgart
nutcracker decoration : goft from my advent calendar (Thanks Noémie !)
I changed the star at the top because I felt like the old one wasn't matching anymore the interior decoration: so I chose this golden star from Ferm Living: it decorates the tree with simplicity and elegance.
The Advent Calendar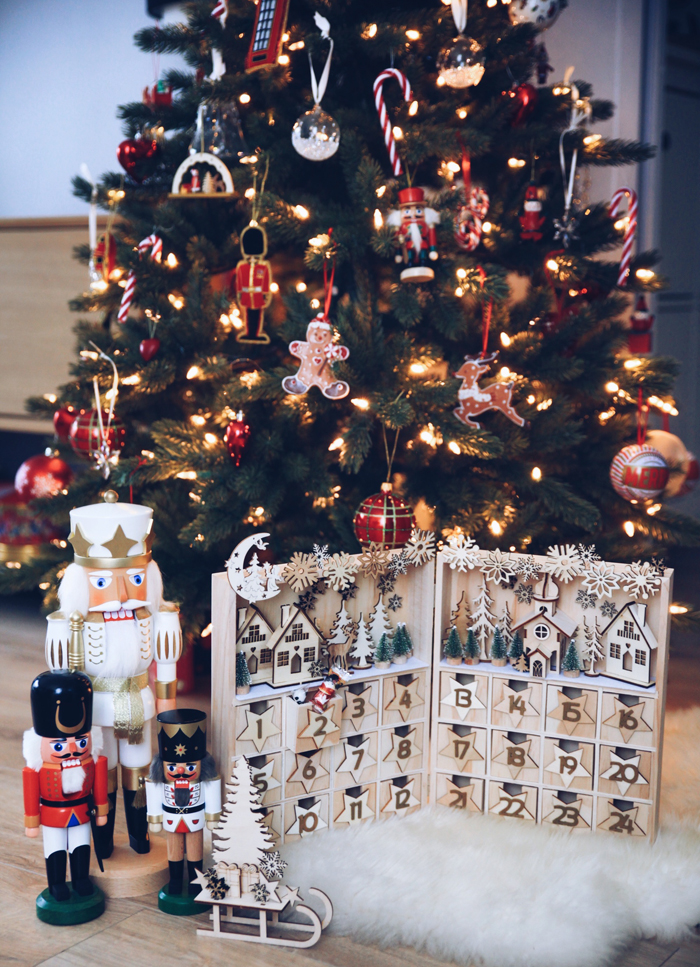 Calendrier made with a few accessories from Cultura
Moon wooden decoration brought from Alsace
Nutcrackers Christian Ulbricht from Hamburg, Stuttgart and Riquewihr
As said above, I will prepare a full article about the Advent Calendars created by my friends and myself. All I can tell you is that my December has been perfectly brightened up by opening of my calendars everyday (I didn't get one last year but I got spoiled this one!).
I don't regret at all the time spent during this year to find ideas (I wish I had created more things by myself but with 4 calendars to prepare, at some point, I had to make a choice!). Anyway, I am proud of the wooden calendar offered to my SO, full of sweets and other yummy things.
I wanted a more traditional one in raw wood, without paint or coating: my only regret was to not find some wooden characters to place inside but I can try to find that for the next year!
Gifts and Christmas cookies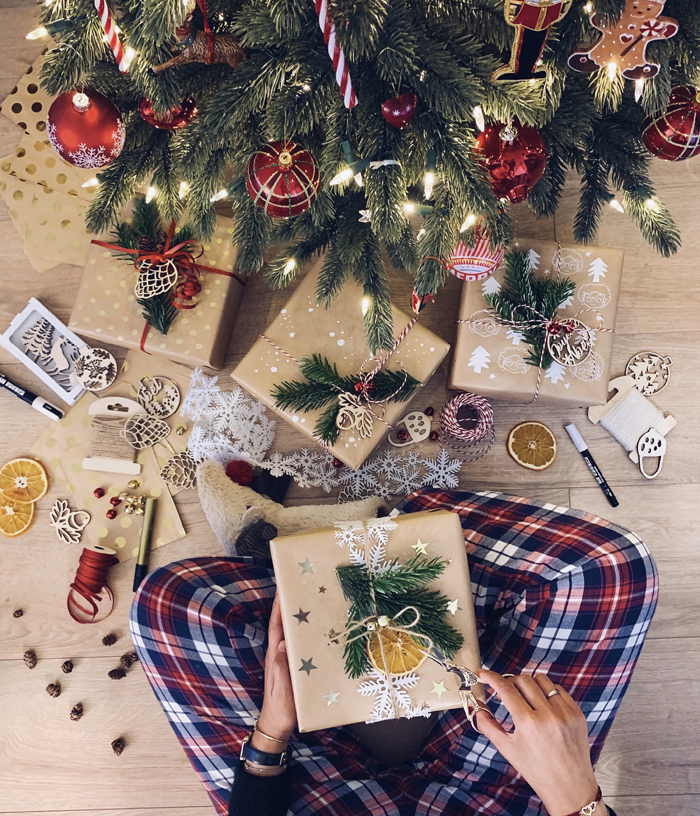 Gift wrap and accessories from Cultura
Pajamas La Redoute
I also decided to create more "natural" and recyclable gift wrapping : therefore I chose kraft paper that I decorated with white and gold Posca pens. And for the final touch, natural rope with small sprigs (fir, eucalyptus, holly leafs…).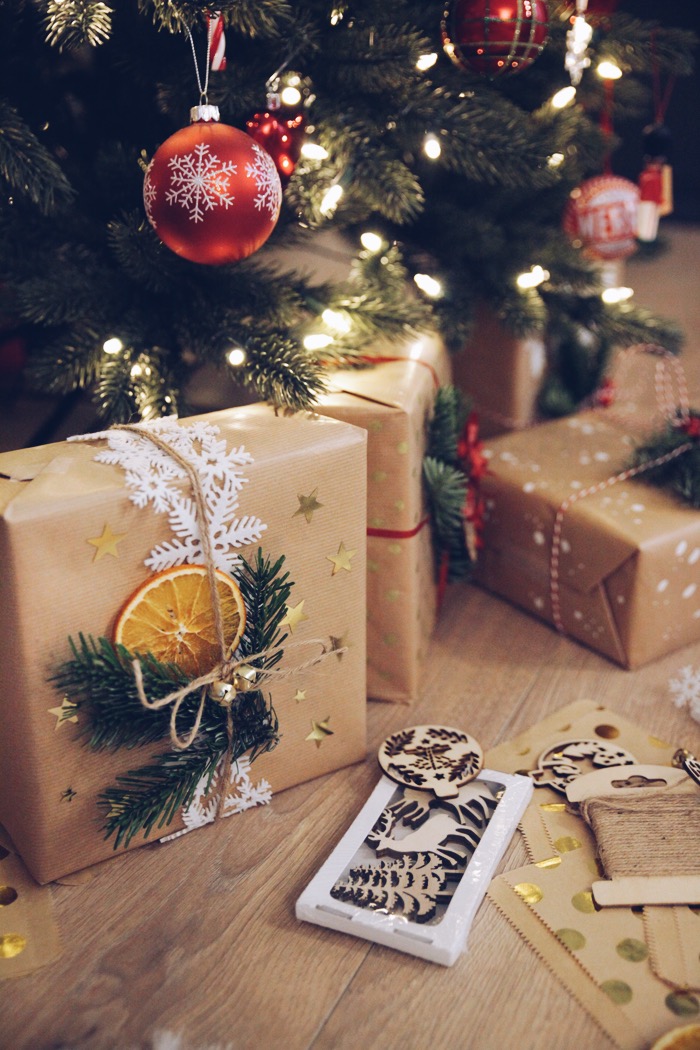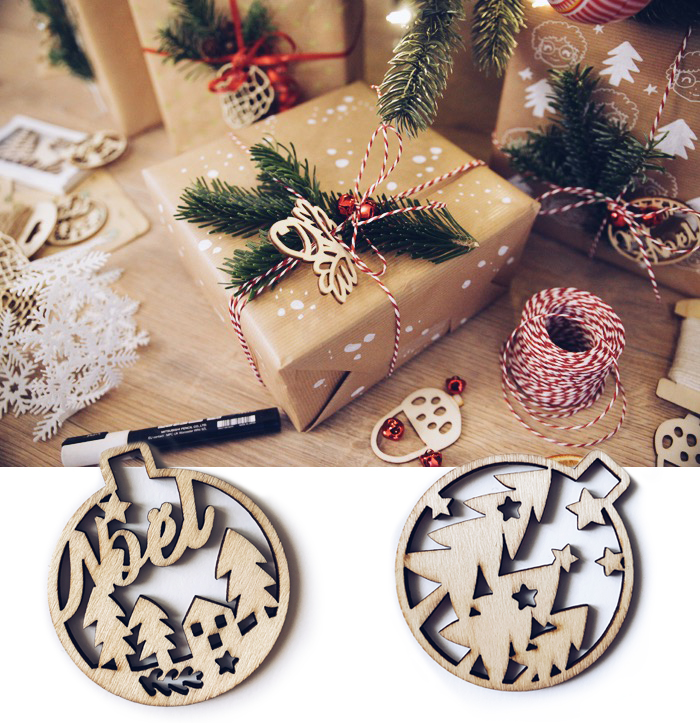 I found these small wooden decorations to add with the gift wrapping so that it can be used next year as decoration for a Christmas tree. Nothing is lost, everything is transformed!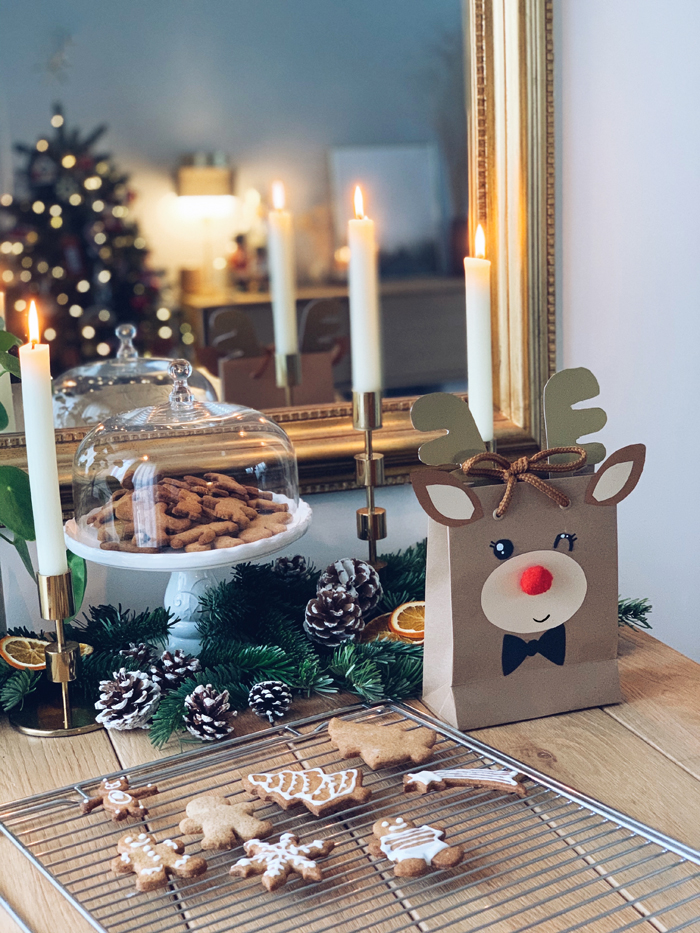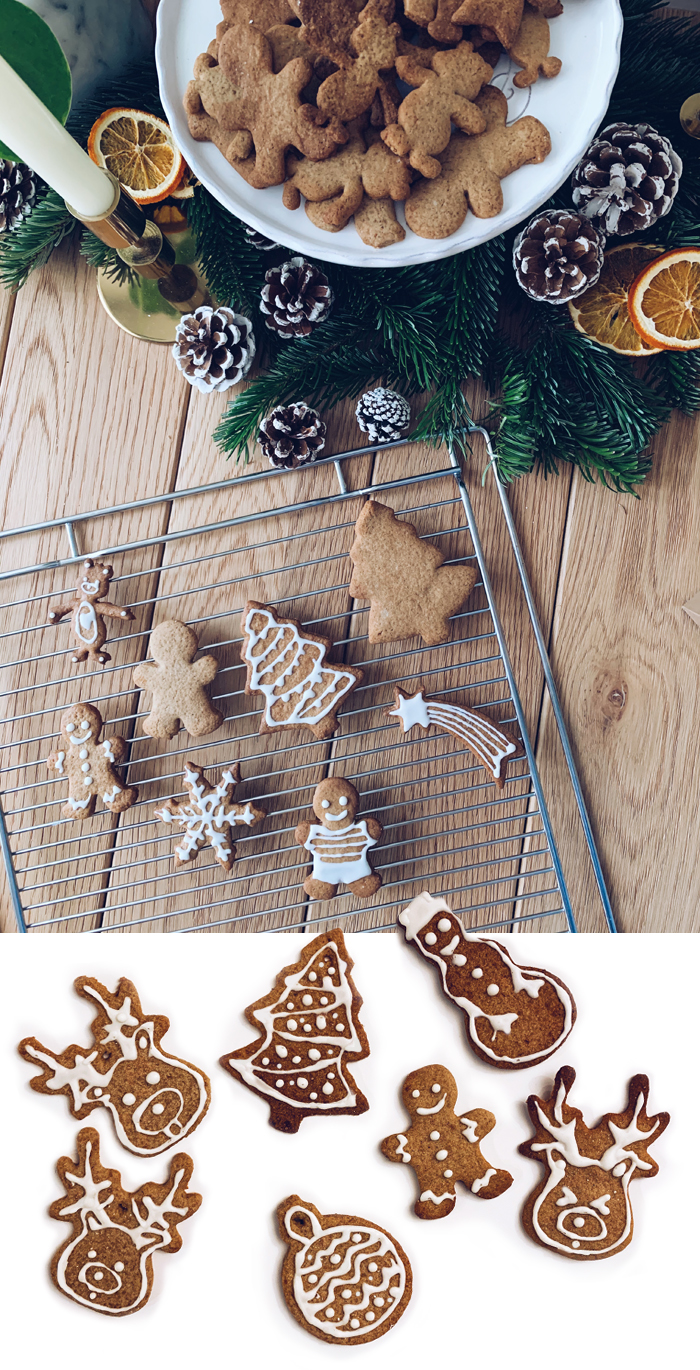 For a workshop organized at Le BHV Marais, I imagined these gift packs with a shape of deer that can be used for food product or gifts that are difficult to wrap up. Easy to make, I hope they will have some success!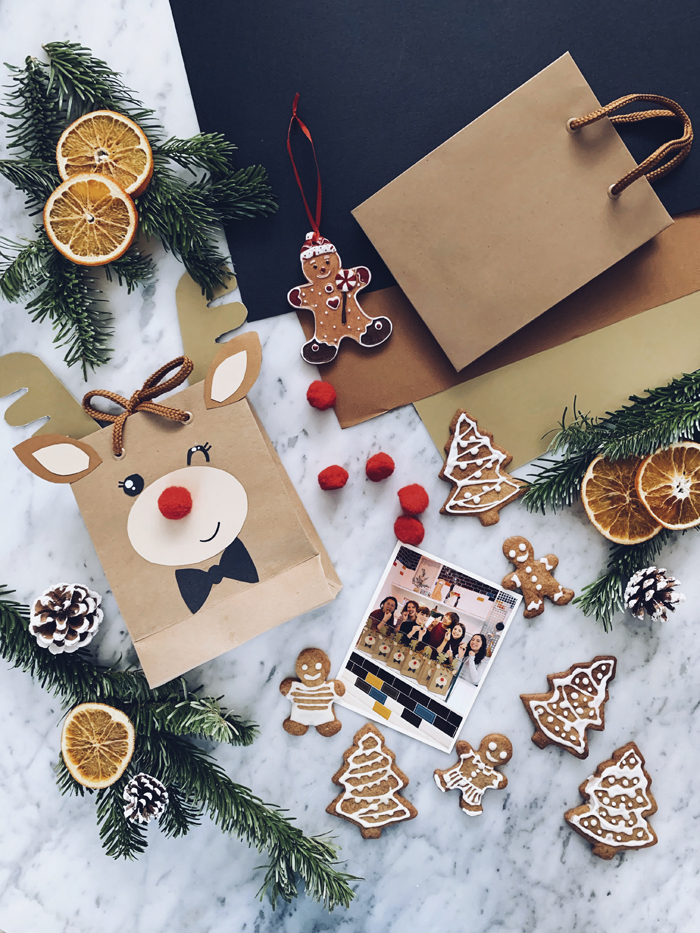 Souvenir from the "Xmas afternoon and DIY" wworkshop at Le BHV Marais
This year I also took the time to bake Christmas cookies: I need to improve the drawing of the icing but it's an activity very pleasant to do with family and friends.
My Christmas outfit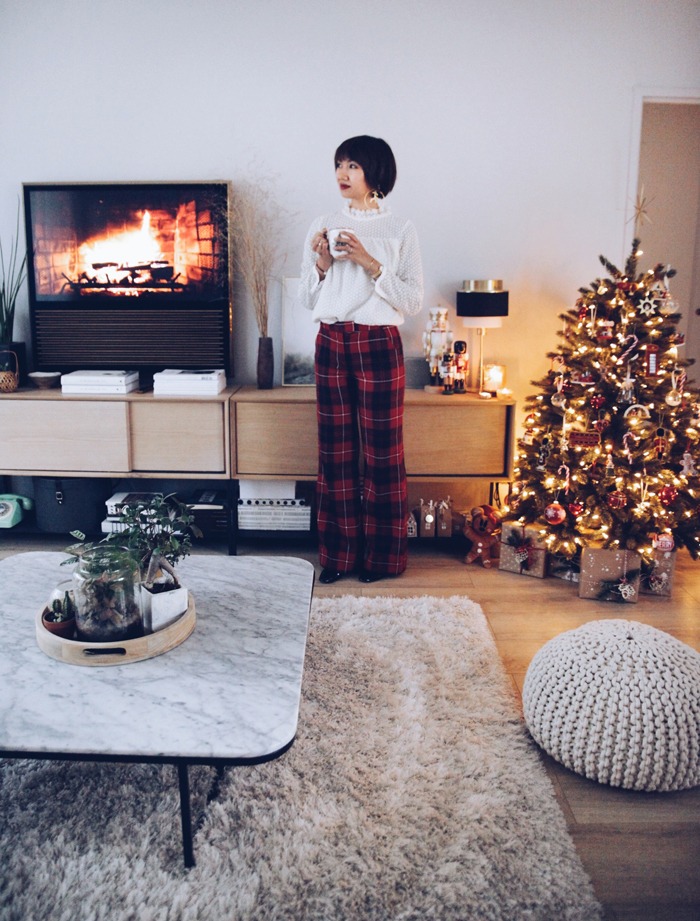 PantsCaroll (from 90/2000?)
Blouse La Redoute 2016 (already seen here)
Shoes Repetto (already seen here)

This year, since I've drastically decreased my fashion consumption and I've mostly lived with what I've had, I didn't buy any festive clothes and imagined an outfit with what I already have in my wardrobe.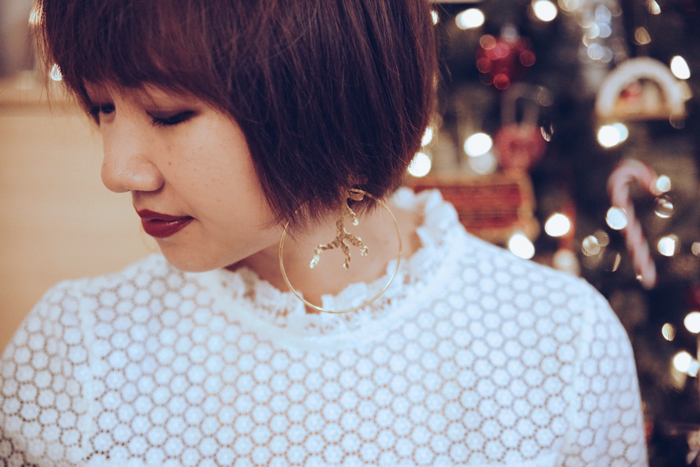 Earrings Eloïse Fiorentino
While I was sorting out my clothes, I actually found these tartan pants that I've owned since 2000 (maybe even from the end of the 90's?). The Christmas miracle is actually that it still fits me (not sure this will be true after the festive season).
The brand is Caroll and on the tag – rare enough to be pointed out – it's said that it was made in France and 100% wool, explaining the longevity and quality of the fabric!
Christmas table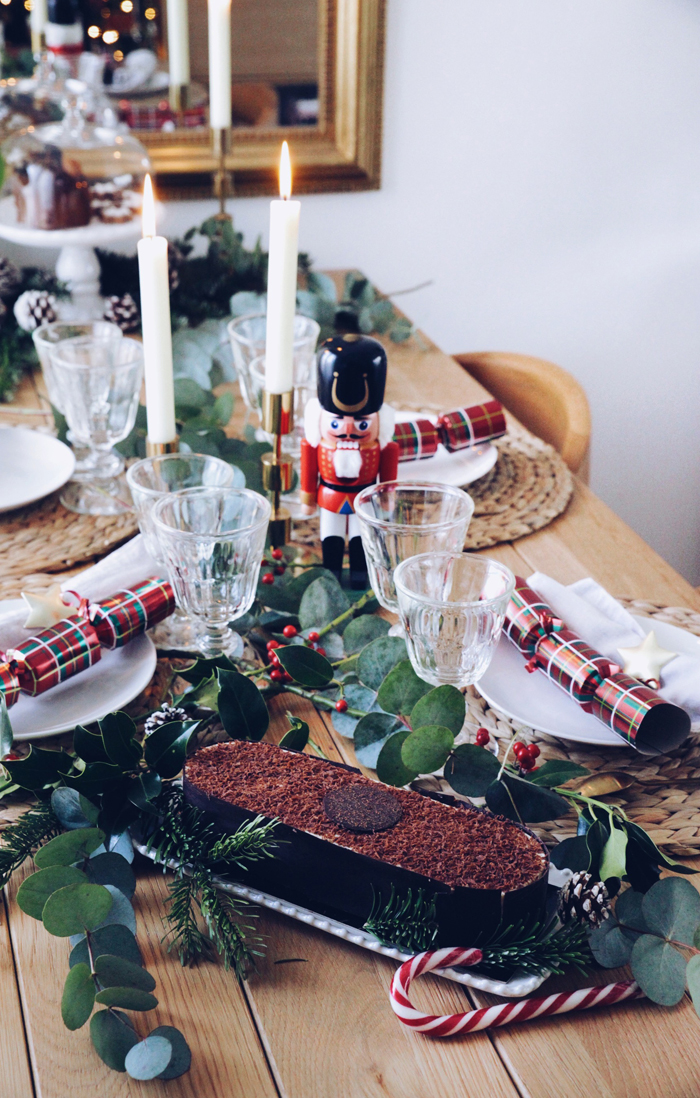 Exclusive Yule log Le BHV Marais x Jean-François Foucher
Crackers & log plate found atBHV Marais
Glasses La Redoute Intérieurs

I am proud that I was able to share nice yummy moments with my friends during the month of December (we still have Christmas Eve!): Christmas afternoon tea, raclette night, Yule log…
I wanted to really enjoy this season and its cocooning spirit with friends at home… always with an everlasting wood fire fireplace on YouTube (Netflix might have the same but (I might be an alien) I haven't subscribed to Netflix yet!).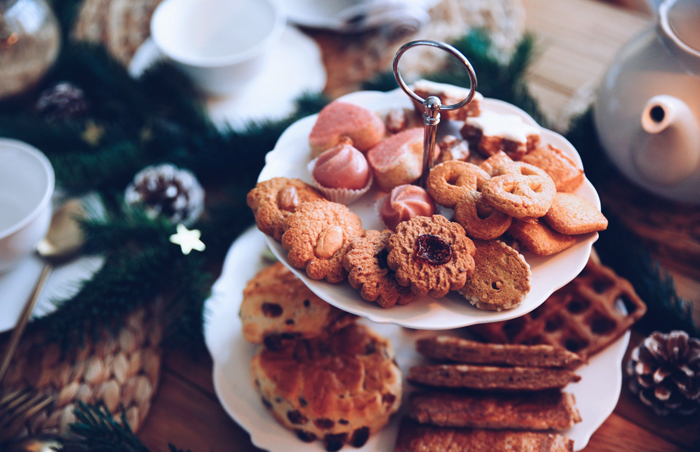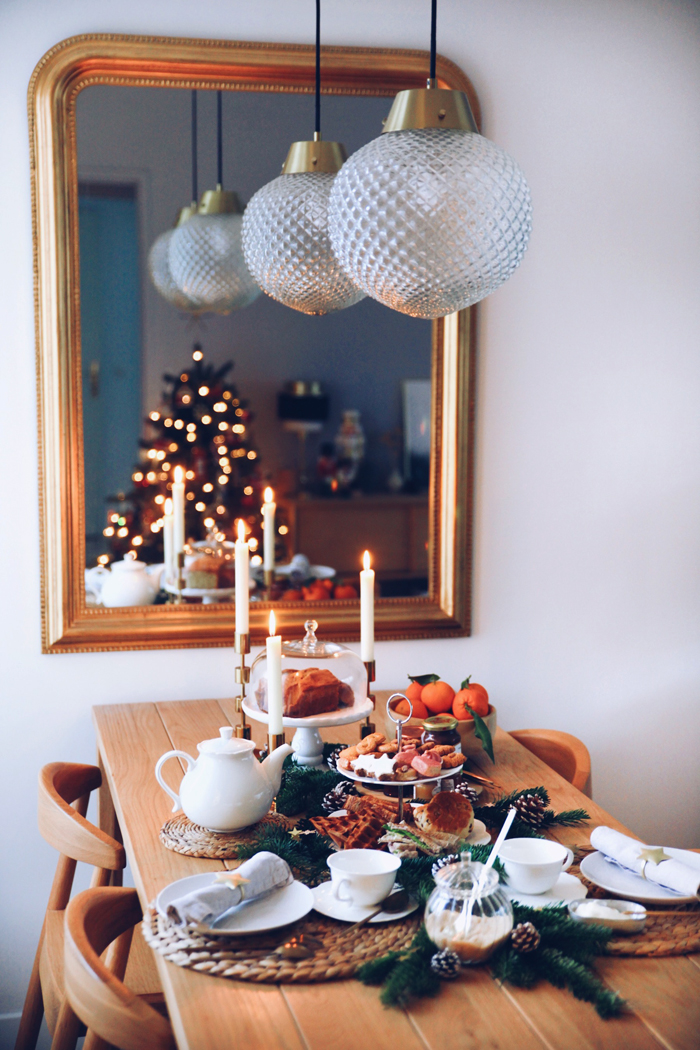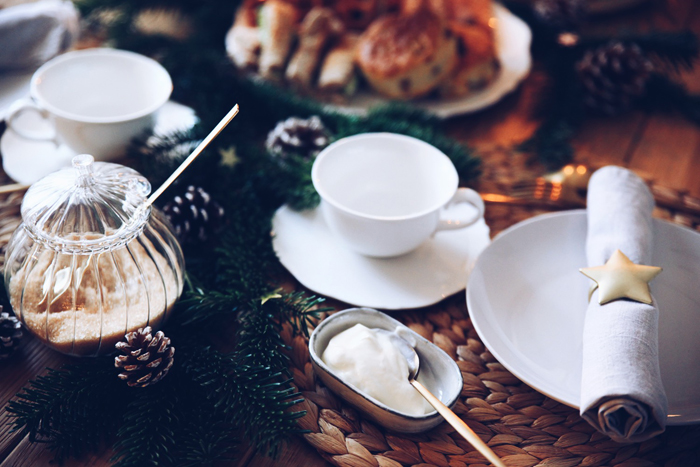 Linnen towels La Redoute intérieurs
Napkin ring Casa
Sugar bowl and tea service Absolument Maison (already seen here)

A good occasion to start the table decoration: this being said, I've kept the same style year after year, plant vegetal based.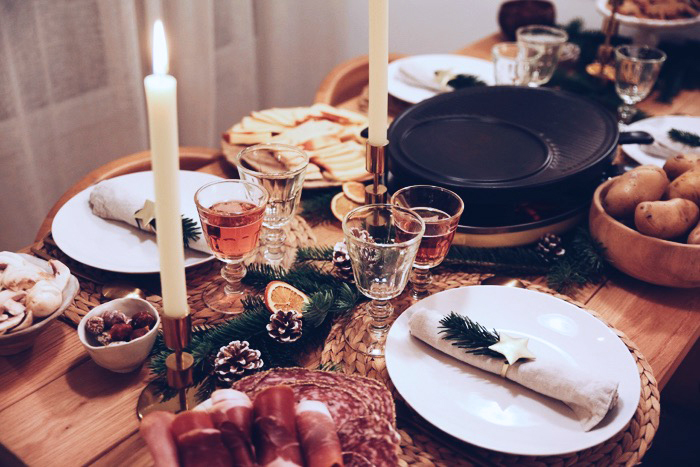 A Xmas raclette night

I've also tried to reuse the same tableware (even though some festive models could worth the investment= but not enough space requires to be more minimalist and compose with what we already have).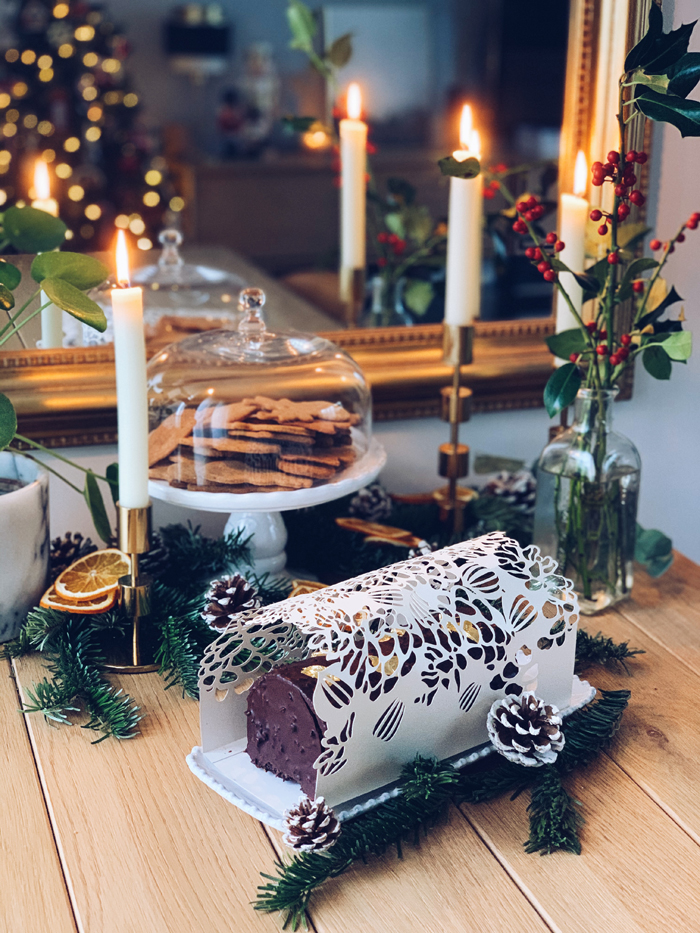 Bûche ultime from Pierre Hermé
Candlesticks Maison Sarah Lavoine
Olive oil bottle recycled in holly vase:-)
So here was an overview of my 2019 Christmas decoration. If you want to bounce to the rhythm of my Christmas playlist, I've been adding new pop songs over the years: you can listen it here.
It's now time for me to leave you here in order to enjoy the last friendly (and resting) moments of the year: I wish you a happy holiday season, surrounded by your loved ones.
And if it's a complicated period for you, I am sending all my thoughts and hope you will find some peaceful moments. In any case, be happy, that's all we want for Christmas. (English translation by Quiterie)