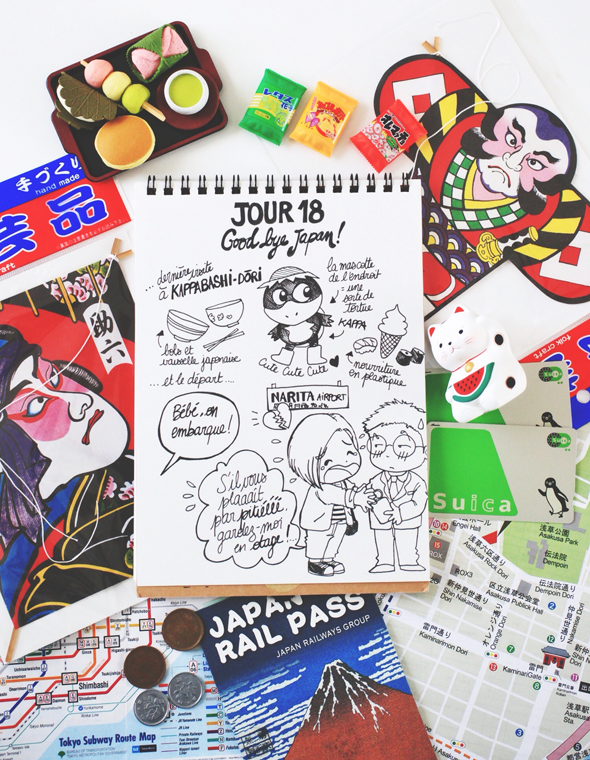 Nous arrivons au bout de notre voyage au Japon. Je me sens encore une fois remplie de nostalgie.
Cela va faire 2 mois que je suis rentrée de ce fabuleux voyage mais le fait de le partager ensuite avec vous m'a laissée immergée dans cette culture : il ne se passe pas une journée sans que je ne pense / mange / lise / rêve Japon. Encore plus qu'avant. Mais avant de sortir les mouchoirs, il me reste 2 adresses à vous partager.
This is the end of our trip in Japan. I'm once again filled with nostalgia.
It's been 2 months since I came back from this fabulous trip, but sharing it with you kept me immersed in the culture: not a single day goes by where I'm not thinking / eating / reading / dreaming Japan. Maybe even more so now than before. But before I get my tissues out, I have 2 spots I want to share with you.
KAPPABASHI-DŌRI
Pour les derniers jours de voyage, je ne saurais trop vous conseiller de vous rendre à Kappabashi-dōri : cette rue était située à deux pas de notre appart' à Asakusa alors on ne s'est pas privés !
For the final days of the trip, I can't but encourage a trip to Kappabashi-dōri: this street was located minutes away from our flat in Asakusa, so we didn't cut back!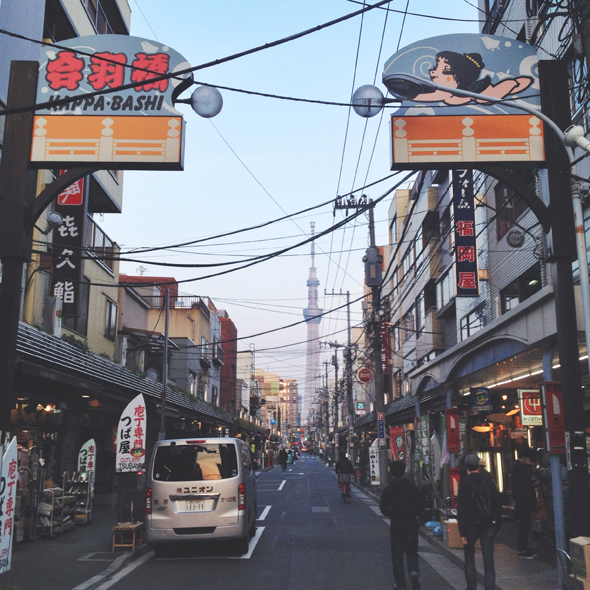 Mais qu'y a t-il d'intéressant dans cette rue ? Tout simplement pléthore d'accessoires de cuisine, boîtes à bento et vaisselle japonaise à prix très intéressant.
But what is there to find in this street? A huge amount of kitchen accessories, bento boxes and japanese tableware, for incredibly interesting prices.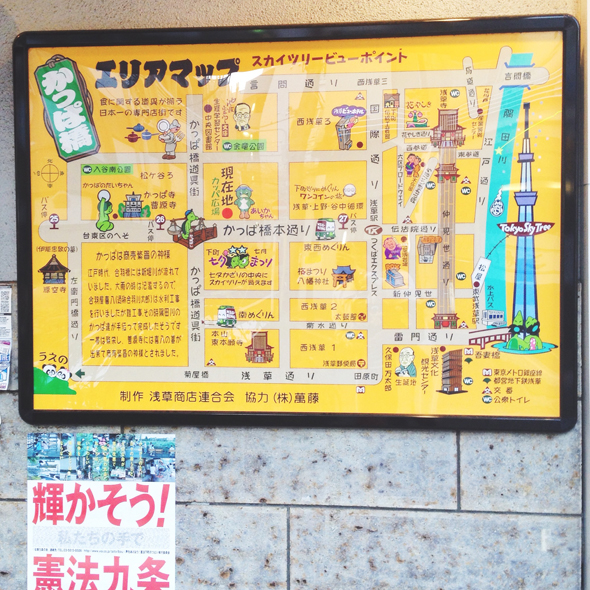 En effet, cette rue fournit la plupart des restaurants de la ville. Vous pouvez également y trouver de la nourriture factice en plastique, que l'on voit fréquemment dans les vitrines des restos.
This street is actually where most of the local restaurants get furnished. You can also find that fake plastic food that you see in restaurant window displays.
Pas sûre que vous en fassiez grand chose avec chez vous, mais si vous voulez faire une blague à vos convives, on ne sait jamais !
Not sure what you'd do with it, but if you want to play a joke on your friends, it might just do the trick!
Shabu shabu à KISOJI, GINZA
(World town building 5F, 5-8-17, Ginza, Chuo-ku, Tokyo) Dernière adresse gourmande à vous partager et pas des moindres. Si vous voulez vous faire plaisir dans les règles de l'art, cette adresse de shabu-shabu est faite pour vous.
This is the last address I have to share, but as the saying goes: it's last but certainly not least! If you really want to treat yourselves, this shabu-shabu address is just what you need.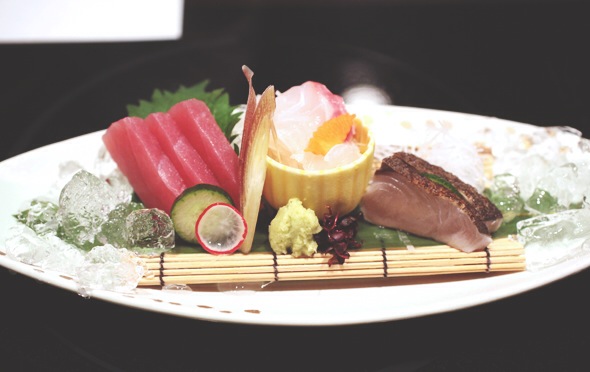 Mise en bouche et Sashimis en entrée
Le shabu-shabu est une fondue japonaise qui consiste à tremper des légumes et de la viande de boeuf cru dans un bouillon chaud. Nous avons pris un menu et du début jusqu'à la fin, ce fut l'extase.
Shabu-shabu is a japanese fondue where you dip vegetables and raw beef in boiling broth. We took the full menu, and it was heavenly.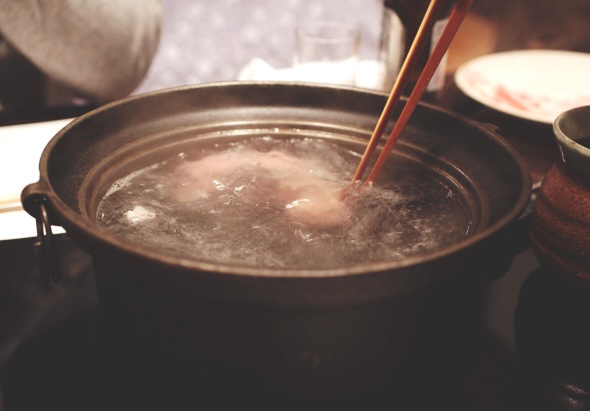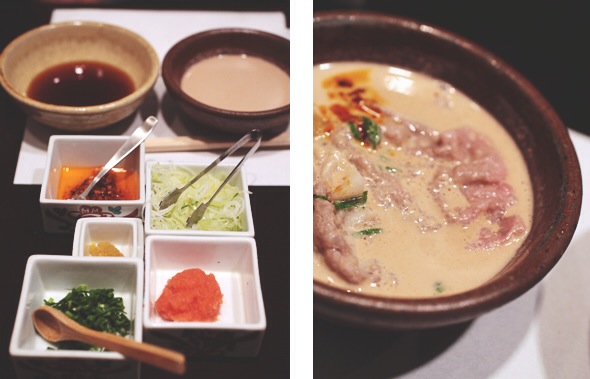 Sauces Ponzu en haut à gauche et Gomadare à droite
Chaque bouchée de boeuf trempée ensuite dans le gomadare (sauce au sésame) puis le ponzu (sauce au soja et yuzu) était un feu d'artifice.
Each bite of meat dipped first in the broth, then in gomadare (sesame sauce) and finally in ponzu (yuzu and soy sauce) was just fireworks for our tastebuds.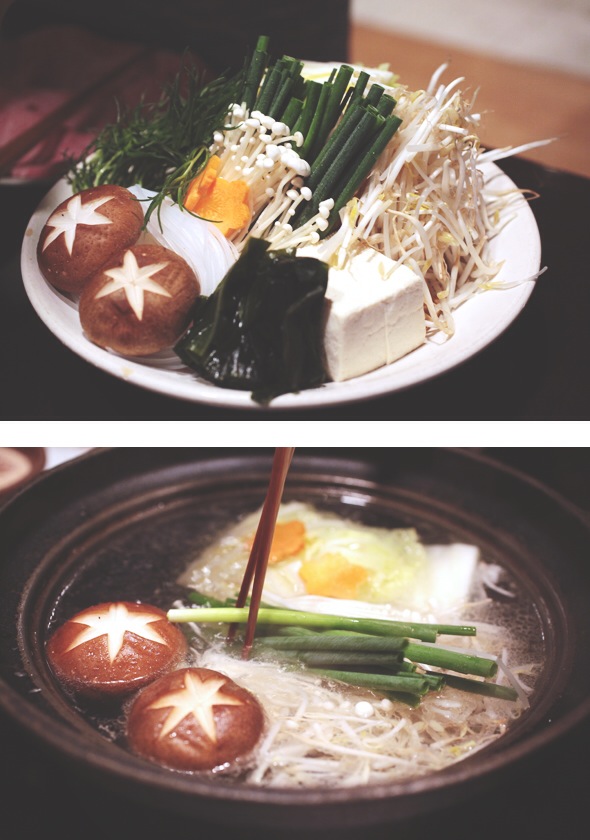 Et lorsque l'on croit que c'est terminé… ça continue ! En fin de repas, la serveuse nous amène des nouilles et des gâteaux de riz à déguster dans le bouillon qui s'est imprégné de tous les sucs de la viande, des légumes… Dieu que c'est bon !
And just when you think it's finished, there's more! At the end of the meal, the waitress brought us noodles and rice cakes to dip into the broth that has captured all the meat and veggie juices…my God it was good!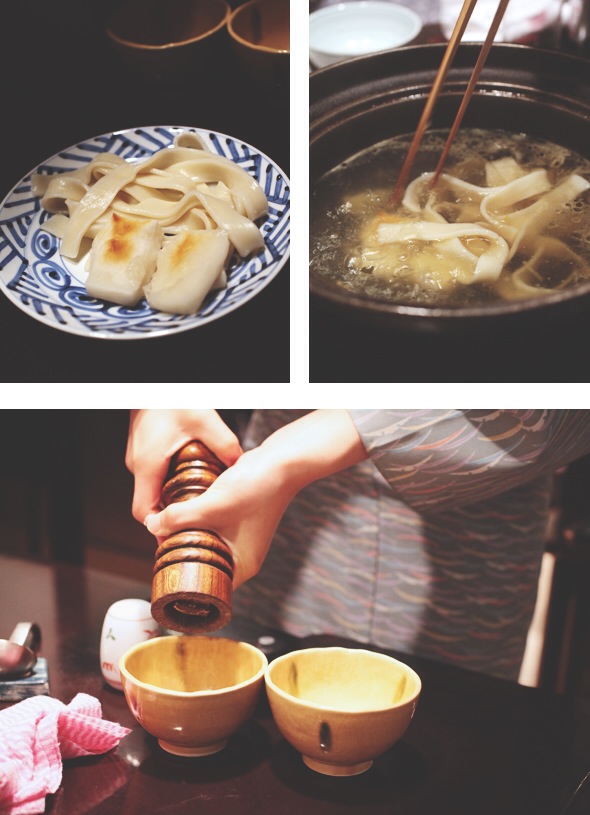 Dans mon souvenir, ce n'est pas donné (environ 8000 yens cad 60 euros le menu) mais l'accueil, la nourriture sont excellents.
If my memory serves me right, it wasn't cheap (about 8000 yens, so around 60 euros per menu) but the service and the food are excellent.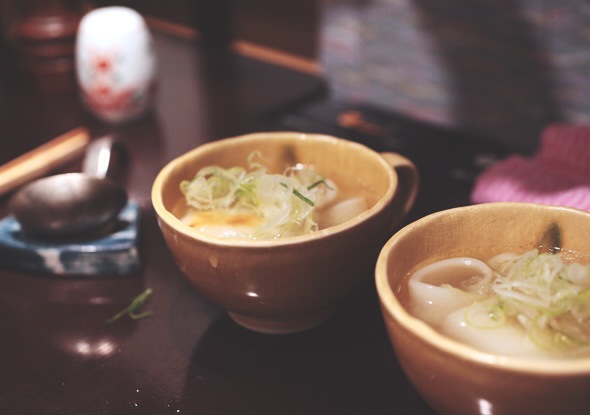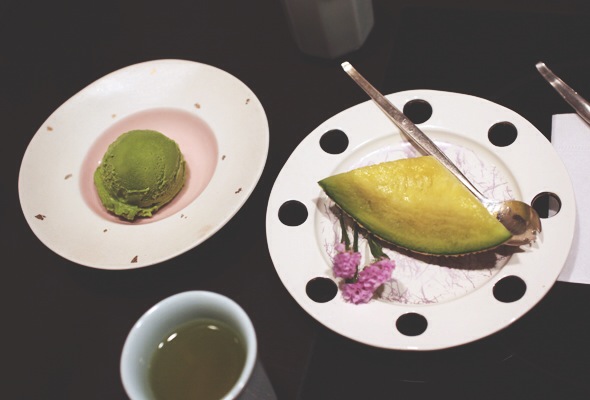 Toutes les bonnes choses ont une fin…
Et voilà, vous lisez ici les dernières lignes de mon journal de bord japonais. Tristesse. J'ai souvent beaucoup détaillé (chapeau bas à mes traductrices qui ont dû souffrir de ma logorrhée) mais je voulais vraiment que cela puisse vous servir si vous avez la chance de visiter ce pays un jour.
Et je me suis dit qu'au pire, si vous ne lisez pas, vous regarderez les photos ! (djeuyq »sdçdnbeh$ù_§tg ssjsn >> je peux donc écrire n'importe quoi ici puisque vous ne me lisez pas… haha !)
J'espère en tous cas que vous avez pris plaisir à parcourir ce pays avec moi. Grâce à vous, j'ai vécu 2 fois ce voyage exceptionnel. Je me souviens de toutes ces personnes qui ont croisé mon chemin, de chaque ambiance, chaque odeur (Tsukiji market inclus… !).
J'ai apprécié ce sens de la rigueur et de la discipline mélangé à cette étrange folie et cette créativité sans limite. La sensation de manque ne me quitte pas mais j'ai l'espoir de découvrir de nouvelles facettes de ce pays le plus vite possible, si l'avenir me le permet. Très cher Japon, nous nous reverrons…
And so here we are, this is the end of my japanese travel diary. Sadness. I often detailled a lot (I'll draw my hat to my translators, who undoubtedly suffured my logorreha) but I really wanted it to be useful, if you ever get to visit the country.
And I thought that in any case, even if you don't read, you'll at least look at the picutres! (djeuyq »sdçdnbeh$ù_§tg ssjsn >> I can write what I want since you're not reading…haha!)
I hope you enjoyed travelling the country with me. Thanks to you I got to relive this exceptional trip. I remember all the people I met, each atmosphere, each smell (Tsukiji marked included…!).
I really enjoyed the discipline mixed with this strange craziness and unlimited creativity. I can't get rid of that sense of loss, but I'm hopeful I'll get to discover yet new sides of this country sometime in a not too distant future. Dear Japan, we'll see each other soon… (English translation by Bleu Marine)
PS : Pour les nostalgiques, mon « Japan travel diary »  est donc désormais complet / For all you wistful lot, my « Japan travel diary » is finally complete:
 MY JAPAN TRAVEL DIARY :
Notre appart à Tokyo
Day 1 : Sumida Park & Asakusa
Day 2 : Namco Namjatown
Day 3 : Omotesando & Harajuku
Day 4 : Ueno Park
Day 5 : Errances gourmandes à Omotesando
Day 6 : Odaiba お台場
Day 7 : Tsukiji market, Meiji & Yoyogi
Day 8 : Tokyo Skytree
Day 9 : Dans le train pour Osaka !
Day 10 : Osaka Castle & Hanami au Mint
Day 11 : Osaka DenDen Town
Day 12 : Nagoya
Day 13 : Takayama Spring Festival
Day 14 : Notre ryokan « Hoshidekan » à Ise
Day 15 : Ise & Futami
Day 16 : Tokyo DisneySea
Day 17 : Shopping à Ginza
Day 18 : Good bye Japan ! (Kappabashi & Shabu-shabu)

Bye Bye Japan, I miss you already …