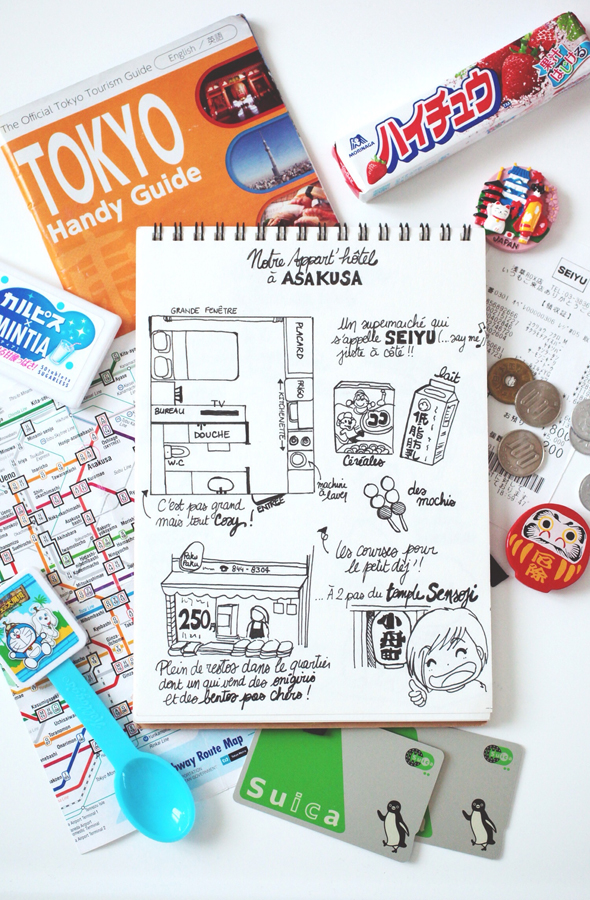 Puisque j'ai décidé de vous faire vivre mon voyage au Japon à fond, je dois commencer par vous présenter l'endroit où nous avons logé lorsque nous étions à Tokyo ! A l'effervescence entêtante d'un Shinjuku ou d'un Shibuya, nous avons préféré le calme (relatif) du quartier d'Asakusa.
As I have decided that I would share my whole trip to Japan with you, I must begin by a presentation of the place we stayed in when we were in Tokyo! Instead of choosing Shinjuku's or Shibuya's heady turmoil, we chose the (relative) tranquility of the Asakusa area.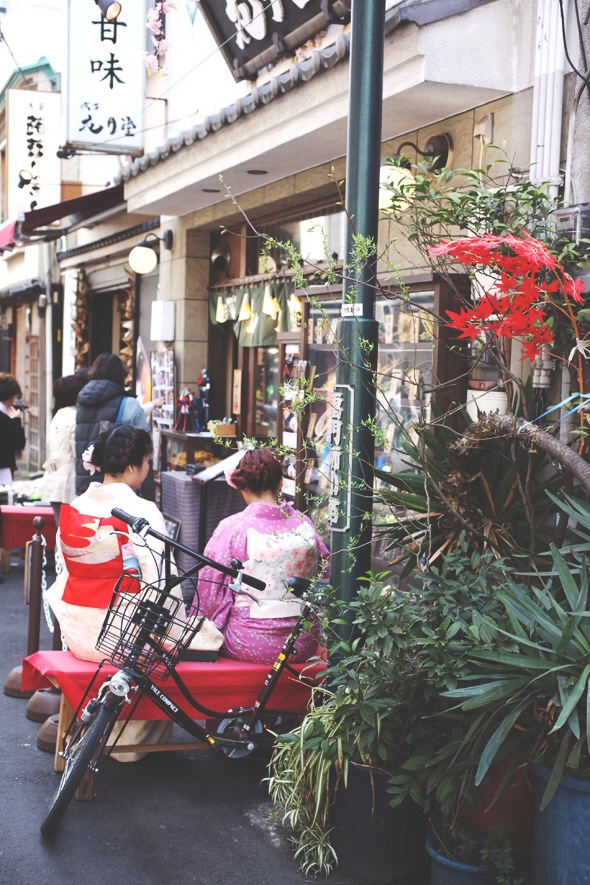 Par son magnifique temple Senso-ji, c'est évidemment un quartier très touristique mais qui a su garder une âme traditionnelle et c'est ce que nous recherchions (j'y reviendrai en détail plus tard).
Due to its gorgeous Senso-ji temple, it is obviously a very touristy neighbourhood but it has managed to keep its traditional soul and that is what we were looking for (I will come back to this later with more details).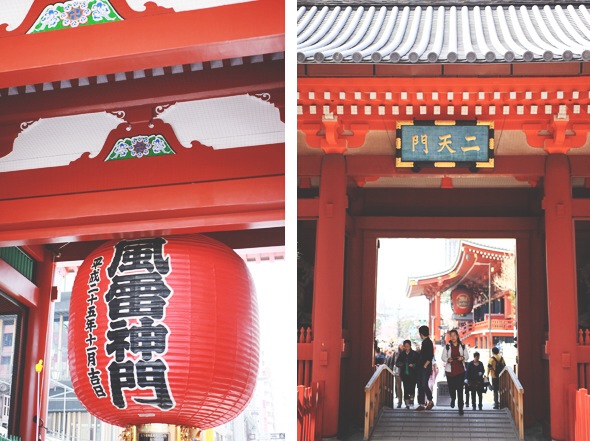 La ligne de métro est également bien desservie, ce qui nous a permis d'aller partout sans trop nous poser de questions (Pour ceux qui sont effrayés par le métro de Tokyo, allongez-vous sur le divan,  je peux tenter de calmer vos angoisses dans les commentaires).
The metro line also leads to many different places in the city which allowed us to go everywhere without any difficulty (For those who are terrified of the Tokyo metro, lie down on the couch, I can try to ease your fears in comments).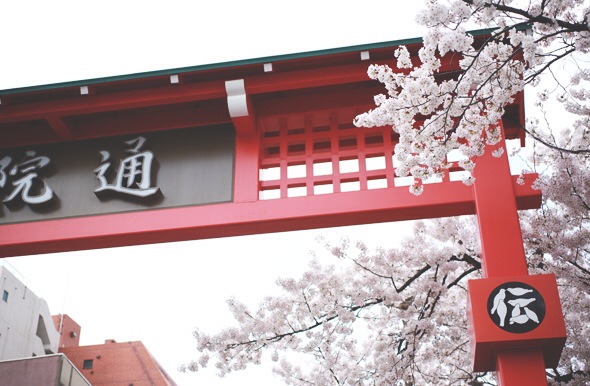 B:CONTE 浅草 Residential Hotel
Nous avons choisi de loger dans un appart-hôtel (2-4-2 Asakusa Taito-ku, Tokyo, 111-0032), ce qui signifie que l'on avait les avantages d'un hôtel sans ses inconvénients (kitchenette et machine à laver/sèche-linge dans la chambre, c'était parfait pour les soirs où l'on voulait manger pépère à la « maison »… et la lessive lorsqu'on reste 3 semaines, c'est quand même pratique !)
We chose to stay in an apartment hotel (2-4-2 Asakusa Taito-ku, Tokyo, 111-0032), which implied enjoying the pros of a hotel, without the cons (Kitchenette and washing machine/dryer in the room, it was ideal when we wanted to stay in some nights … and a washing machine can become quite handy when you stay 3 weeks !)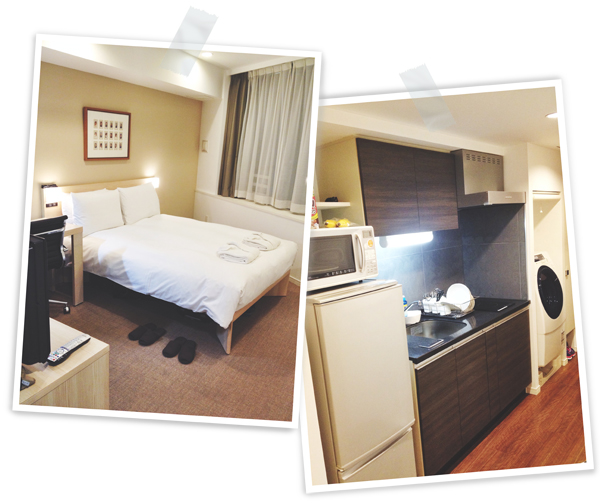 La vue de notre fenêtre
Mais qui dit hôtel dit aussi personnel d'accueil au rez-de chaussée qui se plie en quatre pour toute demande/ réservation de resto/ info pour les visites.
Idéalement placé dans une petite rue, nous étions à proximité d'un magasin Don Quijote et d'un Seiyu ouverts 24h sur 24 (Acheter une valise supplémentaire à 1h du mat la veille (le matin?) du départ, c'est possible —> ça sent le lourd vécu).
But « hotel » also means having the personnel at your service for any enquiries/restaurant booking/information about our tours.
Ideally situated in a small street, we were next to a Don Quijote store and a Seiyu opened 24 hours a day. (You want to buy an additional suitcase at 1 am the day (the morning?) before departure; it's possible —> I speak from experience)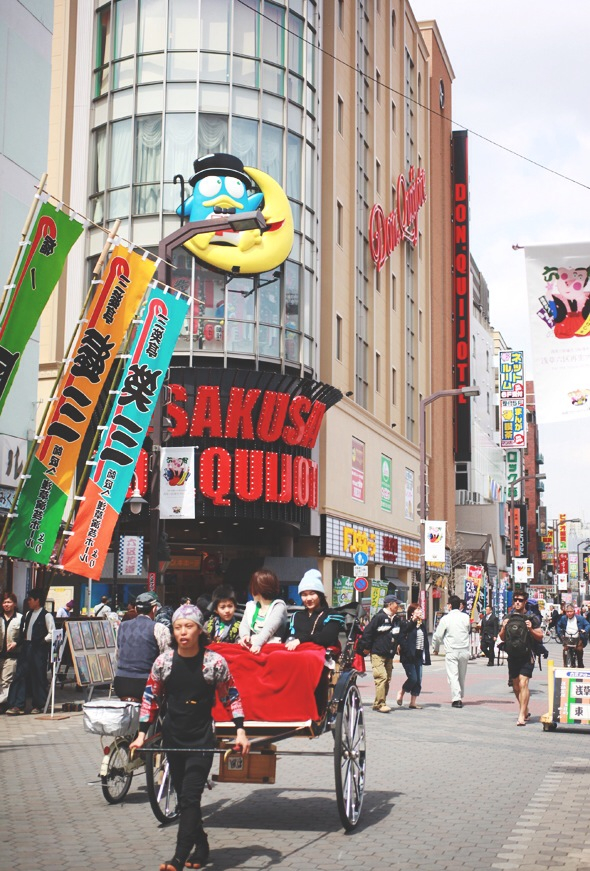 Le magasin Don Quijote où l'on trouve tout 24h/24 !
Je me suis même pliée à mon footing bi-hebdomadaire durant mon séjour sur les bords du fleuve Sumida (mon mantra que vous connaissez bien : « courir plus pour manger plus »). Je vous révèle d'ailleurs 2 adresses resto de Asakusa testées et approuvées par nos estomacs.
I even went out for my bi-weekly run during my stay on the bank of Sumida river (you know my mantra: "run more to eat more"). By the way, I reveal to you two restaurant addresses of Asakusa, tested and approved by our stomachs.
B:CONTE ASAKUSA
2-4-2 Asakusa Taito-ku,
Tokyo, 111-0032
DAIKOKUYA Tempura  (大黒屋 天婦羅 浅草本店)
Nous y sommes rentrés car nous avons vu une longue file d'attente devant (que des japonais, c'est bon signe). Nous nous sommes laissés tenter et nous n'avons pas été déçus: à l'intérieur, on mange sur des tatamis « à la japonaise » ce qui m'a montré que ma souplesse d'antan s'est bien évaporée tel du saké chauffant sur le feu d'une cuisinière.
We got into this place because we saw a long queue in front of it (only Japanese people which is a good sign). We gave in to temptation and we weren't disappointed: inside, you eat on tatamis « Japanese style » which made me realise that my past suppleness is definitely gone like sake heating on a stove.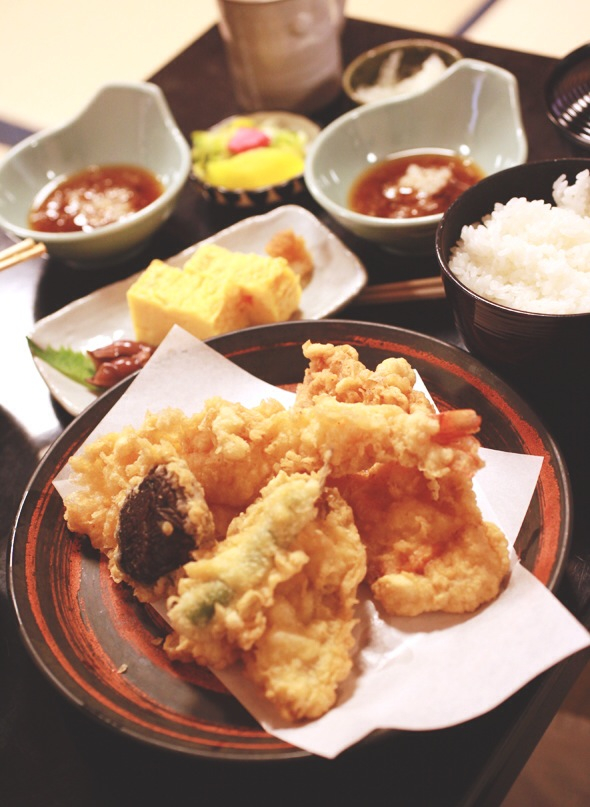 La spécialité de l'endroit est le tempura (beignets japonais) et le tendon (tempura posé sur un bol de riz).
The speciality of this place is tempura and tendon (tempura disposed on a bowl of rice).
DAIKOKUYA
1-38-10 Asakusa, Taito-ku
Tel: +81 3 3844 1111
NOBU Steak House (ステーキハウス のぶ)
Mon adresse chouchoute puisque nous y sommes retournés 2 fois lors de notre séjour. Tenu par un couple ultra attachant même si le propriétaire paraît un peu bourru au premier abord.
My favorite address as we came back twice. Owned by very endearing couple: the owner seemed a bit bad tempered at first sight.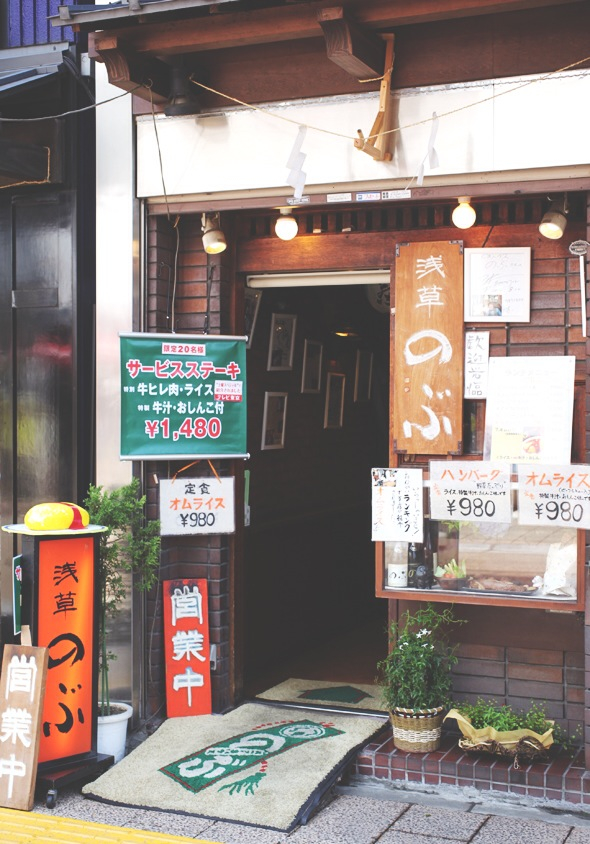 Aucun d'eux ne parle anglais (encore moins français) et malgré mes pauvres bases de japonais, je ne sais pas pourquoi, nous avons réussi à nous comprendre et à nous apprécier (c'est même lui qui m'a offert les bonbons pandas de mon précédent article !).
None of them speak any English (nore French) and despite my poor notions of Japanese, I don't know why, we managed to understand and appreciate each other (he even offered me the panda candies of my last article!)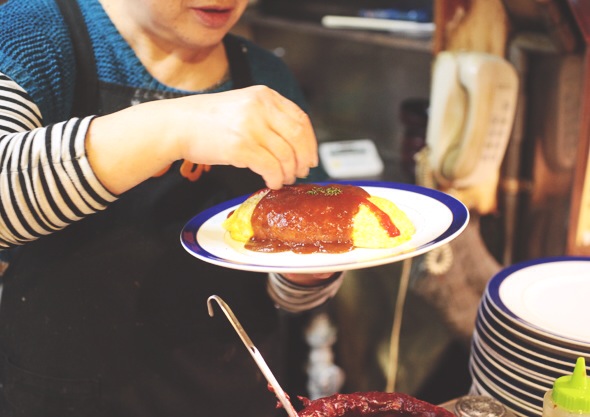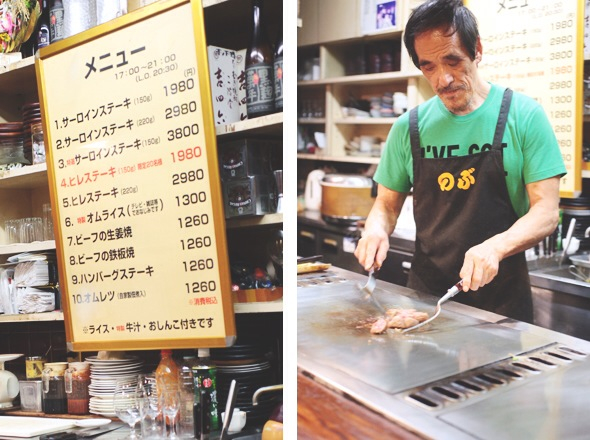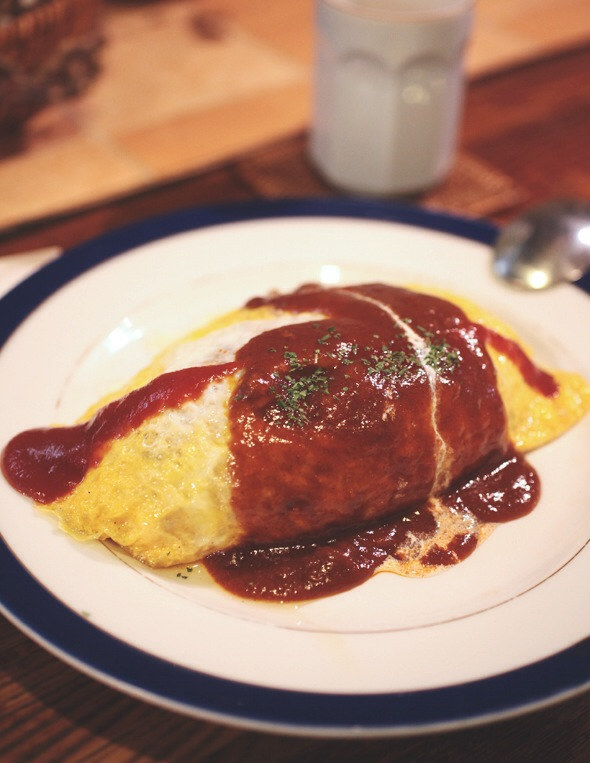 La spécialité de l'endroit est l'omu-rice (omelette au riz nappée de sauce tomate, de sauce à la viande et fourrée de viande de boeuf) : cela peut paraître simple sur le papier mais ce plat est un délice absolu. En plus, le fait de voir ce couple le préparer devant nos yeux, ça rajoutait encore plus de charme.
This place's speciality is the omu rice (Omelette with rice coated with tomato sauce, meat sauce and stuffed with beef) : this may seem simple on paper but this dish is an absolute delight. And, the fact that we could see this couple prepare it in front of us gave more charm to it.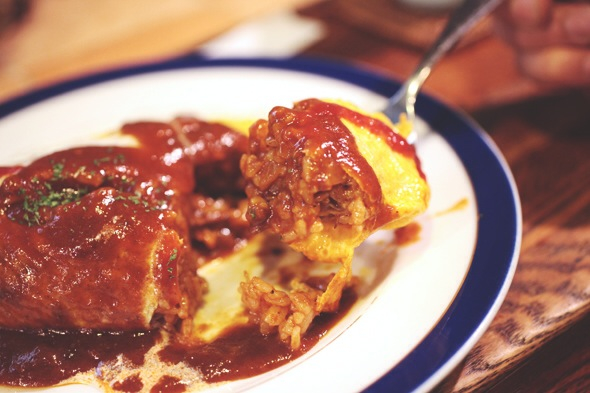 Nous avons aussi goûté à son steak de boeuf cuisiné sur plaque : tendre à souhait ! et ce pour vraiment pas cher puisque 150g de boeuf tendre comme mon coeur (avec soupe et soja) reviennent à 1580 yens soit environ 13 euros. Le omu-rice coûte 980yens (7 euros). Et ça cale bien !
We also tasted their beef steak, cooked on a hot plate: so tender ! and all that was not very expensive as 150gr of beef, tender like my heart (with soup and soy) cost us only 1580 yens, the equivalent of 13 euros. The omu rice cost 980 yens (7 euros) and is quite filling!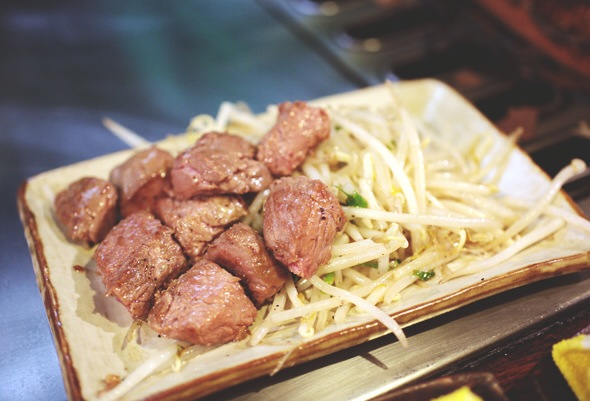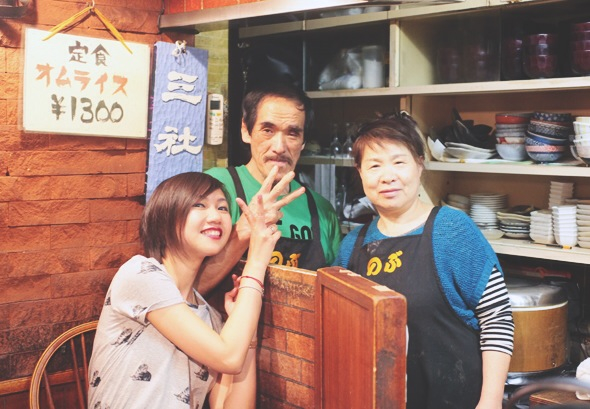 NOBU Steak House
1-36-7 Asakusa, Taito-ku
Tel : +81 066-9675-49879
Digérez bien ! On se retrouve très vite pour le J1 du carnet de bord avec une visite des alentours !
Have a nice digestion! We'll meet again soon for Day 1 of the travel book, with a visit of the surroundings! (English translation by Daphné)