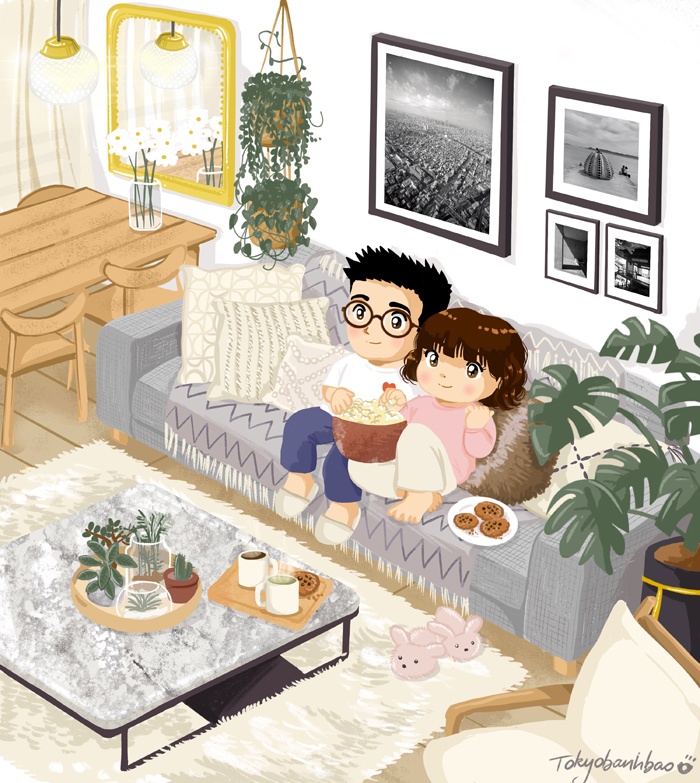 For years I resisted the call of Netflix, I was too afraid to be caught in the spiral of binge watching and of letting my social life dwindle (SPOILER ALERT : Netflix isn't responsible for my non-existing social life these past 2 months) but since end of december, with the cosy Christmas atmosphere, I decided to give it a go and subscribed.
And I don't regret it! (especially during the lockdown period!) Especially since it didn't really infringe on my other activites (I watch it during the evenings or a bit on the week-end, instead of the boring/anxiety-inducing programs of the traditional telly). I am almost up to date on my "series" culture (although I still have a lot of things to watch … cult series included, but I'm not losing hope!) but above all, I found tailored programs for my culinary and getaway tastes.
So here is my list of what I have watched up to now (I might enrich it as time goes by) (=do not hesitate to share your recommendations in the comments!) Maybe you'll be inspired if you are looking for new things to watch …. or know what to avoid! (that being said, I'm a "make-your-own-opinion" type of person… you never know, we don't all like the same things!)
Japan and Asia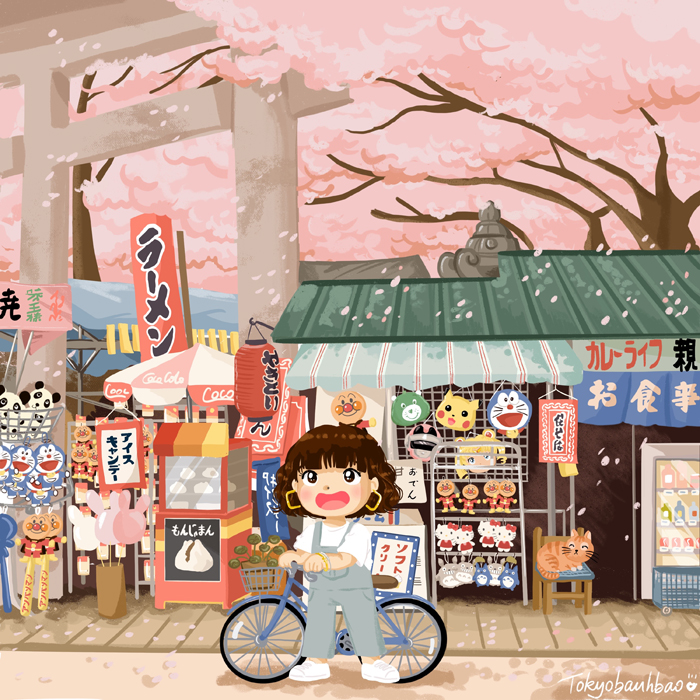 I listed everything I watched that has something to do with Asia, with a strong Japan prevalence, you know me!
QUEER EYE : WE'RE IN JAPAN!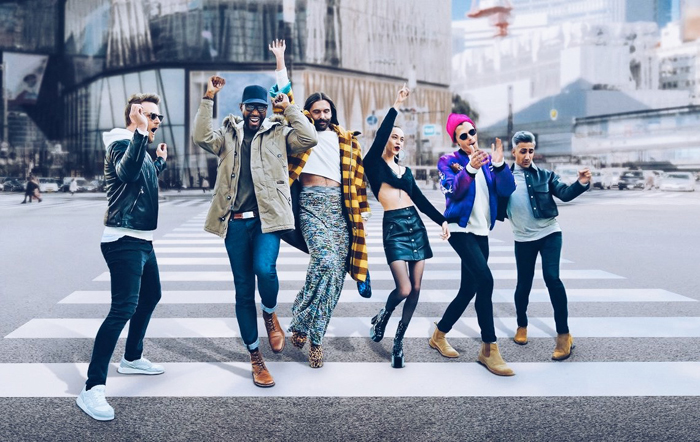 1st series I saw on Japan : I just loved the kindness, empathy, tolerance and warmth of this Queer Team that helps japanese people take back their life, be it in terms of looks, self-esteem or decoration. Some tears might be shed and emotions had in in the Land of the Rising Sun.
TERRACE HOUSE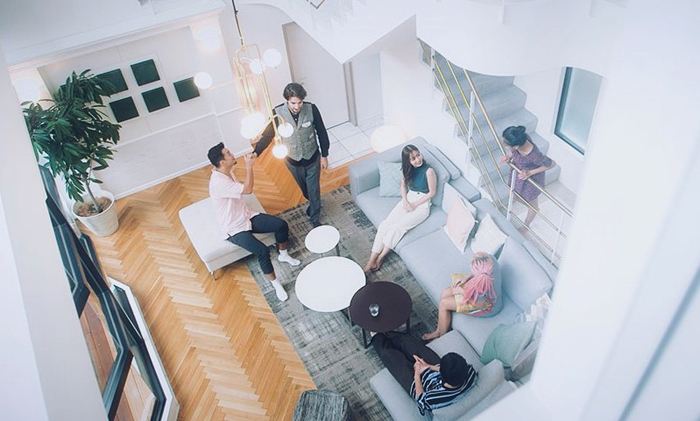 Terrace House "Tokyo 2019-2020"
This japanese reality show was my (not so secret) indulgence for the beginning of 2020 and the beginning of the lockdown period. I discovered the seasons backwards, and started off with Tokyo 2019-2020 (which is still ongoing) and then followed with Opening new doors 2018, Boys and girls in the city 2015-2016 and finished with Hawaii Aloha State 2016-2017, the only available seasons on Netflix (I'm really rooting for the other seasons to be added to the catalogue).
My Instagram Stories and post are already stock full of debriefs, but to sum it up, if you are a fan of Japan, of japanese culture, and if you like analysing human behavior, following pretty romances (and drooling in front of all the japanese food), this is a show for you.
Terrace House "Opening New Doors 2018" with my favorite cute couple <3 (Credit photo : Sam Byford)
My favorite season is Opening New Doors (up to the end of part 3, the rest wasn't really interesting to me afterwards) for the super cute side of the couple in question and the cozy feel of the place (a chalet in the mountains). If I go back to Japan at some point, I'll be making a stop in Karuizawa for sure!
I also liked the end of the Tokyo 2019-2020 season, with the apparition of a very charismatic, talented and funny italian candidate : Peppe! The one I liked the least was Hawaii Aloha State because the japanese culture really took a backseat, but it was fun to watch anyway.
MIDNIGHT DINER : TOKYO STORIES
I watched the 1st episode and wasn't really convinced by the rythm and the story, even though theoretically, all the ingredients were there (japanese food, intimate restaurant …) and it's an adaptation of the "Midnight Diner" japanese manga (which is apparently very good). Maybe I should give it another go, but the mixed reviews aren't really helping in motivating me…
KINGDOM
I was pretty intrigued by the 1st episode, that took place in an old Korean kingdom, with a terrifying zombie invasion, but I watched the following episodes with a distracted eye, and followed the series more through the eyes of my S.O, who was much more assiduous than I and who didn't want to wait for me to watch the rest (=I had an illustration order to finish : I did sit through the episodes, but wasn't really focused).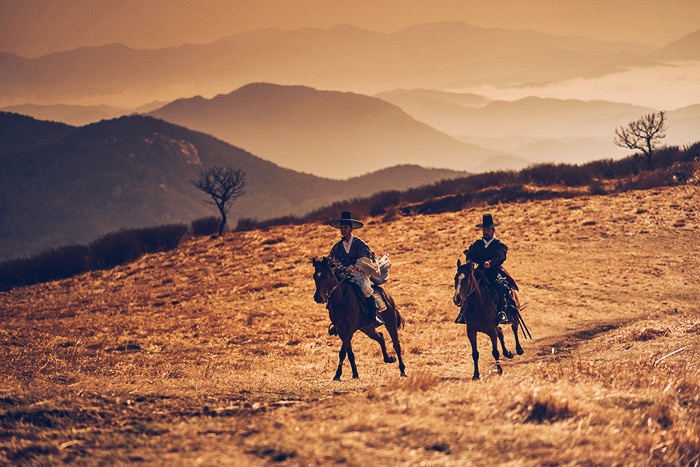 My S.O loved it, and I did very much enjoy the beautiful images (didn't quite follow the scenario though, haha). Anyway, sorry for this poor quality review! But I did have to mentione it because it is worth it if you give it your whole focus.
STREET FOOD ASIA
A documentary that gets your mouth watering, and that explores different street food specialties in Asia. From Bangkok to Seoul, passing through Osaka, strong and often very touching personalities share their stories with us around plates of staple street food.
OCEAN WAVES
A not very popular Ghibli animation and I understand why! The movie is not particularly beautiful and the characters are not really endearing (including Rikako who is particularly irritating) not to mention the story is a bit far-fetched. I only watched it because the story takes place in the town of Kōchi in Shikoku and I wanted to compare it with my travel memories. But if not, I wouldn't recommend it.
LOVE IS BLIND JAPAN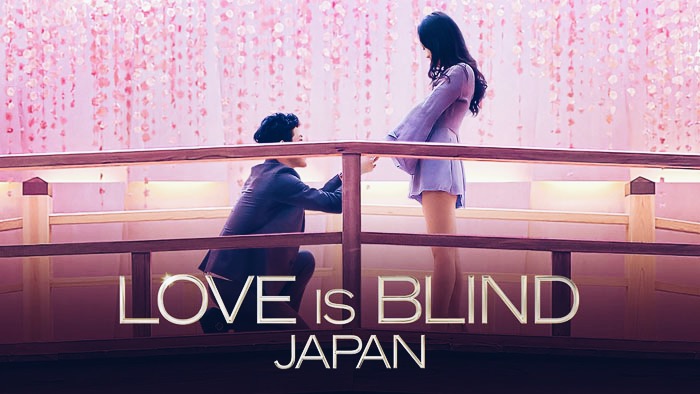 I haven't seen the "Love is blind" shows from other countries because the "reality TV" concept of this kind of show doesn't really interest me anymore. I was tempted by the Japanese version because, as in Terrace House, I like to observe the differences in behaviour in Japan compared to our Latin culture.
Quite slow to start (during the first phase in which they cannot see each other) but then I got caught up in the romances (which will seem quite timid via our western eyes) and was touched by one couple in particular, ultra cute (can you guess which one?).
Les Séries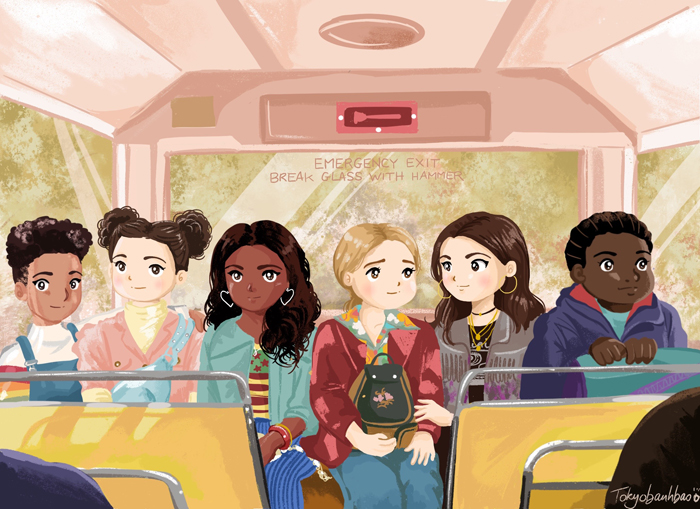 The bus scene in Sex Education <3

I didn't start everything that is on my Netflix list, because I find a series does require some attention and committment to finish, but here is what I've watched so far :
SEX EDUCATION
Huge favorite even though at the beginning I thought that with a title like that it would be a bit stupid, with American Pie level humour. Of course, sex is at the heart of the series, but it's talked about in a smart way, openly and with a sincerity and sensibility in the characters that makes you love it and be impatient about season 3 coming out. The story takes place in a small english town, so extra points for the british touch!
STRANGER THINGS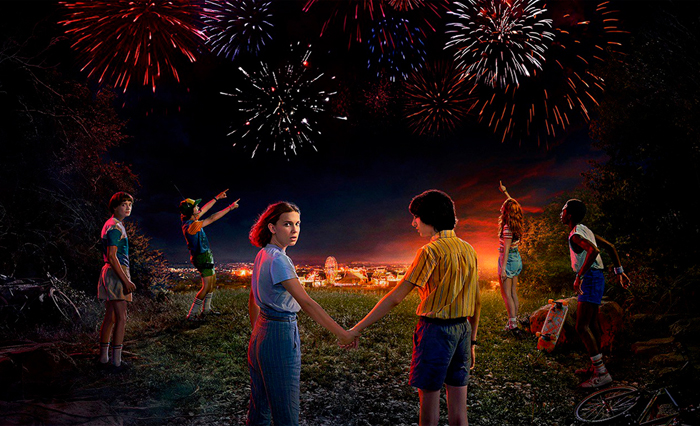 I had heard so much about this series, it may have been one of the main reasons I subscribed! And I wasn't disappointed … (except maybe for season 2, that I found less interesting) ; the young actors are absolutely brilliant, Winona Ryder is awesome, and the 80s atmosphere is perfect for those of us who might be a bit nostalgic. I am a bit curious about what season 4 will bring, I'm afraid they may not be able to reinvent themselves.
HOLLYWOOD
Mini-series of 7 episodes, that you can easily watch over a weekend. Realized by Ryan Murphy (who is also behind Glee : that I haven't watched yet = I'm telling you, I'm behind on a lot of series, but I'm working hard on catching up!), it takes place in the 40s in the USA and the scenario paints the hollywood movie world in a more or less glamorous way, that could probably be compared to our actual world. An interesting and pleasant watch that brings up a lot of questions on homophobia, accepting one another, bullying and the power given to women.
FARGO
I bought the DVD set last year because Ewan Mc Gregor is in the 3rd season (fan attitude!). I had seen seasons 1 and 2 (and liked season 1 better, with a Martin Freeman that I found absolutely disconcerting!) and I'm currently watching season 3 with a double dose of Ewan, who is brilliant (I may not be totally objective). Each season can be watched independently because the intrigue is different, but it is often a question of murders and police affairs in the heart of Minnesota.
ELITE
The 3 seasons of this series kept me on the edge of my seat during the summer: Murder, suspense and high school romances sprinkled with eroticism. It seems that a new season is being prepared but in my opinion, it might be too much. The plot is gripping without requiring too much thought/concentration.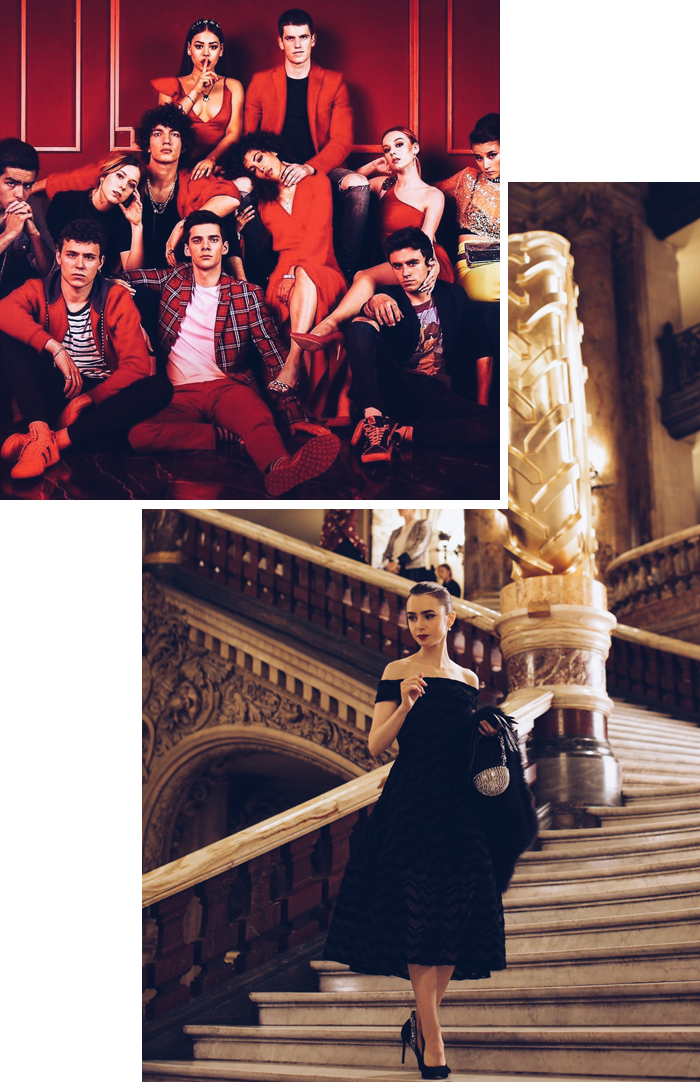 Elite crew and Lily Collins in Emily in Paris
EMILY IN PARIS
A series that can be watched in a weekend with a fantasized Paris that is as pretty as a postcard. The clichés are numerous (but often true!), the scenes are not particularly realistic but despite everything, it's not silly but rather funny.
It allows you to clear your head in front of characters sometimes beautiful, sparkling, charming or shamefully obnoxious, as in any light series of this kind. The team of actors seems to have had a good time and it can be felt, whether it is Lily Collins, Lucas Bravo, Ashley Park or Philippine Leroy Beaulieu…
LIVING WITH YOURSELF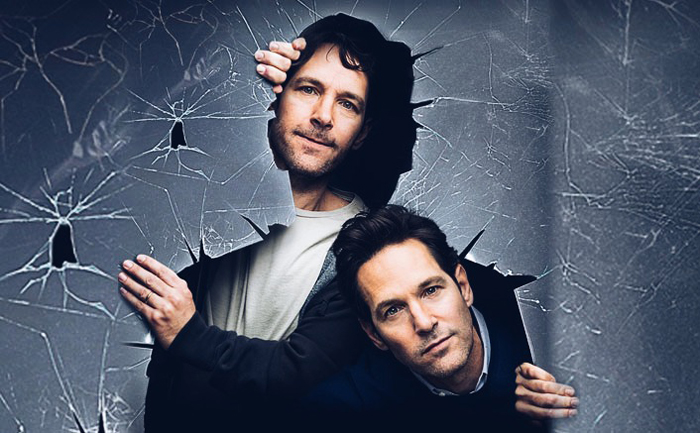 A mini series that can also be watched in a weekend. Paul Rudd hits the nail in this double role of himself facing himself. The performance is quite bluffing and the scenario based on a declining couple relationship and clones is rather catchy.
BRIDGERTON
This light-hearted series that everyone was talking about, required that I take a look at it. Being a fan of romances, I didn't manage to be seduced by this one. I didn't care for the main couple (even if the heat was meant to be torrid between them, their seduction game seemed rather poor and Daphne's blandness/naivety annoyed me) nor for the script and the often too syrupy direction.
HALSTON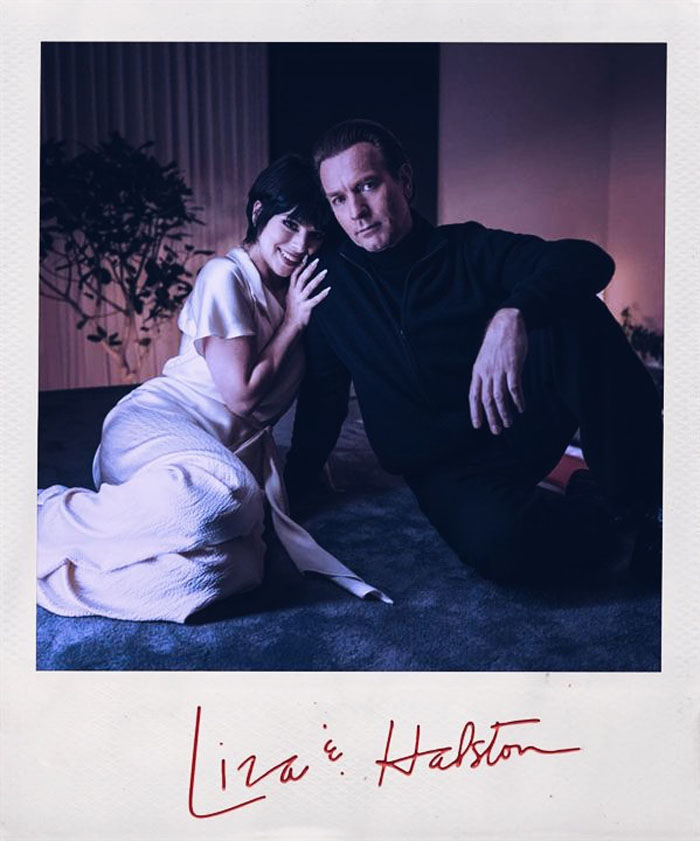 Another series for the benefit of Ewan, who plays the role of this American fashion designer from the 70s and 80s, Roy Halston Frowick. The story is told in a rather smooth and predictable way (despite the desire to shock via some provocative scenes). It is worth seeing for the sets, the period costumes and the admirable performance of Ewan McGregor, who single-handedly carries the series..
THE HOOK UP PLAN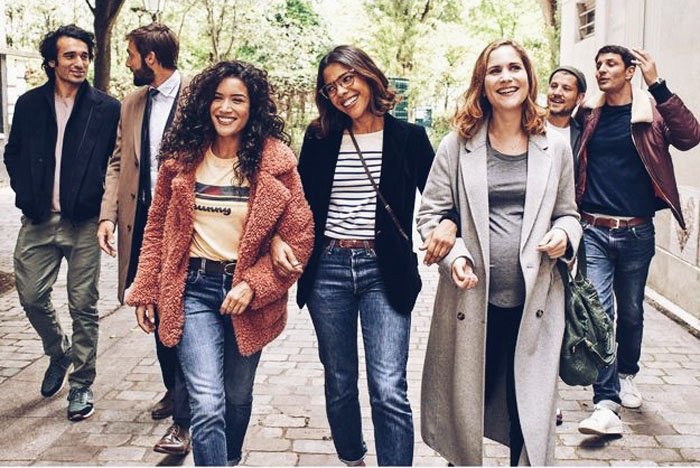 A French series for once! I laughed a lot during season 1 and enjoyed the tone, the original plots and the romance. Season 2 was more flawed but still enjoyable to follow. I found that it got worse in season 3: forced delusions that weren't very funny, characters that evolved strangely…
Fortunately, the last episode of this final season was quite original and paid tribute to the complicity and love between the characters. 1 or 2 seasons might have been enough in my opinion.
DAWSON'S CREEK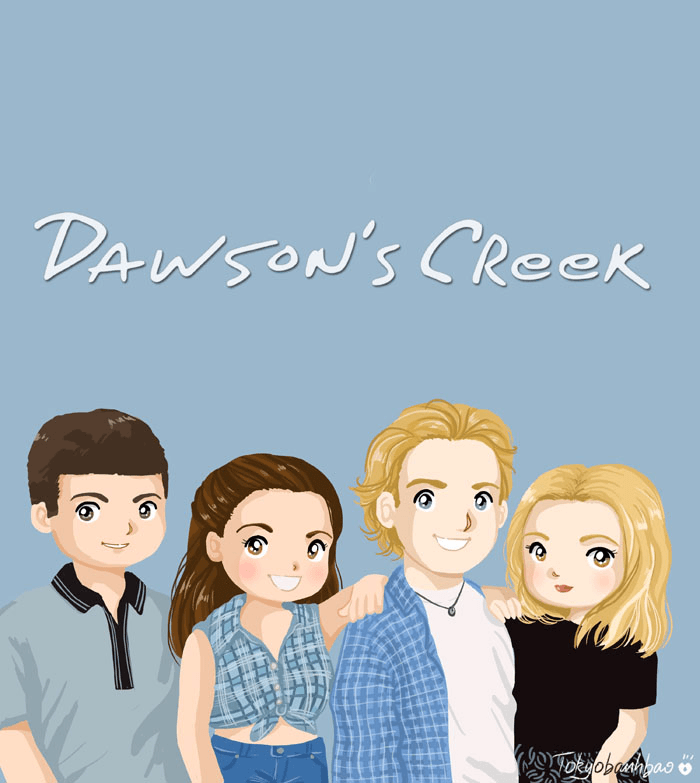 You have to go on my Instagram account to relive our #TKBBDAWSONCLUB marathon that lasted us a good part of 2021 together! This entire rewatching of the 6 seasons of the series (in VO) confirmed to me that this series from the 90s-2000s is still a great festival of emotions, sensitivity and intelligence with avant-garde subjects for the time (yes, I insist). Team Pacey and Team Jen always for me!
SQUID GAME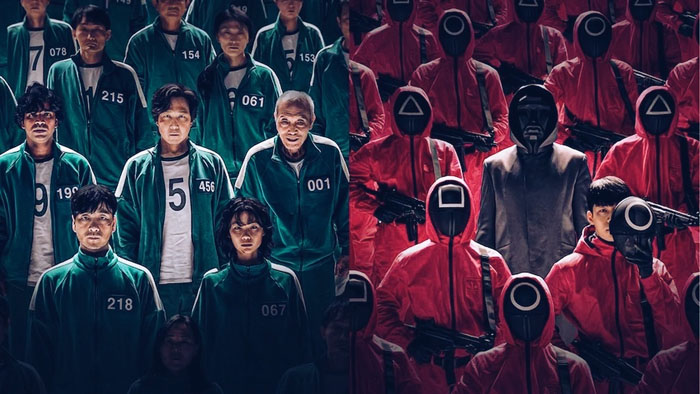 Few people have missed this Korean phenomenon : Squid Game. I understand the craze for this series, which is certainly violent, but with a thought-provoking message and a set up that is both aesthetic and disturbing. The success is justified (but I'm not sure a second season would be useful).
Movies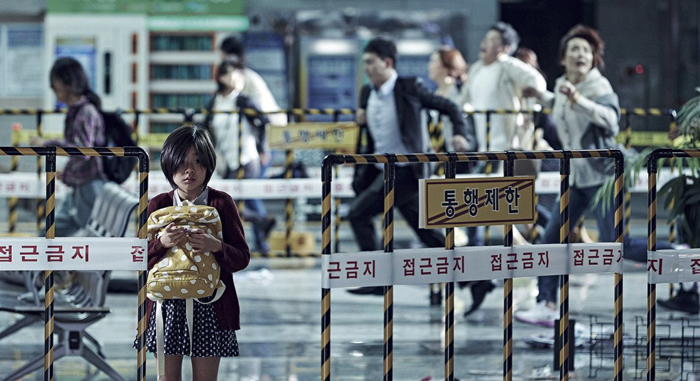 Train to Busan
I really have a lot to catch up on movie-wise but here is what I watched lately.
GET OUT
I hadn't managed to see it when it got out in the theaters, and I'm happy I could see it here : I loved the plot and was totally taken by the stressful/uncomfortable atmosphere of this white american family that meets their black son-in-law for the first time. The message is even more clear with this chilling scenario.
TRAIN TO BUSAN
Korean movie about (once more) a zombie invasion : the scenario could be transposed to what we are currently living with the covid-19 pandemic … Apart from the stressful side of the story, it's interesting to analyse the different behaviors of the characters, and watch some moving scenes. This movie really stuck with me.
INTERSTELLAR
I finally watched that Christopher Nolan movie that I missed when it came out. As usual, I'm quite sensitive to his convoluted scripts and so I really enjoyed this somewhat peculiar odyssey into space.
ENOLA HOLMES
A film devoted to Sherlock Holmes' sister, played by Millie Bobby Brown (discovered in Stranger Things). The plot is a little light and the tone rather adolescent but Millie's energy and mischief burst onto the screen. Henry Cavill and Sam Claflin are more in the background. A film not exceptional but rather entertaining.
THE FUNDAMENTALS OF CARING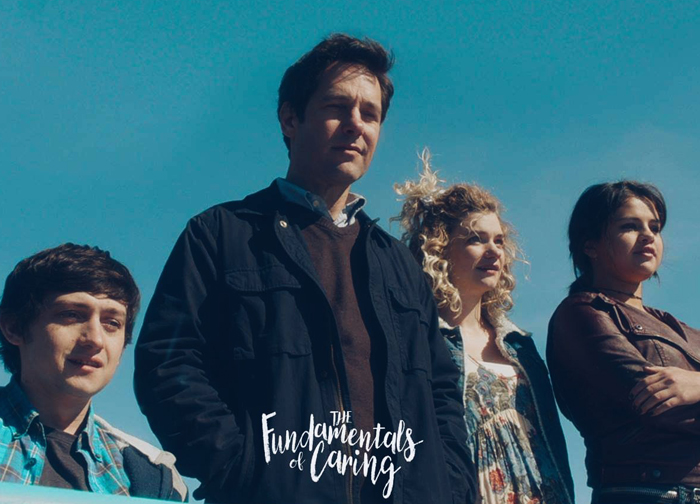 Film discovered during my Paul Rudd marathon (I decided to watch as many films as possible with him in it) and it was a good surprise: a kind of American version of the French movie "Intouchables" with the charm of Paul in addition! Good feelings (sometimes a bit too moralizing), a bit of impertinence and a rebellious Selena Gomez. Feel good, uplifting and comforting.
REBECCA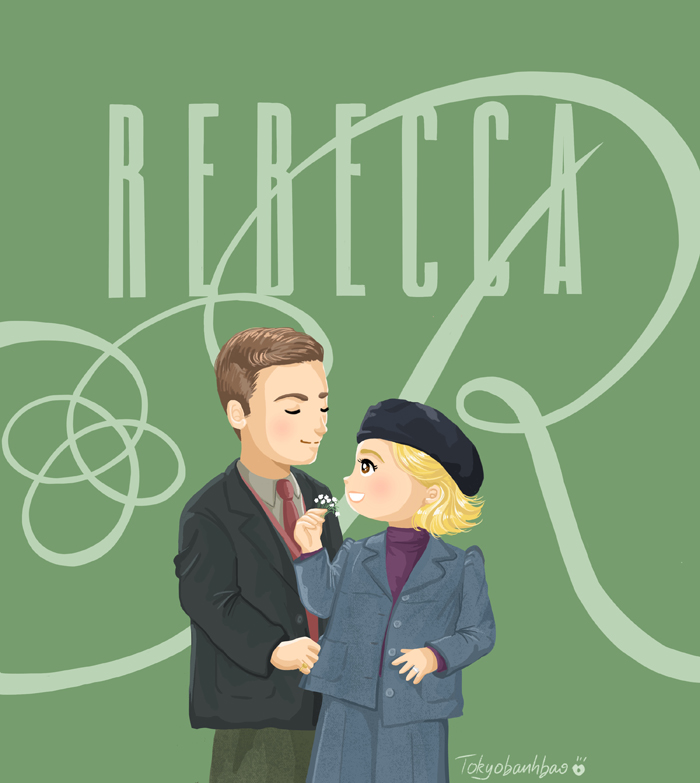 A new adaptation of the 1938 detective novel by Daphné du Maurier. A must see for the beautiful images of Monte Carlo, some scary (but useless) scenes and the looks of the main characters but I didn't believe in this romance between Lily James and Armie Hammer nor in the outcome of the plot, too quickly dispatched.
Alfred Hitchcock's 1940 version, even if old school and not very modern, seems to me more subtle to appreciate the script.
OVER THE MOON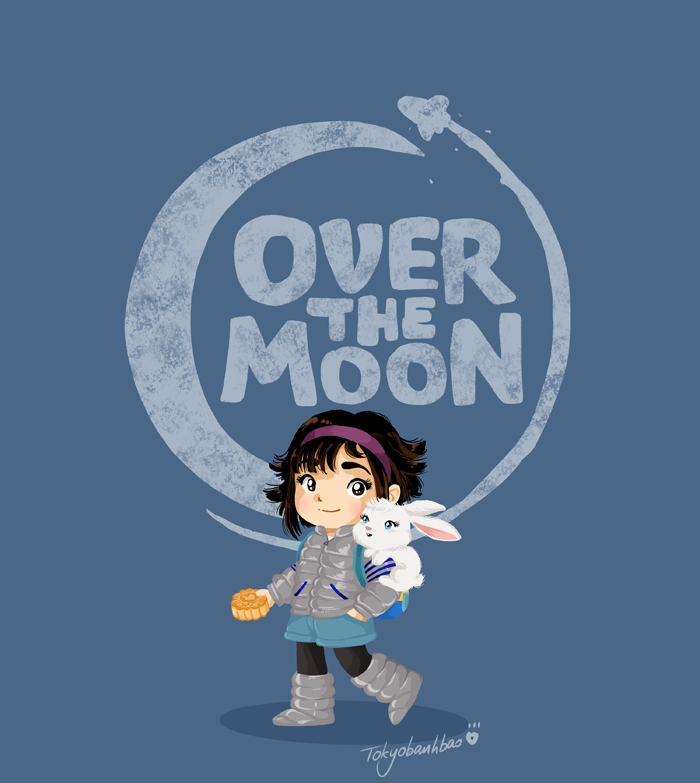 A Chinese-American animated film directed by Glen Keane, a Disney alumnus. We strongly feel the Disney touch with the singing scenario, the graphics and the rather cute secondary characters. The first part and the end are visually aesthetic/poetic with an immersion in this reconstructed Chinese family.
The rest takes place in a shrill imaginary world, without any real scenaristic interest but which will perhaps please the youngest. The overall message is rather positive and touching but the whole was uneven enough to keep me tight on my seat from beginning to end.
THE MAN FROM U.N.C.L.E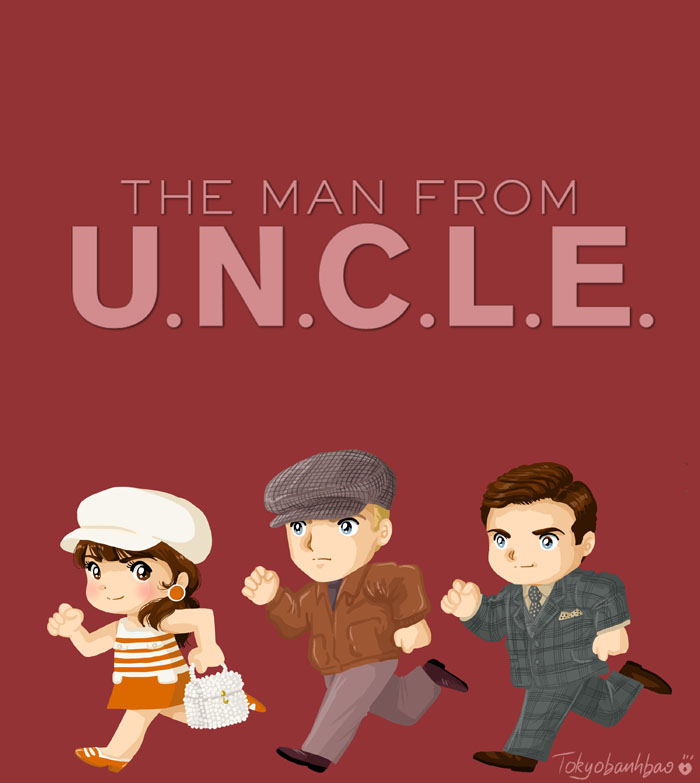 A secret agent movie as we like them with a retro 60s atmosphere: Humor, action and chemistry between the actors (it works well between Alicia Vikander and Armie Hammer… even if since the chilling revelations about him, my enthusiasm has gone down for the latter). Henry Cavill is also part of it, which doesn't spoil anything. We were hoping for a second movie but it seems to be compromised.
A GHOST STORY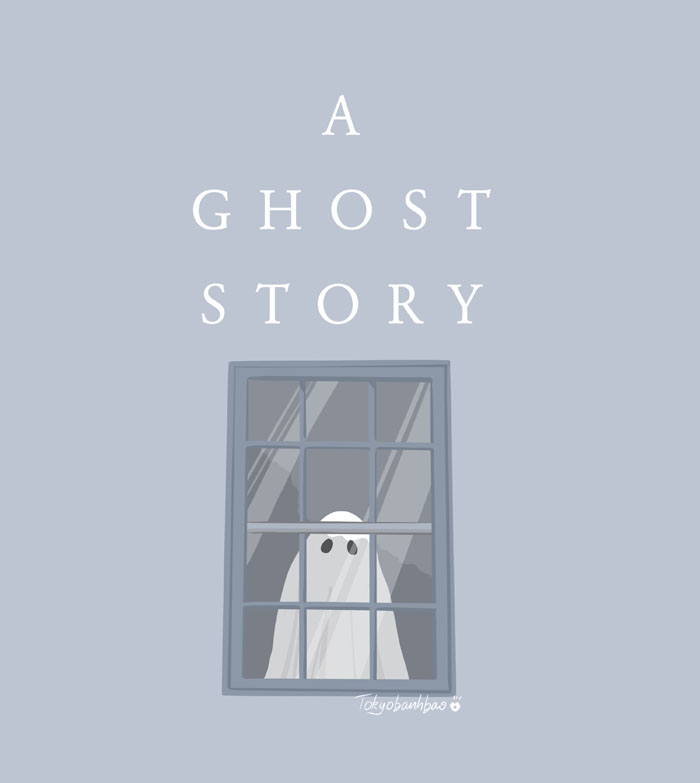 A heavy, slow, contemplative film about grief with an original point of view (from the dead person's side). I strangely felt little emotion, perhaps because of the slow-motion direction, favouring aesthetics over simplicity.
37 SECONDS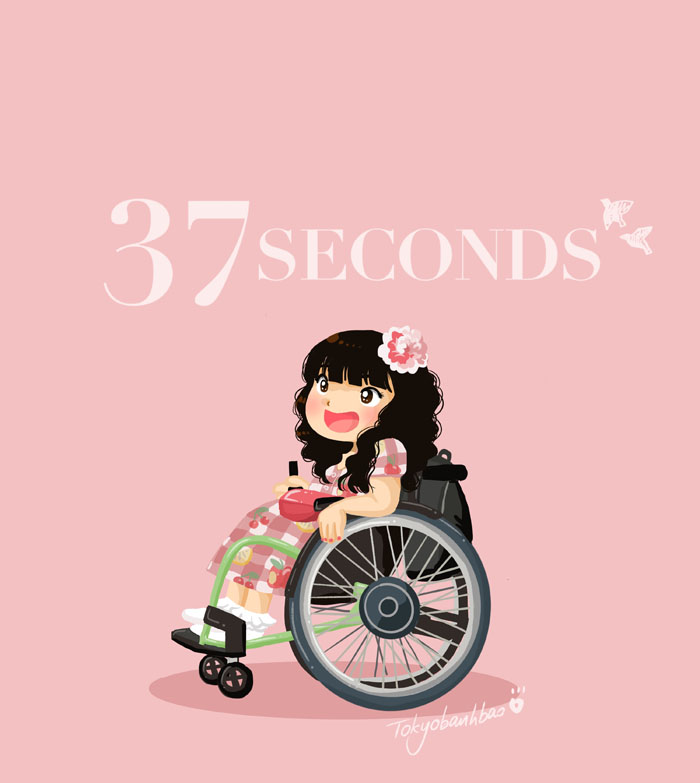 The emancipation of Yuma, a young disabled Japanese mangaka, overprotected by her mother, is told in this film. A few details prevented me from fully feeling the emotions, but it nevertheless allows us to reflect on difference and disability and to escape visually to Japan and Thailand.
PIERROT LE FOU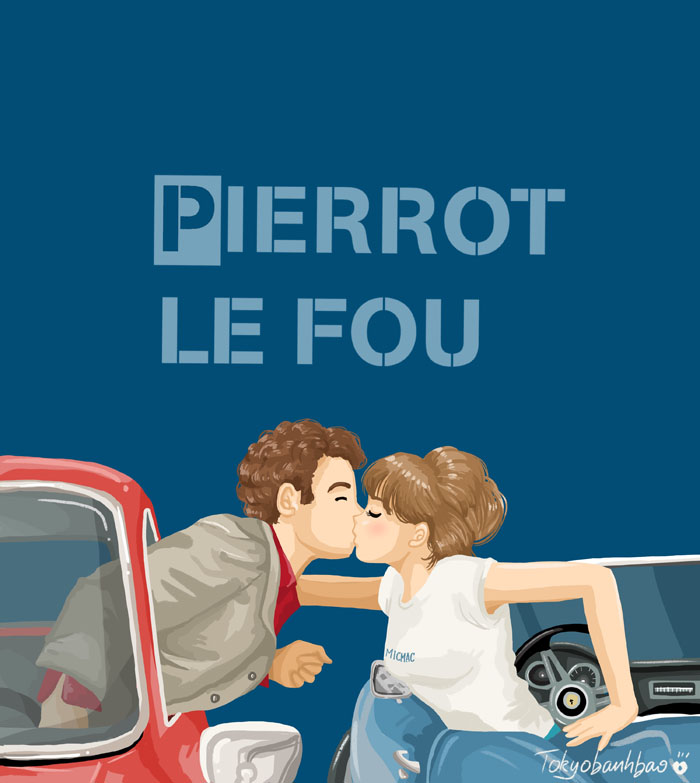 I wanted to discover a 2nd Godard (I had rather liked "À bout de souffle") by watching this cult film of French cinema featuring icons such as Jean-Paul Belmondo and Anna Karina, but here, I remained insensitive to the strange acting, halfway between a theatrical performance and an experimental art exhibition.
THE PRESTIGE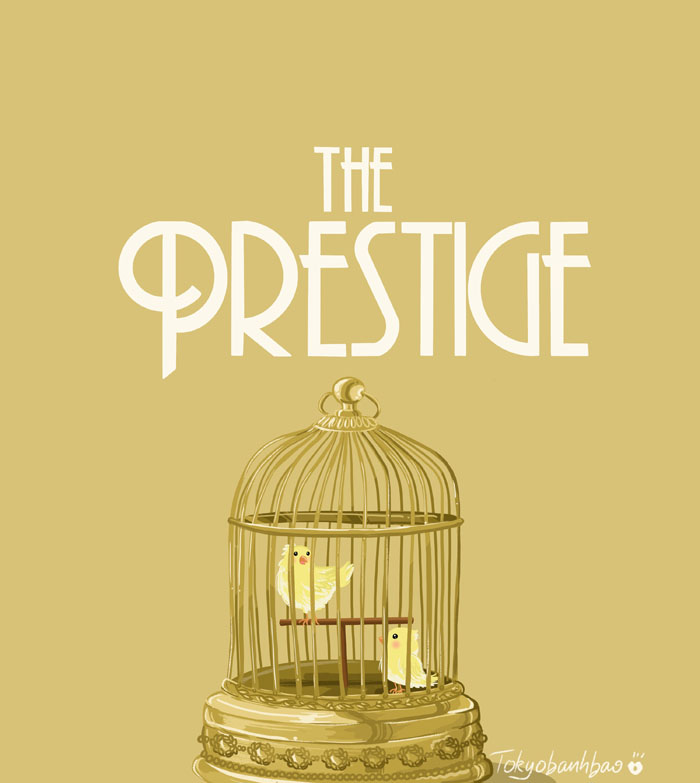 This film by Christopher Nolan, who remains faithful to his convoluted scenarios, is a very good moment. Here, the world of magic is explored in the company of well-known actors (Christian Bale, Hugh Jackman, Scarlett Johansson), with twists and turns to match.
ZOE
I only watched it for the presence of Ewan Mc Gregor, I confess. The theme of cyber-love was interesting to exploit but one comes out a bit dubious in front of this story which drags on without being fully accomplished. It's flat and without any real scenaristic or visual interest (except for Ewan of course!).
THE DIG
A country setting against the backdrop of World War II, highlighting the discovery of the archaeological site of Suton Hoo by Basil Brown (Ralph Fiennes), commissioned by an English widow (Carey Mulligan). The pace is rather slow but the atmosphere as well as Carey's wardrobe may be worth a look.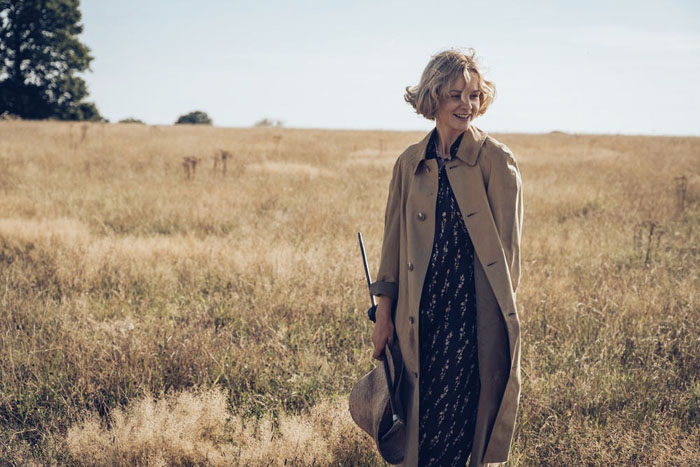 Credit photo : Larry Horricks
PENGUIN BLOOM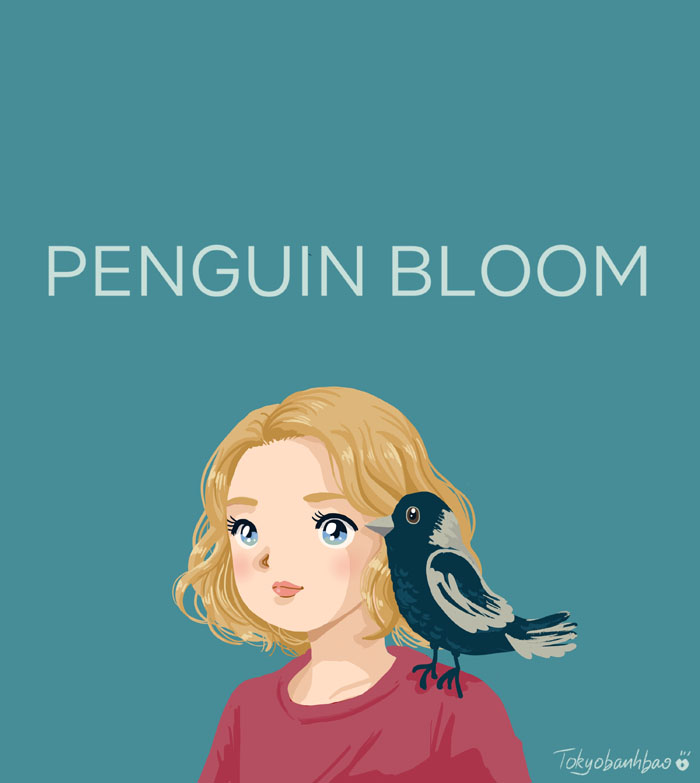 Naomi Watts delivers a fair and sensitive performance as a woman who has been injured in an accident, paralysed in her lower limbs, and who rediscovers happiness thanks to an abandoned magpie. A film full of love and heart lifting.
I CARE A LOT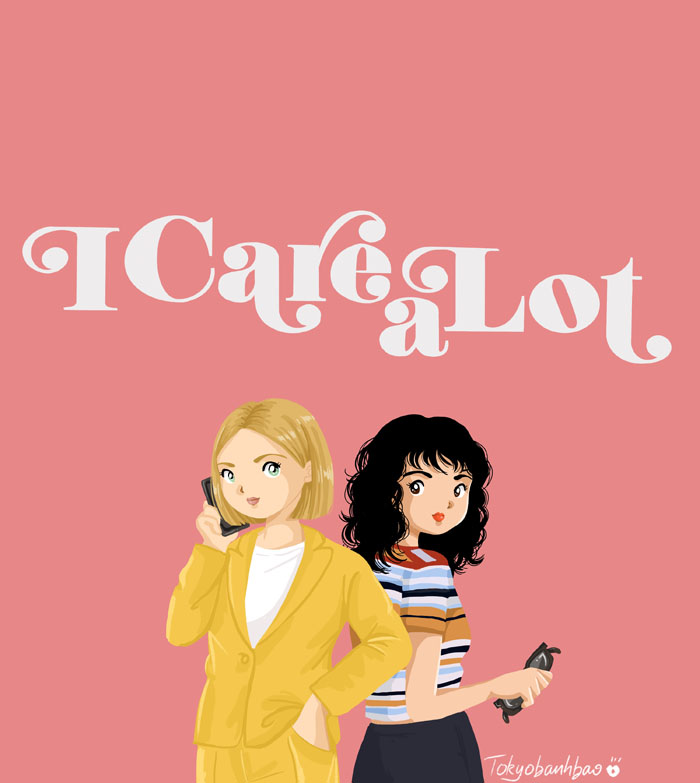 An immoral yet jubilant storyline about an old people's scamming ring. I thought a lot about Gone Girl (which I loved). So I was used to the coldness embodied by Rosamund Pike but would have liked the characters' personalities to be more in-depth to enjoy it even more.
I WANT TO EAT YOUR PANCREAS
Don't let the title fool you: it's not. This Japanese animated film deals with the last moments of life of Sakura, a young girl suffering from an incurable disease, shared with Haruki, an introverted teenager. Sensitivity, poetry and emotion are the order of the day.
DON'T LOOK UP
This film was much talked about at the end of the year because of the urgent ecological message it wanted to convey. Even though the idea of the end of the world is approached in a satirical way and the performance of the actors (Leonardo Di Caprio, Jennifer Lawrence) is honourable, I was left wanting. The approach was a little too superficial for my taste for the denunciation to be effective.
ROM COMS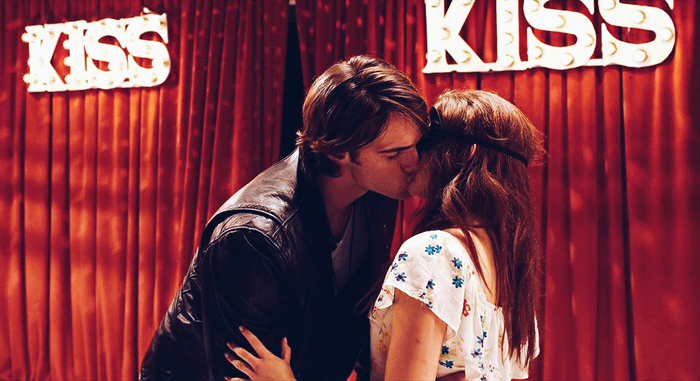 I really like this genre : I'm pretty romantic, but even if I am a great audience for the "Christmas TV movie" type, I still have a threshold to what I can tolerate in terms of silly and inane!
TO ALL THE BOYS 1 & 2
Following all the good reviews I read about these 2 teen movies, I watched both, but was very much disappointed! Even if the visual approach is rather dynamic, neither the Lara Jean and Peter couple nor the epistolary intrigue resonated with me. I found the characters rather dull and uncharismatic, and even if I am aware that this genre isn't really about realism, everything seemed fake and overdone. Anyway, I just don't get it.
THE KISSING BOOTH
On the contrary, this was a great surprise! This is what I call a good romcom! Even if the characters are teens and that I found the story to be unbelievable on a number of issues (Noah's violence or Lee's possessiveness are quite disturbing), I was taken by this refreshing and funny californian story, that I thoroughly enjoyed!
There's rythm, and a certain playfulness brought by the main character Elle, a sweet complicity with her best friend Lee and a physical chemistry with Noah (the actors Joey King and Jacob Elordi were an item in real life, proof that it really works, hehe!). The end was unexpected, and had a nice message. A Kissing Booth 2 is apparently in the works : not sure it will be as good as the 1st, but I'm still eager to watch it! Butterflies in the stomach guaranteed here.
LOVE WEDDING REPEAT
Another disappointment. I don't often really advise against a movie, but nothing works in this remake of the french movie "Plan de Table" (that I didn't see, but it seems it is much better than this one). I was expecting more of Sam Claflin (who played in Love, Rosie with Lily Collins, or was known for his more charismatic role as Finnick in Hunger Games) but I found it boring and really fought to make it to the end of this wedding day. There must be people who love this movie, but which planet do they come from?
ISN'T IT ROMANTIC
A romantic comedy that parodies romantic comedies: I found it fresh and funny (with the presence of Rebel Wilson and Liam Hemsworth)
THE KISSING BOOTH 2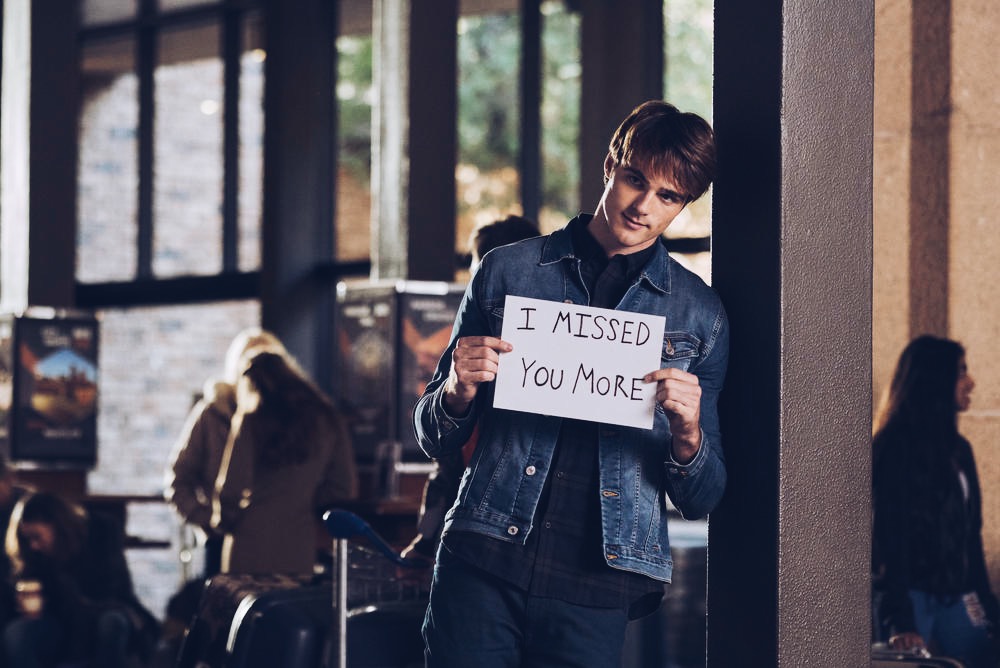 This 2nd opus seduced me less than the 1st one. The alchemy between Elle and Noah wasn't really present anymore and I didn't particularly vibrate for the new rival, Marco. It is still pleasant to watch thanks to the energy of the actors but a small disappointment in terms of romance.
HOW DO YOU KNOW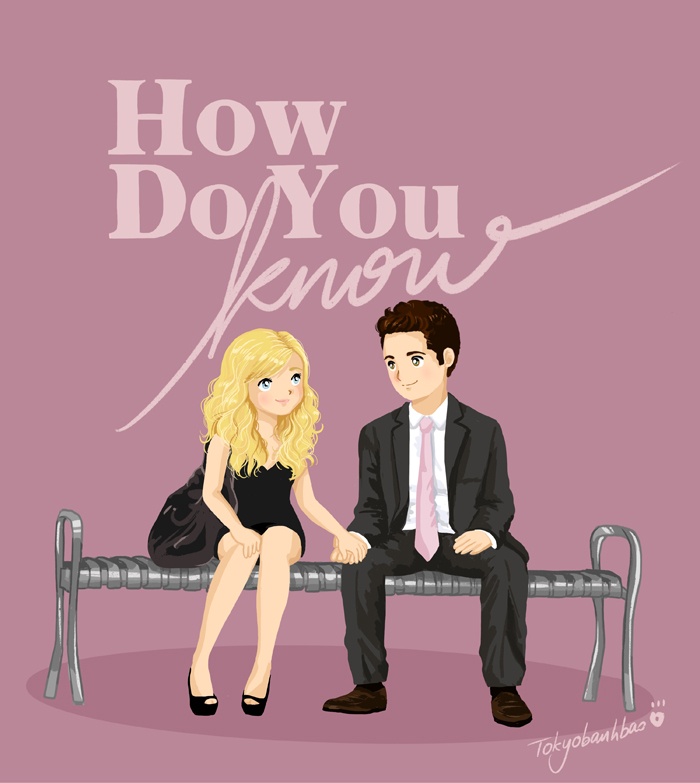 A romantic comedy that I would describe as "next door comedy". The characters and the script are not particularly dreamy, the film is rather long but I was sensitive to the exchanges between the protagonists (Paul Rudd and Reese Witherspoon particularly nice) and in the overall message of the film.
The film was a commercial failure when it was released but perhaps you will be one of the few people like me who were sensitive to it and appreciated the subtlety of this film, which others would describe as boring ?
CLUELESS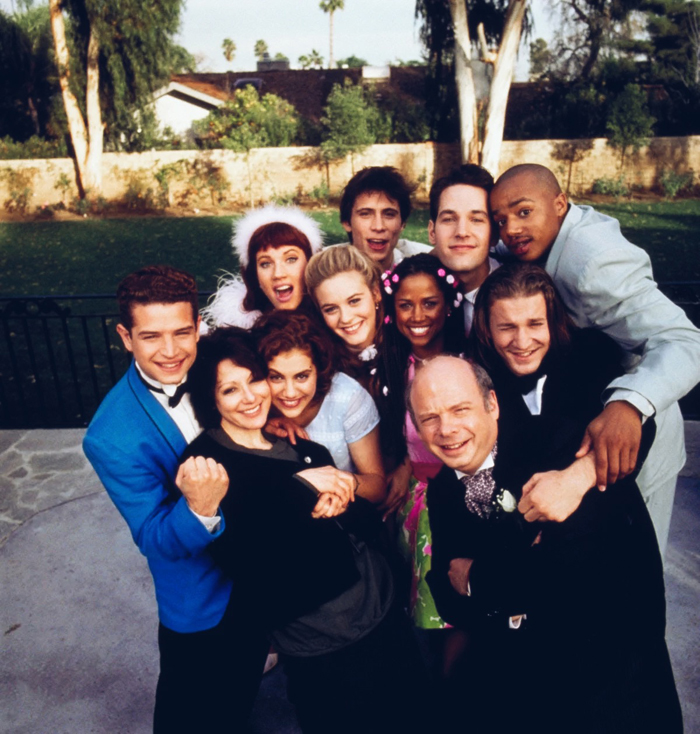 A beauties from the nineties that looks a bit out of date but still…! It's nice to see Paul Rudd and Alicia Silverstone back in their early days. The teen movie par excellence which already reveals the disarming charm of our dear Paul (whose main weapons are definitely his look and his facial expressions).
KNOCKED UP
Film seen to honor my Paul Rudd marathon. He plays a secondary role but would be the only character to be saved from this not really funny comedy with irritating characters (I think of Debbie) or without any real thickness.
People expecting a child, having experienced a pregnancy or being fans of Paul Rudd may perhaps find it interesting but you have to force yourself a little anyway.
THIS IS 40
The sequel to the previous film, this time featuring the couple Pete (Paul Rudd) and Debbie (Leslie Mann). The midlife crisis is approached without any real subtlety or humor in this comedy that drags on and is often too much.
THE KISSING BOOTH 3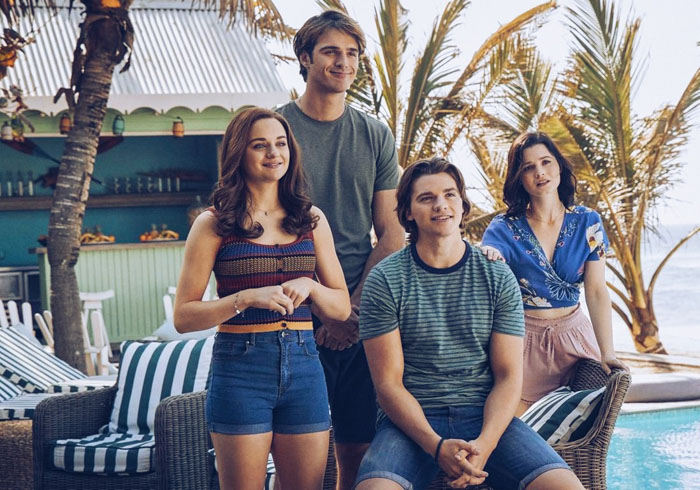 Obviously, the quality deteriorates from 1 to 3. I was totally thrilled with the first episode and disappointed with the second, but I didn't like the third one at all. Too much fun, no chemistry and a far-fetched scenario, the entertainment isn't even there.
SHOWS AND DOCUMENTARIE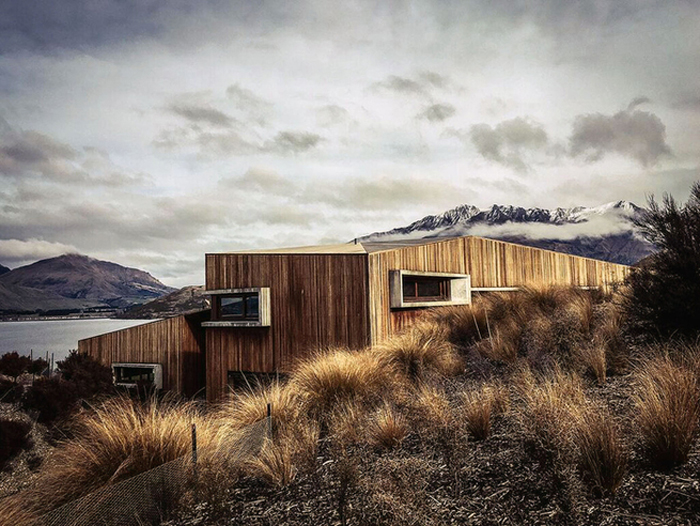 The world's most extraordinary homes
Netflix shows and documentaries are generally of a great aesthetic, which I really appreciate.
SALT FAT ACID HEAT

We follow Samrin Nosrat (Chef and culinary author) that details the 4 aspects of taste in food in exploring different parts of the world (amongst which Japan!) : you can feel her passion overflowing when she talks about food or when she is cooking : it's inspiring and appetizing!
THE WORLD'S MOST EXTRAORDINARY HOMES
Here we explore the world's most beautiful homes with actress Caroline Quentin and architect Piers Taylor. Their british duo works perfectly during the visit of these clearly extraordinary homes, in osmosis with nature and the environning constraints. The decoration is often to my taste and it's all very dreamy.
TINY HOUSE NATION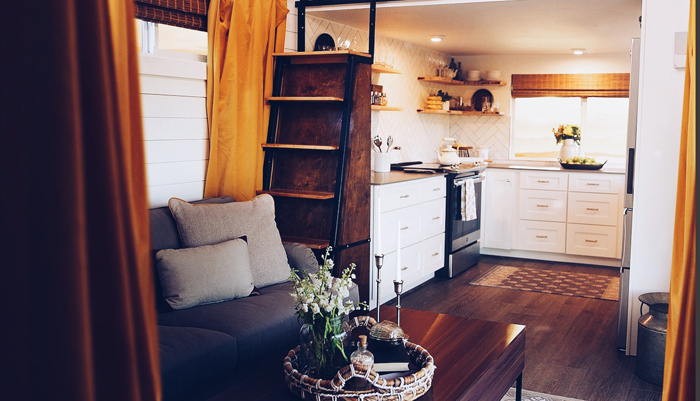 Tiny mobile homes are very in at the moment, and they, along with minimalism are the theme of this series. I am a great fan of the cabin/lodge state of mind, and I love it! All the realisations are not to my taste, but they do put things in perspective in terms of how much we actually need to be happy (ah yes! maybe one of those things are a good architect and good workers!!)
MISS AMERICANA
I'm not a huge Taylor Swift fan (I do like her songs though) and I wanted to know more about her personnality, that I find a bit too smooth and victimizing. The documentary does show her in a very favorable light, but it allows (even if it does feel very controlled) to see what is going on behind the scenes for this american popstar.
My opinion of Taylor Swift didn't change much after having seen this show : still a bit victimizing (sometimes rightly so), very control freak, but what you can't put in doubt is her work ethic and her qualities as a musician. The true fans will appreciate. (English translation by Marine)
MINIMALISM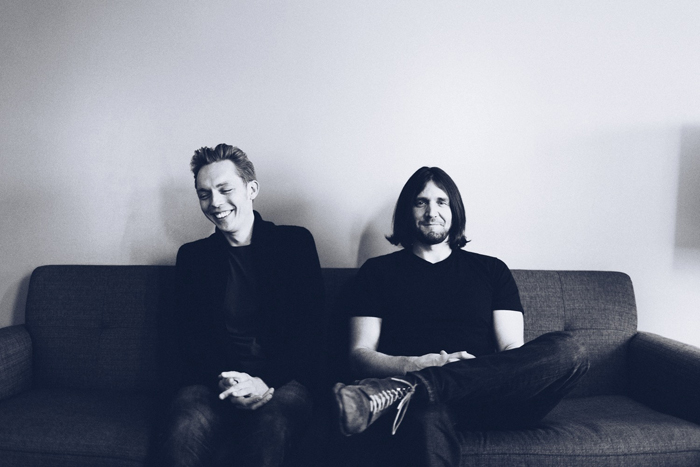 This documentary is the testimony of Josh and Ryan, the 2 creators of the podcast of the same name The Minimalists, who travel all over America to share their experience of "Living better with less".
It's quite interesting to listen to Josh the former workaholic, drowned in his work, whose house was overflowing with objects. His radical decision to free himself from all material things to live more qualitatively is quite inspiring and can open the way to personal reflection for his own consumption and life goals.
DOWN TO EARTH
An ecological documentary in which we follow Zac Efron and his friend Darin Olien to the 4 corners of the world (so we agree: carbon footprint is not ok :-)) to discover the alternatives of sustainable ecology and good initiatives in favor of the environment.
A lot of candor from Zac and some good ideas to grasp on the fly. We don't push the analysis in depth, but it can be a first approach in ecological awareness.
GET ORGANIZED WITH THE HOME EDIT
A series of programs on storage not really in the same vein as Marie Kondo: Here, we're not talking about sorting, but about reorganizing cupboards based on plastic bins and filing according to the colors of the rainbow.
I didn't really adhere to the concept: the specialists Cléa and Joanna are too agitated, stressed (or pretend to be to put on a show) and the result is neat, but you don't come out of it with any real practical tricks. Only the episode with the actress Reese Witherspoon interested me since we discover her wardrobe of films and ceremonies: collector!
L'AGENCE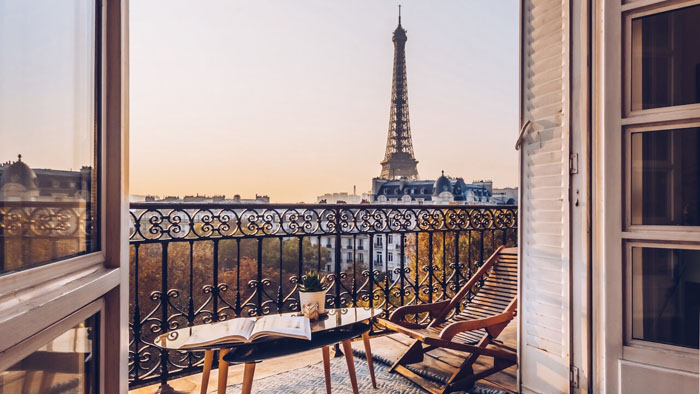 A French reality show following the lives of the Kretz family, who specialise in luxury real estate. The properties shown are sublime. The acquisitions are unattainable for the average person, but the decor is inspiring and the suspense is cleverly maintained through small daily dramas within the family. It is easy to watch.
THE TINDER SWINDLER
The amazing true story of a fake millionaire who managed to extract huge sums of money from women looking for true love, dazzled by a luxurious lifestyle and glitter. It is said that this scammer has his own version of events which he will soon reveal. In any case, this case reveals the problem of self-esteem and the importance of creating an illusory life for oneself, whether on the side of the swindler or the swindled…
DREAM HOME MAKEOVER
A decorating show that didn't really convince me. Even if the interiors are clean and uncluttered, I wasn't touched by the rather controlled aesthetic or by the "model American family" side of the Mc Gees, specialists in home makeovers.
ANGÈLE
A documentary about the rapid rise to success of the Belgian singer Angèle. Everything is told in a touching, fresh and sincere way. Special mention to Angèle's grandmother, with whom we would love to share a teatime. (English translation by Quiterie)
Credits photos : Netflix
Crédits illustrations : Tokyobanhbao