For years I resisted the call of Netflix, I was too afraid to be caught in the spiral of binge watching and of letting my social life dwindle (SPOILER ALERT : Netflix isn't responsible for my non-existing social life these past 2 months) but since end of december, with the cosy Christmas atmosphere, I decided to give it a go and subscribed.
And I don't regret it! (especially during the lockdown period!) Especially since it didn't really infringe on my other activites (I watch it during the evenings or a bit on the week-end, instead of the boring/anxiety-inducing programs of the traditional telly). I am almost up to date on my "series" culture (although I still have a lot of things to watch … cult series included, but I'm not losing hope!) but above all, I found tailored programs for my culinary and getaway tastes.
So here is my list of what I have watched up to now (I might enrich it as time goes by) (=do not hesitate to share your recommendations in the comments!) Maybe you'll be inspired if you are looking for new things to watch …. or know what to avoid! (that being said, I'm a "make-your-own-opinion" type of person… you never know, we don't all like the same things!)
Japan and Asia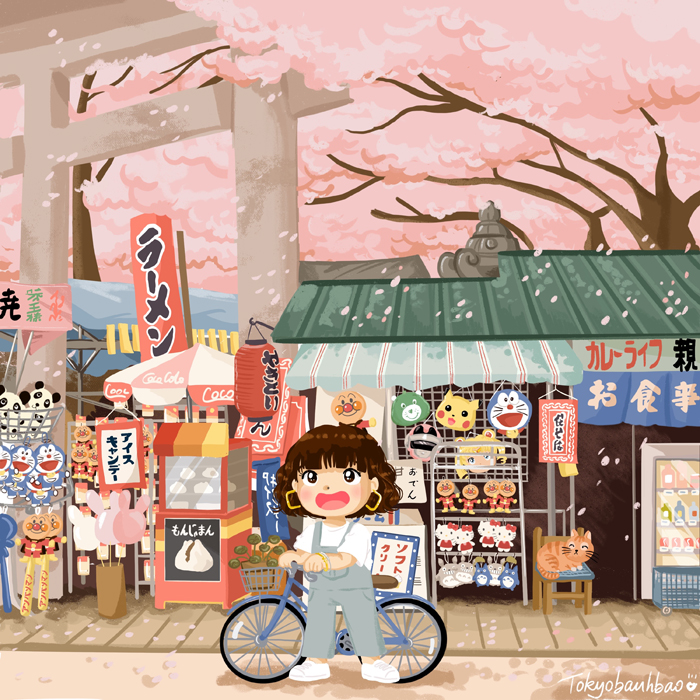 I listed everything I watched that has something to do with Asia, with a strong Japan prevalence, you know me!
QUEER EYE : WE'RE IN JAPAN!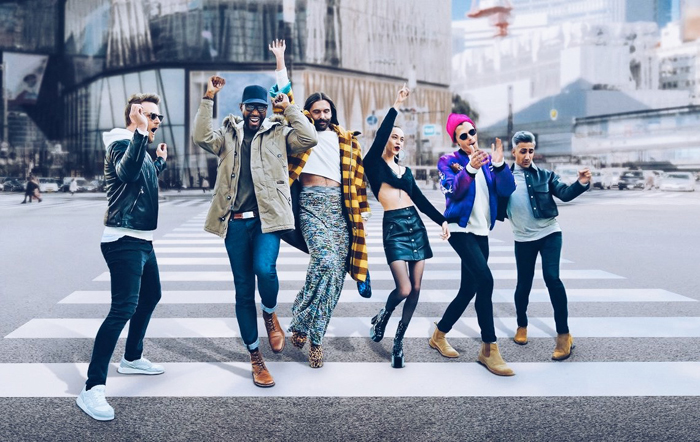 1st series I saw on Japan : I just loved the kindness, empathy, tolerance and warmth of this Queer Team that helps japanese people take back their life, be it in terms of looks, self-esteem or decoration. Some tears might be shed and emotions had in in the Land of the Rising Sun.
TERRACE HOUSE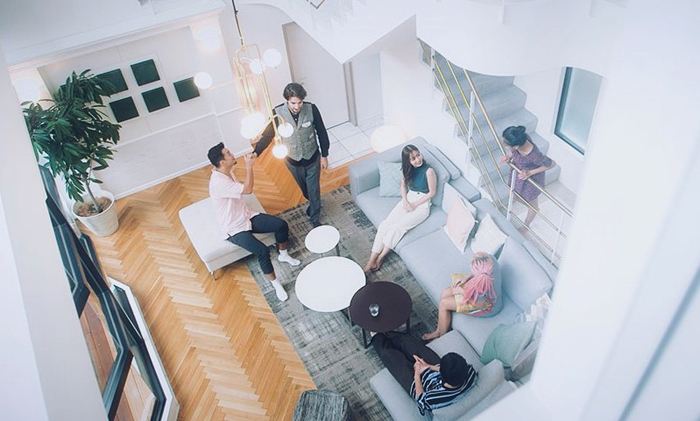 Terrace House "Tokyo 2019-2020"
This japanese reality show was my (not so secret) indulgence for the beginning of 2020 and the beginning of the lockdown period. I discovered the seasons backwards, and started off with Tokyo 2019-2020 (which is still ongoing) and then followed with Opening new doors 2018, Boys and girls in the city 2015-2016 and finished with Hawaii Aloha State 2016-2017, the only available seasons on Netflix (I'm really rooting for the other seasons to be added to the catalogue).
My Instagram Stories and post are already stock full of debriefs, but to sum it up, if you are a fan of Japan, of japanese culture, and if you like analysing human behavior, following pretty romances (and drooling in front of all the japanese food), this is a show for you.
Terrace House "Opening New Doors 2018" with my favorite cute couple <3 (Credit photo : Sam Byford)
My favorite season is Opening New Doors (up to the end of part 3, the rest wasn't really interesting to me afterwards) for the super cute side of the couple in question and the cozy feel of the place (a chalet in the mountains). If I go back to Japan at some point, I'll be making a stop in Karuizawa for sure!
I also liked the end of the Tokyo 2019-2020 season, with the apparition of a very charismatic, talented and funny italian candidate : Peppe! The one I liked the least was Hawaii Aloha State because the japanese culture really took a backseat, but it was fun to watch anyway.
MIDNIGHT DINER : TOKYO STORIES
I watched the 1st episode and wasn't really convinced by the rythm and the story, even though theoretically, all the ingredients were there (japanese food, intimate restaurant …) and it's an adaptation of the "Midnight Diner" japanese manga (which is apparently very good). Maybe I should give it another go, but the mixed reviews aren't really helping in motivating me…
KINGDOM
I was pretty intrigued by the 1st episode, that took place in an old Korean kingdom, with a terrifying zombie invasion, but I watched the following episodes with a distracted eye, and followed the series more through the eyes of my S.O, who was much more assiduous than I and who didn't want to wait for me to watch the rest (=I had an illustration order to finish : I did sit through the episodes, but wasn't really focused).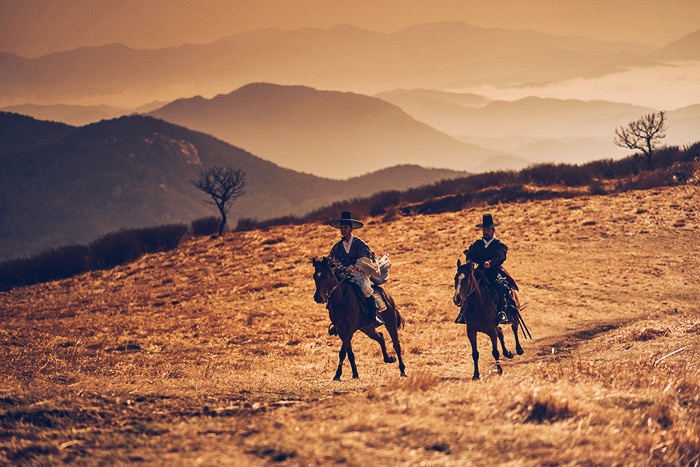 My S.O loved it, and I did very much enjoy the beautiful images (didn't quite follow the scenario though, haha). Anyway, sorry for this poor quality review! But I did have to mentione it because it is worth it if you give it your whole focus.
STREET FOOD ASIA
A documentary that gets your mouth watering, and that explores different street food specialties in Asia. From Bangkok to Seoul, passing through Osaka, strong and often very touching personalities share their stories with us around plates of staple street food.
The series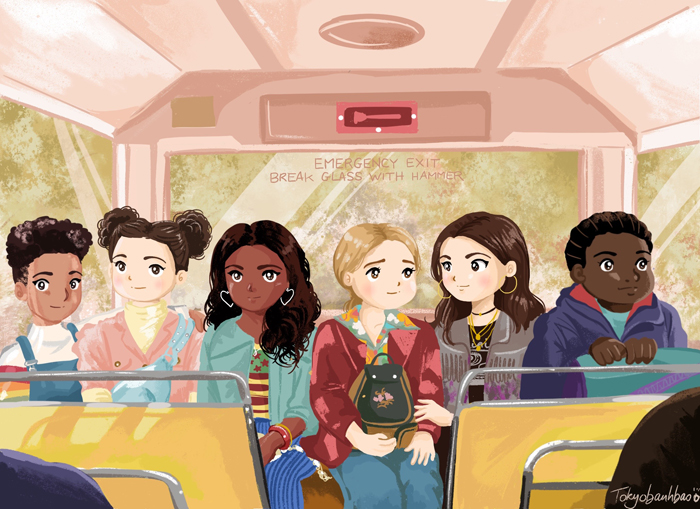 The Sex Education bus scene <3

I didn't start everything that is on my Netflix list, because I find a series does require some attention and committment to finish, but here is what I've watched so far :
SEX EDUCATION
Huge favorite even though at the beginning I thought that with a title like that it would be a bit stupid, with American Pie level humour. Of course, sex is at the heart of the series, but it's talked about in a smart way, openly and with a sincerity and sensibility in the characters that makes you love it and be impatient about season 3 coming out. The story takes place in a small english town, so extra points for the british touch!
STRANGER THINGS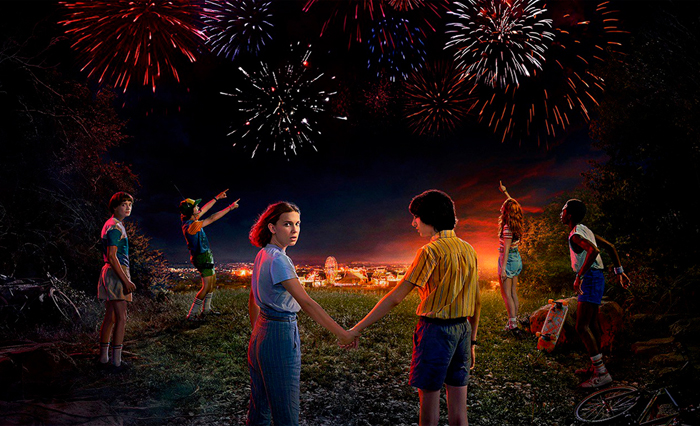 I had heard so much about this series, it may have been one of the main reasons I subscribed! And I wasn't disappointed … (except maybe for season 2, that I found less interesting) ; the young actors are absolutely brilliant, Winona Ryder is awesome, and the 80s atmosphere is perfect for those of us who might be a bit nostalgic. I am a bit curious about what season 4 will bring, I'm afraid they may not be able to reinvent themselves.
HOLLYWOOD
Mini-series of 7 episodes, that you can easily watch over a weekend. Realized by Ryan Murphy (who is also behind Glee : that I haven't watched yet = I'm telling you, I'm behind on a lot of series, but I'm working hard on catching up!), it takes place in the 40s in the USA and the scenario paints the hollywood movie world in a more or less glamorous way, that could probably be compared to our actual world. An interesting and pleasant watch that brings up a lot of questions on homophobia, accepting one another, bullying and the power given to women.
FARGO
I bought the DVD set last year because Ewan Mc Gregor is in the 3rd season (fan attitude!). I had seen seasons 1 and 2 (and liked season 1 better, with a Martin Freeman that I found absolutely disconcerting!) and I'm currently watching season 3 with a double dose of Ewan, who is brilliant (I may not be totally objective). Each season can be watched independently because the intrigue is different, but it is often a question of murders and police affairs in the heart of Minnesota.
The Movies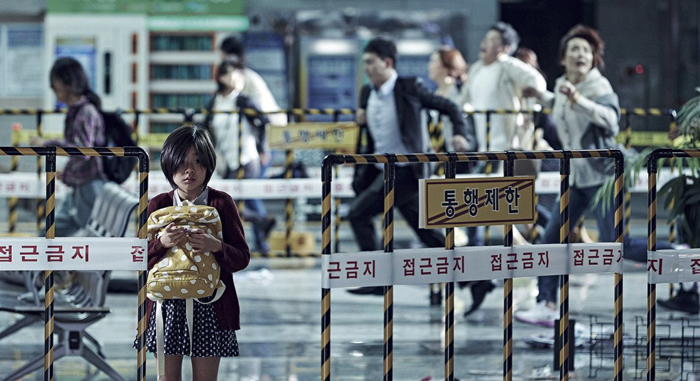 Train to Busan
I really have a lot to catch up on movie-wise (for example, I still haven't seen Matrix! Yikes!) but here is what I watched lately.
GET OUT
I hadn't managed to see it when it got out in the theaters, and I'm happy I could see it here : I loved the plot and was totally taken by the stressful/uncomfortable atmosphere of this white american family that meets their black son-in-law for the first time. The message is even more clear with this chilling scenario.
TRAIN TO BUSAN
Korean movie about (once more) a zombie invasion : the scenario could be transposed to what we are currently living with the covid-19 pandemic … Apart from the stressful side of the story, it's interesting to analyse the different behaviors of the characters, and watch some moving scenes. This movie really stuck with me.
ROM COMS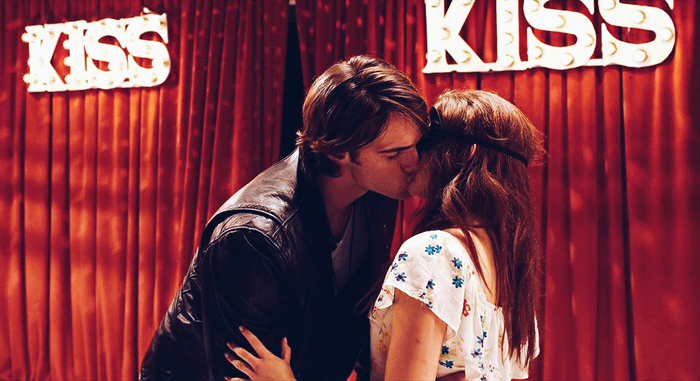 I really like this genre : I'm pretty romantic, but even if I am a great audience for the "Christmas TV movie" type, I still have a threshold to what I can tolerate in terms of silly and inane!
TO ALL THE BOYS 1 & 2
Following all the good reviews I read about these 2 teen movies, I watched both, but was very much disappointed! Even if the visual approach is rather dynamic, neither the Lara Jean and Peter couple nor the epistolary intrigue resonated with me. I found the characters rather dull and uncharismatic, and even if I am aware that this genre isn't really about realism, everything seemed fake and overdone. Anyway, I just don't get it.
THE KISSING BOOTH
On the contrary, this was a great surprise! This is what I call a good romcom! Even if the characters are teens and that I found the story to be unbelievable on a number of issues (Noah's violence or Lee's possessiveness are quite disturbing), I was taken by this refreshing and funny californian story, that I thoroughly enjoyed!
There's rythm, and a certain playfulness brought by the main character Elle, a sweet complicity with her best friend Lee and a physical chemistry with Noah (the actors Joey King and Jacob Elordi were an item in real life, proof that it really works, hehe!). The end was unexpected, and had a nice message. A Kissing Booth 2 is apparently in the works : not sure it will be as good as the 1st, but I'm still eager to watch it! Butterflies in the stomach guaranteed here.
LOVE WEDDING REPEAT
Another disappointment. I don't often really advise against a movie, but nothing works in this remake of the french movie "Plan de Table" (that I didn't see, but it seems it is much better than this one). I was expecting more of Sam Claflin (who played in Love, Rosie with Lily Collins, or was known for his more charismatic role as Finnick in Hunger Games) but I found it boring and really fought to make it to the end of this wedding day. There must be people who love this movie, but which planet do they come from?
SHOWS AND DOCUMENTARIES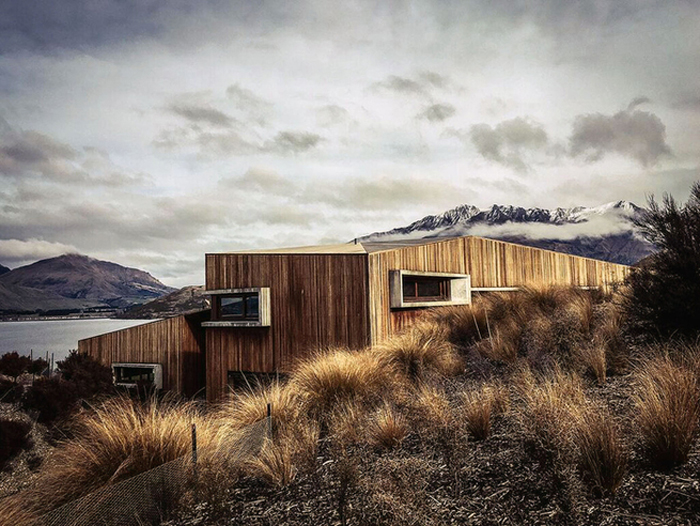 The world's most extraordinary homes
Netflix shows and documentaries are generally of a great aesthetic, which I really appreciate.
SALT FAT ACID HEAT

We follow Samrin Nosrat (Chef and culinary author) that details the 4 aspects of taste in food in exploring different parts of the world (amongst which Japan!) : you can feel her passion overflowing when she talks about food or when she is cooking : it's inspiring and appetizing!
THE WORLD'S MOST EXTRAORDINARY HOMES
Here we explore the world's most beautiful homes with actress Caroline Quentin and architect Piers Taylor. Their british duo works perfectly during the visit of these clearly extraordinary homes, in osmosis with nature and the environning constraints. The decoration is often to my taste and it's all very dreamy.
TINY HOUSE NATION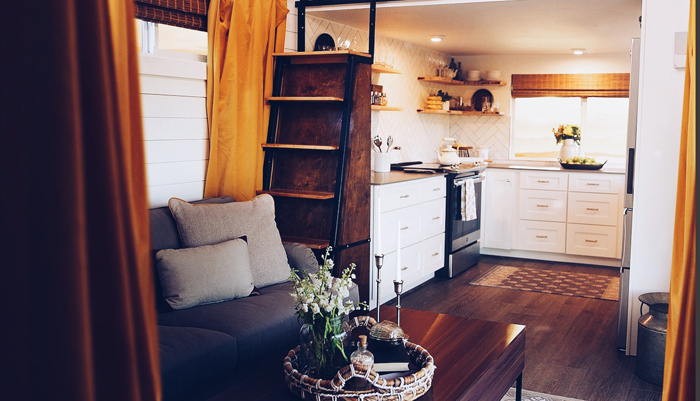 Tiny mobile homes are very in at the moment, and they, along with minimalism are the theme of this series. I am a great fan of the cabin/lodge state of mind, and I love it! All the realisations are not to my taste, but they do put things in perspective in terms of how much we actually need to be happy (ah yes! maybe one of those things are a good architect and good workers!!)
MISS AMERICANA
I'm not a huge Taylor Swift fan (I do like her songs though) and I wanted to know more about her personnality, that I find a bit too smooth and victimizing. The documentary does show her in a very favorable light, but it allows (even if it does feel very controlled) to see what is going on behind the scenes for this american popstar.
My opinion of Taylor Swift didn't change much after having seen this show : still a bit victimizing (sometimes rightly so), very control freak, but what you can't put in doubt is her work ethic and her qualities as a musician. The true fans will appreciate. (English translation by Marine)
Photo credits : Netflix
Illustration credits : Tokyobanhbao