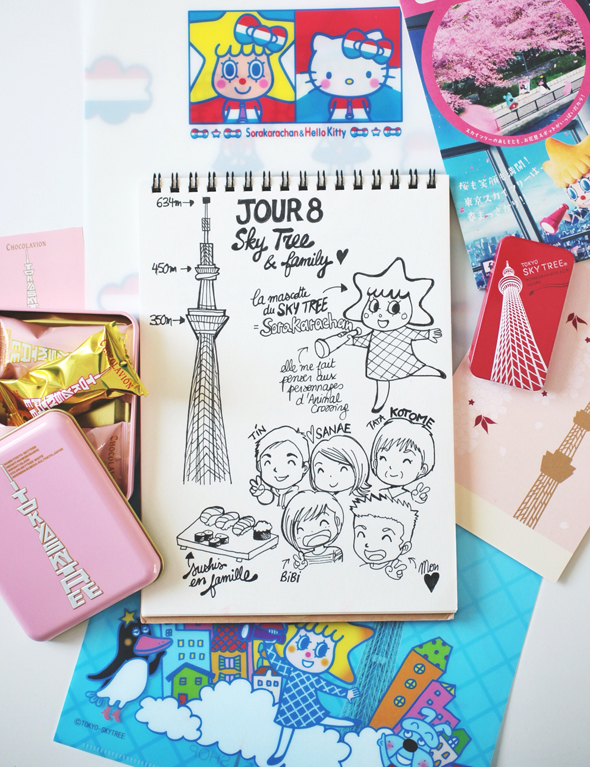 L'avenir appartient à ceux qui se lèvent tôt ! Cette fois-ci encore, nous nous sommes levés (mais pas aussi tôt que pour le Tsukiji market !) pour arriver avant 8h, heure d'ouverture de SkyTree, la grande tour d'observation de Tokyo.
The early bird catches the worm! Today, we rose early again (but not as early as for the Tsukiji market!) to be there at 8 am, for the opening hour of the SkyTree, the great Tokyo observation tower.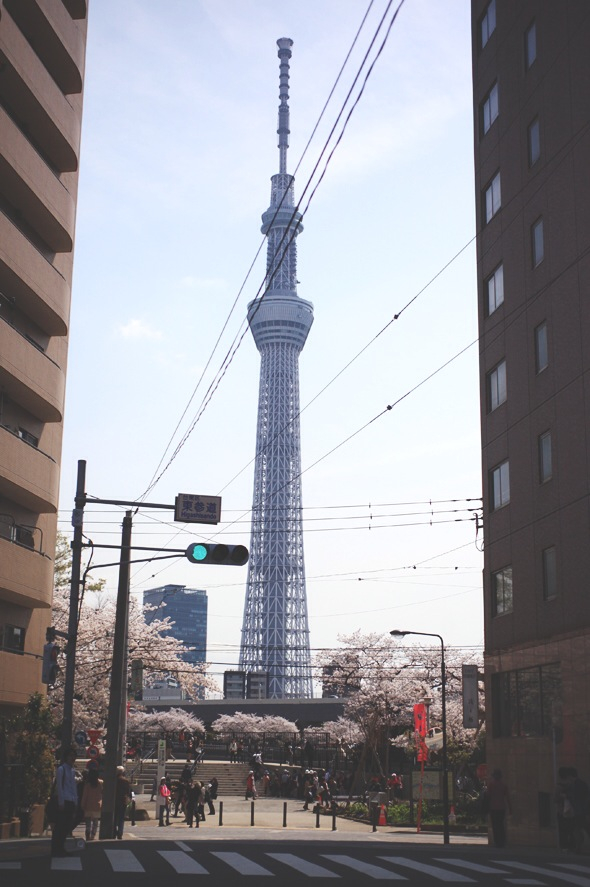 Celle-ci est avant tout une station de diffusion radio/télé (comme la tour Eiffel) construite en 2011. Elle n'existait donc pas lors de mon précédent voyage et le fait de savoir que c'est la 2ème plus haute tour du monde (634 m de haut) après la tour Burj Khalifa de Dubaï (828m) nous a vraiment motivés à y aller.
Before anything else, it is a radio/tv broadcasting station (like the Eiffel Tower), built in 2011. It didn't exist at the time of my previous trip, and knowing that it is the 2nd highest tower in the world (643m high) right behind the Burj Khalifa tower in Dubaï (828m) really motivated us.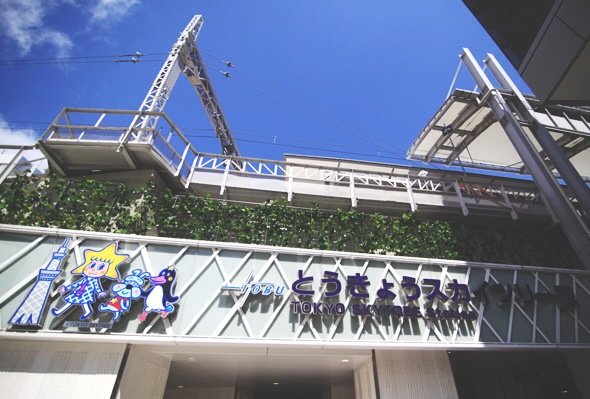 Pour tout vous avouer, ignorants que nous sommes, nous avions tenté d'aller visiter la SkyTree quelques jours auparavant mais à 11h. Erreur de débutant : C'était bondé ! Il fallait faire la queue pour un ticket qui nous permettait de reprendre rendez-vous pour acheter un ticket : voyez un peu le labyrinthe de l'angoisse.
To be quite honest with you, ignorant as we were, we had tried to visit it a couple days before, but arrived at 11am. A beginner's mistake: it was packed! You had to queue for a ticket that allowed you to make an appointment to buy a ticket: imagine the distress!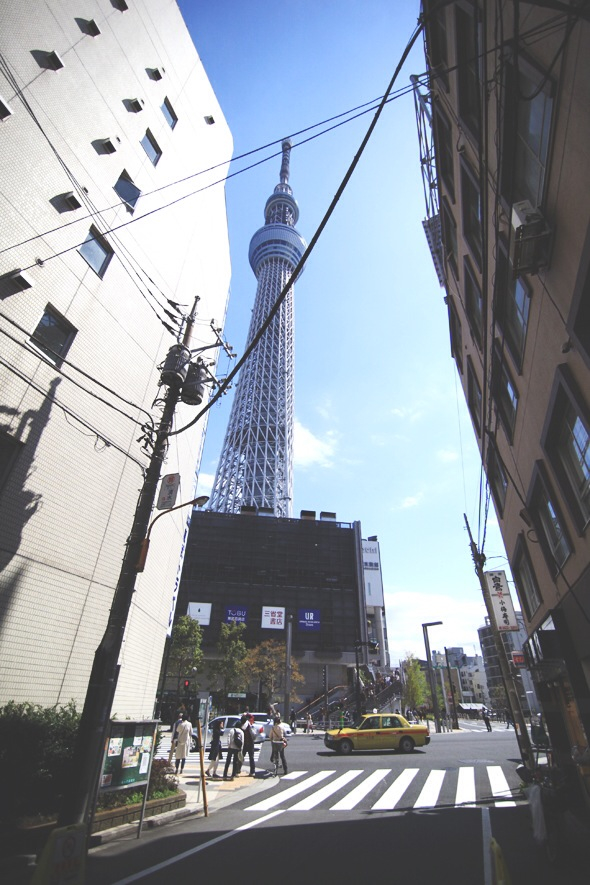 Nous avons donc capitulé et reporté notre visite. Très sage décision puisque lorsque l'on arrive pour l'ouverture, nous accédons directement au guichet de tickets, sans attendre.
Conseil : venez donc soit avant l'ouverture soit en fin d'après-midi/début de soirée (pour… chanter chanter chanter ce refrain qui te plaît). L'accès sera réellement facilité pour vous.
We gave up and postponed our visit. A wise decision, since if you are there for the opening hour, you get direct access to the ticket booth, without waiting at all.
Here's my advice: you should either come before the opening hour, or late afternoon/early evening. It's much easier to access.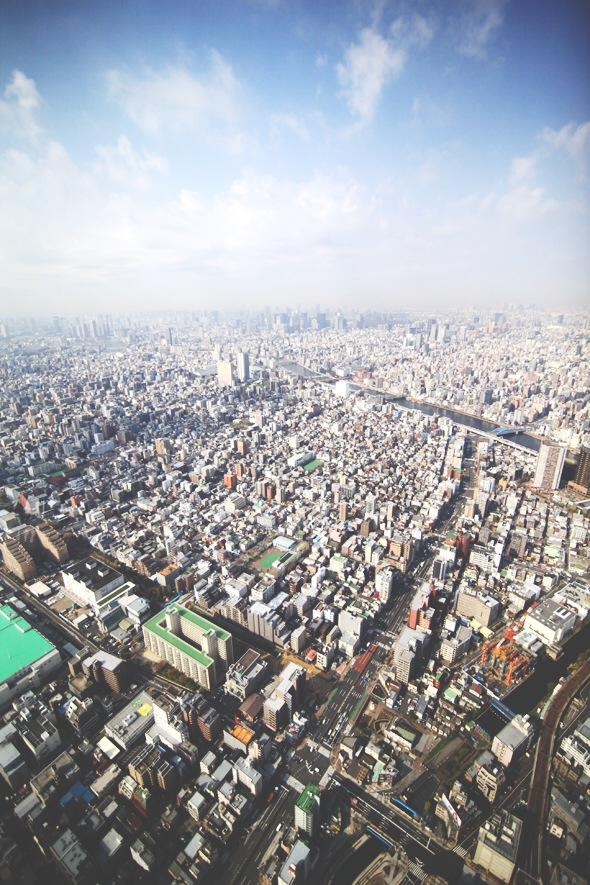 Une fois sur place il y a deux étages d'observation: Le Tembo deck (350m) et à ce niveau là, vous pourrez acheter un 2ème ticket si vous voulez monter plus haut, au Tembo Galleria (450m). Nous avons visité les 2 étages et je n'ai vraiment pas été déçue.
Once there, there are 2 observation levels: the Tembo deck (350m), where you can buy a 2nd ticket if you want to go higher up to the Tembo Galleria (450m). We visited both levels, and I wasn't disappointed.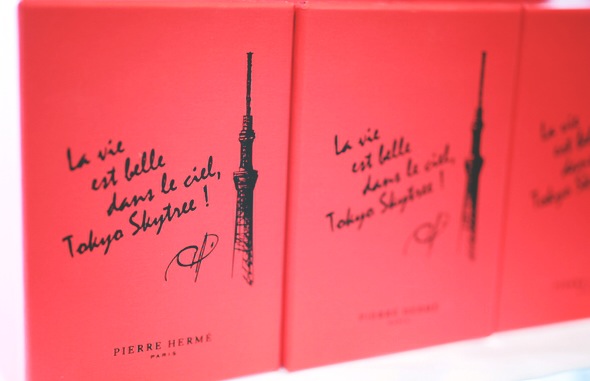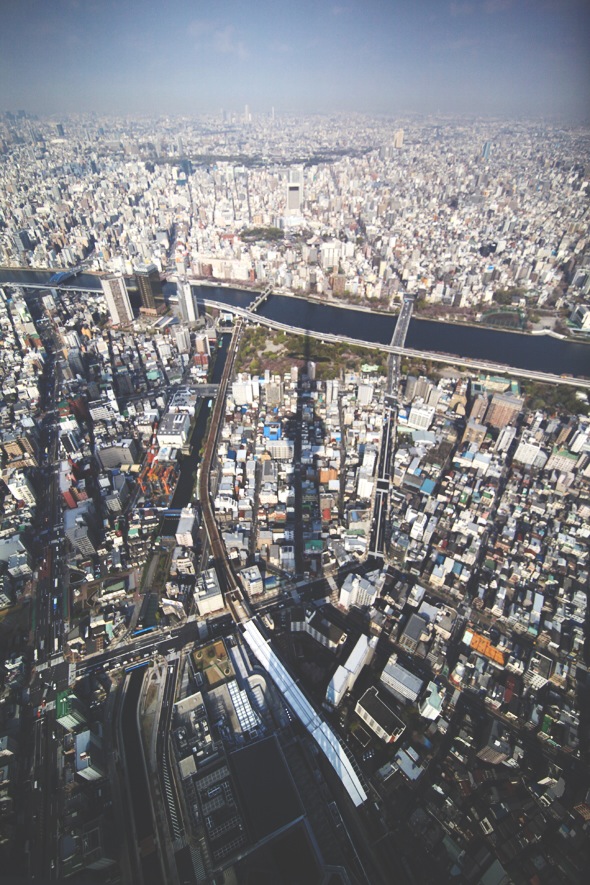 La vue est déjà extrêmement impressionnante du 1er niveau : j'avais la sensation de dominer le monde (Gniark Gniark Gniark! Rire sardonique), de planer : une sensation vertigineuse assez étrange mais pas du tout dérangeante (pour moi en tous cas). De là-haut, on peut vraiment observer tous les recoins de Tokyo à 360°.
The view for one is extremely impressive from the 1st level: I had a « on top of the world/world domination » sensation (hehehe, evil laugh), like I was gliding: it's a vertiginous feeling, quite strange, but that I didn't find disturbing at all (personally). From way up there, you can really see all of Tokyo, on 360°.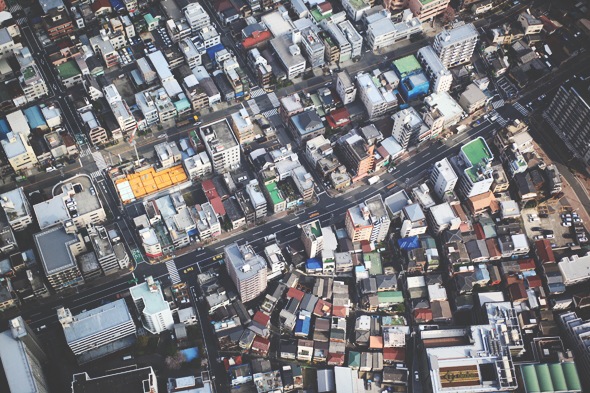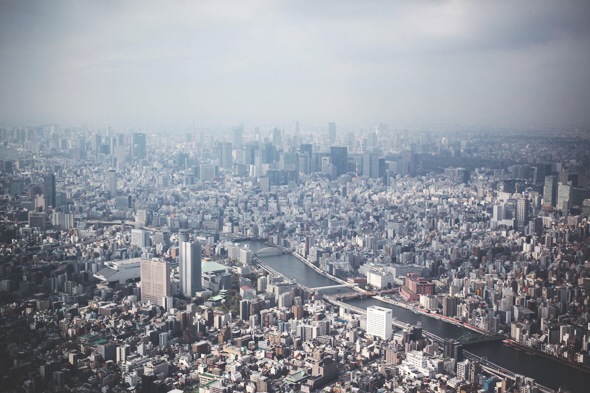 Ils ont aménagé des écrans tactiles extrêmement pratiques pour situer les monuments de la ville. They also set up touchscreens, really useful to locate all the city monuments.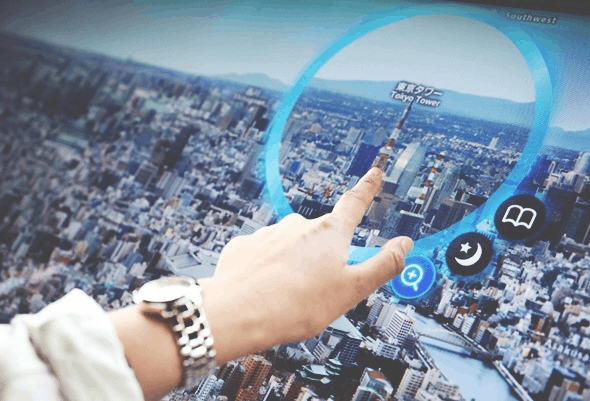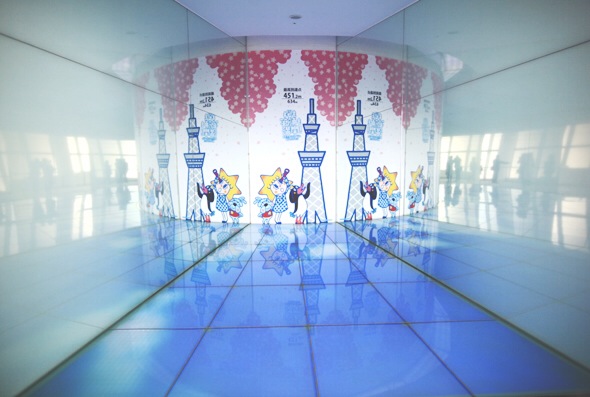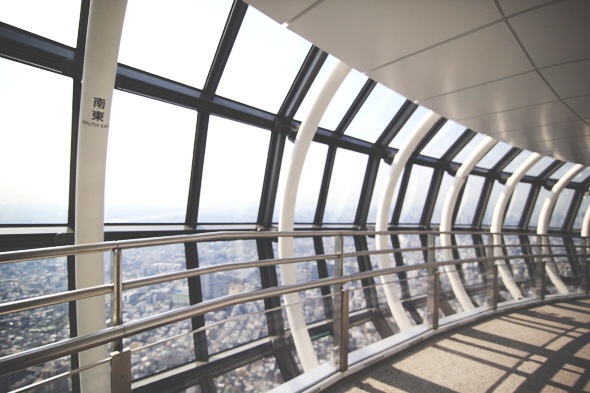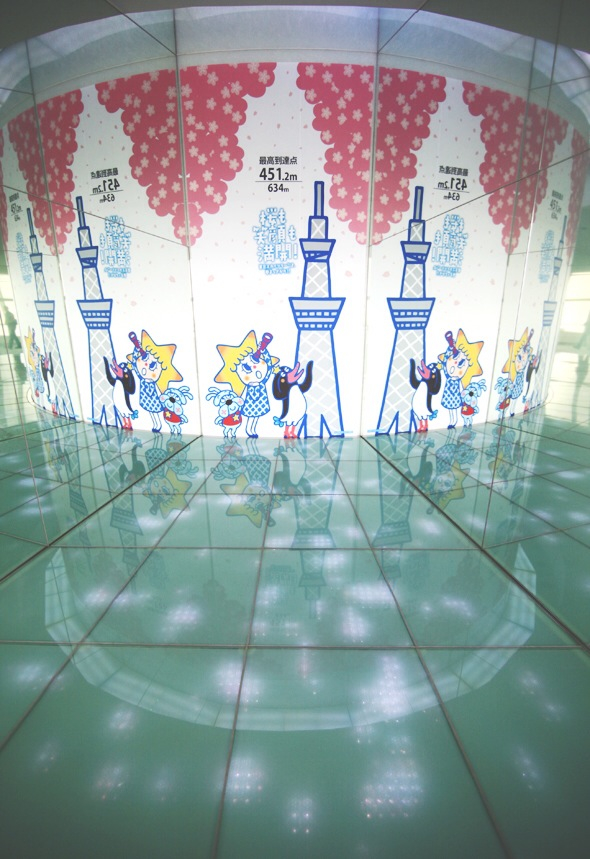 Une fois arrivé au 2ème niveau, le Tembo Galleria, on emprunte un passage en pente que l'on devine dans mes photos de look pour accéder au Sorakara Point, l'endroit le plus haut de la tour qu'il nous est permis d'accéder (451,2m).
Once on the 2nd level, the Tembo Galleria, you have to take a steep pass – that you can guess on the outfit pictures- to get to the Sorakara Point, the highest accessible area of the tower (451,2m).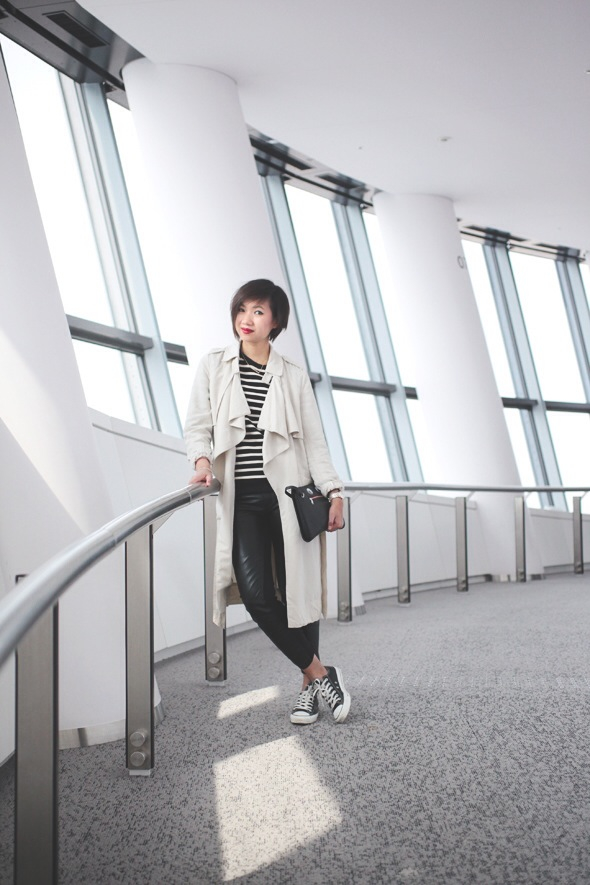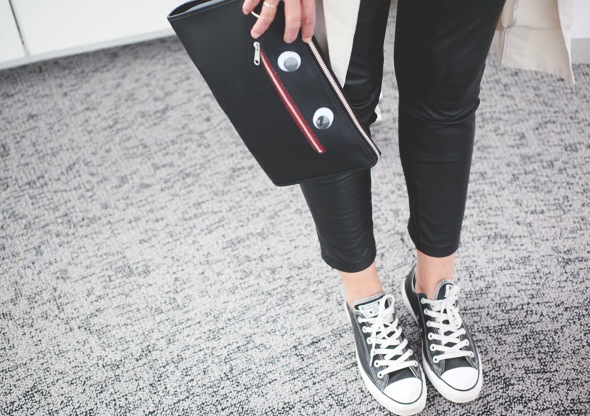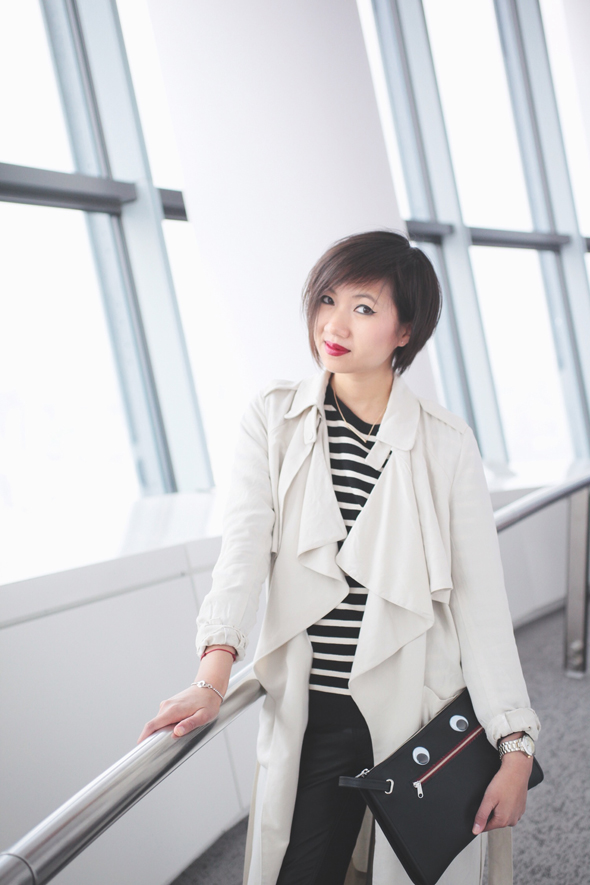 Trench H&M
Collier / necklace ASOS
Marinière / breton shirt A.P.C
Pantalon cuir / leather pants La Redoute (déjà vu ici)
Pochette / clutch Aquvii (Japan)
Sneakers Converse
Une fois redescendus sur Terre, nous avions rendez-vous pour déjeuner avec mon cousin, qui habite Tokyo. Once our feet were on firm ground again, we had a lunch date with my cousin, who lives in Tokyo.
SUSHIEI (すし栄)
Il nous a emmené manger des sushis dans notre quartier d'Asakusa : je vous partage donc l'adresse (1-34-4 Asakusa, Taito-ku Tel :03-3842-7989) où nous avons dégusté de délicieux sushis et chirashis.
He took us for sushi in our Asakusa neighborhood: here's the place where we had delicious sushi and chirashi.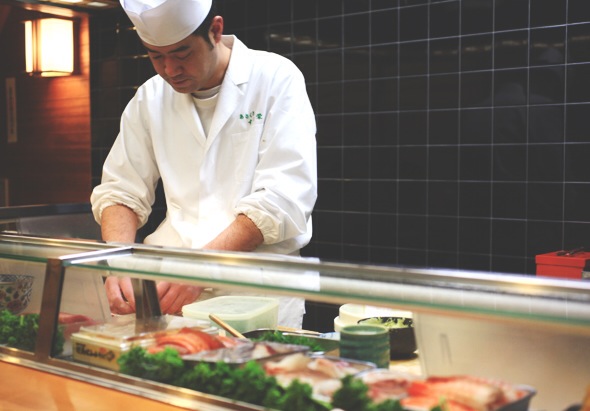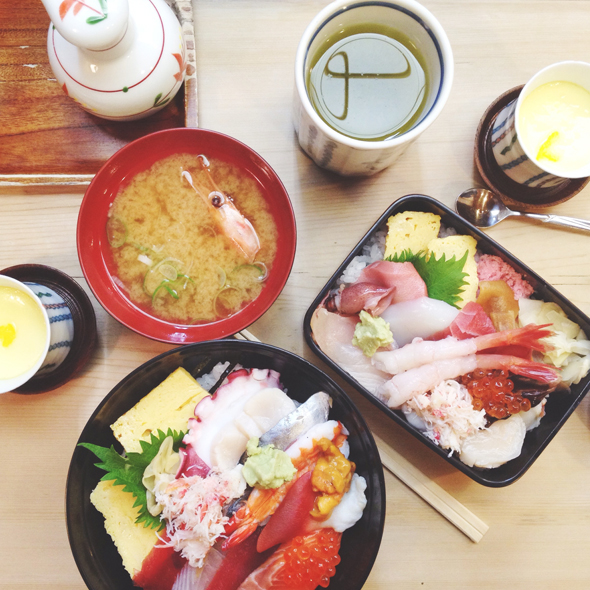 Nous sommes ensuite partis faire quelques courses dans le quartier : achat d'un joli yukata pour ma part (que j'aurai l'occasion de vous montrer très vite) et de parapluies transparents à Don Quijote pour faire des cadeaux (=objet parfaitement banal au Japon mais tellement exotique chez nous !)…
Puis aux détours d'une allée, rayon déguisements, voilà ce qui arriva. De simples retrouvailles en famille n'est-ce pas ?
Afterwards we went for a little shopping spree in the area: I bought a pretty yukata (that I'll be showing you soon) and see-through umbrellas in Don Quijote for gifts (=something totally common in Japan, but oh-so-exotic at home!)…
And then, turning an aisle, in the costume department, here's what happened. Just a family reunion, right? (English translation by Bleu Marine)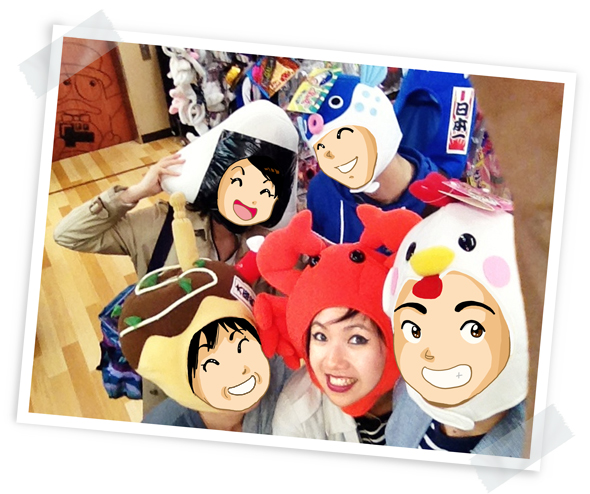 Previously on MY JAPAN TRAVEL DIARY :
Notre appart à Tokyo
Day 1 : Sumida Park & Asakusa
Day 2 : Namco Namjatown
Day 3 : Omotesando & Harajuku
Day 4 : Ueno Park
Day 5 : Errances gourmandes à Omotesando
Day 6 : Odaiba お台場
Day 7 : Tsukiji market, Meiji & Yoyogi