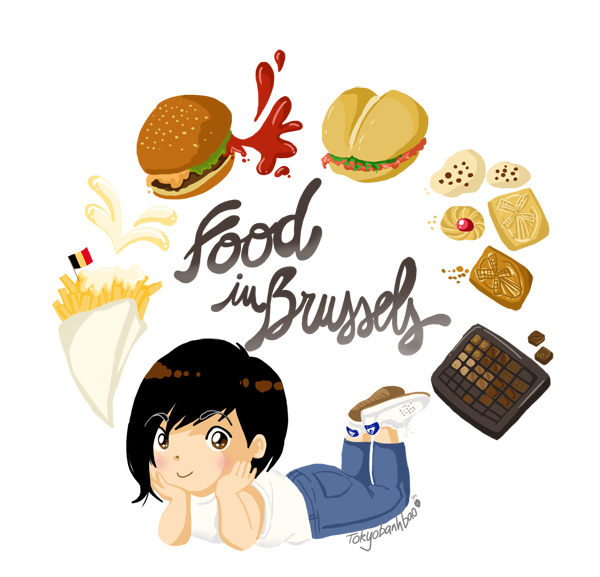 Vous les attendiez, les voilà ! La Belgique, c'est toujours l'endroit parfait pour les tentations gourmandes comme vous avez pu le constater par le passé ici, ici ou là.
Voici donc les adresses qui ont fait vibrer mon palais le temps d'un week-end: Let's go !
You had been waiting, and here they are! Belgium is always the perfect place for yummy temptations, as you may have noticed here, here or here as well.
Here are the addresses that had my tastebuds going mad during our weekend: Let's go!
FRUNCH at BIP
(BIP, Maison de la Région , 2-4 Rue Royale) Ce n'est pas une adresse permanente mais plutôt un événement qui se produit tous les vendredis à Bruxelles vers la place Royale.
It's not really a permanent address, but rather an event with DJ and food-trucks, every friday in Brussels, near the Place Royale.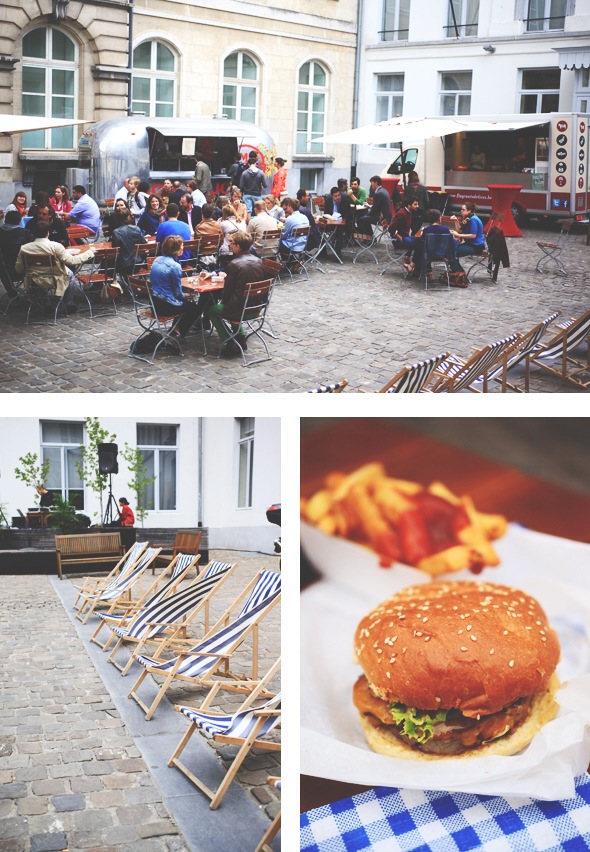 Au programme, DJ et food-trucks. Les camions changent régulièrement ce qui permet de découvrir de nouvelles saveurs durant les beaux jours.
The trucks regularly change, which is a great way to make new discoveries during the summer days.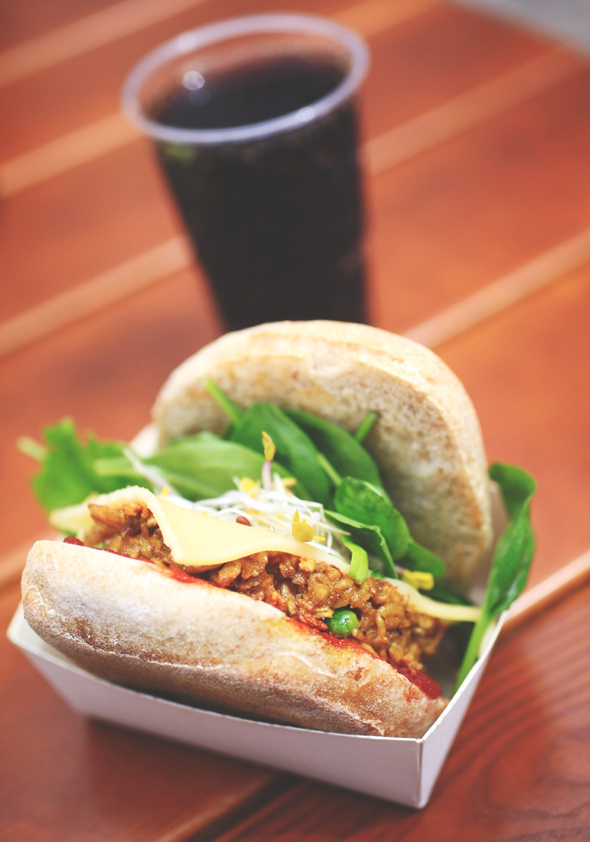 Veggie burger « Bigsin »

Ce vendredi là, il y avait un camion spécialiste des burgers, un autre des bagels et un 3ème orienté « veggie ». Mon préféré a été ce dernier, me rappelant ce que j'avais pu manger à Gand.
On this particular friday, you could find trucks specializing in burgers, bagels or veggies. My favorite was the last one, it reminded me of what I ate in Gent.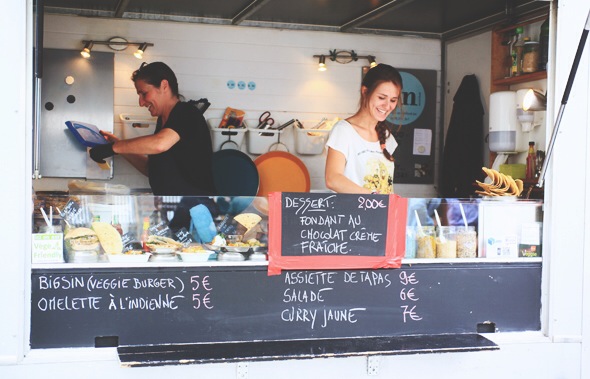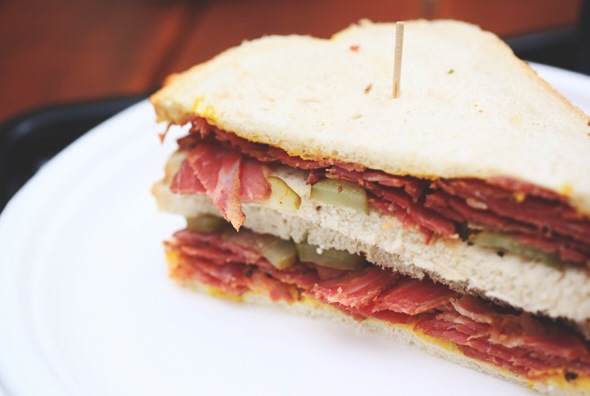 Sandwich au pastrami
L'endroit est très sympa : on y voit surtout des Bruxellois s'échappant du bureau et profitant de cet endroit pour leur pause déjeuner.
The place is pretty fun: you can cross paths with inhabitants of the city, abandonning their desks during lunch hour.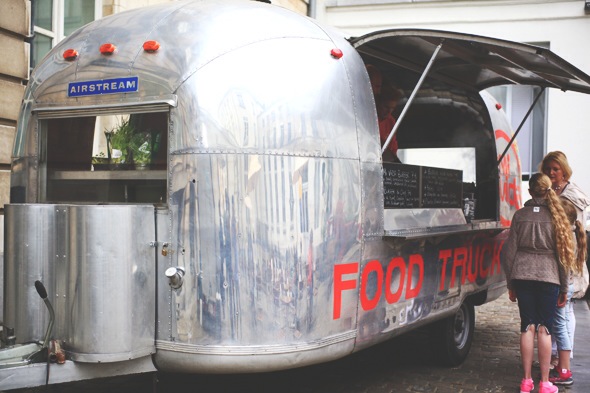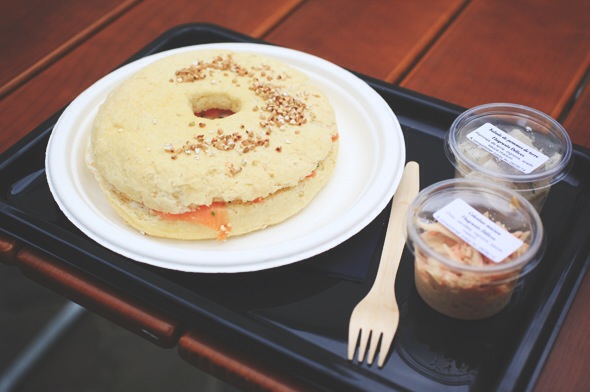 Bagel au saumon fumé « maison »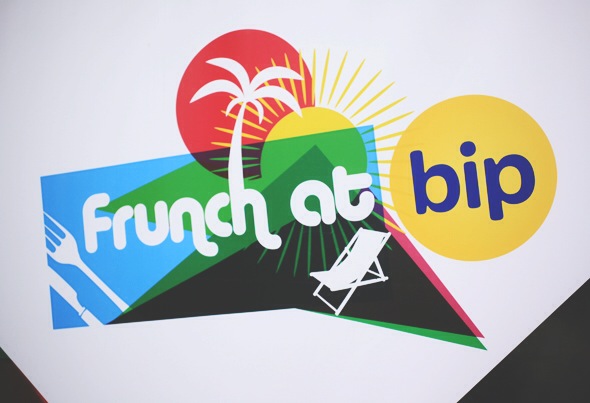 Sachez que j'ai tout de même mis 2 jours pour trouver pourquoi cela s'appelait « Frunch »… Après des heures de réflexion, la lumière : FR(iday) (l)UNCH= FRUNCH.
Heureusement que Robert Langdon ne m'a pas eue à ses côtés pour le Da Vinci Code, je pense que le livre aurait tout simplement compté 10 tomes de plus, le temps que je trouve les énigmes.
Note that it took me 2 days to find out why it was called Frunch…After hours of brain-raking, I found the light: FR(iday (l)unch = FRUNCH.
Thank God Robert Langdon didn't have me by his side for the DaVinci Code, I think the book would have been 10 times heavier, with the time it would have taken me to solve the riddles and enigmas.
PISTOLET ORIGINAL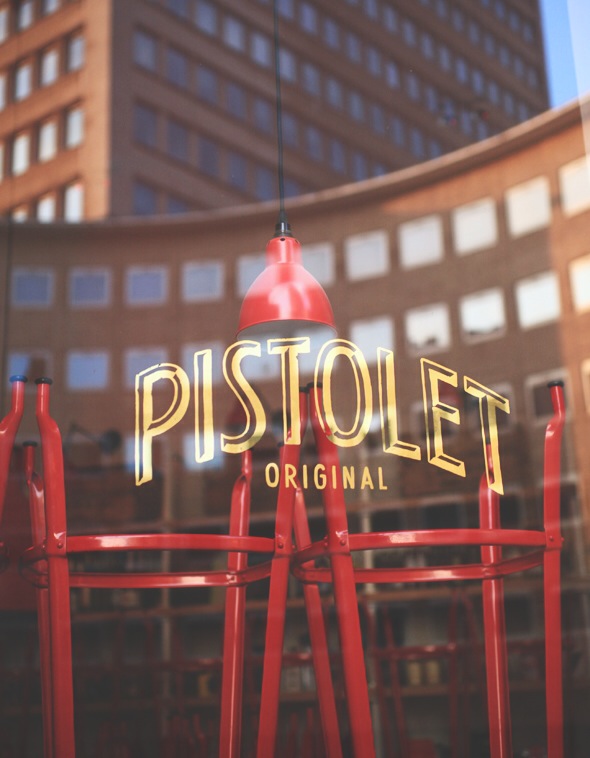 (24-26 Rue Joseph Stevens , Les Sablons) Comme vous pouvez le constater, nous avons pas mal mangé sur le pouce durant ce week-end car nous voulions profiter davantage de nos visites que de nous poser 3 heures dans un restaurant.
Nous sommes passés devant l'enseigne un soir lors d'une balade près des Sablons et nous sommes promis de revenir le lendemain.
As you may notice, a lot of our meals were « on the go » during the weekend, for we wanted to make the most of our visits, rather than spend 3 hours in a restaurant.
We passed this place one evening, during a walk by the Sablons, and made note to come back the next day.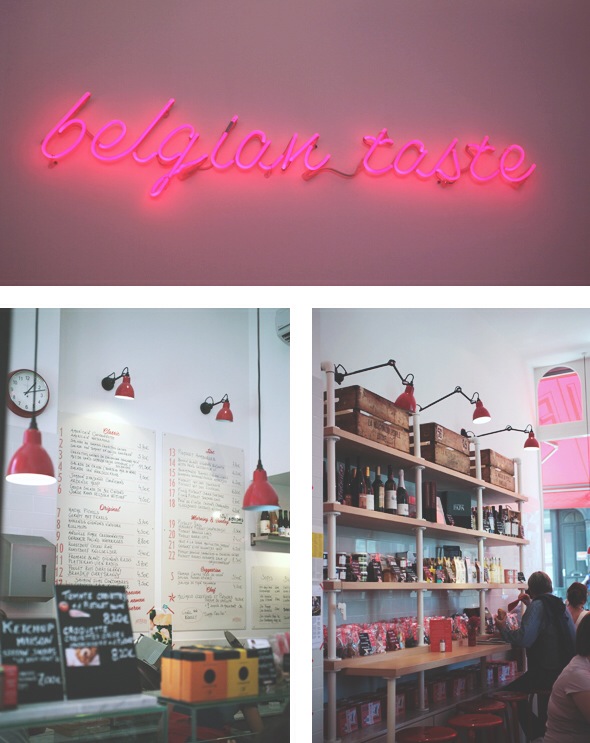 Le pistolet est un pain belge fendu (en forme de fessier rebondi, dirons-nous). On peut le garnir de toutes sortes de choses et cette enseigne en a fait sa spécialité.
The pistolet is a sliced open belgian bread (let's say it looks like a plump rear end). There is an endless possibility of garnishes, and this place has made it it's specialty.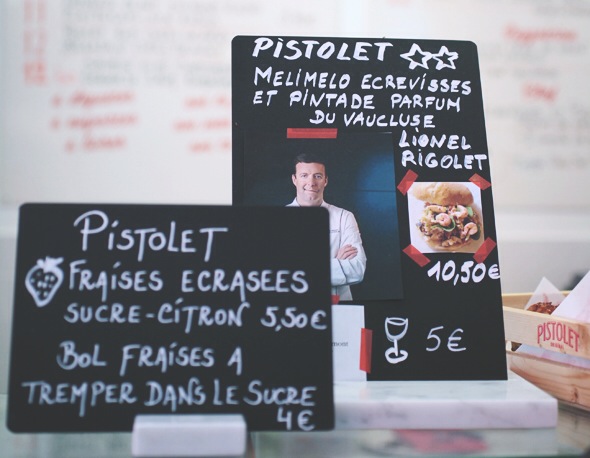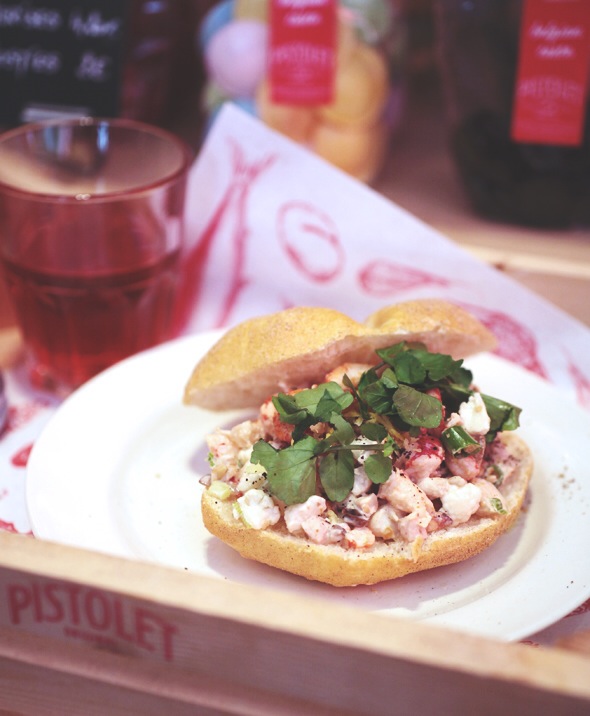 Ce jour-là, nous avons choisi le pistolet au hareng et celui du chef Lionel Rigolet aux écrevisses et à la pintade.
On that day we chose the herring pistolet, and the crayfish and fowl pistolet by Chef Lionel Rigolet.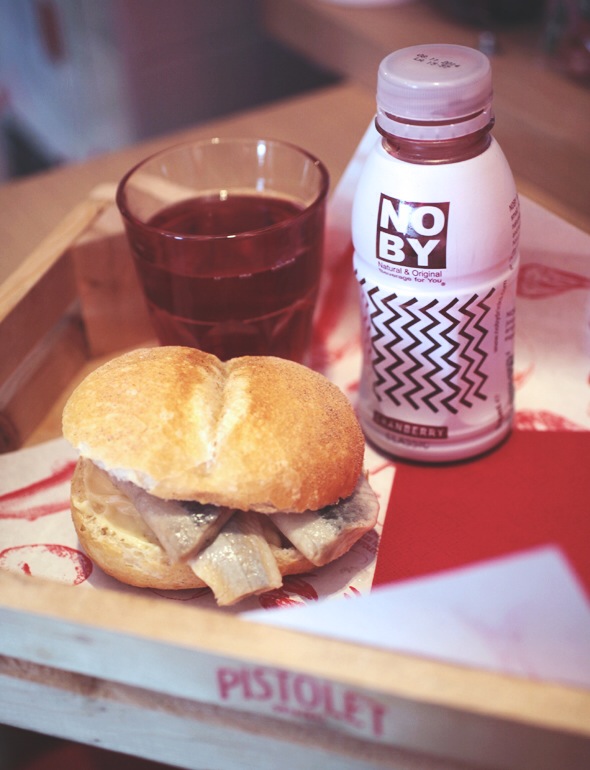 Verdict : j'ai trouvé le pain un chouïa trop sec mais la garniture rattrapait amplement cet handicap. Le mélange des saveurs est vraiment original, toujours harmonieux et très goûtu pour des sandwichs.
Cela dit, pour ma part, il faudrait peut-être 2 pistolets pour être vraiment calée (+ un dessert) (mais je crois que j'ai un grand appétit) et l'addition risque de monter vite car ce n'est pas vraiment donné (de 7 à 11 euros le pistolet).
Verdict: I found the bread somewhat too dry, but the fillings totally made up for that little shortcoming. The blending of all the flavors was truly original, always balanced and terribly tasty for a sandwich.
That being said, I could easily have eaten at least 2 pistolets (and dessert) before being full (but I think I just might have a very large appetite) and the check would have ended up being pretty steep for the sandwiched aren't really cheap (7 to 11 euros for one).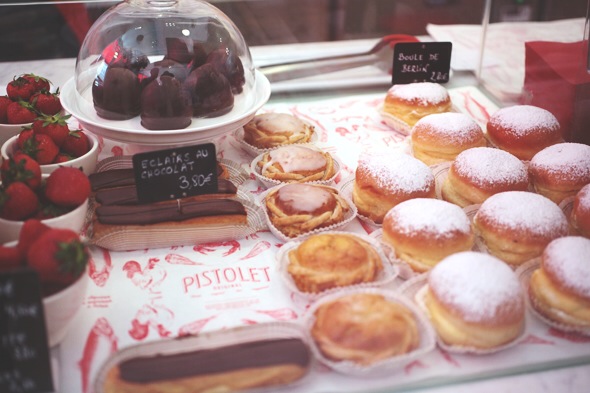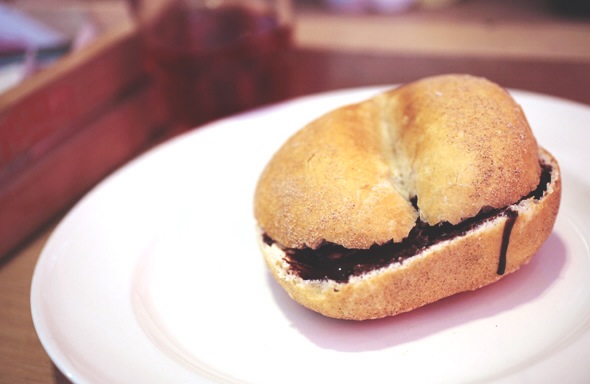 Je pense que c'est tout de même à faire pour la « mignonnitude » de l'endroit et les saveurs de la garniture (et le pistolet fourré de chocolat fondu Marcolini… gaaaaa !). Le quartier est sympa, ce qui ne gâche rien.
I still think it's something to do, be it only because the place is so cute, and the fillings are so yummy (and the pistolet filled with melted Marcolini chocolate … gaaaaaaa!). The neighborhood is pretty cool too, which is enjoyable.
MAISON DANDOY
(31 Rue au Beurre) Place au grignotage … mais de qualité avec mon coup de coeur ultime bruxellois. Let's talk snacks…but quality snacks, with my ultimate Brussels address.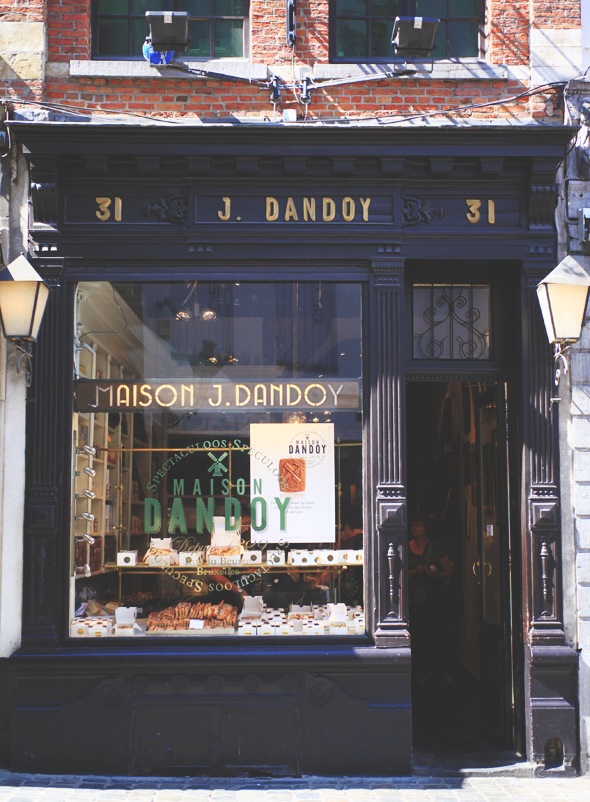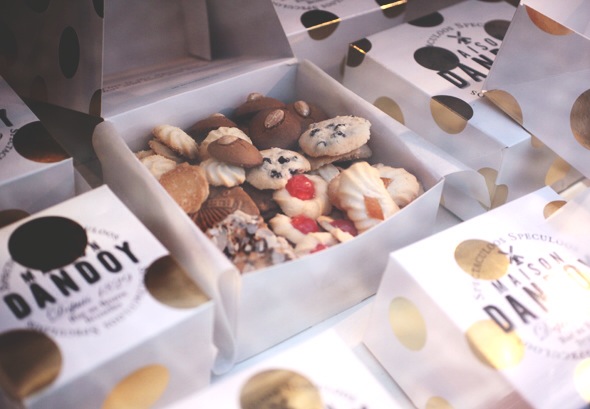 Il y a d'ailleurs plusieurs boutiques à Bruxelles (3 il me semble) pour y déguster les meilleurs speculoos, biscuits et même des gaufres… vous savez, ce bonheur intense quand vous croquez dans un biscuit sablé et qu'à peine fini, vous voulez en prendre illico un 2ème en pensant au 3ème !
There are actually a number of shops in Brussels (3 I think), and this is where you can have the most delicious speculoos, biscuits and waffles…you know what I'm talking about: this intense happiness when you take a bite from a shortbread biscuit, and that when you're barely done chewing on your last bite, you reach out for a second one, already thinking about the third!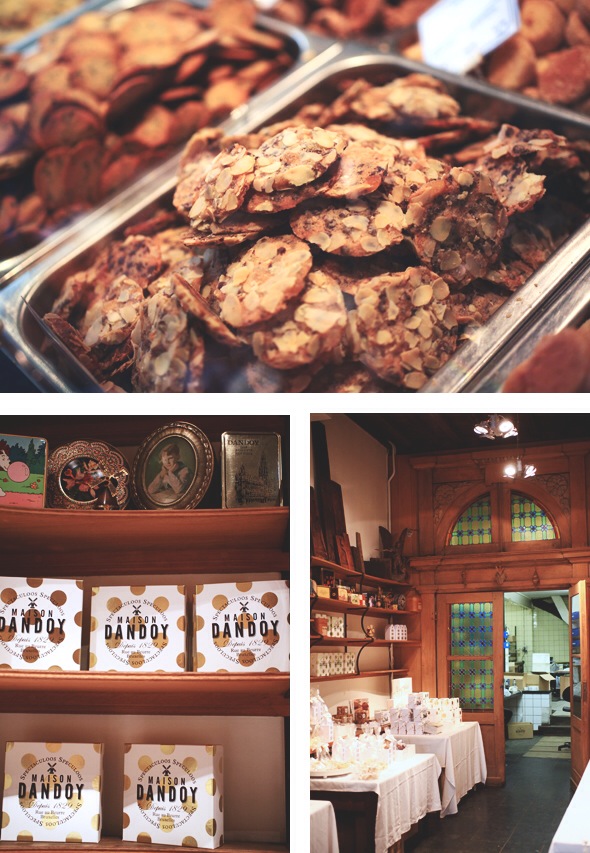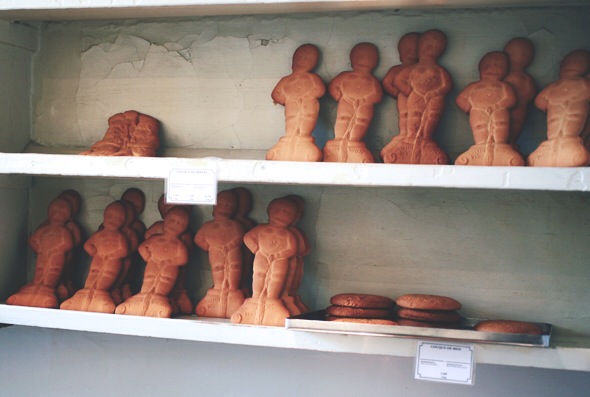 S'il y avait une enseigne à Paris, je pense que mes fesses ressembleraient à des pistolets belges XXL tellement j'adore donc Dandoy, reste en Belgique s'il te plaît.
If only there were a shop in Paris, I'm ready to bet my backside would look like an XXL belgian pistolet, that's how much I loved it, so Dandoy, please stay in Belgium!
PIERRE MARCOLINI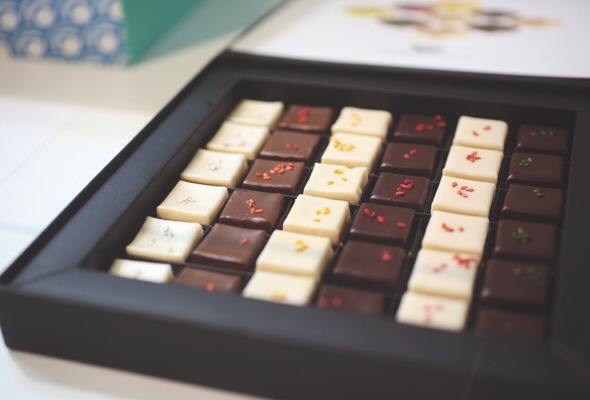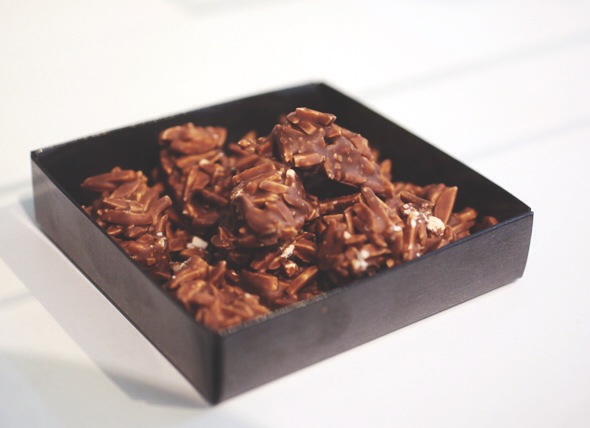 (21, Galerie de la Reine) Le célèbre chocolatier est aussi présent chez nous mais le goûter à la source a tout de même une autre saveur. The famous chocolatier, who can also be found in France, but tasting his creations at the source gives it a whole new perspective.
Délicieux, pas trop sucré, fondant dans la bouche… le rêve. Delicious, not too sweet, melts in your mouth…heaven.
MARY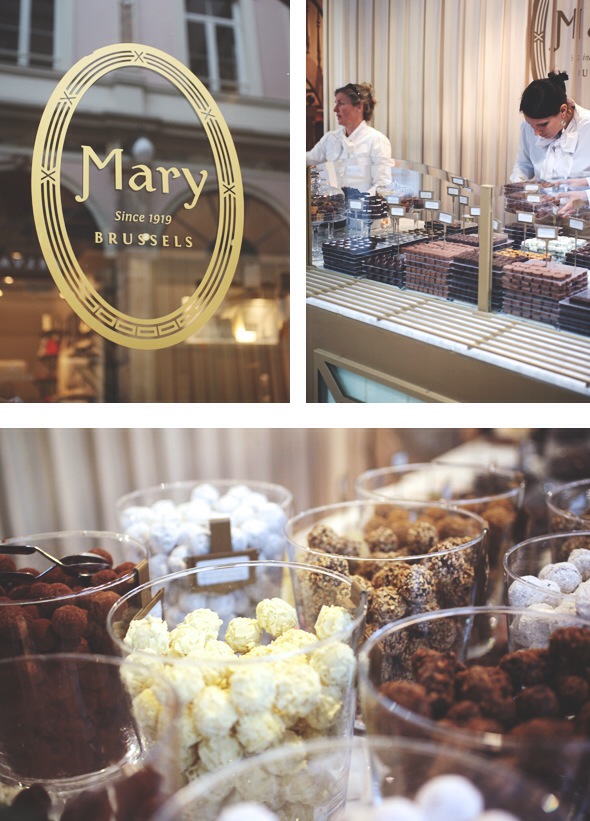 (36 Galerie de la Reine) Une autre bonne adresse où j'ai acheté une boîte édition limitée revisitée par le chef étoilé japonais Kamo (encore le japon oui !) constituée de pralinés aux sésames, de ganache au thé hojicha (thé grillé) et autres délices au yuzu.
Another great address, where I bought a limited edition box of sweets, revisited by starred japanese chef Kamo (Japan, yet again!) with sesame pralines, hojicha (grilled tea) tea ganache and other yuzu delights.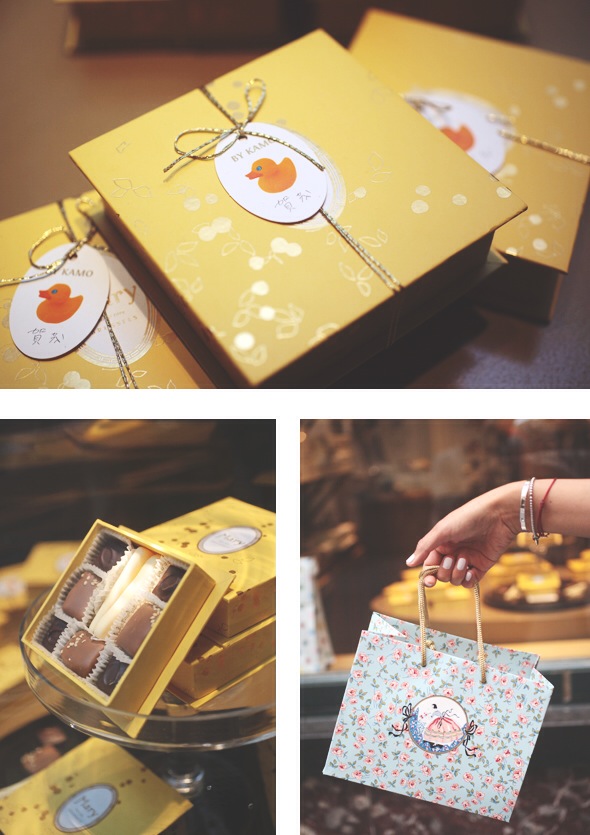 Adresses BONUS 
FRITUUR MAISON ANTOINE (Place Jourdan): pour les amateurs de bonnes frites croquantes. For those of you who enjoy yummy crispy fries.
DE NORDZEE (45 Rue Sainte Catherine): Fruits de mer (notamment huîtres) à déguster sur la place Sainte Catherine. Seafood (especially oysters) to enjoy on the Sainte Catherine square.
LES FILLES (46 rue du Vieux Marché aux Grains): Brunch et salon de thé (pas eu le temps de tester mais recommandé par 3 Bruxellois: je leur fais donc confiance ! A vous de me dire si vous y allez !) Brunch and tearoom (didn't have the time to give it a try, but it was recommended by 3 people who live in Brussels: I trust them! Let me know if you go!)
J'ai également une autre adresse gourmande à vous dévoiler… mais c'est plutôt une expérience qu'une adresse…hehe ! à suivre ! There is one last thing I want to share with you, but it's more of an experience than an address per se …hehe! Stay tuned! (English translation by Bleu Marine)