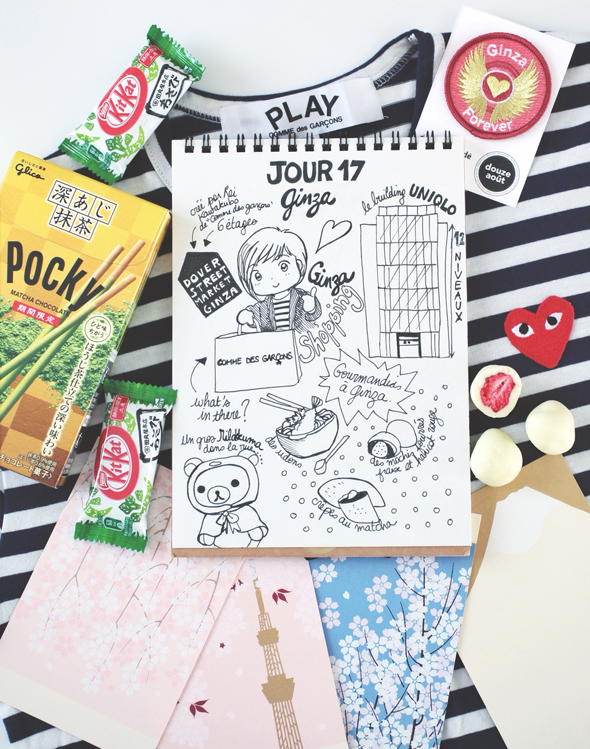 Badge Douze Août
Breton shirt "Play" Comme des Garçons (déjà vue ici)

Last days of vacation often mean … shopping! Shopping in the chic area of Ginza isn't really the best deal in town, but we hadn't been during our first trip.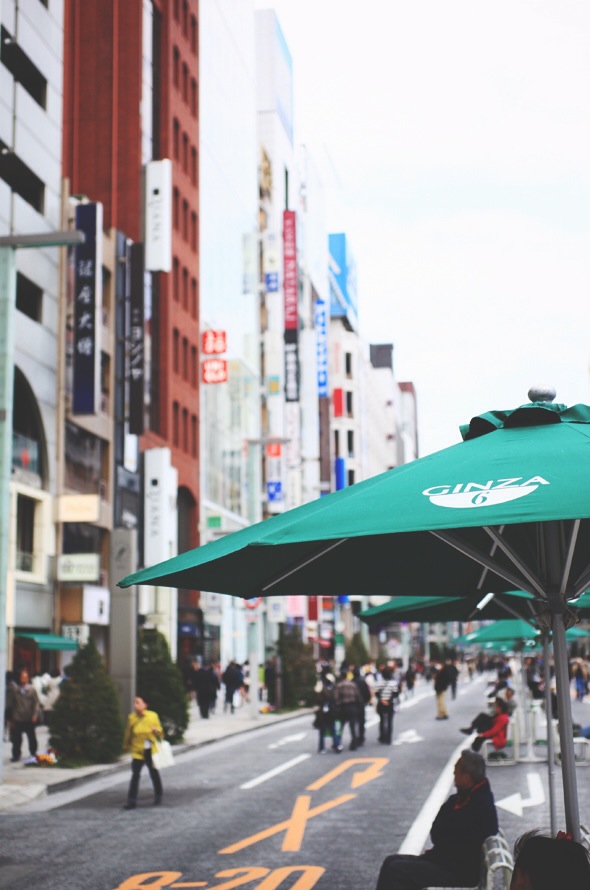 Ginza is the equivalent of the Champs Elysées (even though the latter is loosing a bit of its prestige everyday, if you ask me): luxury brands (Vuitton, Prada…) stand next to much more affordable ones (Uniqlo, Zara…).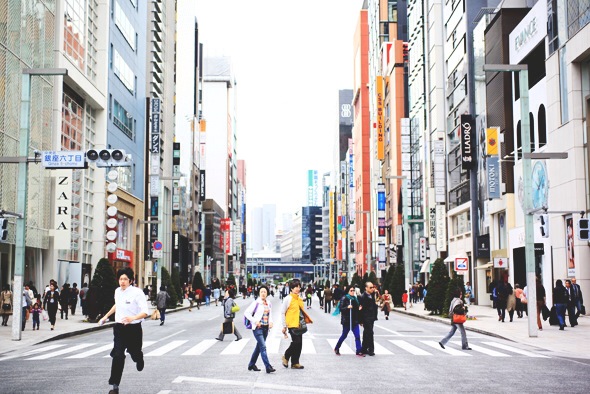 It's really nice during the weekends, as the street is closed to traffic. You can walk right in the middle of the street if you want.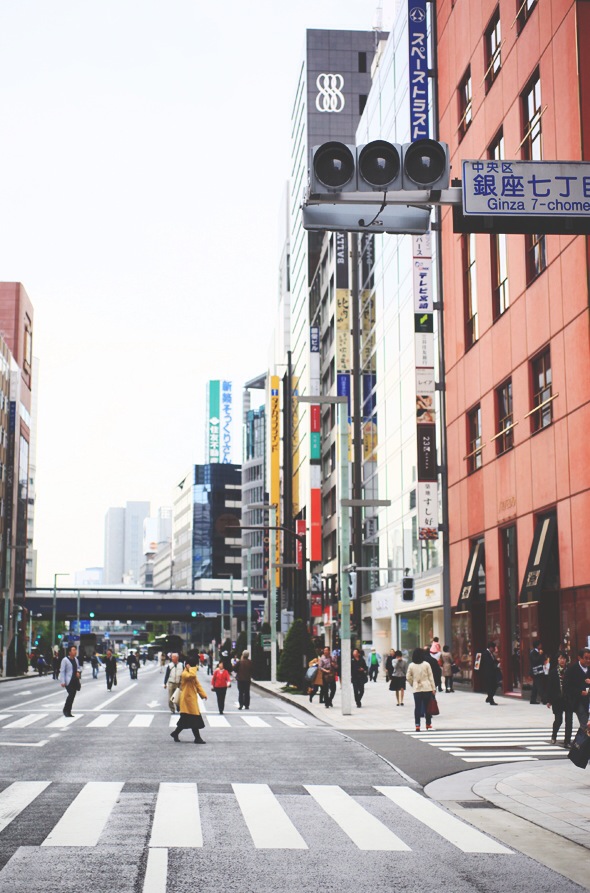 You can choose to wander off in one of the numerous malls (Matsuya, Mitsukoshi…). As for me, I'll share some of the addresses that really marked my mind (and my credit card for that matter).
DOVER STREET MARKET GINZA
(Ginza Komatsu West 6-9-5, Ginza Chuo-ku, TOKYO) A concept store on 6 levels, with indisputable esthetics! There is one in London as well, that I never visited (a wrong to be righted!). A great number of designers reveal their collections on every floor, amongst which Rei Kawakubo, who made this mall happen, and created the brand "Comme des Garçons".
The prices are far from being friendly let's admit (you can compare it with a Colette, but without the gadgets), but you can find hidden jewels and an endless amount of limited editions … or you can go just for some window shopping!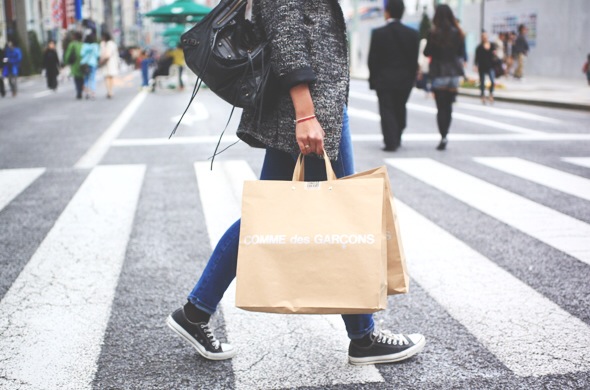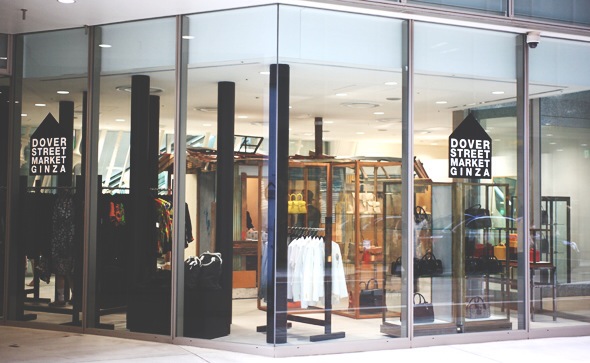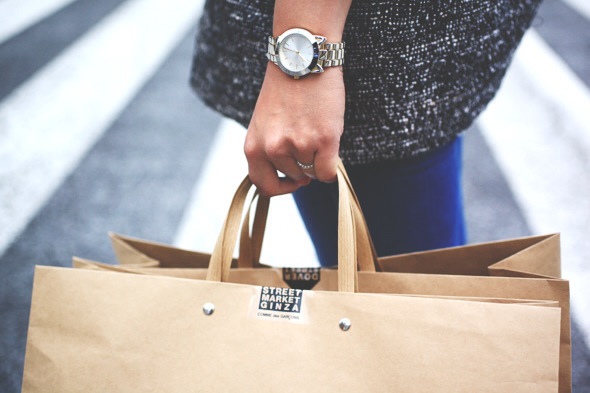 Watch ASOS
Blazer H&M
Jeans MIH Jeans
Bag Balenciaga
Sneakers Converse
A great deal is the "Comme des Garçons PLAY" stand – its half the french prices. So I splurged with this breton striped top that has been on my radar for quite some time now, and a little something else, that I'll be showing you later on.
UNIQLO GINZA

(Chuo-ku, 6-9-5 Ginzakomatsu East Building 1F ~ 12F) A 12 story building with all the Uniqlo collection!!!! There are already 2 stores in Paris, but this one is like a pilgrimage.
Plus its a good place to collect some exclusive souvenirs (a collection of "souvenir" tshirts (=O-miyage) is sold exclusively in Japan) for family and friends.
HAKUHINKAN TOY PARK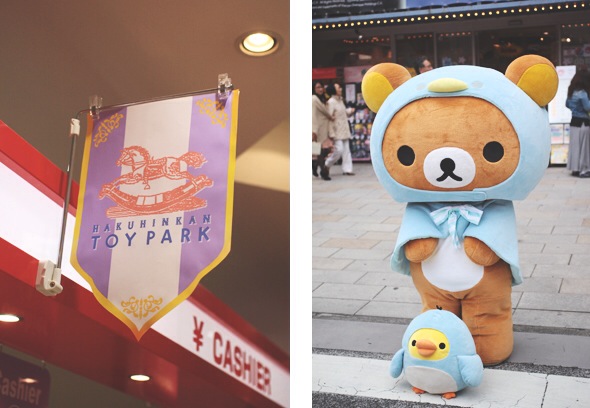 (8-8-11 Ginza, Chūō, TOKYO) The equivalent of Kiddy's Land, where you can find tons of fun gadgets, kawai goodies and snacks like special flavored Kit Kats.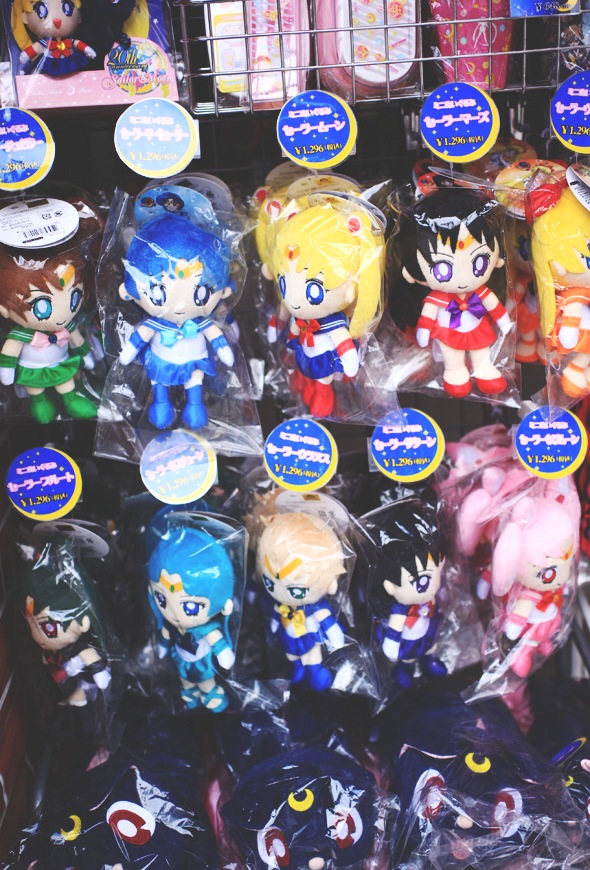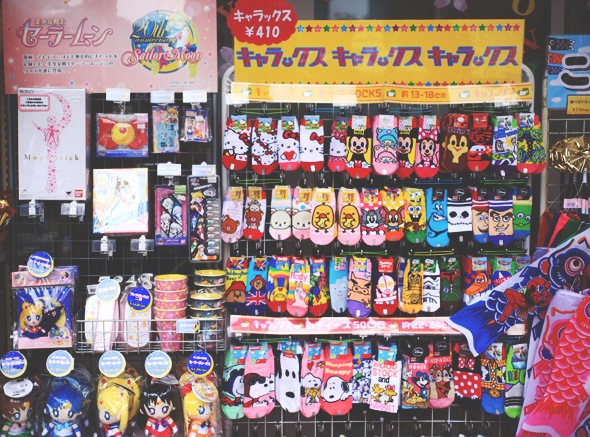 It's a good catch up session if you didn't already succumb to temptation in Omotesando.
TOKYO KYUKYODO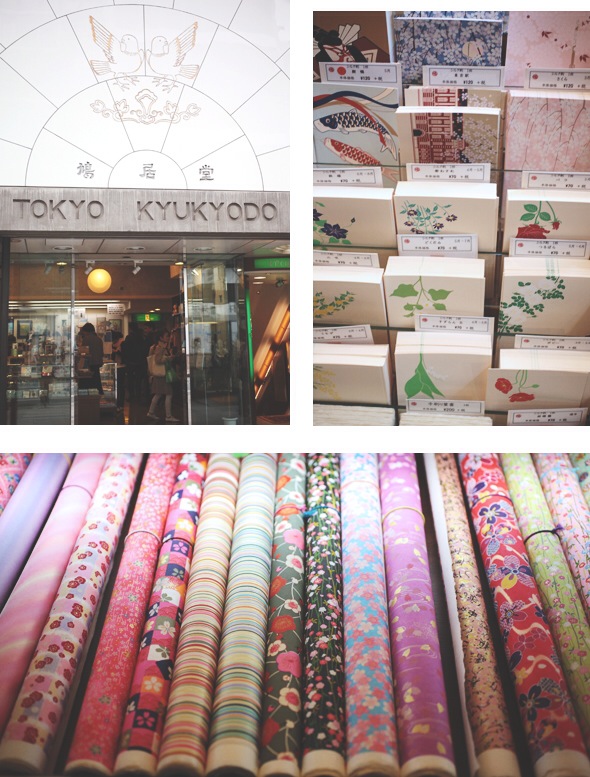 (5-7-4 Ginza, Chuo-ku, TOKYO) If you are a fan of traditional stationery, make sure you go! Beautiful postcards, japanese paper and a large choice of origami paper.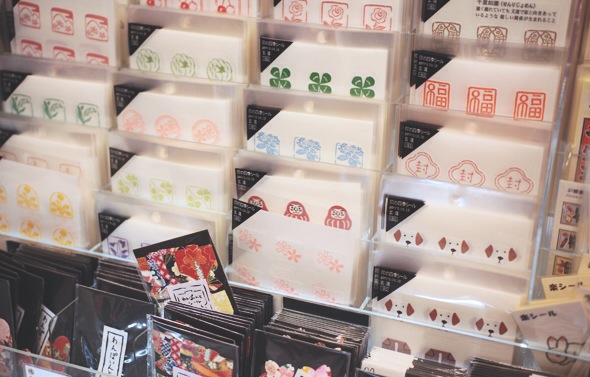 GINZA FOOD ADDRESSES
As for the food, I unfortunately didn't write down all the addresses, but all the things I ate came from stands on the main road or on roads branching off from it. I took pictures of the store fronts so you can recognize the places if you go (if they decide to do a facelift this will all be pointless, but nevertheless…).
GINZA KIYA Ginza shop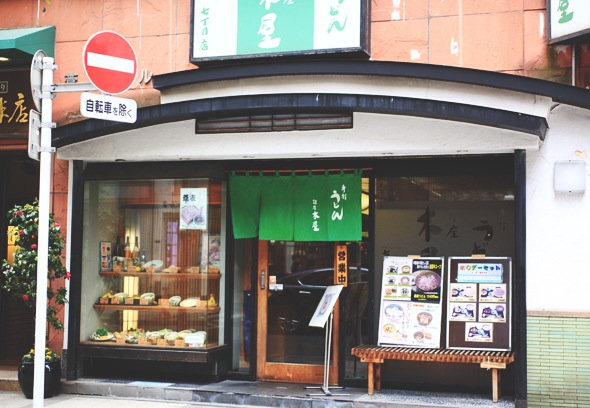 They have delicious udons (thick wheat noodles).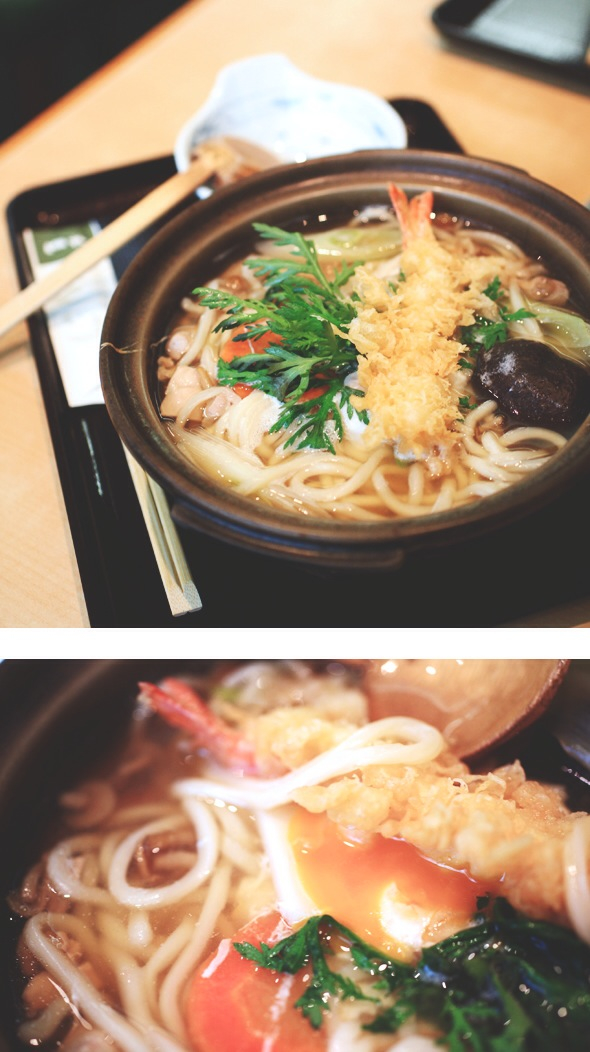 I chose the Gomoku nabeyaki udon, served in a small pot, and garnished with veggies, mushroom and tempura .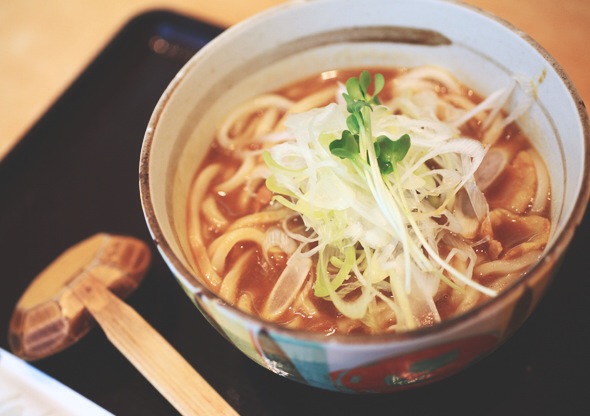 My S.O. enjoyed an excellent Curry Udon (much less filling than the ones we used to eat in rue St Anne).
GINZA AKEBONO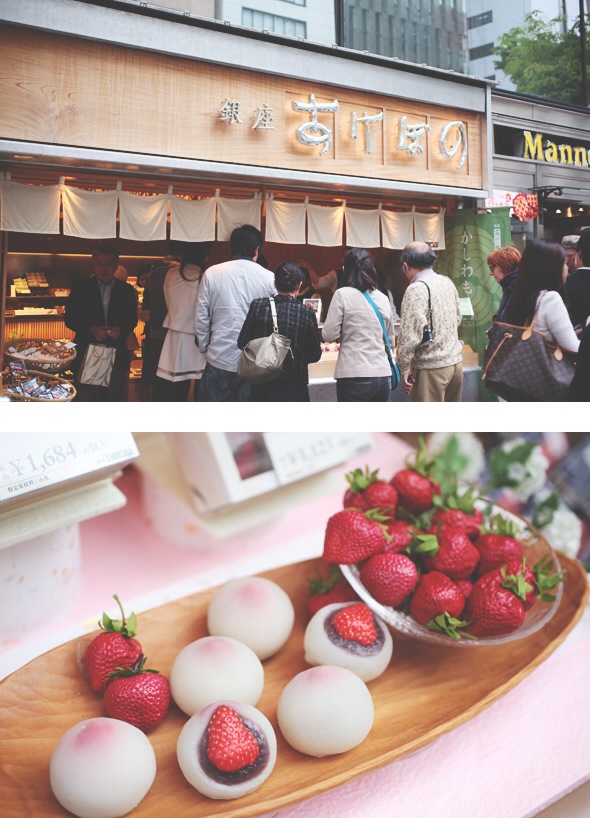 (5-7-19 Ginza, Chuo,, TOKYO) You'll find mochis (made with sticky rice) stuffed with kidney bean past and strawberry: to be eaten in the next 24 hours (the strawberries are fresh)…but I trust you will!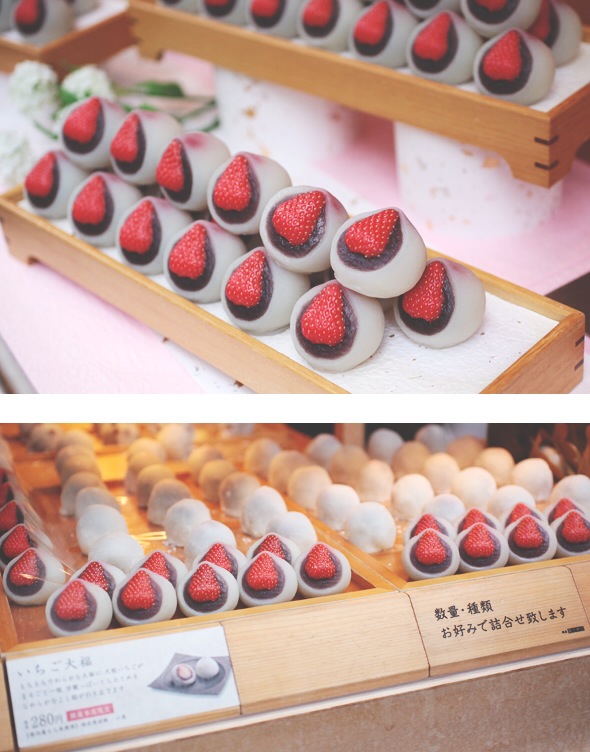 MINAMOTO KITCHOAN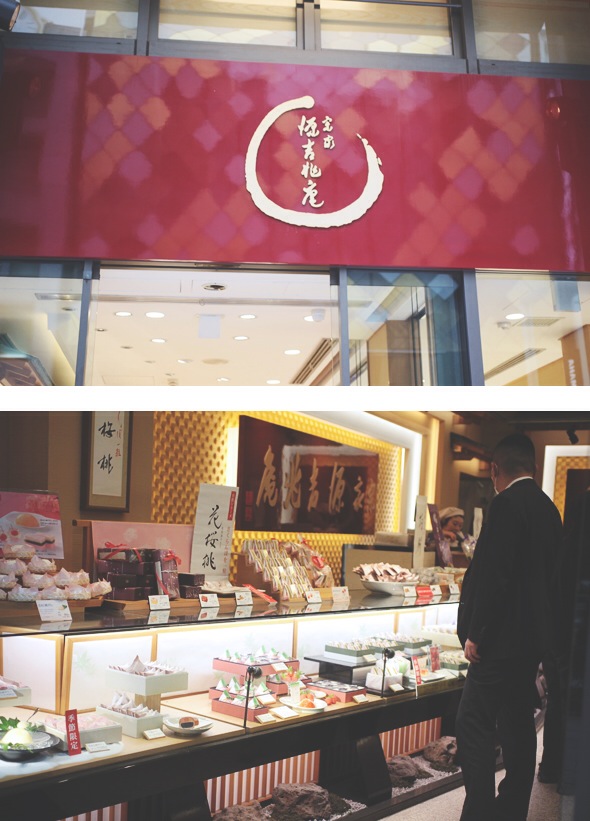 (7-8-9 Ginza Chuoku Tokyo) A traditional japanese bakery with excellent matcha crepes stuffed with red beans and with a small mochi in the center! (English translation by Bleu Marine)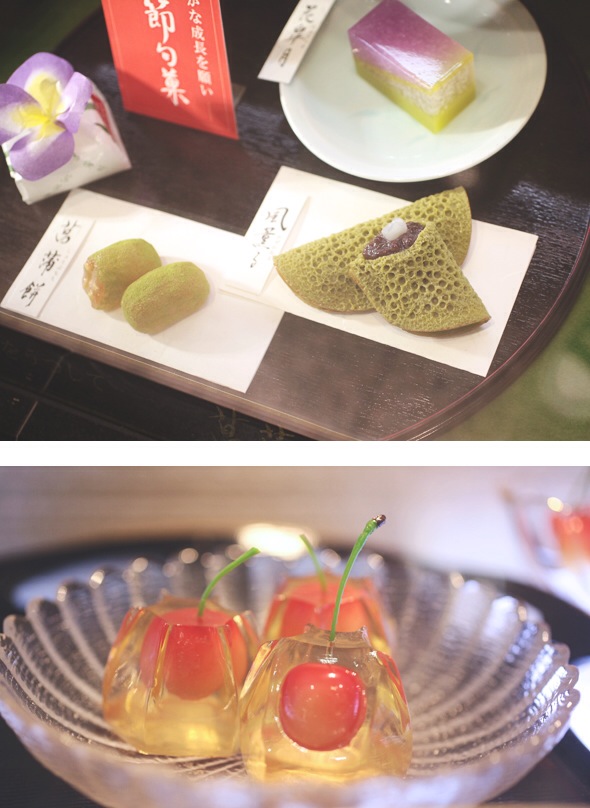 Previously on MY JAPAN TRAVEL DIARY :
Notre appart à Tokyo
Day 1 : Sumida Park & Asakusa
Day 2 : Namco Namjatown
Day 3 : Omotesando & Harajuku
Day 4 : Ueno Park
Day 5 : Errances gourmandes à Omotesando
Day 6 : Odaiba お台場
Day 7 : Tsukiji market, Meiji & Yoyogi
Day 8 : Tokyo Skytree
Day 9 : Dans le train pour Osaka !
Day 10 : Osaka Castle & Hanami au Mint
Day 11 : Osaka DenDen Town
Day 12 : Nagoya
Day 13 : Takayama Spring Festival
Day 14 : Notre ryokan « Hoshidekan » à Ise
Day 15 : Ise & Futami
Day 16 : Tokyo DisneySea