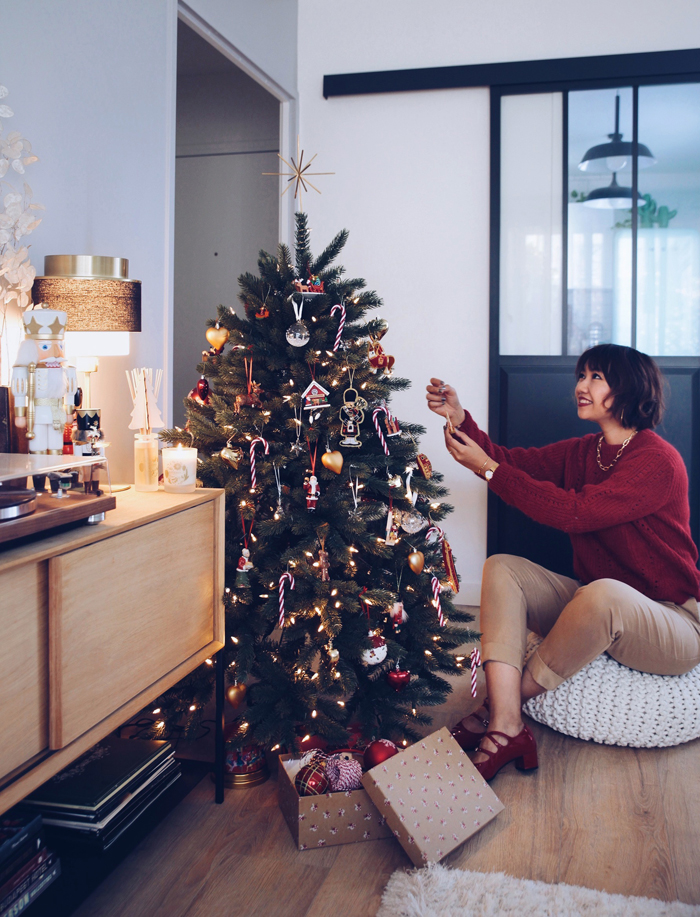 Back for a new "Five senses" article but Christmas edition! This year, Christmas will be a little bit special but we must not forget to please our 5 senses… So here are a few inspiring ideas that I hope you will enjoy and help you to live a Christmas period as magical as usual!
SIGHT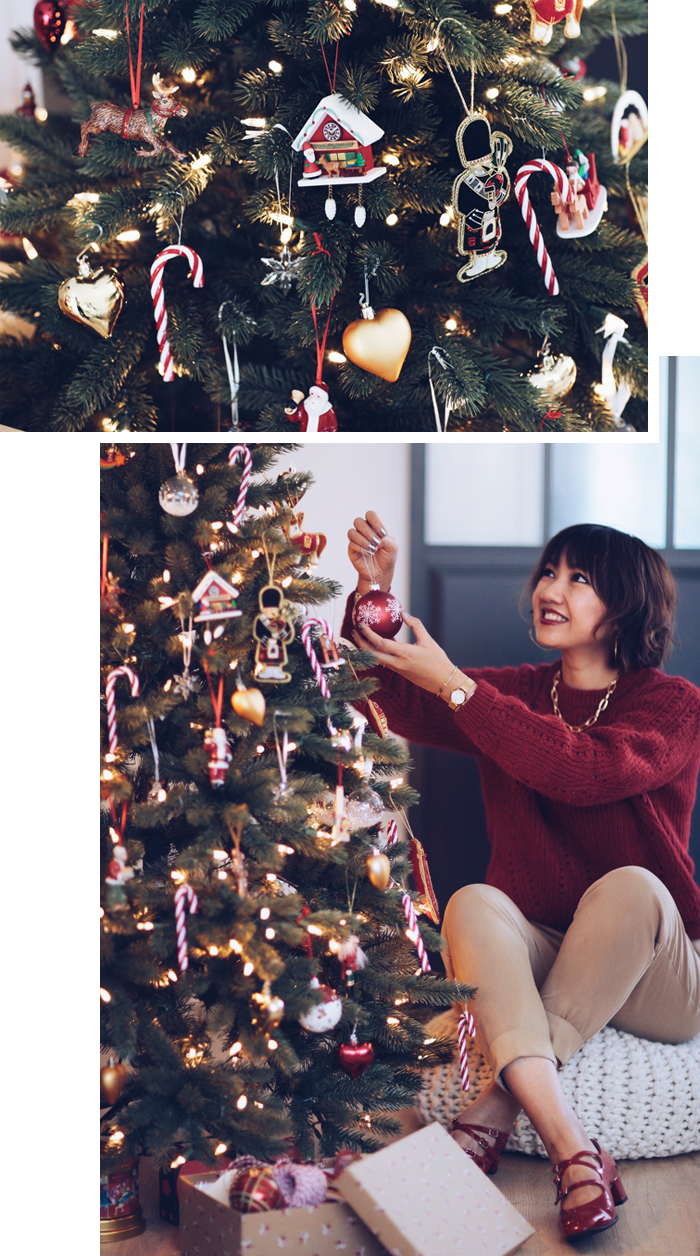 Vermont White Spruce Tree Balsam Hill
I installed my tree on November 15th, too early? Maybe, but since this year has forced us more than ever to stay home, we might as well enjoy ourselves… especially since I have the impression that we've been talking about Christmas since the end of September!
Anyway, mid-November, I was delighted to find my artificial tree (in which I invested last year) and the decorations that adorn it.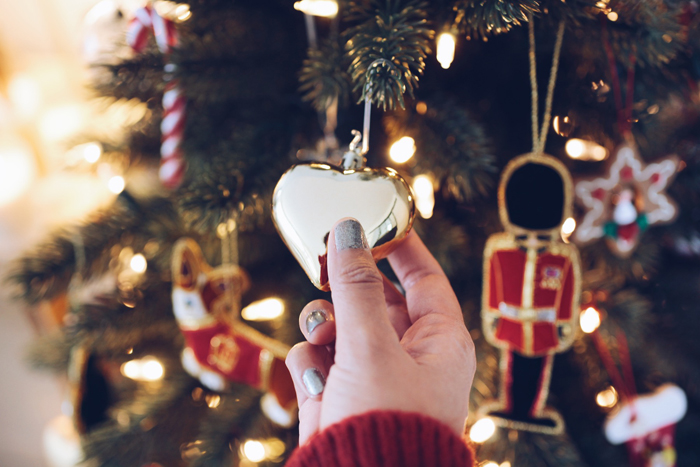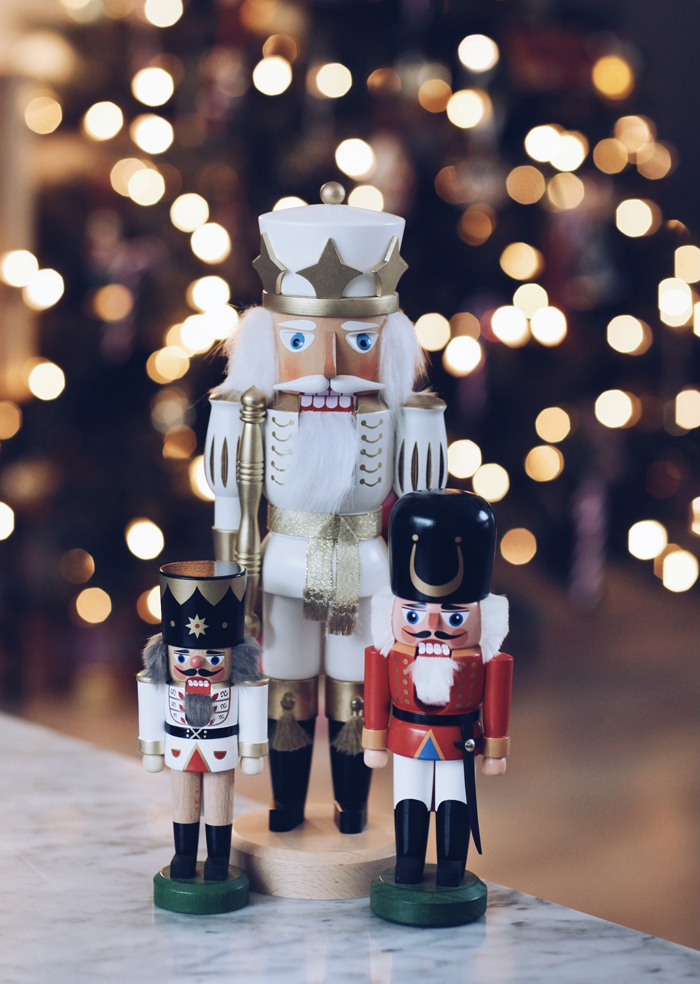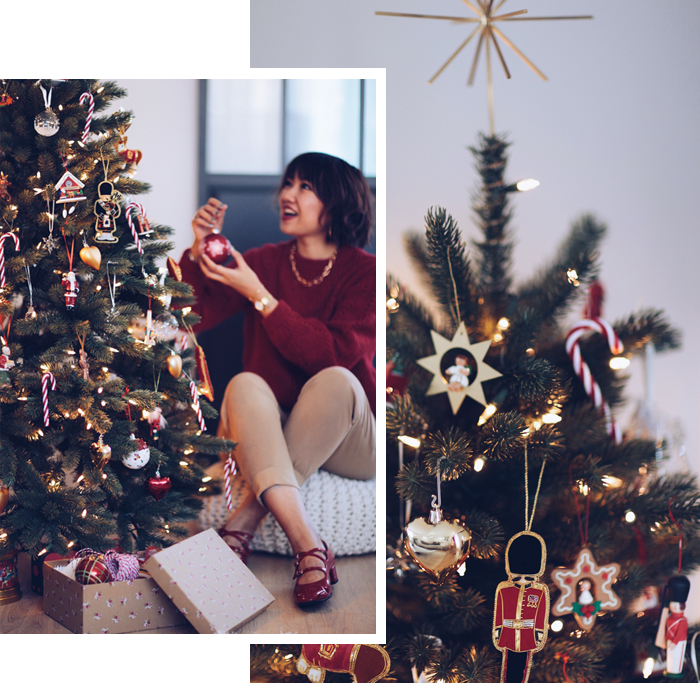 Nutcrackers Christian Ulbricht
Tree star Ferm Living
Heartshaped golden ornaments IKEA
No big change since the absence of travel and wandering in the stores pushes me to be fine with what I already have in terms of Christmas decorations. Only one novelty: these few golden heart-shaped balls ordered online, which allow me to temper a little bit the red/British dominance of my tree.
SMELL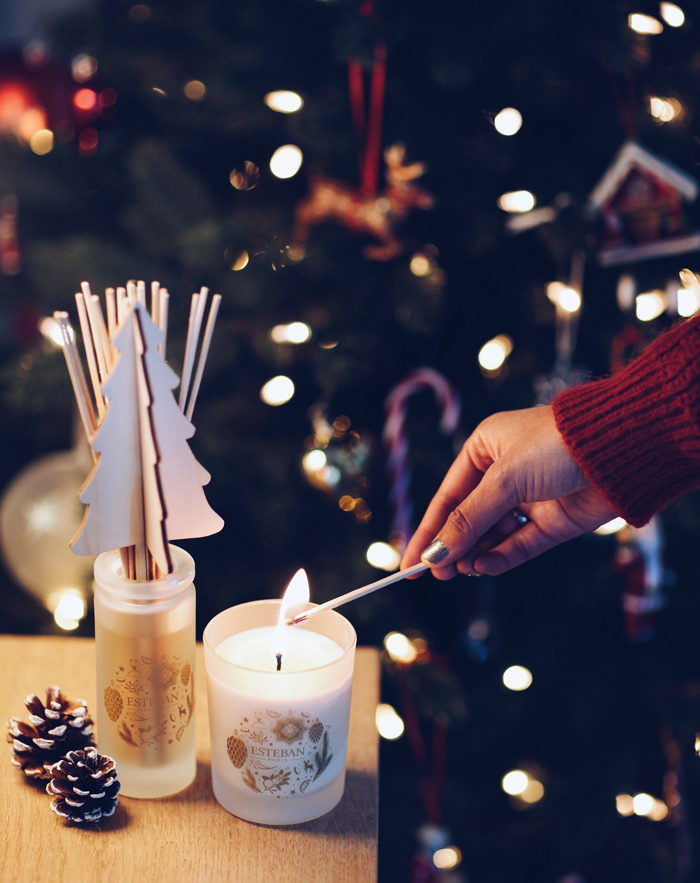 Does a fake Christmas tree mean no smell of tree ? Not really… because I compensate with candles with woody scents to keep this natural spirit.
This year, I have the pleasure to collaborate with the French perfumer Estéban to discover the "Noël nature 2020" collection and this last one is not totally unknown to me since last year already, I used their candle "Sapin exquis" to accompany this festive period (I had received it in a box of our personalized advent calendar!).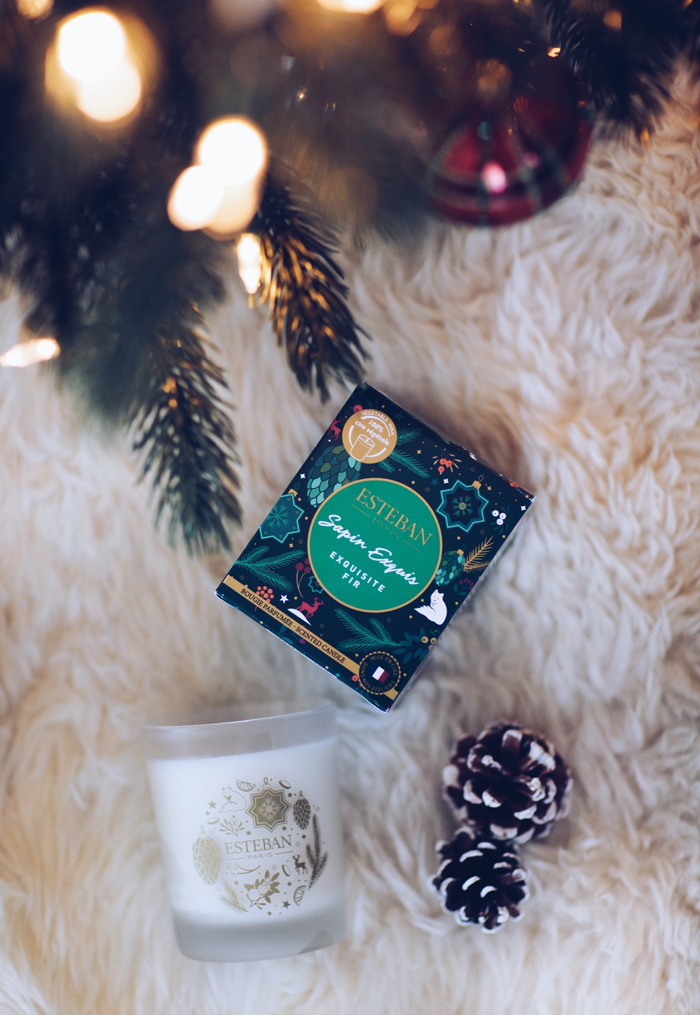 The perfume of this "Exquisite fir" is "an ode to the magic of Christmas, to the warm and gourmet moments spent around the tree"… quite a program!
It is difficult to write you down the scent that is currently embalming my apartment but I would say that this description is quite faithful to what you can imagine: Woody, ambery scents with a little greedy note, sweet but not too much.
This exquisite fir exists in the form of a candle, an indoor spray and a fragrant bouquet. I love the discreet, elegant and golden/woodsy presentation of the whole… matching my Christmas decorations! The wooden fir tree shaped bouquet is a good way to keep the fragrance going all day long without having to light a candle and adds a warm decorative touch.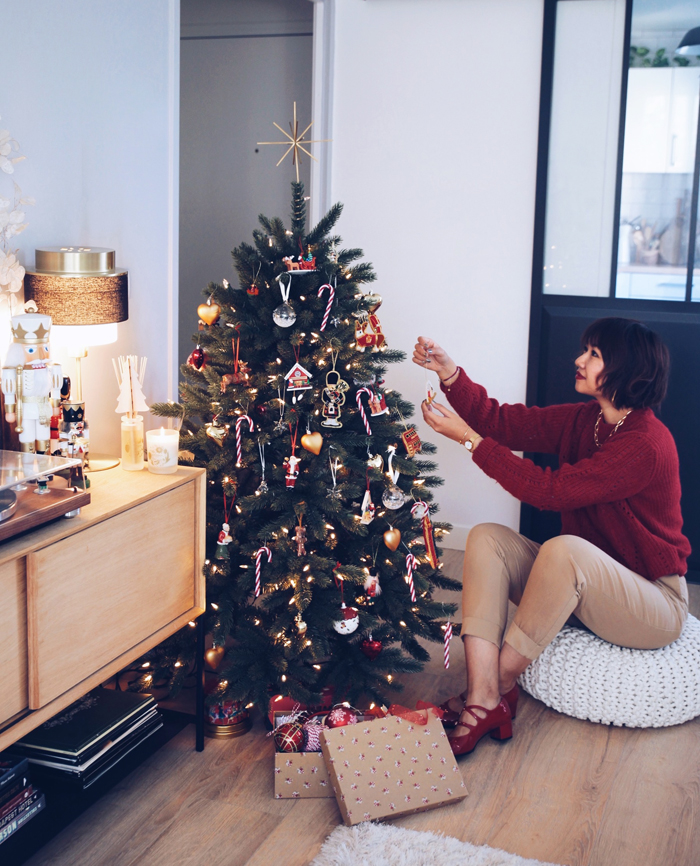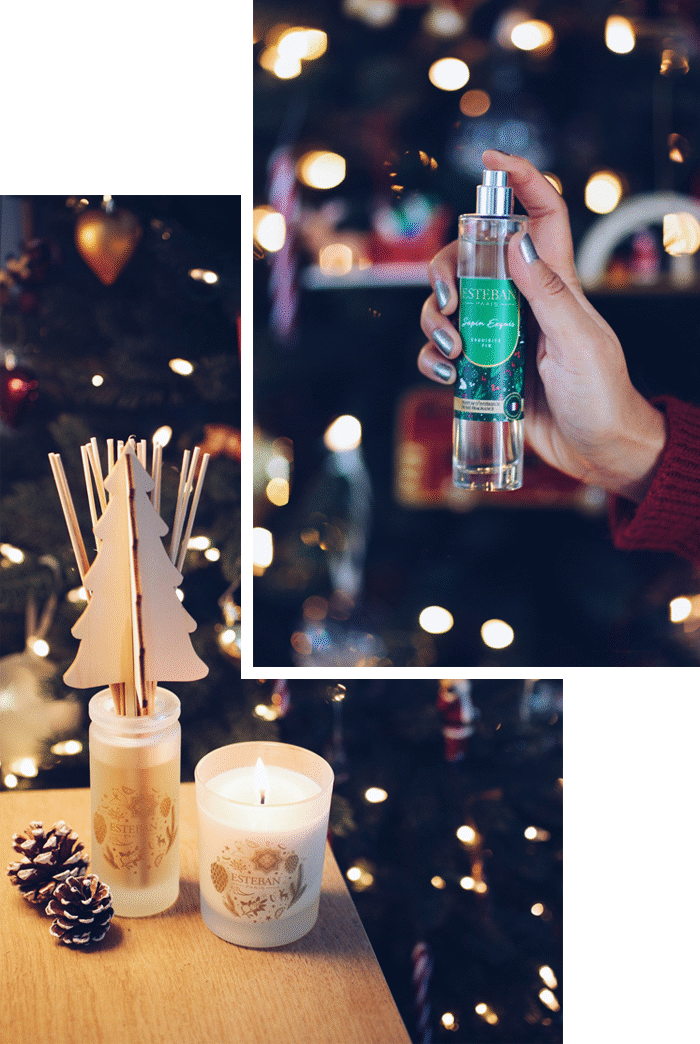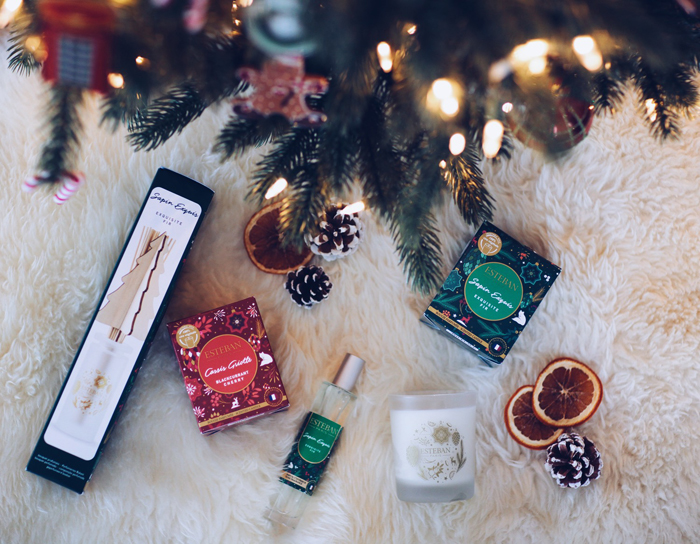 Fragrant bouquet, indoor spray, candle "Exquisite fir"
and candle "Blackcurrant cherry" Estéban Paris Parfums
This year, I discovered the other scent of this "Natural Christmas" collection: "Blackcurrant cherry". Here, we move away a little from the tree and we totally abandon ourselves to the greediness of blackcurrant and cherry coated with almond notes. I am seduced.
And also totally seduced by the eco-responsible commitment of the brand. Indeed, Estéban manufactures its scented products in the south of France, with carefully chosen components (100% vegetable wax, pure cotton wick, phthalate-free vegetable alcohol) and recyclable packaging. In addition, the majority of their products are refillable (perfume stems, bouquet refill, candle refill).
This year, the brand also made a commitment to donate 1% of revenue from the Exquisite fir and Blackcurrant cherry collections to associations that protect the environment. Nice approach, isn't it?
TASTE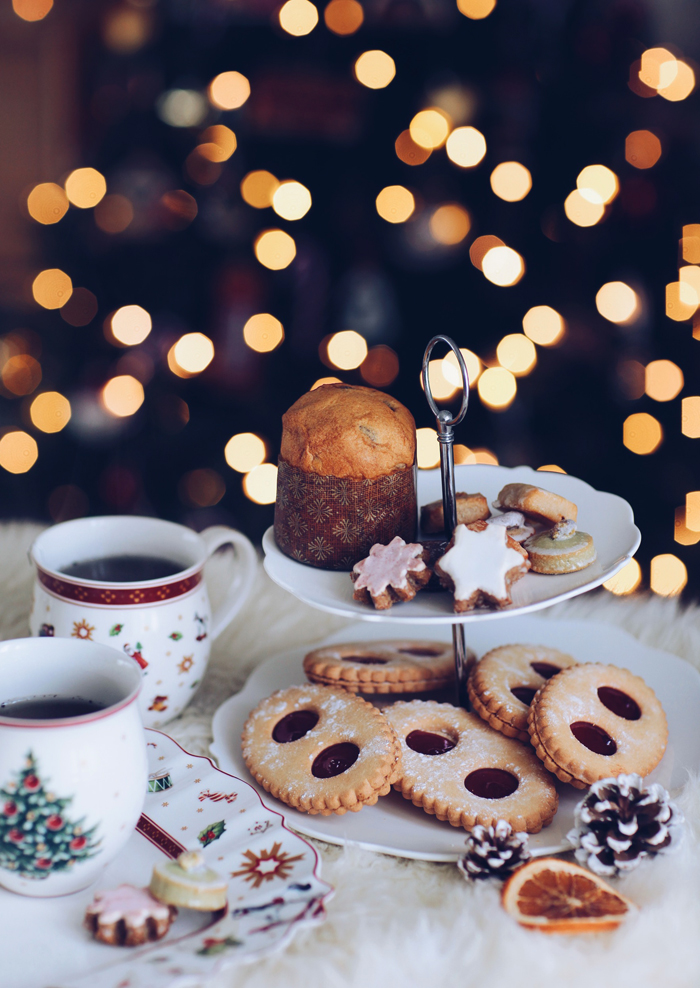 Xmas tableware Villeroy & Boch
Cakestand Absolument maison (already seen here)
Bredele "moelleux" biscuits Maison Alsacienne de Biscuiterie

Christmas is not only a joy for the eyes or the nose but also for the taste buds! Last year, I brought back some delicious bredele from Colmar and since this year we can't travel far, I ordered some online at the same place: the Maison Alsacienne de Biscuiterie. I could also make some myself, you would say to me, but I am not sure I could make such a large variety and especially not sure to make such good ones!
So I have chosen a packet of moelleux (almond-based) but I will certainly place a larger order with shortbread or other Alsatian specialties to accompany the month of December.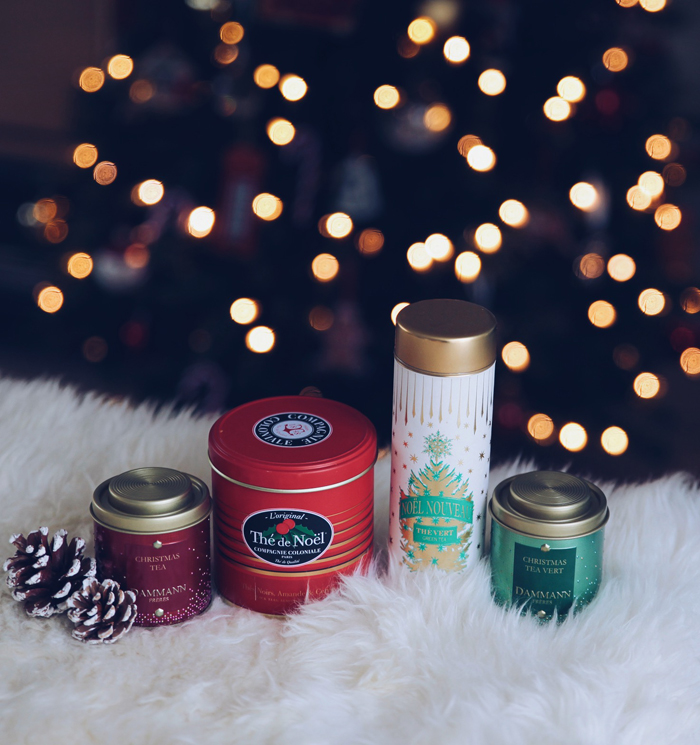 Xmas tea Compagnie coloniale (Merci Lionelou <3)
Black and green Christmas tea Dammann Frères (Merci Jérémy <3)
Thé nouveau (green tea) Mariage Frères
Besides that, Christmas also means Panettone, shortbread cookies, clementines and other sweets… that it is nice to accompany with a little tea!
Here are the Christmas teas I have in my cupboard at the moment. I'm also looking to stock up on Christmas herbal teas to vary the pleasures, so if you have any references to recommend, let me know!
HEARING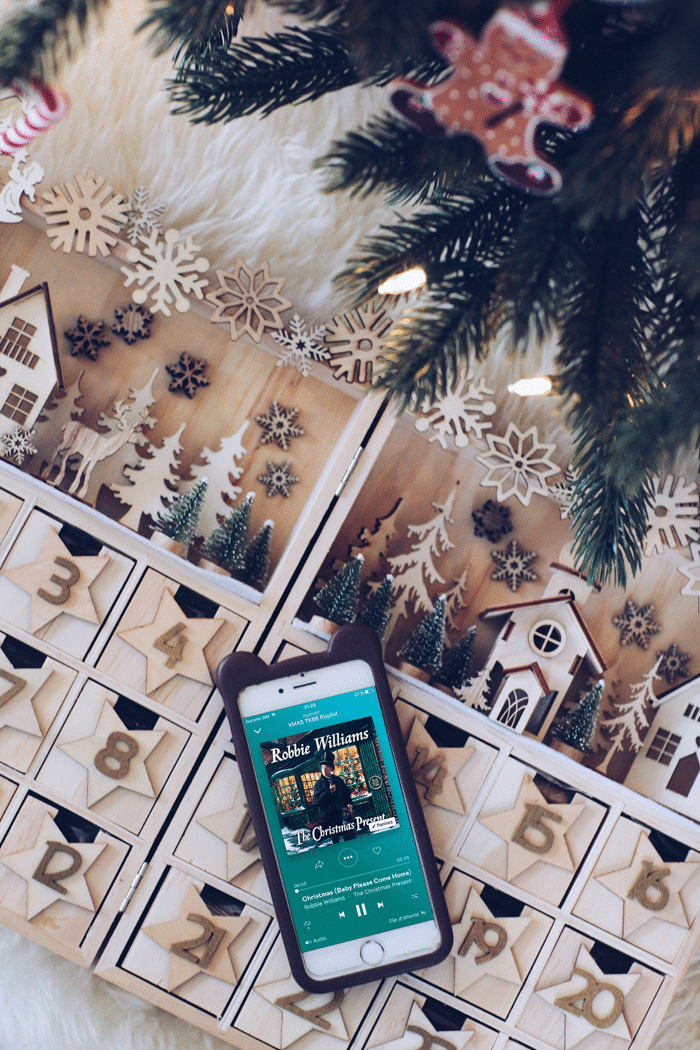 Advent calendar made by myself last year
Christmas is back with its playlist of course! Every year, I take pleasure in listening to and adding to the Christmas playlist that I've been making on Deezer for a few years now.
It includes a mix of classics and pop sweets to spend a Christmas season in rhythm: Kylie Minogue, Gwen Stefani, the Jonas Brothers, Backstreet boys or Tom Chaplin alongside Franck Sinatra, Ella Fitzgerald or Elvis Presley. I hope you'll find it useful to accompany your cookie baking or your "gift-wrapping" sessions!
TOUCH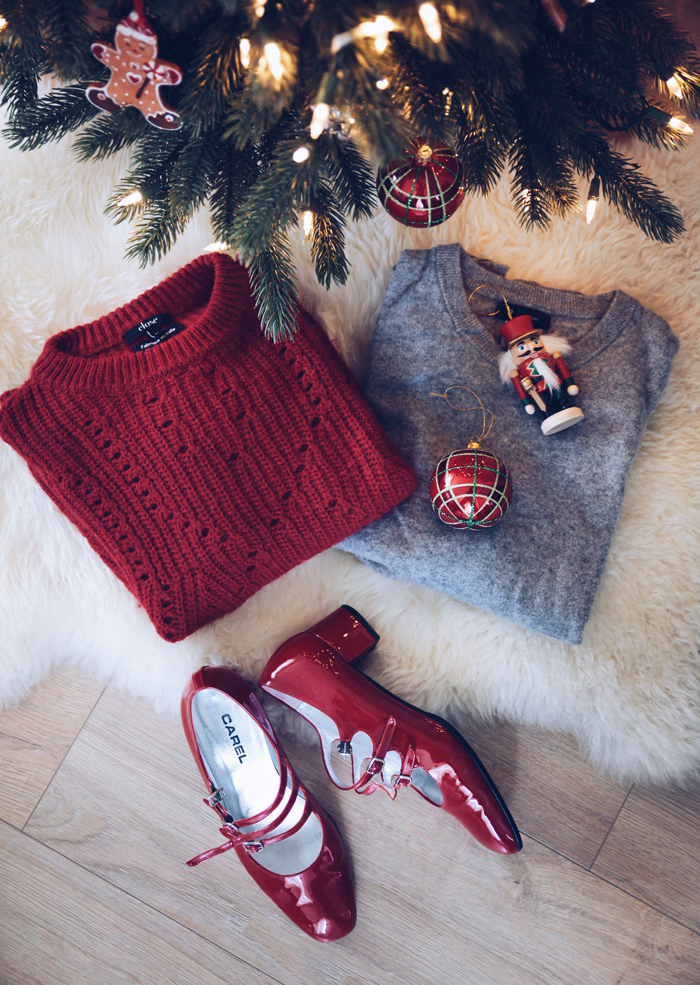 Sweaters Close (already seen here)
Cashmere sweater La Redoute collections (already seen here)
Ballerinas Carel (already seen here)
December and the Christmas season mean for me the return of warm and soft sweaters! Still no novelty around here but a tribute to my most comfortable and durable sweaters!
I'm happy to find my little collection of cashmere sweaters that I've had in my wardrobe since 2015 and that are almost as good as new, even after several machine washes (wool cycle of course)!
This red sweater is also one of the best quality investments I could make: from 2017 and not a single pilling on the horizon. The cream-colored one is doing very well too. All this to tell you that when you try to privilege quality, it still remains after several years! (English translation by Quiterie)
Article written as part of a paid collaboration with Estéban Paris Parfums
This article also contains an affiliate link