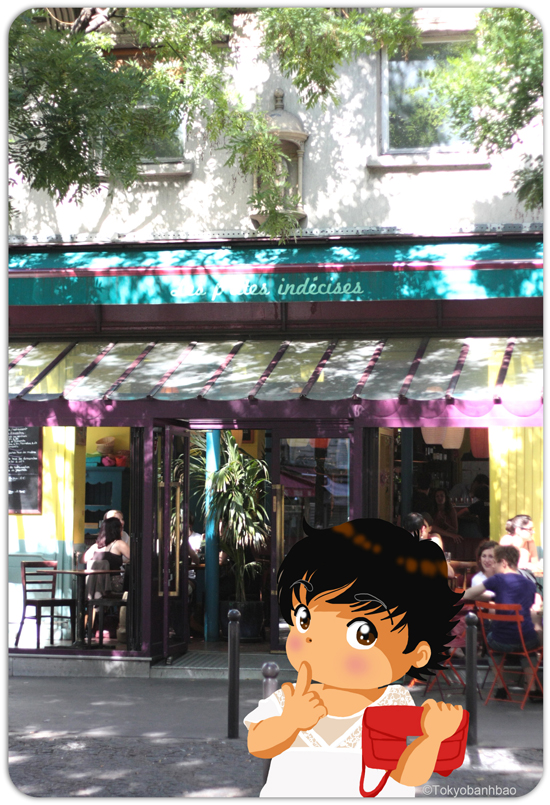 Ze return of ze Billet gourmand! Avec aujourd'hui une adresse de brunch… parce que c'est l'été et l'été on aime bien traînailler le dimanche à table. Venez donc traînailler avec moi du côté des P'tites indécises. Le nom de ce restaurant me va comme un gant puisque je suis de celles qui mettent bien quelques années à choisir ce qu'elles vont prendre dans le menu! Mais aujourd'hui, on va faire simple puisque le menu du brunch est… simple!
J'ai eu l'occasion de tester quelques adresses de brunch sur Paris et j'ai remarqué qu'il y a 2 écoles: ceux qui proposent un buffet à volonté et ceux qui proposent un menu complet de brunch. Aussi étonnant que ça puisse paraître, je préfère la 2ème option car même si avec les buffets on a l'impression d'en avoir pour son argent (ce n'est qu'une impression…), les plats , préparés à l'avance manquent souvent de charme et de surprise. Et puis il faut se lever pour se servir. C'est un détail de paresseux mais je trouve que ça a le don de couper les conversations animées entre amis ! Ici, on nous sert tout à table et accrochez-vous estomacs valeureux, pour 20 euros, il y a de quoi manger!
The Sweet-tooth post is back! And today, with a brunch address … because it's summer , and that that's when we like lingering at the table on sundays. So come and linger with me at les P'tites indécises. The name of this restaurant (=the Undecided) suits me well, since I am amongst those who take forever choosing what they're going to have on the menu! But today, we'll make it simple, for the brunch menu is … simple!
I've tested a couple brunch addresses in Paris, and I've noticed there are two schools : those that go with a buffet formula, or those that go with the complete brunch menu. As strange as this might seem, I prefer the second option, for even if with buffets you have the feeling to be getting your money's worth (it's only a feeling), the courses, that are prepared in advance, often lack in charm and surprise. And you need to get up to fill your plate. It's a lazy-person detail, but I find it very annoyingly has a knack for cutting short animated conversations between friends! Here, food is served at the table, and brace yourselves, valiant stomachs, because for 20euros, it's no small amount of food!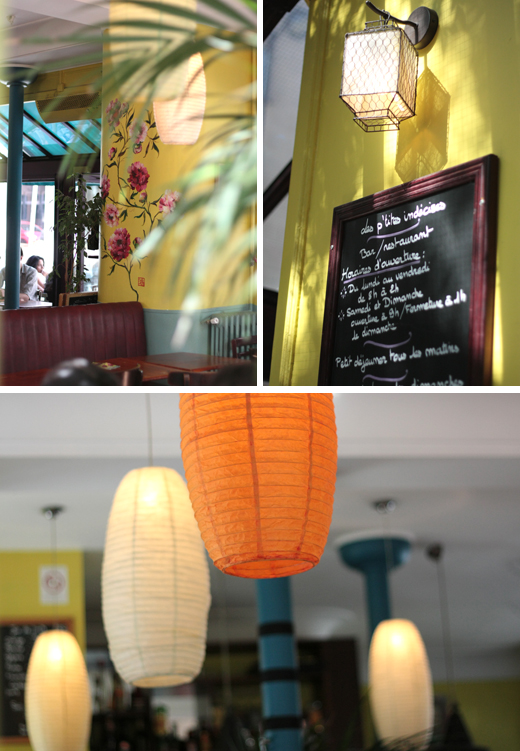 Tout d'abord on nous apporte les boissons chaudes (thé , café ou chocolat), le jus d'orange et les tartines ( accompagnées de confiture ou de Nutella). Sur la photo avec la corbeille, c'était ce qu'il restait après l'invasion affamée de mes compatriotes de tablée.
First off, we're brought warm drinks (tea, coffee, or chocolate), orange juice and toast (with jam or Nutella). On the picture with the bread basket, it's what's left after my starved fellow-brunchers raided it.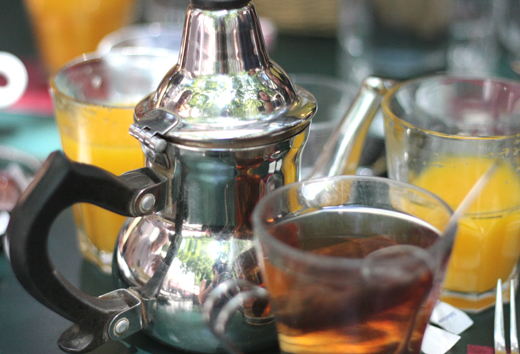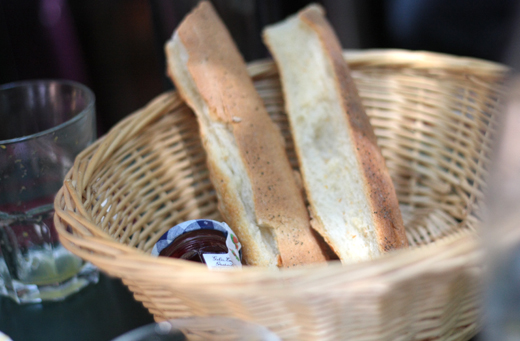 Puis , on nous demande de choisir entre du muësli ou des oeufs brouillés. Je choisis pour ma part le muësli qui n'est certainement pas fait sur place mais j'apprécie le mélange gourmand des fruits secs et des grosses pépites de chocolat!!
Then we're asked to choose between muësli or scrambled eggs. I, for my part, go with the muësli, it's probably not home made, but I enjoy the tasty mix of dried fruits and big chocolate chips!!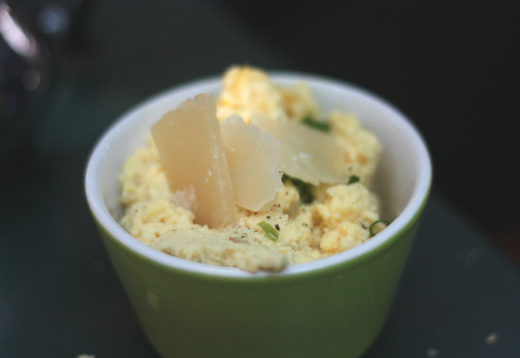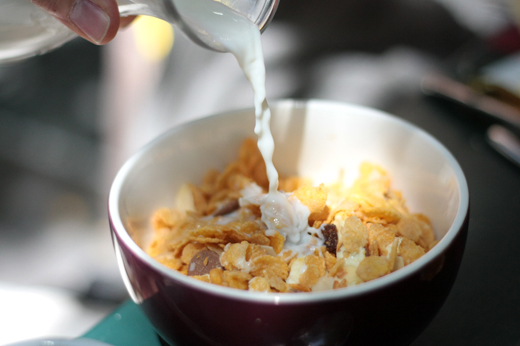 Ensuite, place au plat de résistance!! On a le choix entre 4 ou 5 plats si mes souvenirs sont bons: Une salade de jambon et melon (je n'ai pas pris de photos mais ça avait l'air copieux!) ou une salade de quinoa aux écrevisses pas du tout avare en écrevisses (ni en salade d'ailleurs!)…
Then comes the main course!! There are 4 to 5 options if my memory serves me well : a ham and melon salad, (I didn't take any pictures, but it looked generous!) or a quinoa and crayfish salad with plenty of crayfish (and plenty of salad!)…
…ou une salade de tomates coeur de boeuf et mozzarella di buffala (si si ! Celle qui est fondante et moelleuse!) / …or a tomato and mozzarella di buffala salad (yes! the incredibly soft mozzarella!)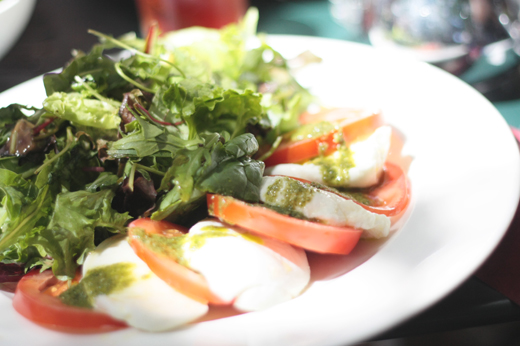 …ou  un steak tartare et sa salade et … le dernier plat, je ne me souviens plus! Ca vous laissera la surprise  si vous y allez tiens!
Au vu des assiettes, vous vous doutez bien qu'à ce stade du brunch, quelques faiblesses se font sentir au niveau des capacités stomacales. Mais il reste le dessert!!!  Et les petits joueurs finiront par une salade de fruits ou un fromage blanc au miel … mais comme nous ne sommes pas de cette espèce, place au Muffin au chocolat et son coulis au chocolat blanc!!!!! Un délice !!
…or a steak tartare with its salad and …. I can't remember the last dish! Ha, well it'll be a surprise when you go then!
When you take a look at the plates, you can imagine that around this time of the brunch, some weaknesses were surfacing regarding  stomach capacity. But there was still dessert!!! The amateurs will finish off with a fruit salad or yogurt  with honey … but as we are not of this species, make room for the chocolate muffin with it's white chocolate coulis!!!!! Delicious!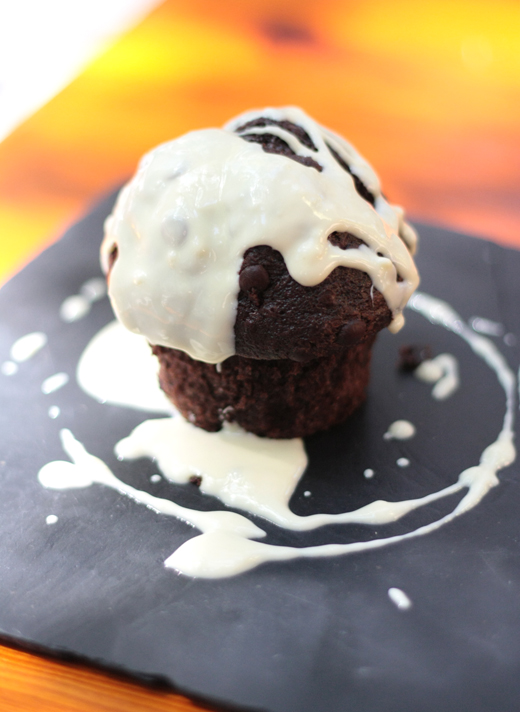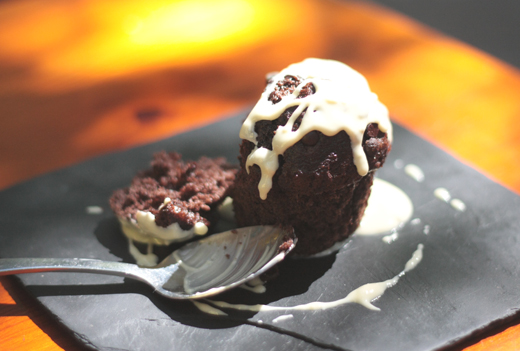 Ce que vous ne savez pas c'est qu'en plus de cette dégoulinade de chocolat blanc sur le gâteau au chocolat, il y a aussi des pépites de chocolat cachées sur le dessus! Donc triple explosion chocolatée! Alors alors?  Une promenade digestive est sans doute nécessaire après ça n'est-ce pas?
What you don't know, is that hidden under all this white chocolate, are chocolate chips! A triple chocolate explosion! So, so? A digestive walk might be necessary after all this don't you think? (English translation by Bleu Marine)
Restaurant LES P'TITES INDECISES
2 rue des 3 bornes
75011 PARIS ( Métro Parmentier)