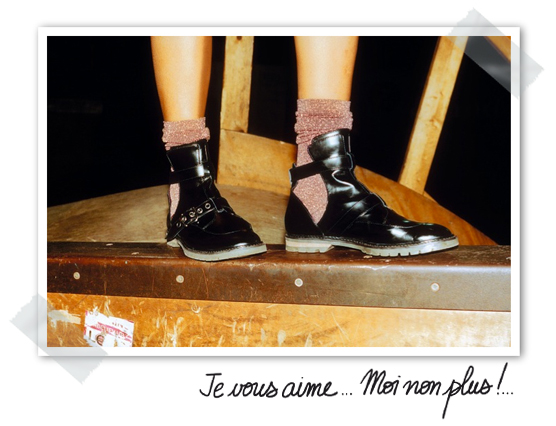 Depuis le mois de Juin, je n'ai pas craqué sur les Balenciaga: Pas eu le temps de les essayer en vrai. Un peu peur de m'en lasser vu que ce n'est pas un modèle des plus intemporels… et puis finalement, elles se sont envolées loin de mon esprit… pour revenir aujourd'hui, mutées par ASOS, notre fournisseur officiel. Après un instant d'euphorie en feuilletant (virtuellement) le magazine, me disant qu'il fallait que je guette leur sortie , le soufflé est quelque peu retombé ( si ma vision ne s'est pas altérée depuis ce temps, je crois qu' elles ne sont pas encore en vente sur le site).
Et plus je les regarde, plus  je trouve qu'il y a quelque chose qui cloche: le côté « gros godillot » des Balenciaga n'est plus présent. Elles épousent d'un peu trop le pied. Le charme des Balenciaga était qu'elles s'affirmaient vraiment pas leur côté massif et ouvert aux quatre vents, elles semblaient dire « Tu m'aimes ou tu me détestes mais en aucun cas tu ne sais pas ». Ici, elles minaudent un peu, ne sont ni laides ni belles. Elles déclenchent une sorte de passion tiédasse : quelle décision prendre? Leur donner une chance? Plus je les regarde et moins je sais…
Since June, I haven't gotten a chance to try the Balenciaga's on irl, which is why I haven't splurged on them. I was a bit afraid I might get tired of them, since it's not really a timeless style…and after a while, they ended up leaving my mind … to come back in full force today, as a mutant from Asos, our official supplier. There was a moment of euphoria while (virtually) leafing through the magazine, telling myself I had to watch out for when they would become available. And then reality kicked back in (If my vision hasn't altered since, I don't think they're available on the website yet).
The more I look at them, the more I find them odd : the whole « thick combat boot » effect that the Balenciagas had isn't there anymore. They're too shapely. The whole charm of the Balenciaga was that they really asserted themselves with their clumpiness, and the fact that they were open on all sides. They seemed to be saying « You either like me or hate me, but in no way can you be undecided ». Here, they kind of simper, they're neither ugly nor beautiful. They trigger a sort of lukewarm passion : what decision can I make? Shall I give them a chance? The more I look at them, the less I know … (English translation by Bleu Marine)

Cutout boots ASOS
Crédit photos: Asos Magazine