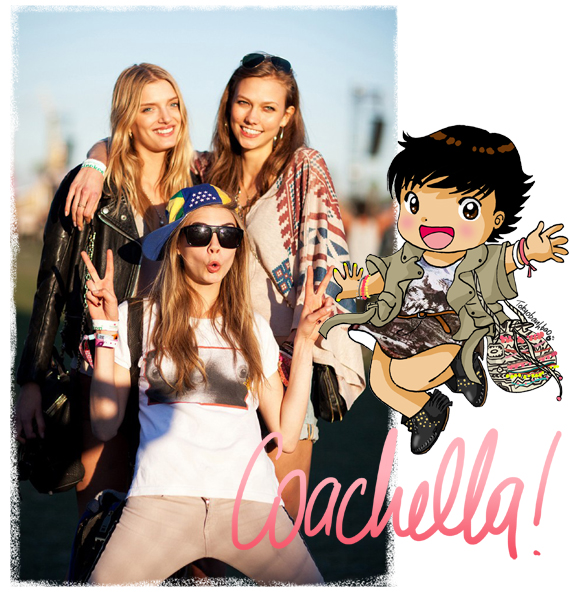 Chaque année, j'attends avec impatience cette événement musical parce que je sais que je vais pouvoir me rincer abondamment les yeux grâce aux looks des festivaliers ( à défaut de pouvoir sauter dans tous les sens en plein désert devant une tonne d'artistes indie-rock…Enfin bon, un jour peut-être qui sait ?) Pour l'heure, je vous laisse avec une sélection de mes looks favoris qui vous inspireront certainement pour l'été prochain ! Rock on !
Each year, I impatiently wait for this music event because I know I'll be able to check out plenty of festivalgoer looks (since I can't jump all around in the middle of the desert in front of a whole lot of indie-rock artists…well who knows, maybe one day?) For the time being, I'll leave you to a selection of my favorite looks that will very probably inspire you for the upcoming summer! Rock on!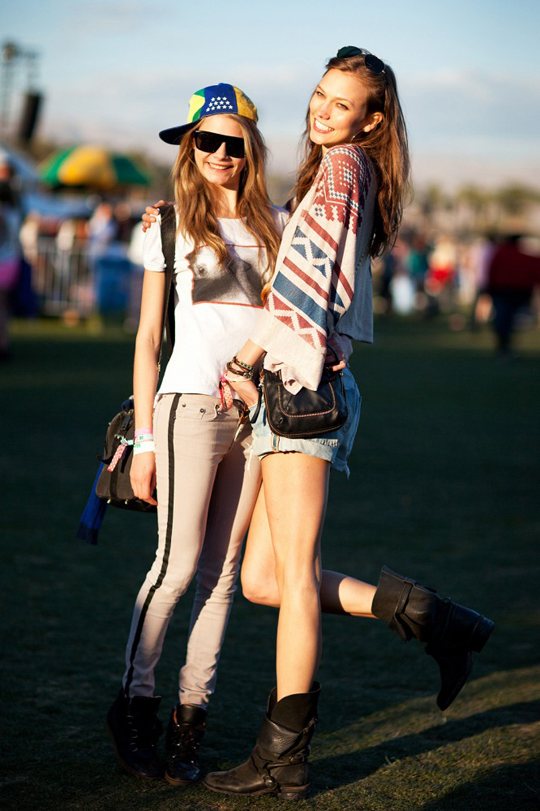 Cara Delevingne et Karlie Kloss, les mannequins du moment, avec leur plus bel accessoire : leur sourire. (D'ailleurs, Cara ne semble pas être la dernière pour faire la follasse… j'adore !). Cara Delevingne and Karlie Kloss, this season's very sought after models, with their most beautiful accessory: their smile (it looks like Carla is quite the merrymaker …. love it!).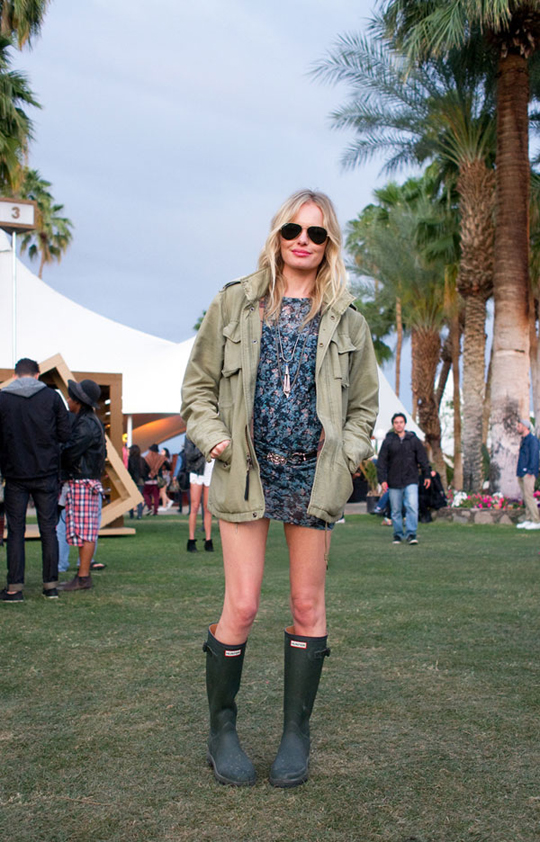 Kate Bosworth qui trouve toujours le juste équilibre pour une tenue cool mais féminine à la fois. Kate Bosworth who always finds the perfect balance between cool and feminine.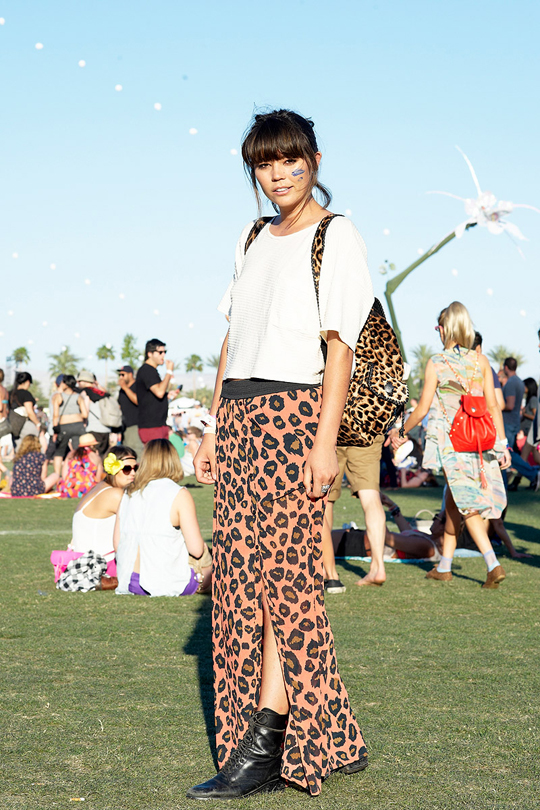 L'imprimé léopard n'est pas mort et même en presque total look, ça fait « Graou » dans mon coeur. The leopard print isn't dead, even in an almost total look, my heart is going « graowww ».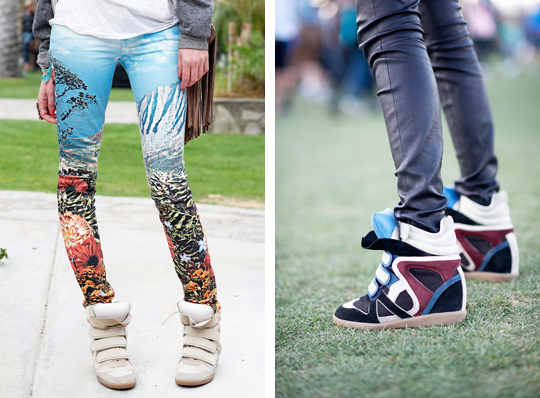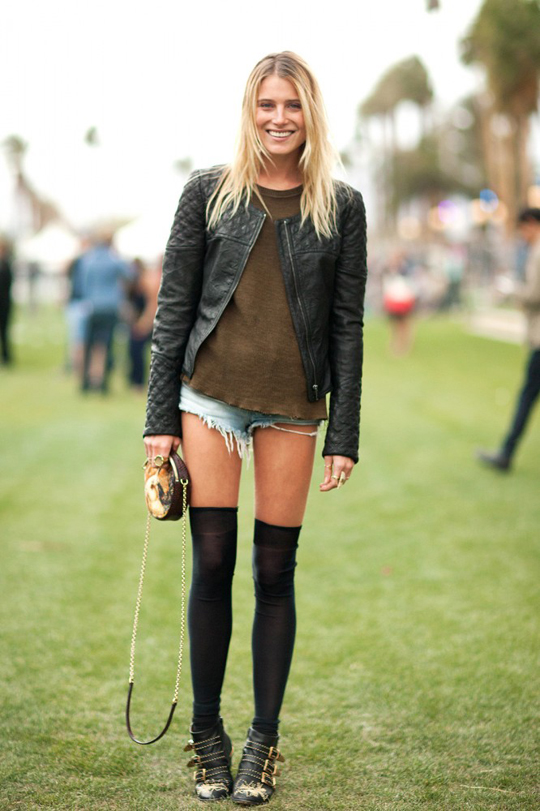 Forcément les baskets Isabel Marant et les Susanna de Chloé étaient présentes sur pas mal de petons. Of course, the Isabel Marant sneakers and Chloe's Susanna were to be seen on a lot of feet.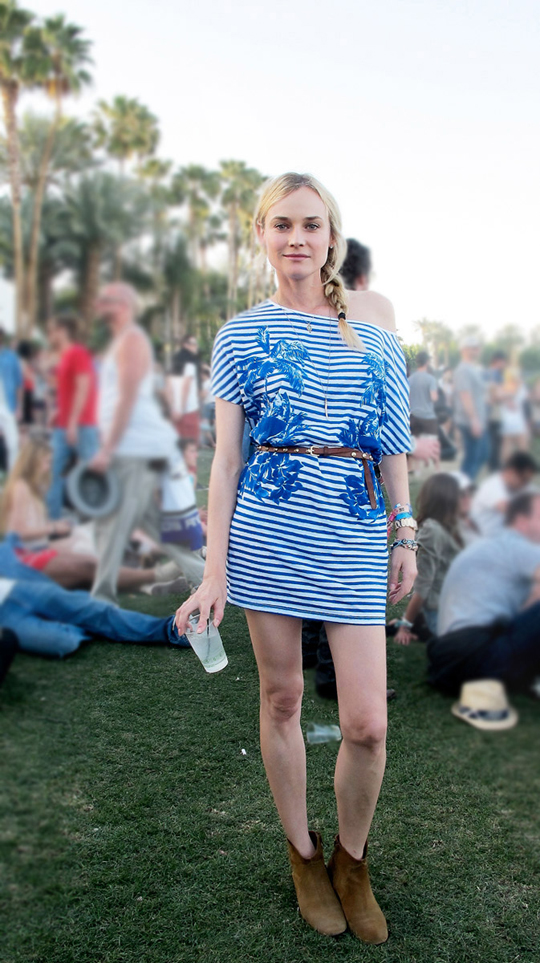 Diane Kruger, toujours fidèle au rendez-vous avec le craquant Joshua Jackson (Paceyyy !) qui est certainement sur cette photo parti lui chercher à boire (ou m'envoyer un texto enflammé en cachette) Diane Kruger, always present, with the very cute Joshua Jackson (Paceyyyyy !) who had probably gone to get her a drink on this picture (or gone to secretly send me a passionnate text message)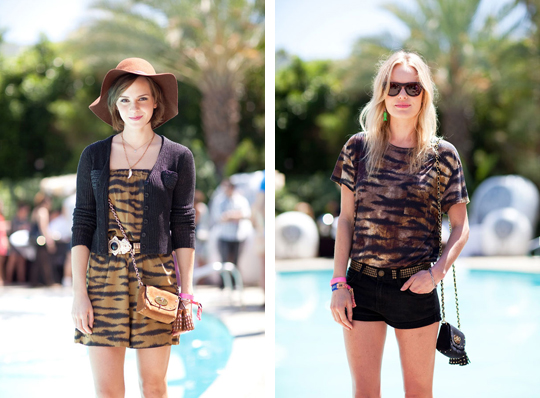 Emma Watson et Kate Bosworth, très assorties à la Mulberry party. Emma Watson and Kate Bosworth, very matchy-matchy at the Mulberry party.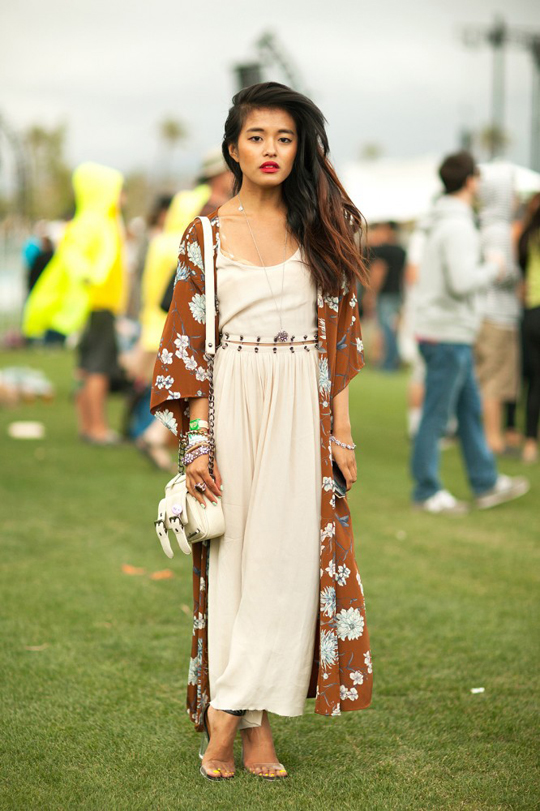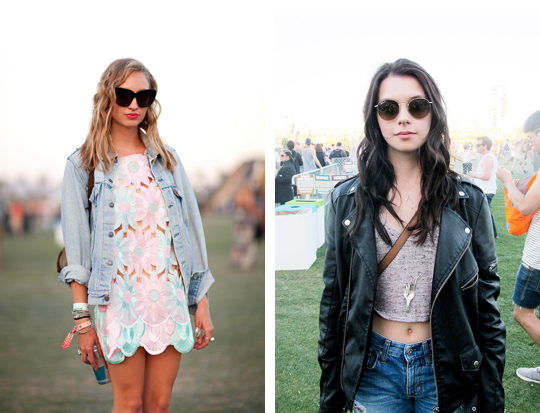 Et des looks , des looks encore des looks … And other outfits, more outfits, even more outfits ….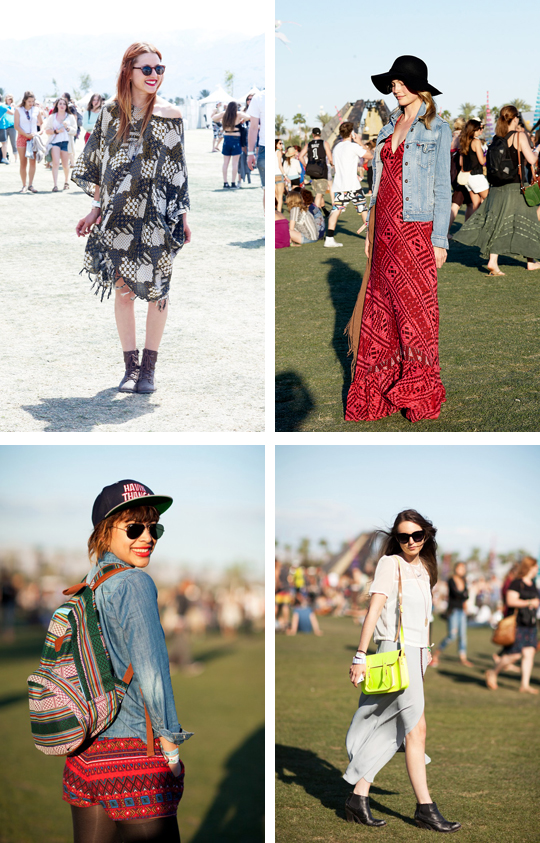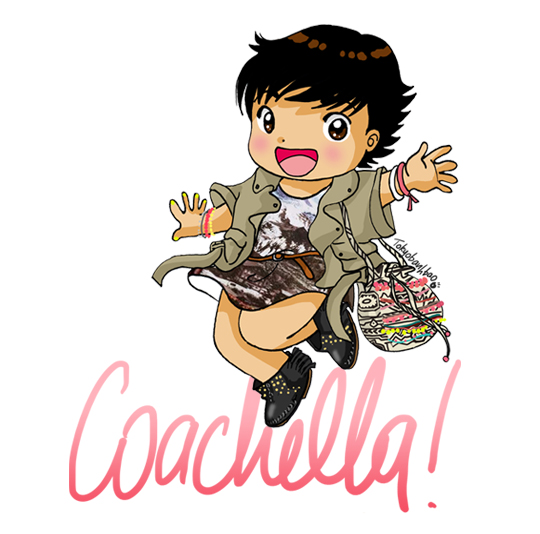 PS : Tokyobibi porte sur le dessin une tenue que j'aurais adoré porter si j'étais allée au festival: une robe-tee shirt Carven, un sac Urban outfitters, des boots à franges Zara et et et…. une sublime veste Isabel marant.
Je suis tombée dessus il y a quelques semaines (un aperçu en vrai ici) et ayant appelé toutes les boutiques Isabel Marant de Paris, il semblerait qu'elle soit en rupture de stock ! Même pas eu le temps de la voir en live ni de l'essayer ! Donc si quelqu'un ici a des pistes pour un 38 (je suppose…puisque comme je vous dis je ne sais absolument pas comment ça taille), je suis preneuse… Elle a l'air tellement facile à vivre, chic et cool…
PS : On this drawing, Tokyobibi is wearing an outfit that I would have loved to wear, had I gone to the festival: a tshirt dress from Carven, an Urban Outfitters bag, Zara fringed boots and, and and …. a gorgeous Isabel Marant jacket.
I discovered it a few weeks ago (here's what it looks like for real) and after calling all the Isabel Marant shops in Paris, it seems said jacket is sold out! Didn't even get a chance to see it « in the flesh »  or try it on! So if anyone here has any type of hint as to where I could find a size 38 (I'm guessing that'd be about right … as I was saying, I have no idea how it actually fits), I'll take it…It looks like such an easygoing jacket, both chic and cool …. (English translation by Bleu Marine)
Crédits photos: Vogue.com, Refinery 29 & Harper's Bazaar