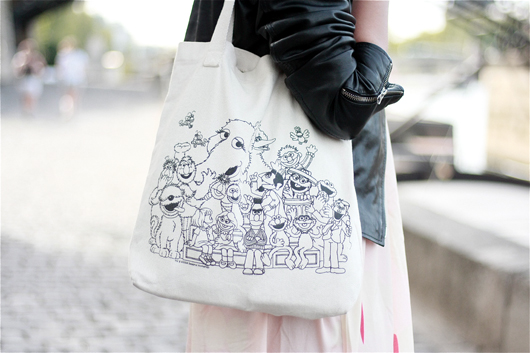 Je crois que cette longueur de robe, on n'en a pas vue beaucoup depuis la fin des années 90 (l'époque où je me passais en boucle l'album « Talk on corners » de The Corrs… ). D'ailleurs les soeurs Corr, elles ne portaient presque QUE cette longueur de robe et moi je ne portais QUE cette longueur de robe , c'est-à-dire pile sous le genou ou à peine au-dessus … enfin c'étaient plutôt des jupes, à l'époque, si mes souvenirs sont bons. Et puis on a eu droit à une décennie de jupes « ras la conscience » jusqu'à aujourd'hui et moi, je capitule. Pour ma part, les jupes courtes , je n'en porte qu'en hiver, collant noir opaque faisant office de bodyguard. En été, je laisse mes jambes dans le domaine de l'invisible. Faire attention à la manière dont on se penche, s'assoit , ça me fatigue et puis les jambes nues, ça ne laisse aucune place à l'erreur donc, peu téméraire, je passe la main bien volontiers.
Cette robe est en quelque sorte une alternative pour montrer le minimum syndical de gambette. La prochaine fois, la robe se raccourcira peut-être mais auparavant, il faudrait que je reprenne plus assidûment mes séances de stepper , c'est-à-dire… je ne sais pas trop quand.
I don't think we've seen this length of dress a lot since the end of the 90s (at the time I was listening to The Corrs « Talk on corners » album over and over again …). By the way, the Corr sisters wore this length of dress almost EXCLUSIVELY and so did I, EXCLUSIVELY: just under the knee, or just above … well it was mostly skirts at the time, if I remember well. And then we got a decade of mini skirts, and that's where I surrender. For my part, I only wear minis during the winter, with thick black tights serving as bodyguards. In the summer, I let my legs be invisible. Having to worry about the way you're bending over, sitting etc. just tires me, and bare legs leave no room for mistakes of any kind, so not being very bold, I very gladly pass my turn.
This dress is in some way an alternative, to show the bare minimum of leg. Next time, the dress might get a tad shorter, but before that, I'd need to to resume my stepper sessions and be more assiduous about it, which is going to be… well…I don't really know when. (English translation by Bleu Marine)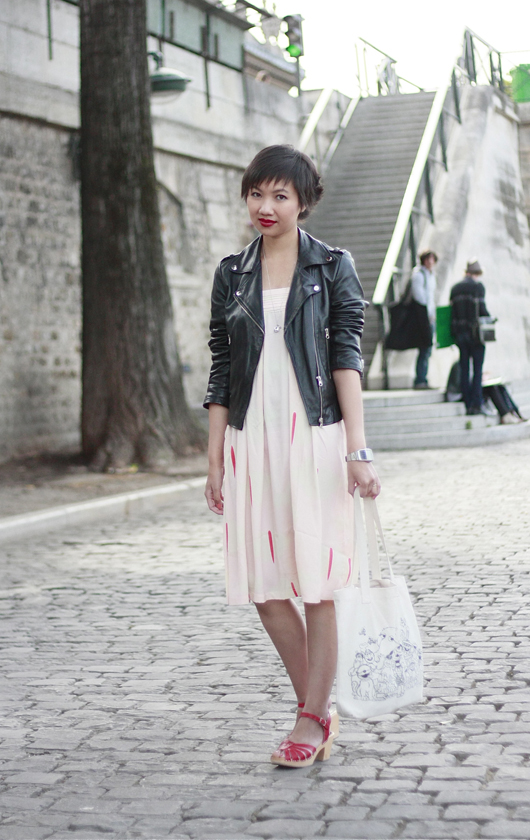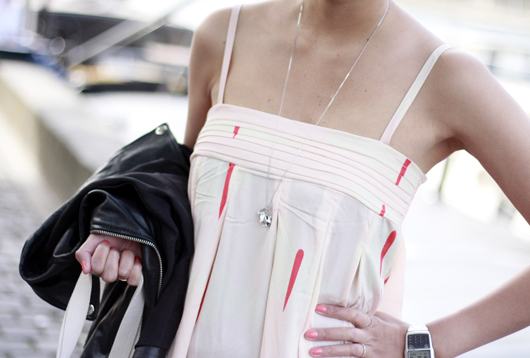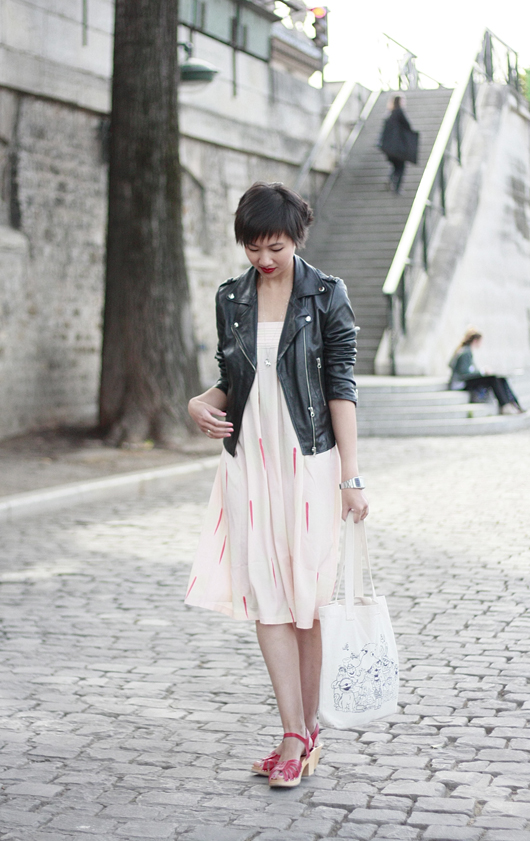 Robe/ dress Nümph
Perfecto Paul and Joe Sister
Collier/ necklace Origami Jewellery
Sandales/ sandals Swedish Hasbeen for H&M
Sac/Bag  American Apparel